Today, many Americans have easy access to pre-prepared food—whether it be slabs of meat packaged at the grocery store or a ready-to-eat meal from a fast-food chain, acquired from just five minutes spent in a drive-through line—and the life cycle of each plant or animal behind the meal is often not thoroughly considered. With an outlook inspired from more than 20 years of working in the culinary industry, as well as experiencing fare and culinary preparatory practices from around the world, Karen Bell, owner and operator of Bavette La Boucherie, has a deep-rooted interest in where food comes from and how it gets to consumers' plates—a passion that has shaped the behind-the-scenes practices and guest experience at the Wisconsin-based butcher shop and restaurant.
After living in Madrid, Spain for a few years, where she opened and successfully ran her own restaurant, Bell introduced Bavette La Boucherie to Milwaukee, Wisconsin, in 2013. Initially, the business was exclusively a butcher shop, meant to connect farmers and consumers by sourcing whole animals that are ethically and responsibly raised on smaller, local farms, and custom cutting the meat in-house. Eventually, the establishment evolved into a hybrid of a butchery and a restaurant. On the dining side of the business, the meat offered in the butchery is also used in different meal variations on the daily-changing menu, with options such as salads, sandwiches, charcuterie boards, small plates, pâtés, and cheeses.
"I think Milwaukee is a great city for opening a restaurant. It is still small enough where rent is reasonable, and I feel lucky that Milwaukee is a city that has a lot of restaurants that are independently owned and chef-run and -driven. I think that makes for a very unique and exciting dining landscape and scene," Bell said. "Also, the local support and pride of customers and guests is incredible."
In its first nine years, Bavette La Boucherie has experienced success—including Bell's James Beard Foundation Award nomination as a semi-finalist in the Midwest region in 2017 and as a finalist in 2018—to the point that the business's original space was not sustaining its growth. In April 2022, Bavette transitioned to a new location just down the street from the original butchery in Milwaukee, allowing more freedom when it came to expanding the restaurant's offerings on the menu, and having a more spacious dining area for guests.
"[Bavette La Boucherie] is very different from when I first opened in what I expected it was going to be and what the initial vision and goal was. That is not to say it was a bad thing, it was actually a good thing," Bell said.
Bell noted that when she first opened Bavette, it was intended to operate solely as a butcher shop, so she hadn't been seeking a location with a larger, built-out kitchen. Since having the restaurant side of the business, Bell found that the smaller kitchen size and the included appliances were inadequate for many of the things the team wanted to cook, restricting what they could offer on the dining menu. Bell had realized that if she wanted to continue to expand with the current business model, they would need a restaurant hood to cook certain types of meals.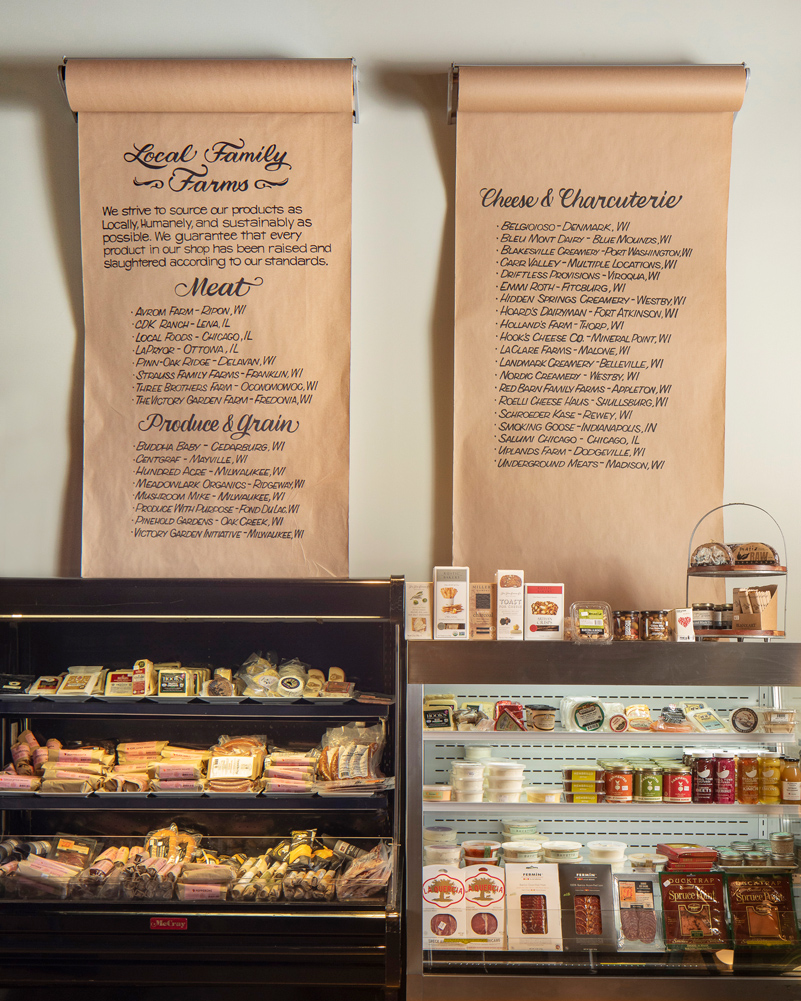 Bavette La Boucherie's new location will allow things like burgers and steaks to be cooked inside, whereas the old kitchen space was so confined that cooking these meats would smoke out the restaurant. In the restaurant's new location, many of the menu items will remain, but Bell has been excited to experiment more with meat recipes. While the future of Bavette La Boucherie may bring a more expansive variety of cuisine for guests to explore, Bell's steadfast philosophy on butchering and cooking stands strong in her restaurant's layout and dining experience.
"I am very proud of the ingredients that we are using, and our processes, so I want everyone to be able to see it. I had always filled the bar in, but the idea was people would come in and have a glass of wine, or a cheese board or a charcuterie and be able to watch what we are doing. I always had that in mind even when [the original location] was just going to be the butcher shop," Bell said.
"At the beginning, there might be a few people who didn't know they were walking into a butcher shop and maybe felt uncomfortable sitting at the bar and watching a hog being broken down. That kind of concerns me, yet you are going to order the barbecue pork sandwich. I think it is important for people to understand where their food is coming from. I don't think there is anything wrong with eating meat, but I think you need to be comfortable with the whole process, what you are eating, and the fact that it was once a living thing that does resemble an animal. That is why it is important for people to be conscious of the life cycle; you don't take things for granted and you really appreciate what you are eating," Bell added.
Like Bavette La Boucherie's previous space, the layout of the new restaurant is fairly open, with patrons having the option to sit at the bar and watch meals being prepared in the kitchen. The current space was designed by Tom Vavra, architect of Vavra Design LLC in Milwaukee, and Interior Design Beth Miller, who also owns FORM Fine Goods. Seamlessly infused with the design of Bavette La Boucherie's dining area, high, wooden ceilings, wooden beams, and the Cream City brick that clads the walls were all existing elements of the building. Newer design touches include fun, circular sconces, fabric highlighted by earthy tones of peaches and teals on the banquettes, and the patterned tiling underneath the bar, an accent to the tan barstools.
"The response has been great so far. People are really liking the space—comments are that it is beautiful and comfortable. I love the lighting and the feel of the space. It has many similarities to our old space, but definitely has a new and updated feel," Bell said.
"The new [location] has afforded us more space—both in the back of the house and the dining room. We have a lot more room in the back, which has been very helpful, and the addition of a kitchen hood has allowed us to expand the dinner menu a little. Hopefully the guest experience is enhanced by a larger, more comfortable dining room and a more varied menu," Bell added.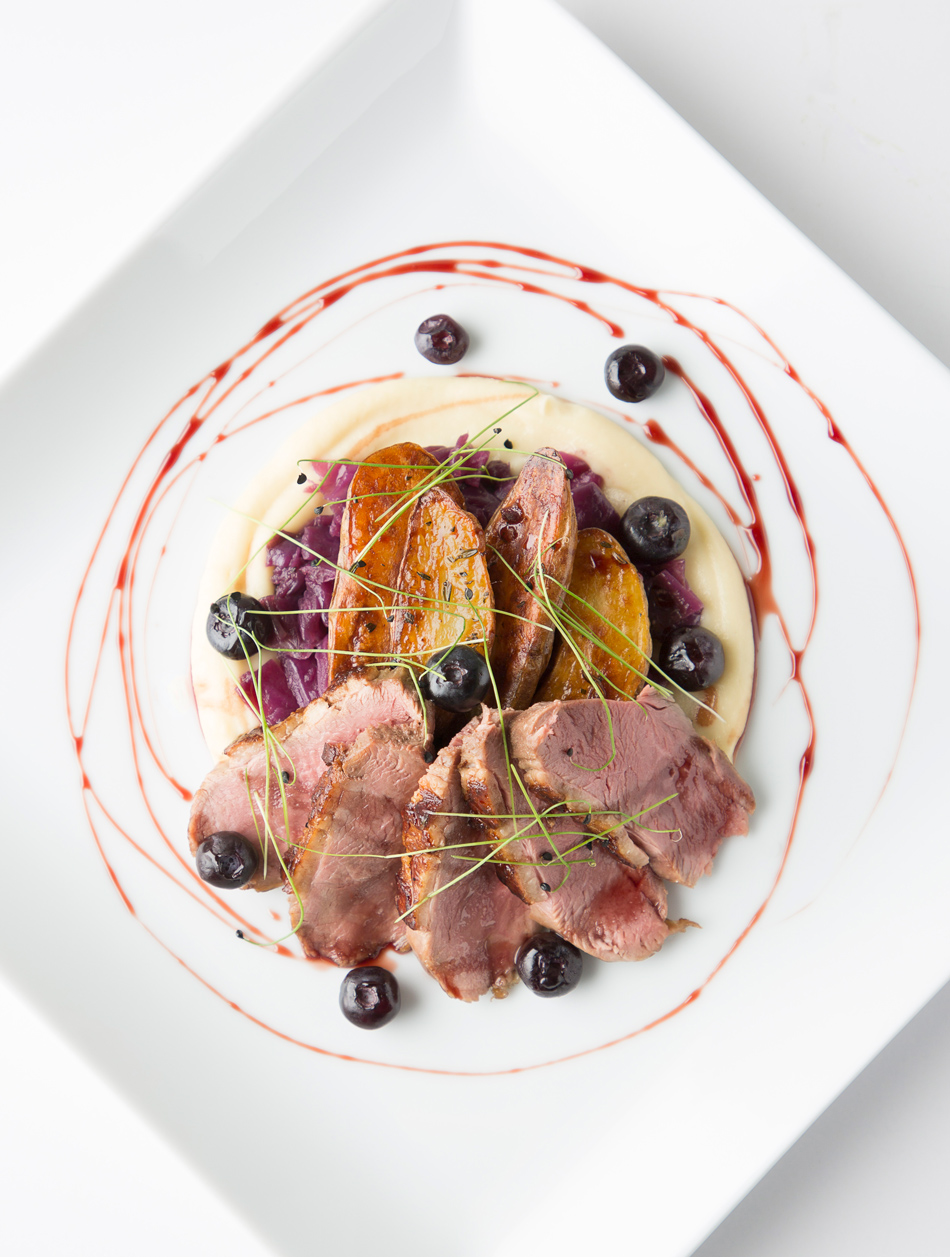 Inspired in part by Bell's travels, guests of the eatery will find a changing menu stocked with farm fresh, one-of-a-kind options—a few of the current unique dinner offerings being Chicken Liver Mousse Crostini, Pork Coppa Steak, and Jamon Iberico, among many others.
"I think when you travel, your eyes are just open, you're more excited about things, and you can take in more. I always try to have that excitement surrounding food; for me, I love learning new things all the time and food continues to give that to me, and so does travel," Bell said. "Any place I go, I try to go to a museum here or there, but my list is mostly restaurants and food-focused things. I am basically a food traveler."
Prior to the pandemic, Bell had led food and wine tours with Iberian Wine Tours, a company that offers planned exploration of wine and cuisine in other countries, such as Spain, Portugal, South America, and other special selection destinations. Initially, Bell joined the Iberian Wine Tours as a way to revisit Spain, as she had lived there for six years. Many people from Milwaukee tend to join the tours hosted by Bell, as she sends informative emails to Bavette La Boucherie's customers.
The trips are an experience unlike any other and would be difficult to replicate on one's own, as the company's owners—Jeremy Shaw and Marisa Espeso—use their expansive knowledge and contact list from each area they visit to design trips that dive into educational and experiential opportunities, exploring the unique culture and cuisine, according to Bell. As many countries open to travel again following the pandemic, Bell said she is excited to host culinary journeys with Iberian Wine Tours again.
"I would love to see, with restaurants specifically, that the [industry] becomes a more sustainable way to live, run a business, and to work at for everyone involved. With COVID-19, a lot was exposed with restaurants. There is a lot of disparities between wages for front-of-house and back-of-house, and [I'd like to see] it become a healthier environment," Bell said.
"I guess the silver lining is that some of this stuff was exposed and brought to light, so hopefully it will be more sustainable, because without it being sustainable, there are less people coming to this industry and then there are going to be less restaurants, and I think it is a very integral and important part of our economy, our society, and our social fabric—everything. I am not exactly sure how that happens; I think it is small steps, and people are taking those steps," Bell added.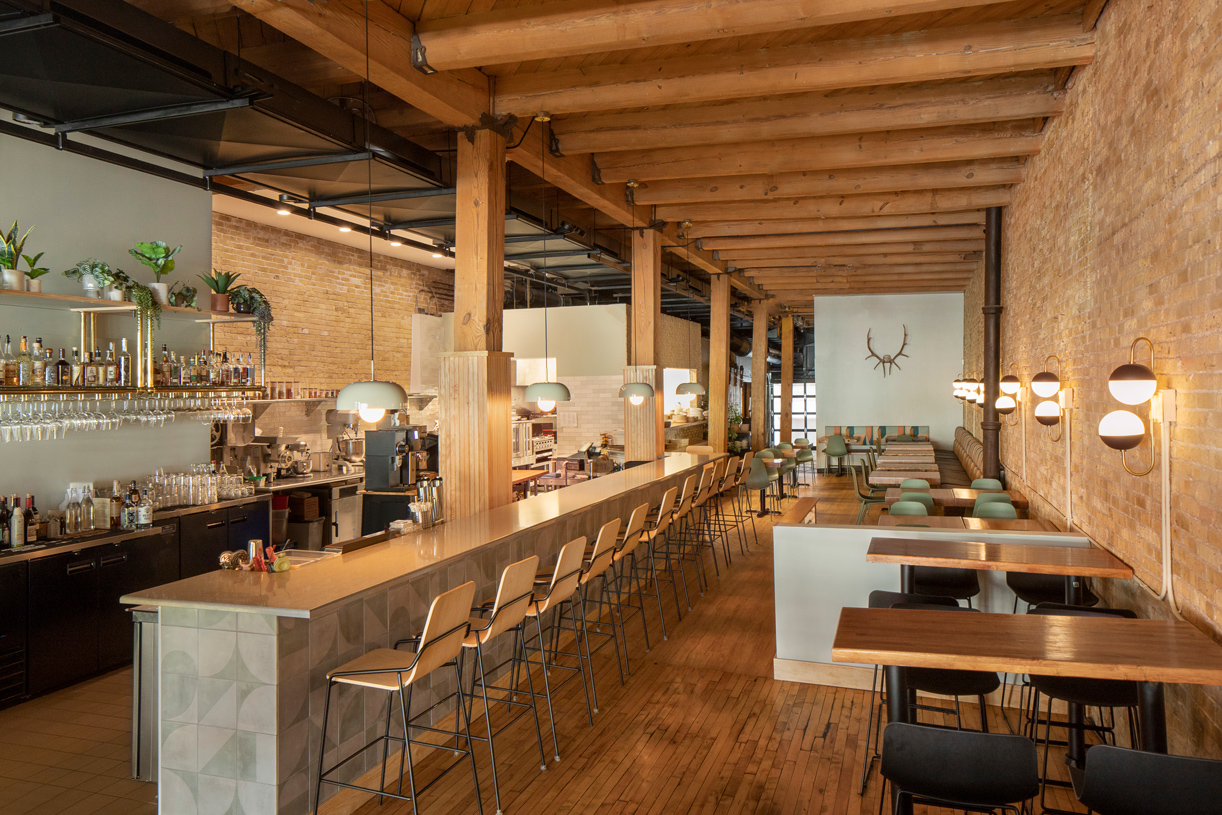 First published in Great Lakes By Design: Crafted Lodging, 2022
Text: Brenna Buckwald
Photography: Kevin J. Miyazaki