Built high into the white sand, wind-blown bluff on the eastern shores of Lake Michigan, this coastal Neo-Georgian retreat is an inspired dialect of classic vernacular language often found in Georgian—and its American iterative, Colonial Revival—and Atlantic, Nantucket style. Defined by its proportion, symmetry, and restrained classical ornamentation, this residence reinterprets the traditional with East Coast inspired shingle siding, large spaces, generous windows, and layering of natural materials in understated elegance. While distinctive in its neighborhood, it is contextual in its siting and scale while embracing its lakefront environment through award-winning landscape and design of lush greens, textural plants, and a mixture of white and subtle hues in its foliage.
Its entry sequence is one of intentional courtship, where drive and landscaped retaining walls reveal a stately impression of exterior stone, white clapboard shingles, slate gray shutters and rooflines, and dormers through a series of curves and tiered welcome. Beyond the flanking white columns at the entrance, this beachfront residence is designed as a weekend and holiday haven for the homeowner and family as it unfolds in gracious open spaces with views to the lake and outdoor entertainment areas intended to celebrate the beachfront all year round.
"The home's exterior, a classic coastal Neo-Georgian design with cedar shingle and dormers, was the starting point for the project," said Beth Lindahl, design lead of the project and in-house architect at Orren Pickell Building Group in Wilmette, Illinois. "The owner chose this classic frame as a counterpoint to less formal, more comfortable interior design."
Orren Pickell Building Group is a family-owned and -operated, full-service, custom home design-build firm located in Wilmette, Illinois. Founded initially as a painting company by the husband-and-wife team of Orren Pickell and Tina Pickell, the firm has since evolved into an integrated firm offering architectural, remodel, custom home, carpentry, cabinetry, and home maintenance services throughout the Chicago, Wisconsin, Indiana, and Michigan region.
Backed by its team of in-house licensed architects and designers, craftspeople, maintenance staff, and specialized professionals, Orren Pickell Building Group has become known in Chicago and the North Shore region for its creative solutions throughout the years and has been recognized with numerous awards for design excellence. Now in its 50th year, Orren Pickell Building Group is a second-generation run business, led by Lisa Pickell, president, and Eric Pickell, sales and marketing manager, and is continuing its mission to create and maintain homes that exceed client expectations and serve as a lasting family legacy with imagination, creativity, integrity, and quality at its core.
"It is really a relationship type of company," said Tom Hackett, sales consultant at Orren Pickell Building Group. "Most people when they come to us and talk about building, they are really only going to build a custom home like this once. I think it is a wonderful thing that we have clients who have built three homes with us or remodeled multiple homes. This is a very daunting process, everyone is nervous about getting into this, in regards to custom homes, but we can take people into 99 percent of our homes that we build for clients. They welcome us back to show new clients, which is really kind of cool."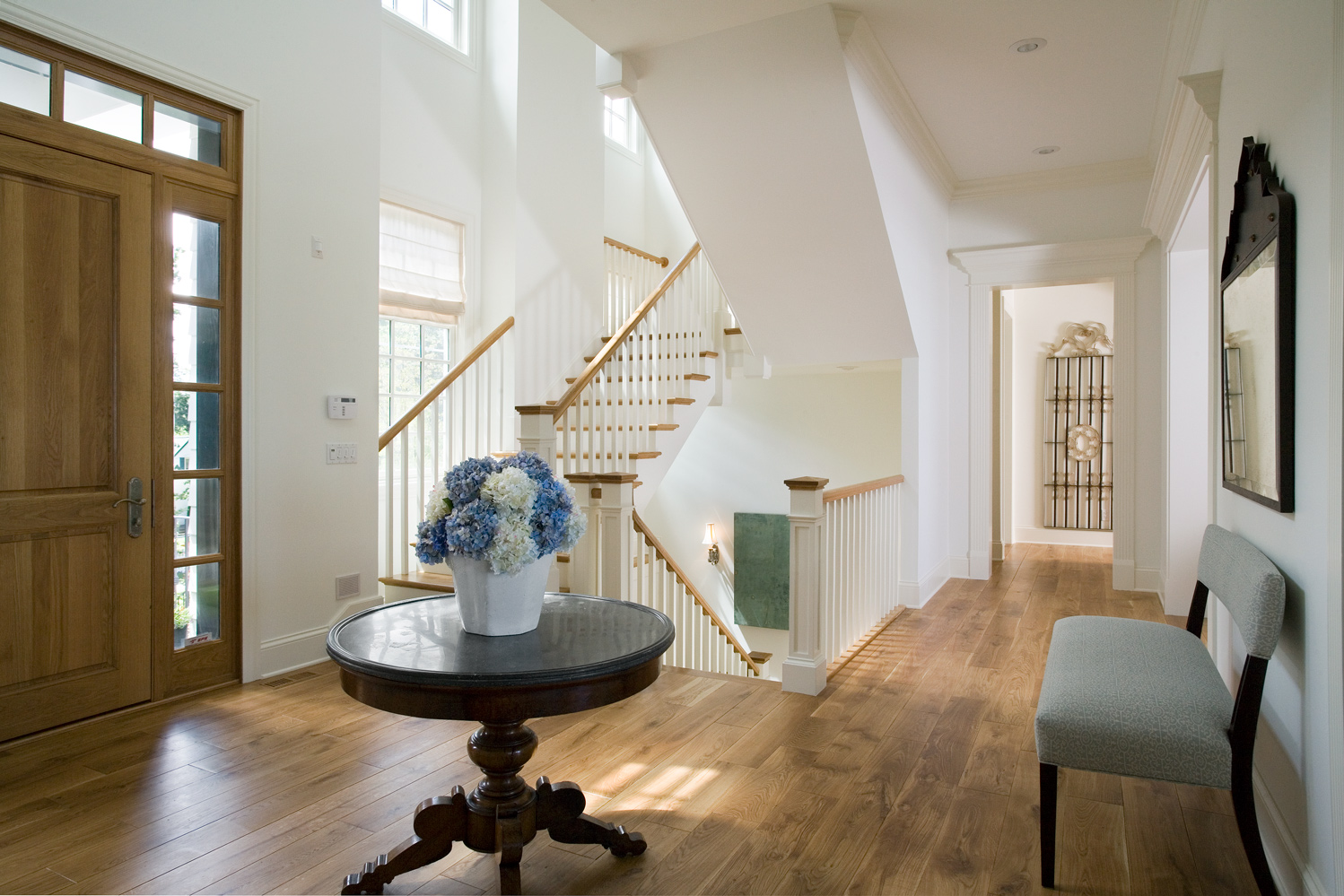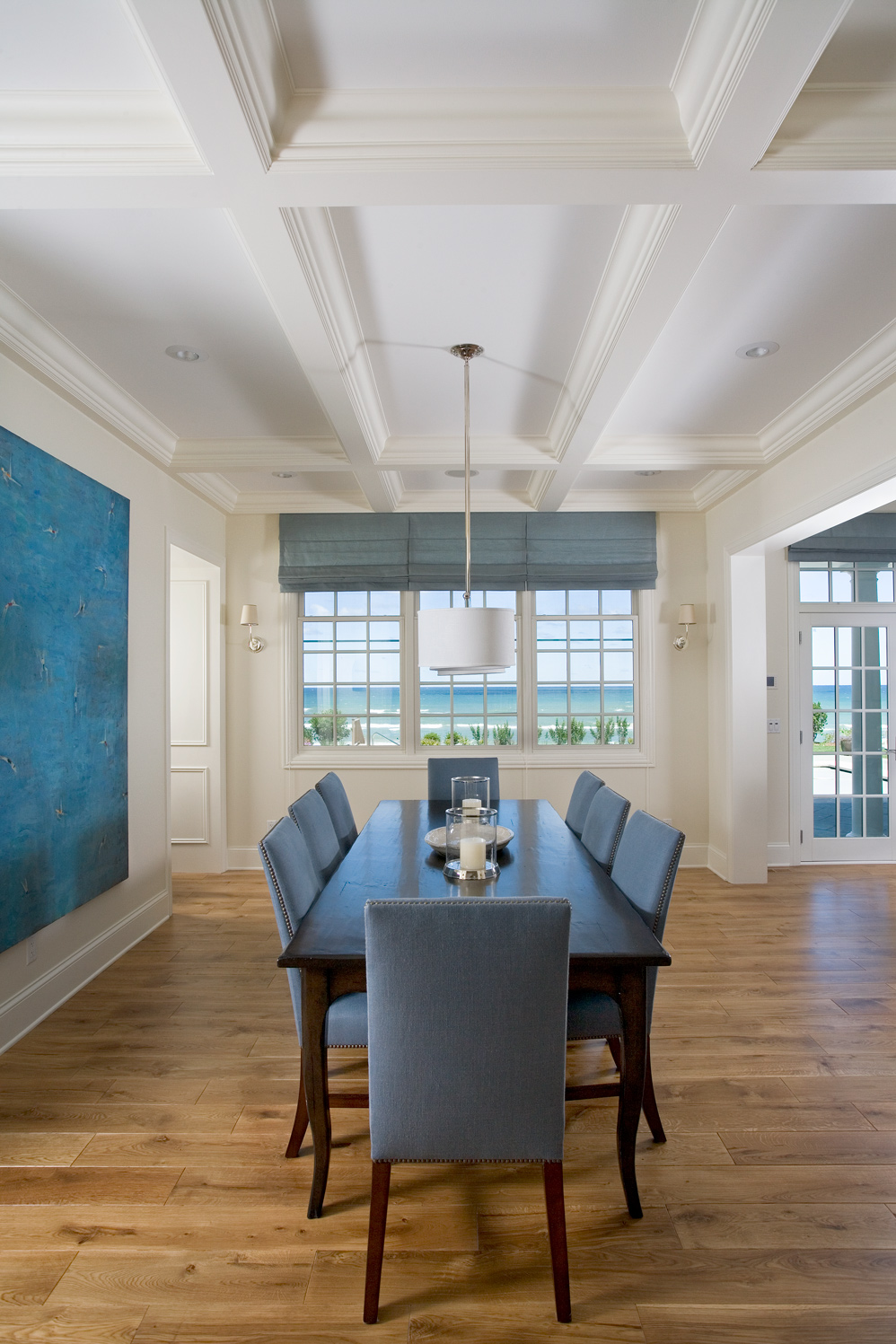 For the coastal, Neo-Georgian residence, Orren Pickell Building Group leveraged its relationship-based approach to help bring an existing client's dream vacation home to fruition on a half-acre property featuring 100 feet of beachfront access. The client, who initially reached out to the firm to remodel her Lincoln Park residence prior to the new build, was interested in blending a love for traditional homes and the symmetry found in Georgian homes with an affinity for Nantucket-style details.
"[The client] is from the East Coast, so she wanted the East Coast feel to the home," Hackett said. "They had a house in Michigan already and they wanted to find a piece of land that was on the lake. Once they found the lot, they wanted that Nantucket, East Coast, symmetrical feel to the house—and they wanted enough room so their two kids could have their own private bedroom and have guest rooms for people when they were spending the weekend."
Rooted in a study of engineering, attention to detail, quality construction, and architectural design, Orren Pickell Building Group's process is one that begins with communication, as it is often a year-and-a-half to two-year timeframe. Hackett noted it is important to build a really good relationship with clients and its design team is intentional about listening to client vision and lifestyle needs to help bring the overall project to fruition.
From initial site due diligence and preparation, such as assessing buildable square footage, setback and height requirements, and soil tests, to post-build punch-list reviews and long-term maintenance, the team guides clients throughout the custom home design-build process with open-book pricing in mind. Hackett noted the firm designs and budgets at the same time to ensure people are not only comfortable with the design itself, but also the monetary aspect as well throughout site preparation, conceptual design, home selections, construction documentation, physical build, and maintenance. Each client also has access to construction specifications and design details through a proprietary, online client project management software platform, known as the Orren Pickell Portal.
"During design and during construction, every client has a web page that is dedicated to their house that lives in perpetuity, so that web page will have records of everything. It will show you what paint color is in the dining room, it'll show you how much you paid for your faucet, and it'll show you all the numbers," Hackett said. "We will give [clients] a book at the end as well, so you will literally have a living page for your house."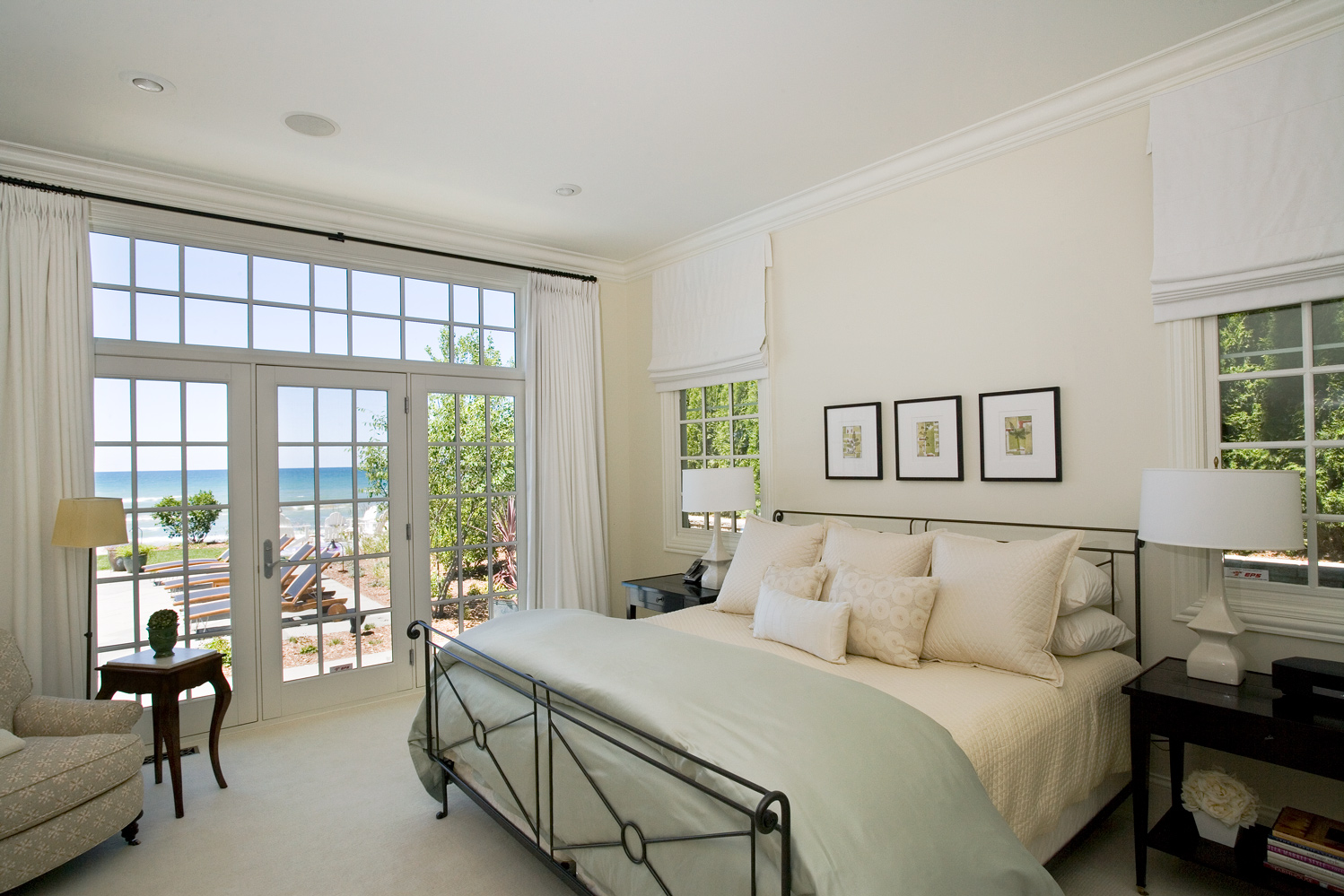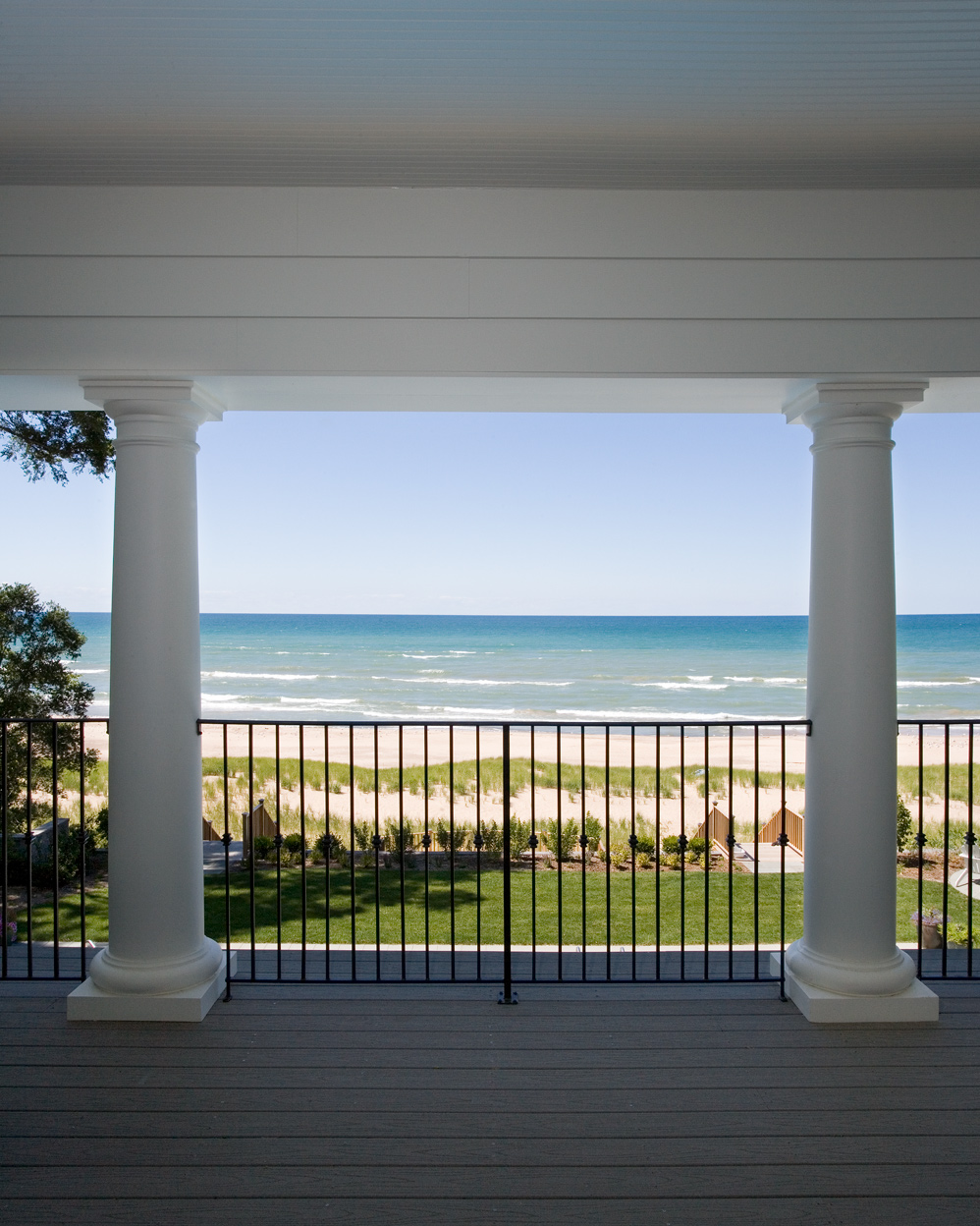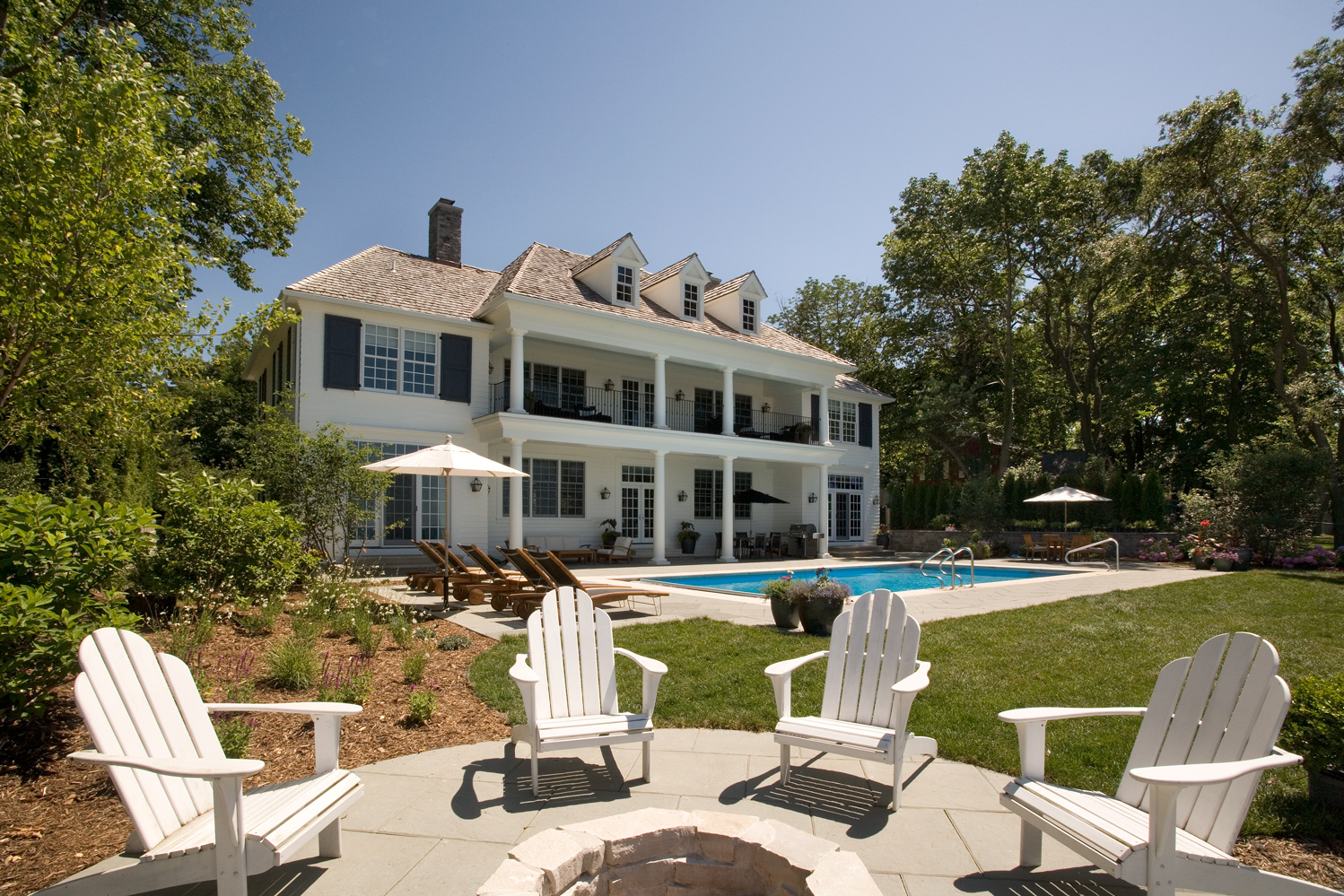 Orren Pickell Building Group | Linda Oyama Bryan
For this waterfront site, the approach was to position the house in a manner that shelters it partially from passersby, while also reconciling the steep elevation that led down to the beach. Retaining walls were intentionally placed, serving both an aesthetic and functional purpose, as the home sits back from the street in contextual harmony with the surrounding built environment. Its streetside façade has a presence and tempered formality through its series of dormers, flanking chimneys, integrated two stall garages, and symmetrical silhouette, complemented by landscaped greens and stone along its drive.
On the lakeside, the home opens out toward a landscaped backyard, swimming pool, and staircase where dynamic bluff-line, dune grasses, and sand formations provide dramatic background. French doors and colonial-inspired windows complete with dividers in historic homage provide direct sightlines to the waterscape below, while the grand lower-level porch and upper balcony featuring trademark columns offer space for outdoor living and entertainment.
"The beachside location really made this project interesting," said Scott Campbell, regional manager for Michigan at Orren Pickell Building Group. "We designed the house with a swimming pool and porch to embrace the outdoors even more."
Its outdoor landscape, designed by Nature's Way Landscaping LLC of Stevensville, Michigan, prioritizes the natural setting and views, while creating a classic look in response to the home's traditional design from the textural green foliage to the grand, custom deck complete with a large landing built into the sand dune. The plan also features an outdoor fire pit, poolside dining, lounging areas, patio, exterior lighting, and a natural privacy fence in addition to swimming pool, custom deck, retaining walls, and natural plant-life.
From the column-flanked front entry, the interior welcomes with a grand foyer and custom three-story staircase that provides light to all levels. There is an intuitive and intentional relationship between spaces as one moves throughout the house, where an understanding of spatial association offers an enhanced day-to-day living, while also offering flexibility for entertaining.
While the upper level is open to the foyer below through lofted hallway, there is a separation between the public space and intimate living areas as flanking case openings on the first floor provide a sense of privacy from the entry. Beyond, the main dining area is open to the living room, featuring coffered ceiling architectural details and a focal point out toward the waterscape. The kitchen, which features Sub-Zero appliances overlaid with rich, custom cabinetry and Viking standing range with double ovens, is delineated through another series of case openings and is opposite the master suite in spatial plan.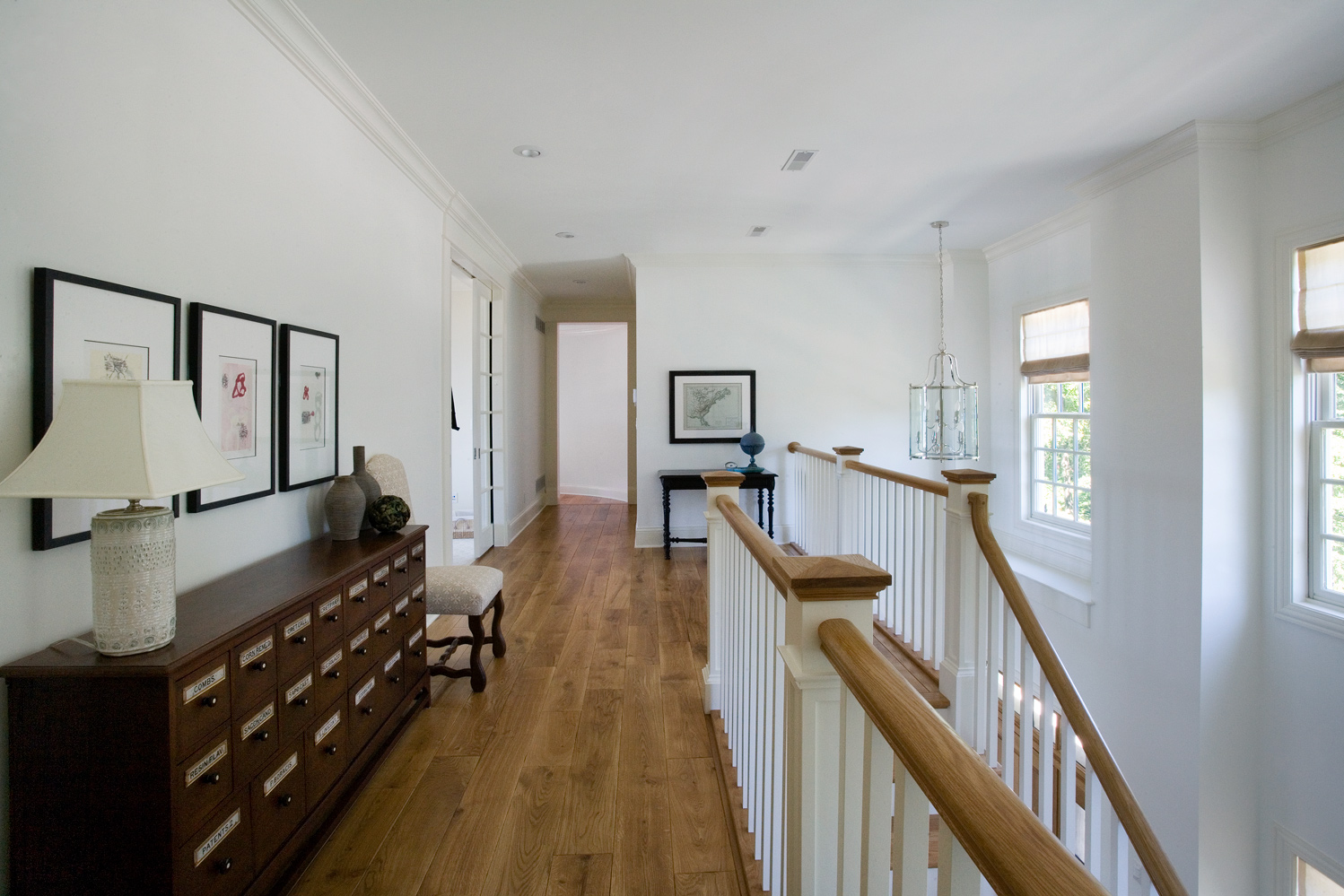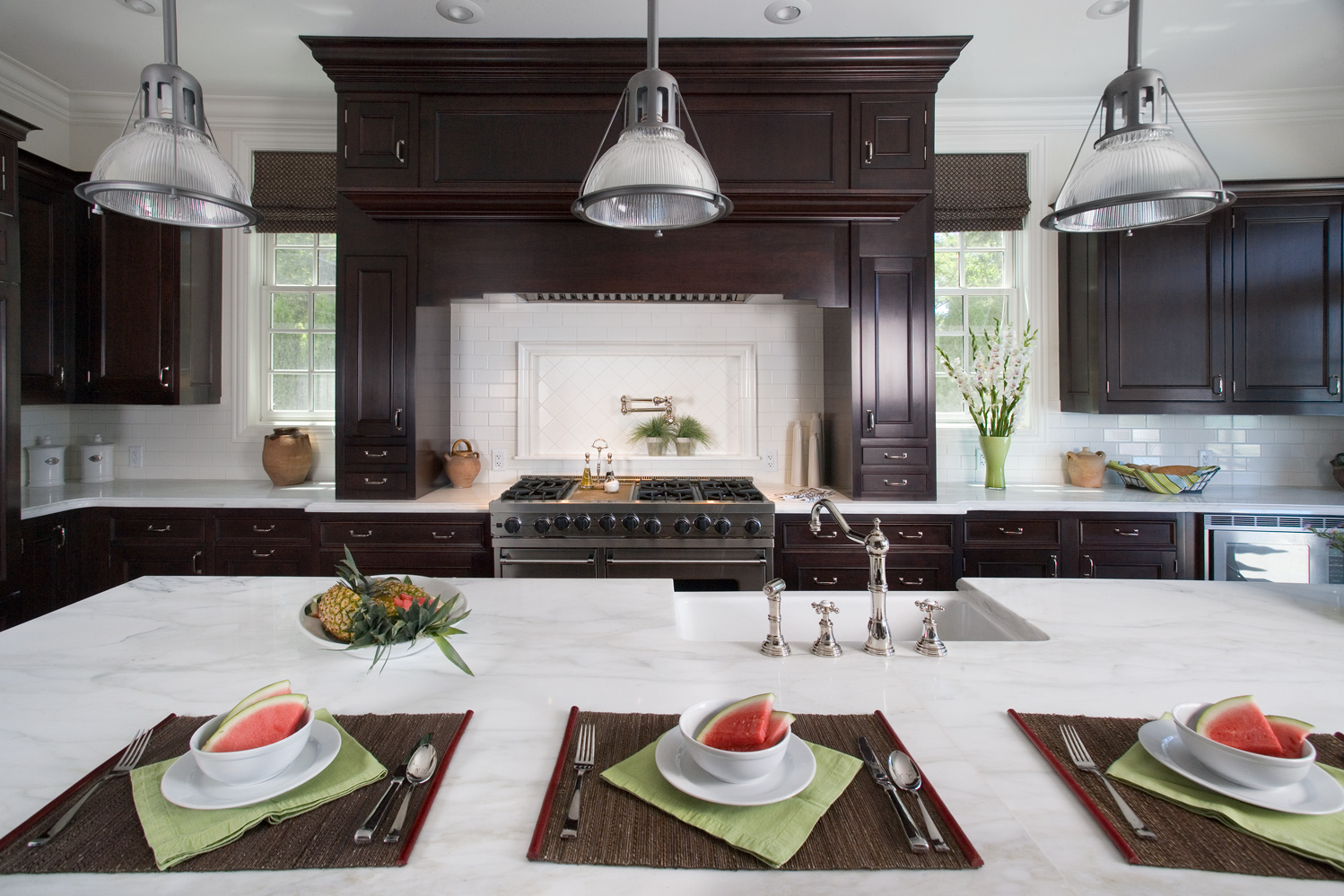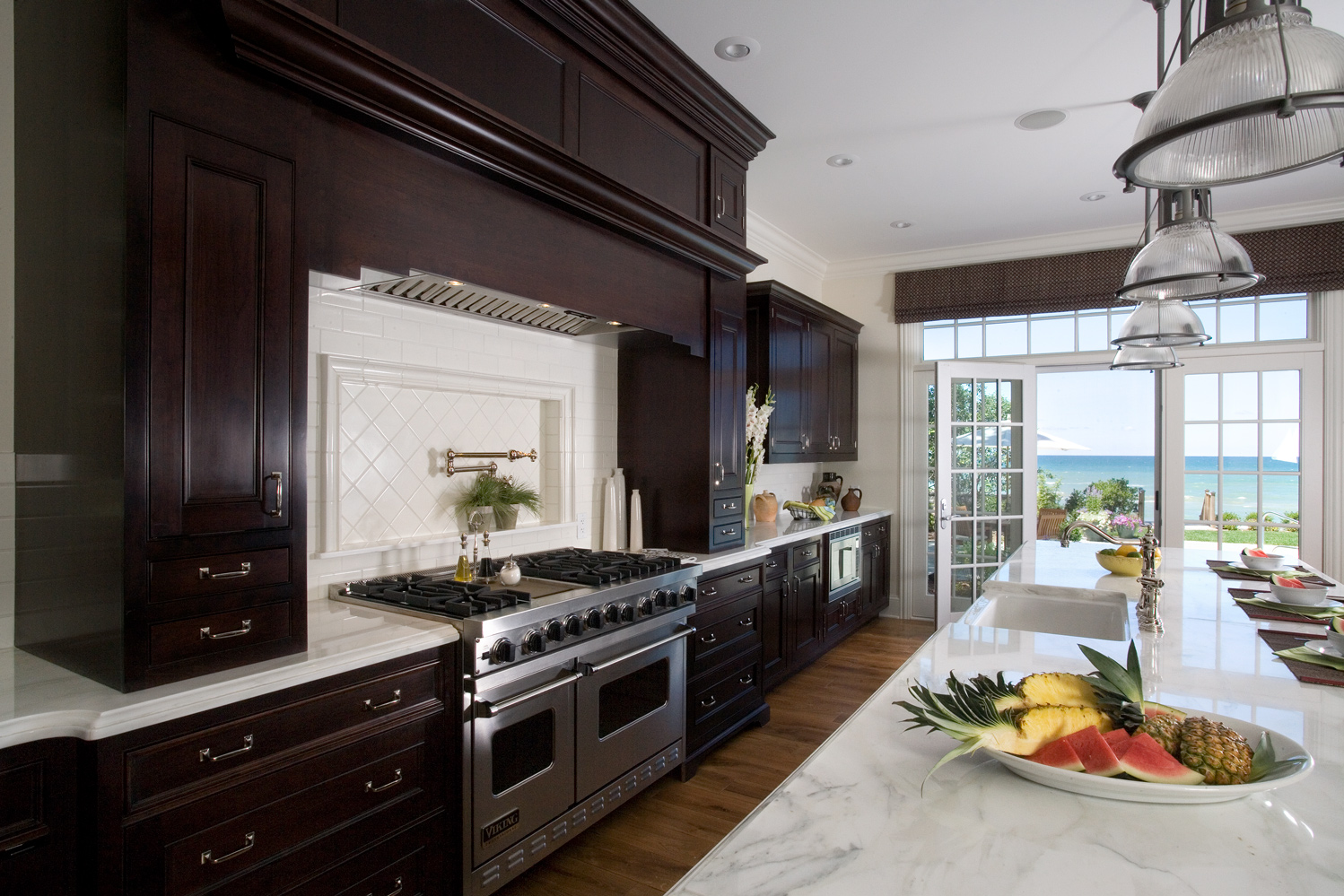 On the upper level, a family room and office loft area—leading out to the upper balcony—serve as a focal point in the interior layout where the two bedrooms complete with bathrooms are placed lakeside with waterfront views. There is also an additional guest suite and storage space located on the upper level; and the lower level features an entertainment space complete with tray ceiling, additional guest bed-and-bathroom suite, storage, a built-in wine rack, and mudroom that leads to the garage for ease of day-to-day living.
For Hackett, it is the symmetry, balanced formality with comfort, and the flexibility of the home to provide intimate spaces for family members, while also scaling up to accommodate groups for events, that stand out to him about the home.
"It has a formality, but it is really a comfortable weekend house. It is fantastic for entertaining and it has a lot of open spaces between the living area and the dining room," Hackett said.
"Good design is important, because it makes your life easier. I think one of the things we always talk about is you know there is a reason why someone is building a house and it is because they can't find something that is out there in the resale market that is pleasing to them. So, when we look at houses, we are really looking at what are the needs of your family, because this is truly a bespoke process where we are designing for whoever it is," Hackett added.
While its exterior, outdoor living areas, and interior plan provide a rich, intuitive background for their client's lifestyle, it is in the architectural details, the unique elements that offer moments of delight, custom millwork, and textural overlay of natural materials and soothing blue and green undertones that breathe distinctive life into the home. From the curved walls in the master suite, raised steps leading to a guest bathroom, traditional antechamber leading to the powder room, and radiant heat in the master bathroom, to the crown molding in the garage, white oak treads and painted poplar risers of the stairwell, and polished granite and Carrera marble countertops, this residence is respectful in its classic details as it posits a distinctive take on coastal living.
"We build above and beyond most builders," Hackett said. "We are really paying attention to detail, we are paying attention to architectural details, and we are also paying attention to details in regard to the building process so it is a better build product."
Other unique details found throughout the home comprise custom cabinetry in the bar and master suite spaces; French, white oak flooring; ceramic tiles in a series of finishes providing depth and contrast; Jerusalem Bone limestone in the master suite; ice melt radiant heat in the driveway and front walk; wrought iron railing at the front entry crafted by Chicago's Finest Ironworks Ltd.; and the copper valleys and flashing on the roof complete with ice and water shields at the eaves and valleys for weathering Michigan seasons.
"I think the key to good design is being able to listen to what the client is asking for and then bringing that up a notch to a different level, because we are professionals in architecture—it doesn't matter if we have to design an ultra-modern house or an ultra-formal house. We are looking at what the client wants and how we can better their lives," Hackett said.
"Really, good design is for good living. It is something that helps your day-to-day living become more enjoyable or puts you at ease in some way," Hackett added.
Full text available in Great Lakes By Design: Raising the Bar, 2021
Text: R.J. Weick
Photography: Linda Oyama Bryan