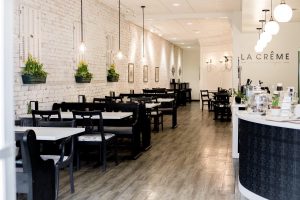 Charming and fresh, stepping into La Crême café is not unlike walking into a French crêperie, where serving thin, pancake-like crêpes is a defining characteristic. Located in Zeeland, Michigan, the Parisian-style creamery and crêpe shop was started by Scott and Kim De Young after they were inspired by warm spaces with specialized menus on the west coast of Oregon. As their kids got older, they decided to make the dream come alive, and brought it with them to West Michigan.
Before La Crême was the inviting breakfast and lunch spot that it is now, Scott and Kim De Young owned a frozen yogurt shop, called Fuzzy Peach, in the same space. After five years with the franchise, they decided it was time to start fresh.
"When our contract ended with fuzzy peach, it gave us the opportunity to say what do we want to do with this space, if we could do anything?" Kim De Young said. "All of the sudden it was like a clean slate; we can expand on what we have. We decided to start over."
After six weeks, in December 2018, the once-frozen-yogurt-shop was completely remodeled into what is now La Crême. Inspired by the traditional style inherent to the quintessential shops in France, the interior of the eatery is in classic colors of black and white, with pops of red and emerald green.
"So many people in the area were doing sort of the urban thing, with the wood and the piping and the metal and all that. I thought 'I don't want to do that.'" De Young said. "I wanted to do something really fresh, and different."
The space, with its round pendant lighting that hangs above the bar, features textures such as a brick wall contrasted with the solid white; and other French-inspired elements such as window boxes, planters, and canopies that mimic the streets of Paris.
"There were people who said to me, when I was designing the space, 'oh it really doesn't matter, just serve great crepes, and the rest doesn't matter,' and I said 'yeah, I really think it does matter.' I think design and the space where we eat is really important," De Young said.
"I wanted people to be able to walk in from the streets of Zeeland and feel like they stepped into a little café in Paris. People have said 'I think I just stepped somewhere in time that's different than this.' That's our goal, and I'm so happy about that," De Young added.
The atmosphere of the café is not only created by the space, but also its menu, which features a variety of savory and sweet crêpes, yogurt bowls, gelato, sorbettos, coffee and tea drinks, and summer salads.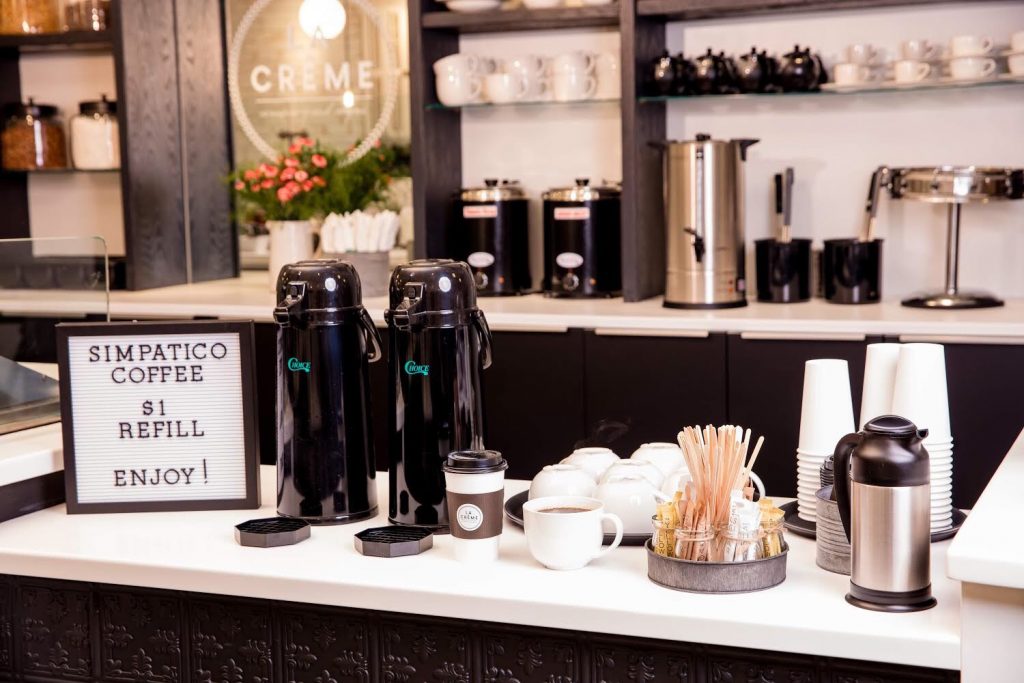 "I've learned that if you keep mixing up a menu and offering something new, it helps. The guests like to come in and try new things so we always have a featured crêpe," De Young said. "A lot of people have never even had savory crêpes before, so that's been a really great thing to introduce them to— the whole world of crêpes, that's been very fun."
While De Young has an affinity for the hospitality side of the business, she learned how to make the crêpes now offered at La Crême and taught the process to the employee artisans in preparation for the shop's opening.
The clean and simple design of the café is carried from its interior to its menu, and even the food is arranged on the plate with presentation in mind—making the crêperie an Instagram hotspot.
"Presentation is huge, especially with crêpes. It seems like everybody is taking photos of them, which is great for us, because it went all over social media right away, and helped our business immensely," De Young said. "They're a pretty food, and a very photographic food. I always tell my crêpe artists: just remember, each thing that you present is going to probably end up in a photograph on social media."
The Parisian-style crêperie is intended to cater to all audiences, and yet Scott and Kim De Young have found that their café resonates with women. While clean, there is a warmth to the interior brought in from fresh flowers and greenery and the service, resulting in an atmosphere of invitation and relaxation.
"For women, it really matters what the space looks like. To them it feels like a place where they can just get away to, and some of them have even said 'I walk out of here feeling empowered for my day. I've been in a place that just gives me peace and clears me up.' That's like the root of hospitality right there," De Young said. "It's like come in and get filled, not just with food, but with friendship, relationships, and hospitality; and let us care for you and love on you and then go out to your world and make a difference."
Text: Brenna Buckwald
Photography: La Creme