Recently, SmithGroup, an award-winning, global, integrated design firm, expanded its geographic footprint in the Great Lakes region with the opening of a new office location in Cleveland, Ohio. The expansion is intended to build upon its legacy of work in the Great Lakes region, joining a network of operations in Ann Arbor, Chicago, Detroit, Madison, Milwaukee, and Pittsburgh, and to deepen the firm's ongoing relationships across municipal, higher education, and healthcare clients in the state.
"One of the key elements of our strategic plan is to enhance our ability to serve clients through an expansion in studios, disciplines, and geography," stated Russ Sykes, PE, LEED AP, chairman and managing partner at SmithGroup. "This new office expands our geographic footprint in the Great Lakes region and enables us to better connect our team with local communities."
It is the latest location to join the firm's larger network of studios and offices across major markets in the United States and China, building on the recent expansion into cities like Atlanta, Portland, Sacramento, and Houston. It also recognizes a commitment and investment in the Northeast Ohio and Lake Erie regions, which has resulted in a number of impactful projects throughout the decades such as the Cleveland State University Master Plan, University of Toledo Master Plan, and Toledo Glass City Metropark. The firm has also played an influential role in the revitalization of the Lake Erie shoreline and the greater ecological habitat in the state with its work on the Eastside Greenway & Cuyahoga County Greenway Plans, Cuyahoga County Lakefront Public Access Plan, Toledo's Middlegrounds Metropark, and the Euclid Waterfront Improvements Plan—which led to an unprecedented, public-private model that invested in the people and the connection they have with the shoreline and its waters.
The Cleveland office team will comprise Chad Brintnall, PLA, principal landscape architect; Michelle Johnson, senior planner and waterfront strategist; and Marisa Razi, ASLA, AIA, landscape architect, architect, and planner. The team will also work closely with Michael Johnson, PLA, ASLA, LEED AP BD+C, urban design and planning studio leader; and Jason Stangland, PLA, LEED AP, principal landscape architect and Waterfront Practice Director at SmithGroup.
"We're excited to build on the impact we've had in the area and look forward to supporting the growing design needs of this region," Stangland stated.
SmithGroup, as a firm, is on a mission to design a better future. It works with partners and clients to deliver well-designed spaces, places, and processes, with a focus on developing sustainable, beautiful, and future-focused solutions across disciplines and built and natural environments. Throughout the years, the firm has become recognized for its waterfront planning and design, developing comprehensive and integrated, resilient solutions intended to heal, restore, and protect water-based landscapes while reestablishing them as part of the urban and social fabric. SmithGroup's Waterfront Practice specializes in coastal habitat protection and restoration, living shorelines, and green infrastructure, leveraging creative design and engineering solutions to address changing dynamics of river, lake, and ocean environments, like the Great Lakes, which is the largest freshwater system in the world.
Since 1853, SmithGroup has developed a diverse portfolio of work across the globe in disciplines such as cultural, government, healthcare, science and technology, higher education, hospitality, mixed-use, parks and open spaces, residential, senior living, workplace, and waterfront. The integrated practice has also grown to a team of 1,300 employees in 20 locations, offering services like architecture, engineering, campus planning, interiors, historic preservation, and landscape architecture, to name a few.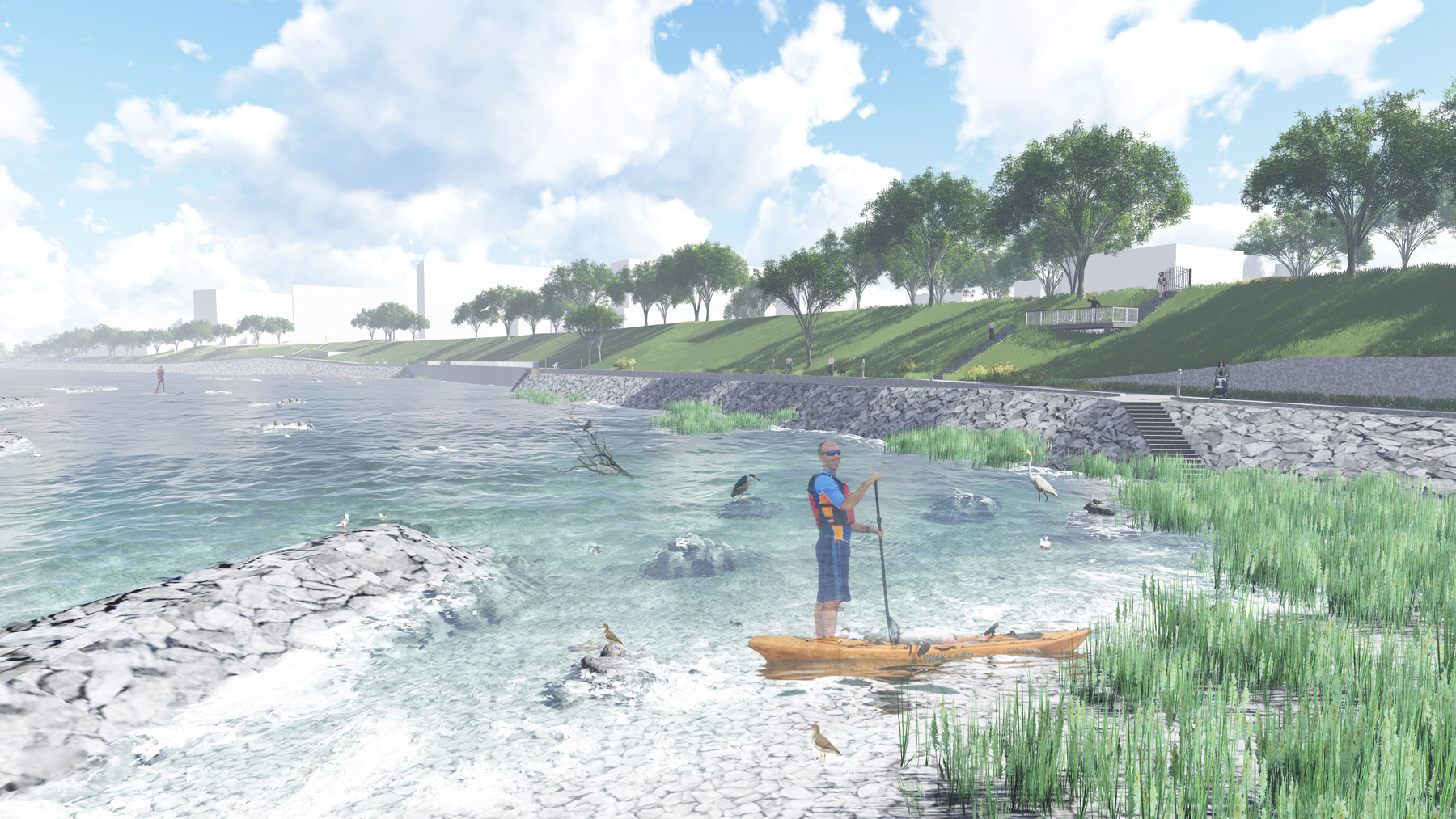 Text: R.J. Weick
Photograhy: SmithGroup