True to its signature title, a Three Oaks-based distillery began with a journey and a thirst for delivering a well-crafted experience.
From its historic location within the 1883-built Featherbone Factory just 70 miles northeast of Chicago, to the well-known craft of whisky distilling inherent to Scotland, Journeyman Distillery provides more than a high-quality product, but rather an entire rich experience.
Garrett Ragland, marketing manager at Journeyman Distillery, said when Founder and Owner Bill Welter talks about the founding of the distillery, the two subjects discussed include golf and Scotland.
"He is very passionate about the game of golf. It is what brought him to Scotland and whisky is what made him fall in love with Scotland," said Ragland.
Welter then spent time abroad and fell in love with the distillation process before returning to the United States to spent time in the restaurant business and apprentice with Koval Distillery in Chicago, according to Ragland. Welter then looked for a space to start his own operation, and from there, the rest is history.
"He decided he wanted to find a location that in the future could be everything he wanted it to be: a distillery, an event space, and a restaurant," said Ragland. "He wanted it to be cool enough that people would want to come and tour the facilities, and learn our story."
An iconic location
While Journeyman Distillery was officially established in 2010 and opened its doors in October 2011, the physical space it now resides has more than 130 years of history worn into its original maple factory floors. Once home to E.K. Warren's Featherbone Factory, which used the quill of a turkey feather to revolutionize women's corsets and manufacture buggy whips, the iconic space retains a number of characteristics of the former operation.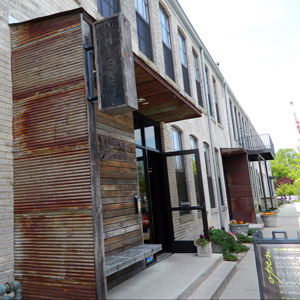 "Bill wanted a place that was steeped in history; that he could tell a story through the building and through our brand," said Ragland. "The size, the history, and a lot of the original exposed brick, beams, and piping were a big inspiration."
When renovating the space between 2010 and 2011, there was an effort made to maintain the historical feel of the industrial space, from keeping original wood flooring, oil stains from years of sewing equipment, old pipes, paint, and bricks. Journeyman Distillery also features an original concrete bar made in Grand Rapids, and reclaimed white oak wood from the Putnam County Farm near Greencastle, Indiana.
"There were quite a few renovations about four-to five-years ago, but honestly we are never done," said Ragland. "We have continued to renovate, continued to cultivate a new experience for our clientele and we are still not done. Now we are building another catering kitchen and another event space. Then the next project on the docket will be revamping our outdoor space in the back."
While there may be another project just right around the corner at Journeyman Distillery, the completed space evokes a rustic ambiance with modern amenities and a touch of historical industry still beating at the heart of it all.
Stories and spirits
The space and location is only one aspect of Journeyman Distillery's story, which is also told through the naming of spirits, shirts, and its commitment to a "grains to glass" philosophy.
"We do like to tell our story a lot through our spirits and through our building. A lot of our spirits are named after important events in Bill's life, or historical aspects from around the area, or famous people or events," said Ragland. "I think that contributes a lot to our brand."
Journeyman Distillery produces a variety of whiskeys, such as: the rye and wheat blended W.R. Whiskey, which is a tribute to Welter's father and grandfather; Featherbone Bourbon Whiskey; Corsets, Whips, and Whiskey; Buggy Whip Wheat Whiskey; the Three Oaks Single Malt created from 100 percent two row malted barley; and Silver Cross Whiskey.
The Silver Cross Whiskey, which was named as tribute to the game of golf and the medal given during the British Open, was created from four equal parts of rye, wheat, corn, and barley. The end result is a bouquet of rich and complex flavors, blending notes of caramel, spicy red fruit, pepper, malty earth notes, and a silky smooth finish.
Since launching the organic spirits distillery, Journeyman has also diversified its products to include the Red Arrow Vodka, Fine Girl Brandy, Bilberry Black Hearts Gin, Bilberry Black Hearts Barrel-Aged Gin, Road's End Rum, Road's End Barrel-Aged Rum, Humdinger Jalapeno Spirit, Snaggle Tooth Coffee Liqueur, and an apple cider liqueur known as O.C.G.
"The barrel-aged version of the rum is navy strength at 114 proof," said Ragland. "There is an interesting story behind that concept: if you were to spill it on gun powder on a ship, it would still ignite."
Journeyman's unique Bilberry Black Hearts Gin is not only distilled in a separate smaller still affectionately known as "Taz" after Tanzania, but also uses a closely-related berry to the huckleberry and blueberry that is indigenous to Britain and Northern Europe. The gin's recipe complements the bilberry taste with juniper and seven other botanicals to create a bright and fruity spirit with a whisper of black licorice.
The separate still is also used when creating the Humdinger Jalapeno Spirit, since the highly botanical fragrance would impact the flavor of the other spirits, according to Ragland.
From grains to glass
The attention to detail and commitment to locally-sourced grains is also evident from the distillery's certified distinction from the Midwest Organic Services Association, the United States Department of Agriculture Organic, and Kosher certification.
"We are very committed to our organic roots: no GMOs and no antibiotics in a lot of the products that we sell here," said Ragland. "We want to build our business off of other small businesses. We want to keep our ingredients and our materials close to us so we know exactly where it is coming from."
Welter has taken it one step further to reaching to goal of having an "estate" whiskey by having his own rye farm to use when handcrafting the Last Feather Rye. Journeyman Distillery will not only grow and harvest its own rye, but also mill it, mash it, ferment it, distill it, and bottle it in-house.
"We are going to be able to take a grain that we grow and we know where it came from, and turn it into a product that people will hopefully know and love," said Ragland. "We like to harp on our grain to glass philosophy. Bill wants to be genuine and he wants to be transparent."
Expanding the journey
Currently, Journeyman Distillery has a distribution network spanning 15 states in the country and its spirits can be found in a number of large liquor stores in Chicago, Indianapolis, and Detroit. To keep up with the demand, Journeyman Distillery recently invested in a new production facility and a still that can hold 5,000 liters.
"It is good that we can get on with some of those bigger distributors. Obviously distributors like that are always looking for vendors like us to give them more and more," said Ragland. "That is what we are trying to do with our new production facilities. People like our commitment to organic and so do the distributors, so we are trying to fill that niche market."
As Journeyman continues to grow, it has expanded its space and options for visitors. The distillery now offers space rental for private events; an entire upstairs room known as Warren Hall, perfect for wedding receptions and complete with a bridal suite; whiskey tours; a five-bedroom lodging accommodation at 101 Generations Drive known as The Flat; and a full-service restaurant known as the Staymaker.
With the recent opening of Staymaker in October 2015 and the upcoming tourist season, Journeyman Distillery's staff of approximately 70 team members continues to grow in almost every department, from distillers, bottlers, and servers, to marketing and accounting professionals.
"Luke, our executive chef at Staymaker, is very creative in cooking our spirits into our menu," said Ragland. "We cook our bourbon and our rye whiskey into our pizza crusts, we make bourbon ketchup and barbeque sauce, we brine meats with our gin, we use different spirits to accent dressings and salads, and we mix it in with icings and put them on top of cupcakes."
Although the meaning behind the distillery's name is often left open for interpretation to encourage guests to create their own message, the artisan spirits and experience handcrafted by Journeyman's team will undoubtedly leave a rich chapter in each visitor's story.
"People want a greater meaning in a brand or a greater meaning in a company," said Ragland. "They don't just want someone who provides a product; they want a story, they want a full experience."
GLBD
Related: The Mixing Glass
Visit Journeyman Distillery