Brendan Sherwood, jewelry designer and owner of Elements Custom Jewelry Studio, knows there is a difference between style and design.
"People have different styles and different tastes, and there is good and bad design within those genres," said Sherwood. "You come in and have your own ideas and your own personal aesthetics. What we try to do is put good design behind it and make the jewelry for you that way and it tends to work out really well."
For nearly 27 years, Sherwood has been providing design, rendering, and production of custom jewelry and additional production pieces within downtown Royal Oak, Michigan. The College of Creative Studies alum launched his business in 1989 in a 600-square-foot space on Washington before moving to the current 1,000-square-foot studio at 512 S. Center in 1994, which he built and designed with his father.
"I had the background for doing custom jewelry and really just wanted to work for myself. The whole family comes from a long line of entrepreneurs," said Sherwood. "My dad is an architect so we did that together. It was a fun project and we decided to keep things at a reasonable scale: not too big, not too small. I like the intimate aspect of the business."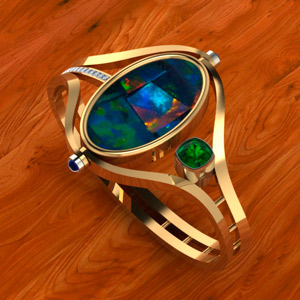 Elements Custom Jewelry Studio is located within the heart of downtown Royal Oak, Michigan along 5.3 miles of streets housing 85 boutiques, salons, restaurants, and retail shops. On the interior, the space was intentionally designed with free-standing showcases to not only create a gallery-type atmosphere, but also create a highly personalized experienced for customers.
"I wanted them to feel comfortable, be at ease, feel that they can touch things, try things on, and have a much more pleasant experience," said Sherwood. "I designed the store that way and now there is a big movement toward that in terms of store design, which is interesting."
The personal connection with clients is one of the aspects Sherwood enjoys about the business. When people come into the studio with a basic idea for a custom, commissioned-piece and may or may not know how to articulate the specific aesthetics, Sherwood brings out a sketchbook, places it on a showcase and sparks conversation.
"We start with real simple sketches, start talking, and asking questions. Some people can lead you down a path really easy, and others don't really know how to articulate it," said Sherwood. "They are really surprised at the end of a 20 to 30 minute conversation that we can come up with something that fits what they wanted."
Free-handed sketches are then used to produce digital renderings to show clients concepts before it is then rapid prototyped either using a four-axis milling machine or a 3-D printer to produce models for casting. Prior to 2004, however, the design process had to take a more hands-on approach to creating models.
"We started doing CAD design in 2004. Before that, we carved all of the waves and did all of that by hand," said Sherwood. "The CAD design has really helped out a lot to be able to show people concepts and ideas, because once we meet with a customer we can then send them a JPEG image in an email."
Elements Custom Jewelry Studio works with about any metal that can be casted or manipulated, such as platinum, palladium, gold, sterling silver, stainless steel, and copper; and gemstones ranging from diamonds and harder alternative color gemstones. It is the color stones that Sherwood has a personal fondness for, especially the spinel stone.
The color stone, which comes in very similar colors as sapphires or rubies and has a similar hardness and refractive index, while not well-known is become rarer all the time, according to Sherwood.
"It is the kind of thing you don't call and order a six millimeter blue spinel; you call and find out what is available and work from there, which kind of makes it more exciting too," said Sherwood.
The more flexible approach to sourcing stones is also used when customers are interested in searching for a more unique and alternative stone.
"We try to leave it very open, because of limited supply and if we say we want this specific thing, we might miss something that might be slightly smaller or a slightly different shape that could be amazing," said Sherwood. "We tend to throw a bigger net when we are doing that kind of thing, because colors are a much more emotional purchase than a diamond."
While Sherwood enjoys a number of aspects about the business, such as the personal connection made with other people, he also likes having the ability to be creative and build a tangible concept around someone's ideas throughout the jewelry design process. While some designs have been sparked by lace from a wedding dress or a portion of a tattoo, others are driven from a technical standpoint, according to Sherwood.
"There is a bracelet I made and it was an opal that was two-sided," said Sherwood. "The concept of being able to see both sides caused us to engineer the bracelet and then we made all of the little details around that aspect that it would hinge, so there were little stones set into the hinges and things like that. I turned the stone setting into the hinge and put the clasp on the back."
From producing custom jewelry, fixing costume pieces, and creating reliquaries, to crafting corporate awards and limited production pieces, Sherwood's Elements Custom Jewelry Studio brings a personal touch to artistic design.
GLBD