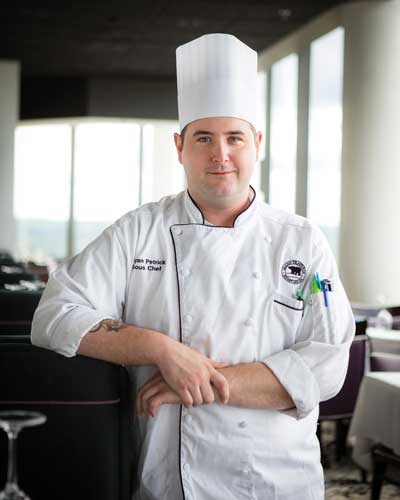 The visual summer landscape of northern Michigan is often matched by its flavors. Crops like tomatoes, fresh greens, and Traverse City's famed cherry varietals bloom in time for a vibrant tourist season and at Aerie Restaurant & Lounge, the Grand Traverse Resort and Spa's acclaimed high-rise restaurant, its flavors will be captured in a Taste of Summer menu set to debut on May 27th and end on June 2, 2019.
Bryan Petrick, head chef at Aerie Restaurant and Lounge, said the $35, three-course menu is a way to kick off the summer after an unpredictable winter—and its effects on Traverse City Restaurant Week—and a prequel for flavors to come during the following summer months.
"There's always something to do and new ingredients coming in," Petrick said. "We're doing a lot of new features this year and it's just a steady flow of business. It's kind of a welcome change we have from the fall and winters up here in Traverse City with all the tourists leaving."
The menu features seasonal ingredients sourced from affiliated northern Michigan farms: from the Kingsley, Michigan-grown tomatoes, salad and micro greens; to asparagus grown in Honor, Michigan, and wild mushrooms foraged from local woodlands. Throughout the Taste of Summer menu, Petrick also took the opportunity to showcase different methods of ingredient preparation and flavor utilization. Fresh tomatoes pair with hand-pulled and rolled mozzarella courtesy of the Aerie kitchen, and they provide the basis for smoky tomato bisque prepared with carefully smoked herbs and vegetables. Smoked oil folded into a fingerling potato salad dresses the second course salmon dish, and traditionally-prepared risotto is reimagined using barley instead of Arborio rice. 
What Petrick describes as an "organized chaos" governs the style of presentation for each ingredient, as is the case with all of Aerie's menus in which plating styles feature carefully asymmetrical, inviting proportions. Though the Taste of Summer menu is specifically crafted to capture the unique seasonal flavors of northern Michigan, it is similar to Aerie's other menus in its approach to plate presentation and in its diversity of geographical influence.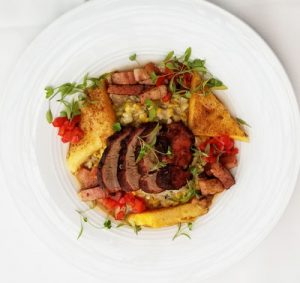 "I don't really think there's so much a theme to this menu, because I think looking over it you have Italian, Asian, French, American, and it's all over the board; its the style I like to have in the rest of the restaurant," Petrick said. 
"It doesn't have a certain type of cuisine; we are considered contemporary-American, but there's also Italian influences, French, Asian, and Latin; there's even a couple Indian-influenced dishes on our menu right now. I just take whatever ingredients are fresh, in-season, and local and turn those into really good dishes," Petrick added. 
Among the nine dishes featured on the summer prefix menu, Petrick is particularly excited for the cavatelli dish featuring house-made pasta, asiago, parsley, and mushroom ragu composed of foraged mushrooms cooked down by the batch. It is an item that will be cross-utilized—along with the caprese—for the regular summer menu launching June 6, 2019 to provide an extended taste of northern Michigan's seasonal flavors and the Aerie kitchen's affinity for creative preparation. 
"Come in before the summer kicks off and get a taste of what's to come for the rest of the summer," Petrick said. "That's the basis for this menu. It's a $35, three-course menu and you can't beat it."
Text: R. Collins | GLBD writer
Photography: Grand Traverse Resort and Spa | Beryl Striewski