In a design rich environment, Mathison | Mathison Architects is continuing the architectural heritage of modernism in Michigan. The Grand Rapids-based, full-service firm specializes in bringing the modern aesthetic into educational, high-end residential, commercial, and civic design.
Great Lakes By Design spoke with founding Principals Thomas R. Mathison, FAIA, and Evan Mathison to learn more about their firm and their approach to creating meaningful places and spaces.
Tell me more about your firm and why you wanted to start it in West Michigan.
Evan Mathison: When we started in 2013, we had this vision to start a small design-focused practice that did a variety of projects. We believe different typologies and different scales are actually symbiotic with each other; you learn things from one kind of project that you can apply in other ways. That is something we are really excited to do in West Michigan.
We focus on modernism, which is unique. We have been focused on hiring people who have roots in West Michigan, but have lived and worked in other parts of the country and other parts of the world. We think the diversity of design background really contributes to the direction of the office.
We have been told we think differently than other firms in town and that is something we are proud of, and if you were to line up 10 of our projects you wouldn't see a similar style or look to them. They all have completely different clients, influences, and design approaches based on a very site-specific approach.
What does modern architectural design look like today? What are some key elements you like to see in a modern-designed project?
Evan Mathison: There is so much rich modern architectural history in Michigan and in the Midwest; from Detroit to Chicago and Grand Rapids; Frank Lloyd Wright, Alden Dow, Saarinen…They are the modern staples of architecture; it is what everybody learned about in school.
The kind of modernism we do is focused less on the pure modernism which you would think of as a lot of glass and steel, white, and '60s modernism. We think of our modernism as warm, friendly modernism. There are a lot of natural materials—wood—but we also incorporate all of the clean lines that you would think about in modernism.
We think about space from a modern approach. That is really where we start with our projects: it is not just the materials, it is not just the roofline, but it is really the planning—the space planning.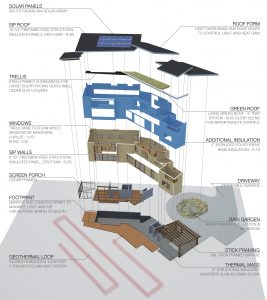 Thomas Mathison: If you were to boil it down to a few things, our projects all have strong plans, and we really look for transparency and flexibility of space in order to achieve this indoor/outdoor connection.
Evan just built a house that includes large areas of glass; sizes that are unusual in their size and in their engineering. They have multiple functions so they are very sustainable in terms of energy, but they also provide this large area of transparency. Being able to incorporate materials like that really help advance our design intent of doing something that is out of the ordinary, but making it extra special and much more functional and beneficial for the owner.
Evan Mathison: I think about the Deer Haven project, the one in upstate New York, the one in Massachusetts; they are all designed using passive solar principles. These are ideas from the '70s; they are not rocket science. It is planning the house around the path of the sun, when do you use what rooms during the day, who are you there with, what are the relationships with the exterior, and where is the glass placement? We try to capture as much natural light as we can.
That is a sustainable principle and we believe that should be part of every design process. The other key component to our approach is the most sustainable way to design something is to build less of it. Smaller and smarter is the key to everything.
What inspired you to pursue this line of work?
Evan Mathison: He tried to get me not to go into it, but I didn't listen.
Thomas Mathison: I didn't think he would go into architecture. I thought he was headed for a career in science or medicine of some kind.
For me, it was the combination of right-brain, left-brain; art and math. I took some drafting classes in high school back when we had pencils and I liked it. I loved the combination of technical problem-solving, along with a creative mindset as well. That is what attracted me then, as it does now.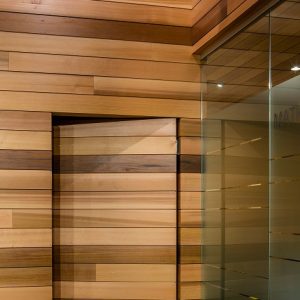 Evan Mathison: What I love about architecture is you can be intuitive and experimental with how you are shaping and forming spaces, but then the technical side is you have to be verifying and checking with the program of the user, code, scale, size, and also sustainability, overhang, and wind direction.
You have this creative intuitive process which is the artfulness of it, but then you are always being restrained. The constraints of the project almost always make it better. Why we are doing it is really what is important: it is really the why rather than the what.
Thomas Mathison: I was always interested too that the outcome of our service is actually something physical and tangible, and it is something that remains.
Evan Mathison: …and also affects lives. It changes the way people live or it changes the way people work or it changes the way people learn. The human use of activity is really what inspires all of us to keep doing what we are doing.
What does design mean to you?
Thomas Mathison: I think it means intentionality; I think design means insight, thoughtfulness, and problem-solving; of developing a vision that adds value through your insight and through your creativity into a form and function that is unique for the situation.
Evan Mathison: Design is really about process. Nothing is created without a lot of hard work and a lot of different steps, so the process is really what defines design for us. It is about learning, it is about creating, it is about testing, it is about verifying, and it is about implementing.
The whole process is required to produce something that is effective and beautiful. For us, everything has to be beautiful, and that is not just the big picture, but all the details and all the sorts of grains have to contribute to the conceptual idea, and if they don't then we remove them.
Thomas Mathison: The integration of all those factors into a simple solution to me is really the most elegant kind of design. The essence of what modern design is for us is something that is really well-designed, it is elegant, and it stands the test of time.
Today we see a lot of mid-century design coming back into vogue—the really excellent mid-century design is timeless. You are attracted to it, because there is a quality about that is…functional, clean, and there are no extra pieces.
GLBD