A Michigan-based architectural firm's design process is proving 'a picture is worth a thousand words.'
The West Michigan-based Visbeen Architects Inc. has more than two decades of experience with retail, commercial, and residential projects; and it is a firm known for its rather unique method for bringing a client's dream to reality.
Its founder and president, Wayne Visbeen, is not only a licensed architect and registered interior designer, but can also outline a client's dream house or project with a series of rapid and fluid pen strokes.
Angela Visbeen, director of sales and marketing for Visbeen Architects, said while the firm has completed projects for retail and commercial clients such as A.K. Rikks, Cornerstone University, CWD Real Estate, Blackford Capital, and 42 North Partners, Visbeen Architects is primarily known for its custom residential architecture.
"We have an emphasis in waterfront home design. We design any size, any style. It is all live interactive sketching," said Visbeen. "That is Wayne's shtick. He comes in—pen and paper in hand—and designs live in front of the client. It gives instant solutions in an interactive process."
From modern style homes with sweeping façade features and deep overhangs, to Tudor and farmhouse-inspired design, Visbeen Architects works to put the time and energy into creating an end result that is both beautiful and functional whether it is a $300,000 or a multi-million dollar project.
With a number of projects valued between $800,000 and $1 million, Visbeen said there are a number of people who have the perception they do not fall in the firm's target market. It is a view Visbeen hopes to break down.
From existing house plans for sale to custom design, potential clients have options and the first meeting is free of charge to see what it would be like to work with the firm, according to Visbeen.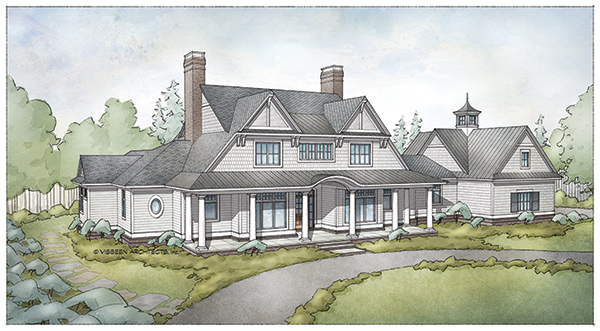 "We have used 'you can't afford not to hire us' in an ad campaign and we really like that, because the truth is we feel as though we can save clients more than our architectural fee in good design by cutting down or eliminating unnecessary square footage, having smart functional rooflines, and the technical strategies that we employ in design," said Visbeen. "The technical aspect of working with Visbeen Architects is just as strong as the creative design."
During the architectural design process, clients will walk in armed with a property location and a general idea of how they would like their residential project to look. Wayne Visbeen then works with them to make design choices and is able to draw up a conceptual design sketch during the meeting.
Angela Visbeen indicated some of the logistical factors that are taken into account, especially along the waterfront, comprise: ability to withstand the weather, frequency of inhabitance, storage space for waterfront equipment and gear, hosting and entertaining, and how to design a home that will transition and function along with the family.
"We love to do waterfront design and it is tricky," said Visbeen. "It has to be done right to have a home that can withstand the elements of the lake, wind, and sand; and just the livability of the lake: trekking sand in, having outdoor showers, and entertaining and hosting a lot of company."
In more general terms, Visbeen said another aspect of the design process is taking into account how to create a residential space that can also grow and change along with the family residing within it.
"How does a family design a home when they have young children in elementary school and how does that home still serve them when their children are in high school? How does the very same home still serve them when the children have grown and married and bring grandchildren home?" said Visbeen. "Those are all factors in our design."
After the initial rendering is completed, the conceptual design is then integrated into CAD software for three-dimensional modeling. Visbeen indicated all of the "innovation and creativity in the hand drawn sketches" are then transitioned into the technical side of the process.
Visbeen Architects' portfolio for residential projects showcases a range of design styles and features. One of the projects combines different aesthetics such as curved hipped roofs with a third-floor cupola, cameo windows, and an open plan concepts for kitchen and dining spaces; while another three-level home features 2,500 total square-feet of contemporary-inspired design.
Other projects have characteristics of Tudor and farmhouse styles with board and batten siding, stone accents, and a three-season porch featuring a fireplace; components of Tuscan-style timber headers on the exterior of the home with exposed beams and rafter tails on the interior; and the mark of a classic Georgian home with a symmetrical design, open kitchen and living space, and a brick exterior accented by white pillars.
Visbeen said style trends have recently shifted away from including a dining room, home office, and home theater as technology has changed.
"We are not really seeing a demand for those things. People sit on a laptop with Wi-Fi and nobody is plugged in anymore. Televisions are large, on the wall, and don't need dedicated theater rooms anymore," said Visbeen. "The trend is toward lower square-footage, higher amenities; rather than big grand space."
Visbeen Architects has completed projects throughout the country and has office locations in Grand Rapids, Michigan; Petoskey, Michigan; Chicago, Illinois; and Bluffton, South Carolina. The firm was founded in 1992 and is led by team members: Wayne Visbeen, president; Paul Fikse, vice president; and Angela Visbeen, director of sales and marketing.
GLBD
visit Visbeen Architects Inc.