Straight Line Design's team of professional designers and staff carry their company motto with them every time they walk into a new client meeting.
"Our tagline is 'it's your home, make it great,'" said Randy Ruter, owner of Straight Line Design. "We believe it. We are honored to be asked to help with the design and the creation of a new space. The [staff] have a passion to help people create a space they can love and live in for year to come."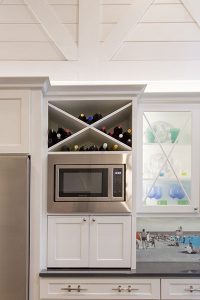 With two locations in Spring Lake and Holland, the full-service kitchen and bath studio is able to provide its services to homeowners and builders along the lakeshore from South Haven up through Ludington. Straight Line Design, which was established nearly five years ago, not only offers kitchen, bath, and interior design solutions, but also provides cabinetry, surface, and hardware product options and installation services.
"We have a group of builders we help service and partner with to create some really beautiful projects, but we also do a fair amount of retail, walk-in traffic, and referrals," said Ruter. "We do both new construction and remodel, which is a nice mix."
During the design process, which comprises initial consultation, 3-D renderings and product selections, and coordinating product delivery and overseeing installation, Ruter noted the team asks a lot of questions to determine how the homeowners and their families live, entertain, eat, relax, and work.
"The whole conversation goes into the space we try to create," said Ruter. "The materials we use, the colors we use, and the textures we use; all of those things we build into the final space and a design we can be proud of—and the homeowners can love and live in for years to come."
While trends in the more aesthetic finishes and selections throughout the home are in constant fluctuation, Ruter noted one of the current trends is the incorporation of warmer neutral tones for color.
"Gray tones are the new neutral color, but even the gray tone has changed when it first became popular as a trend. It was more toward the cool gray—blue-gray or white-gray—but this year we are really seeing a strong, more traditional gray with browns and taupe color-wise," said Ruter. "It is that really warm, comfortable gray tone."
As far as products, Ruter said the trend is simple, clean, straight lines in both the contemporary and transitional style, rather than the arched or cathedral shapes.
"It changes annually," said Ruter. "We try to keep on top of it. We look to local professionals to help us understand what is up-and-coming."
Straight Line Design has a staff of approximately seven design professionals and sales representatives across its two locations. Ruter, who has more than 20 years of experience in the kitchen and bath industry, said his favorite part of the job is working with the customers.
"Every customer is different, every space is different, and the variety of what I do is awesome," added Ruter.
GLBD
visit Straight Line Design