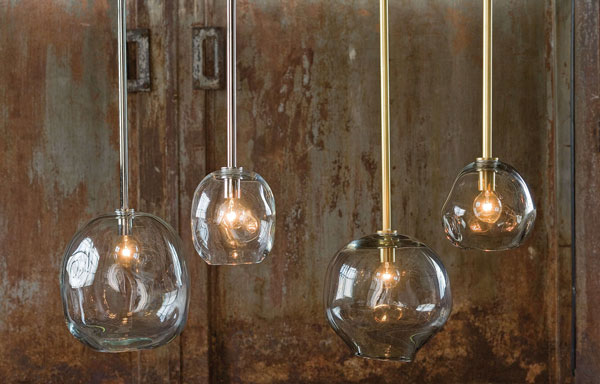 By R.J. Weick
In South Detroit, where the notes of musical, architectural, and design history come together, there is a multi-disciplinary interiors studio of passionate artisans and visionaries immersed in the grit and glam that have come to define its globally renowned brand. Forged, honed, and molded for nearly two decades, Regina Andrew Design's diverse portfolio is a cultivation and curation of modern and vintage, reclaimed and natural, and fashion and rock'n'roll.
Creative forces in their own right, co-founders Carla Regina Zajac and James Andrew Slaven have continued to be deeply involved in the process even as the multi-disciplinary studio has grown to a team of more than 50 artisans and designers, 75 sales representatives, and manufacturing capabilities both foreign and domestic. All of the signature RAD designs are created in-house at their studios in Detroit, born organically and from listening to input from their team, network of sales representatives, and customers.
The passion for the process, from initial spark to the finished antiqued mercury or mother of pearl, is what drives the lead designers to create a portfolio of more than 1,000 products, each one unique from the last. Minute details are labored over with love, each piece capturing the character and spirit of the RAD brand, which is influenced—and invested into—the very city surrounding its company roots. The constant exploration and pushing the envelope on multiple fronts—solar powered facilities, reclamation and recycling initiatives, technology-conscious customer experiences, charity work, and design aesthetics—has come to define the studio and is embodied in one of its collections known as Live from Detroit.
"Live from Detroit is kind of a combination of all of the things we hold dear, dovetailed with where we are from and how it has influenced us, and then given to people. 'Here. Here is a little taste of what we are,'" Slaven said. "It is really close and personal to us."
---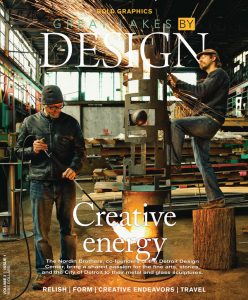 Read the full story in print in Great Lakes By Design, Volume 2 Issue 1: Bold Graphics. 
Cover photo by Brian Doben
Start your one or two year subscription here.