Usually when designing a residential interior, the goal is to create a timeless space that captures homeowners' personalities while also anticipating their growth. When the time came for Grand Rapids, Michigan-based interior design firm, Vision Interiors by Visbeen Architects, LLC to craft an interior for a young, growing family in East Grand Rapids, Michigan, the team exercised a timeless new style concept that would also become a mainstay of the firm's stylistic repertoire.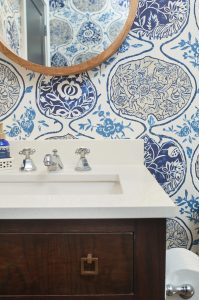 "[The homeowners] requested a classic traditional look that would also feel fresh and young and would be a space for them to live and enjoy with their growing family," said Julie Holmes, principal designer at Vision Interiors by Visbeen Architects. "The end result was a new traditional design with cozy spaces for quiet evenings and inviting spaces for larger gatherings that we refer to as Everyday USA."
For Holmes, the Everyday USA style consists of classic design and new American traditional style elements that feature simple lines and clean colors which provide a basis for textures, patterns, and finishes. The contrast of design elements with big personalities and smaller details in finish and texture create an overall style that is equal elements playful, classic, and adaptable—as fit for a growing family. The interior—finished in the fall of 2018—signifies the Everyday USA style from the first inch of foyer: the custom baluster and arched front door in a deep chocolate tone are traditional features that balance the brightness of the white and lightly washed wood stair and patterned entry rug.
Pattern played a key role when crafting the interior's personality, incorporating charm and intrigue in the forms of wall coverings, original art work, and other textiles found in each room. Just off the entry, the first-floor powder room is dressed in the lively, yet serene, Katsugi wall print by international textile, furnishing, and print house, Schumacher, which features floral designs within imperfect lines and muted blue and cream hues.
"Because of the impact of the wallpaper, not much else is needed," Holmes said. "A dark cabinet is a nice contrast with the light background of the paper and the wood-framed mirror brings some texture to the space."
Practical, durable textures are used throughout the home to balance and enhance cheerful prints against clean lines and the classic contrast of black and white. In the home office, neutral grass cloth walls surround a built-in organization system made from dark wood, and small trimmed plants on each surface add a fresh effect to the workspace.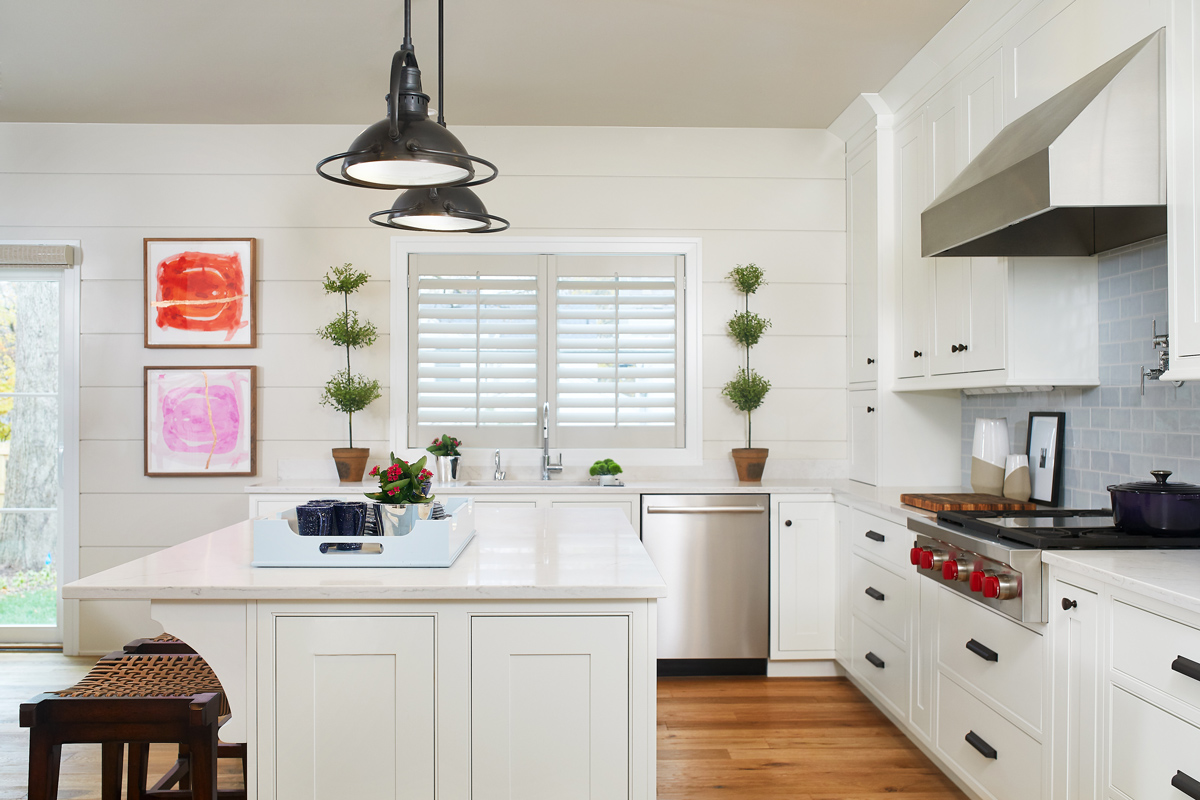 Adjacent the office is the central, open-concept kitchen, living, and dining area, separated only by a semi-casing in white trim between living and dining room. The Katsugi print also appears in the sofa pillows—laid against a quietly striped sofa—creating continuity in both areas, and backsplashes in the kitchen feature a similar powder blue. Tranquil blue tones neighbor cream colored walls that provide a clean backdrop for any wall artwork the homeowners collect later, and modern black matte light fixtures in the kitchen and dining room draw the eye upward in anticipation.
On the lower level, a family room, game area, mini bar, and guest bedroom provide spaces to unwind, and feature a similar intersection of pattern, texture, and classic lines that composes the overall Everyday USA style.
Vision Interiors by Visbeen Architects is an independent interior design studio affiliated with full-service architecture firm, Visbeen Architects, Inc. in Grand Rapids, MI. The interior design team's portfolio includes the sunny "Inverness" cottage, a first-place ARDA (American Residential Design Awards) winner in the Model Home category, and the serene, yet lively, "Sunset View" residence which claimed first place in the ARDA Custom Luxury category. Though the firm's overall style undoubtedly features traditional design influences with contemporary adaptations, the Everyday USA style is an example of the team's ability to create designs that continue to age well due to their timeless combinations.
"This style is a personal favorite of mine," Holmes said. "Although we pride ourselves in customizing homes to each clients' personal style—there is a universal appeal to Everyday USA that keeps inspiring us."
Text: R. Collins | GLBD Staff Writer
Photography: Ashley Avila Photography