Text: Kyle Gandy
Crystal Mountain, a nationally recognized four-season resort located about 28 miles southwest of Traverse City in Thompsonville, Michigan, has recently undergone an $11 million, 31,200-square-foot expansion—The Inn at the Mountain—that comprises 25 suites, a specialty market, a rooftop terrace, and coffee and wine bar.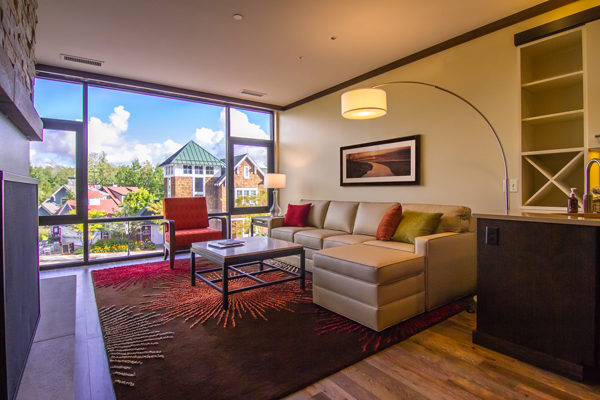 "One of the demands, in terms of our guests, is that we needed more hotel space; particularly, we host plenty of meetings and conferences, so the 25 suites help with that," said Brian Lawson, director of public relations at Crystal Mountain. "Another thing we needed was an additional bar space, and more specifically, a place where you could get a cup of coffee. We needed that sort of service space. So, building the structure and having the Bru Bar and [Mountain] Market were a crucial element."

The Inn at the Mountain resides in the heart of the village near the outdoor pool, the slopes, spa, and conference building. The sleek and contemporary hotel offers a welcoming contrast from previous housing options offered at the Crystal Mountain that boasts charming bungalows, cottages, resort homes, condos, and many more living environments. 
"Developing the center core area of the village has been in the master plan since the early 1990s but the specific design for The Inn started taking shape around 2012 and 2013," Lawson said.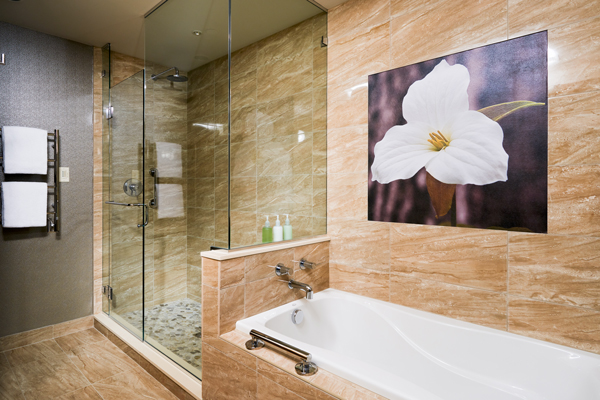 The architects who helped design The Inn at the Mountain were Mark Humitz from Traverse City-based Cornwell Architects P.C. and Bob Holdeman, who is also from Traverse City. 
"Since the early 1990s, [Holdeman's] been in every project that we've done," Lawson said. "I think one of the great triumphs about the design of our resort is we have had the privilege of long-standing relationships with architects like Bob Holdeman and our master planning studio, Johnson-Hill Land Ethics based out of Ann Arbor headed by Mark Johnson; and before we worked with him, we worked with his dad Bill."
The idyllic relationship harboring past and future at Crystal Mountain is a salient cornerstone for maintaining their high degree of excellence. The architecture is meant to tell a story and reflect the unequivocal experience of vacationing in northern Michigan. Kinlochen, right next to the Betsie Valley golf course, emulates the Scottish golf scene of the McGuinness family whom immigrated to Canada and northern Michigan; while the cottages and bungalows reflect the mixture of houses lining the many lakes of the state.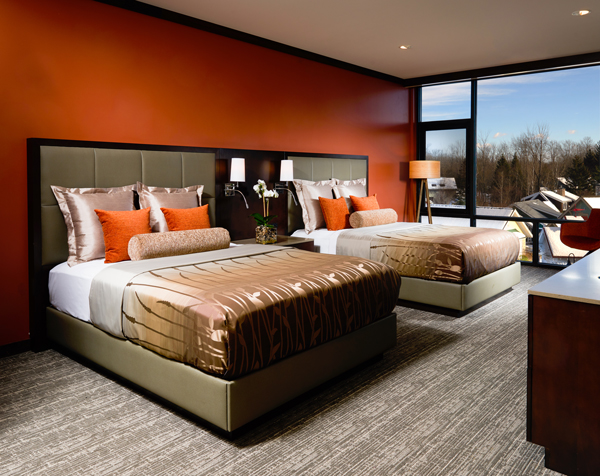 "Going forward, with The Inn, we wanted to continue this trend," Lawson said. "We themed every room after the natural attractions of northern Michigan. There are eight different suites, so one is themed after Sleeping Bear Dunes, another after fish town, one after the bluff, and so on. It's a blend of contemporary and that natural feeling of northern Michigan."
The next phase for Crystal Mountain, throughout the course of the next two or three summers, will be a new park that surrounds The Inn at the Mountain.
"We just dedicated it to David Barr, the renowned artist from Michigan. So, we'll be working with Mark Johnson and Sandy Clinton who is an award-winning landscape architect from Maryland with Clinton & Associates," Lawson said. "The purpose is to give the residents at the Inn something to look at from their balcony in their immediate vicinity."   
Photo courtesy: Crystal Mountain