Newly transformed into a 100-room boutique hotel, the site of the former Detroit Fire Department Headquarters and adjacent Pontchartrain Wine Cellars expresses an authenticity to its landmarked designation by embracing and celebrating Detroit's design, art, architecture, and industrial communities. 
"One of the interesting things about the hotel to me, is it is just full of richness and it is not designed with a capital 'd'. It's really authentic to Detroit, to the building, to the local artists reacting to the building, to the local makers, to the stuff that is in the rooms, and to the furniture and lighting," said Michael Poris, AIA, president and principal at McIntosh Poris Associates in Birmingham, Michigan.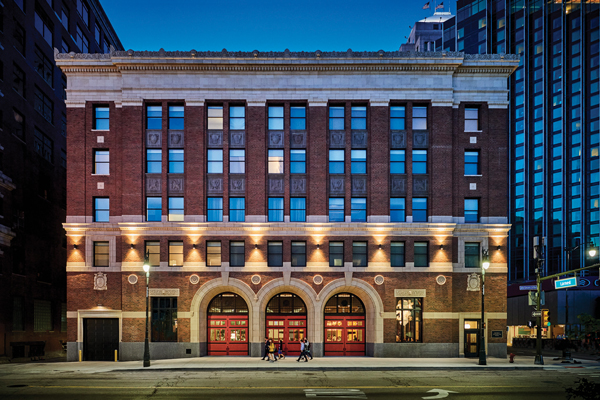 Since its completion and subsequent opening, the Detroit Foundation Hotel has been recognized with the 2017 Golden Key award for Excellence in Hospitality Design, Best Upscale Hotel; 2017 CREW Detroit Impact award for Renovation/Adaptive Preservation Network Building Award; and the 2018 Governor's Award for Historic Preservation. 
From the onset, the team worked to not only historically preserve and renovate the building while accommodating a program of 100 hotel rooms, office and conference spaces, retail, fitness center, restaurant, lounge, and rooftop banquet facility—an added fifth floor on top of the former Pontchartrain Wine Cellars—but also infuse the nearly 95,000 square-feet of the combined five-story, Detroit Fire Department Headquarters and adjacent building with a quality inherent and representative of Detroit. 
"It does a really great job of being about Detroit. It's beautiful. I think that is the future part. I think it is timeless. I think it will be this way for a long time," Poris said. 
To read the full story, pick up your copy of Great Lakes By Design: The Acoustics here.
Photos courtesy: McIntosh Poris Associates | Michelle and Chris Gerard (interior image); Joe Vaughn (exterior image).