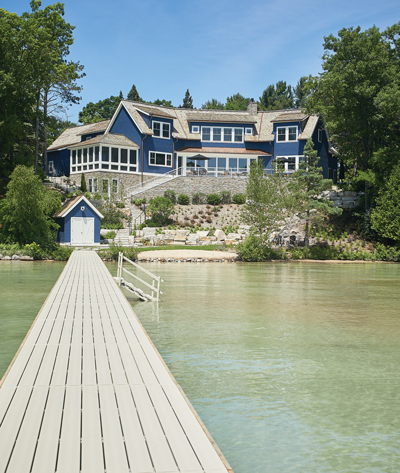 With its angled, architectural lines and sweeping mirrored wings, this nearly 6,000-square-foot lakefront home embraces its location. The canted floorplan acknowledges and leverages its pie-shaped, elevated site overlooking the crystal blue waters of Glen Lake below, and there is an intention paid to its natural landscape as the homeowners and design team behind the project sought to blend the home into the wooded, sandy hill.
"[The clients] had been looking around for the right piece of property, so they knew the site very well, and had a vision for how casual they wanted to live—and how they really wanted to take advantage of the bluff," said Erich Wefing, founding partner of Wefing Design Studio in Chicago, Illinois.
Located in the West Loop of downtown Chicago, Wefing Design Studio is a five-member, design-oriented firm with a diverse range of projects in both the commercial and residential segments. Since its establishment in 2010, Wefing Design Studio, or WDS, has completed healthcare and sports performance work in Texas, high-end custom residential lakefront homes in Michigan, and commercial, healthcare, and historic renovations on both a small and large scale in Chicago, to name a few.
"We really like a variety of different sized projects. I think sometimes you are told as a business to find your niche and stick to it, and we've found that is not our motto. What we really like is a variety of different types of projects," Wefing said. "I think as a small firm we are able to be flexible and react to whatever different projects we have."
With a majority of their work based on referral, Wefing noted for a small firm focused on design, the system has been successful since they tend to find great clients and it was how the firm became involved on the Glen Lake home project with the homeowners, who are from the greater Chicago area.
It was this organic word-ofmouth approach that also brought Eastmark Construction in Boyne City, Michigan to the design table as the contractor for the project. The company, which specializes in lakeshore construction and Nantucket or coastal-inspired cottages— although their project portfolio expresses an architectural vernacular spanning across the board—has spent roughly the last five years working in and around Glen Lake.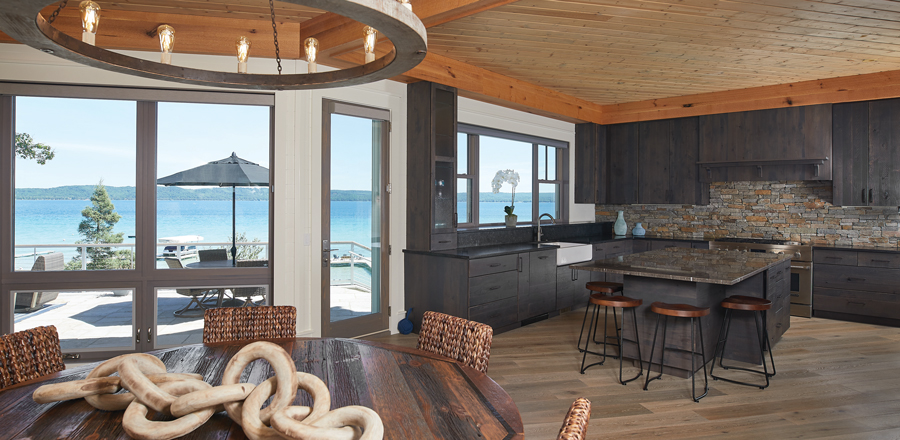 To read the full story, pick up your copy of Great Lakes By Design: Raising the Bar or start your subscription here.
Photography By Ashley Avila