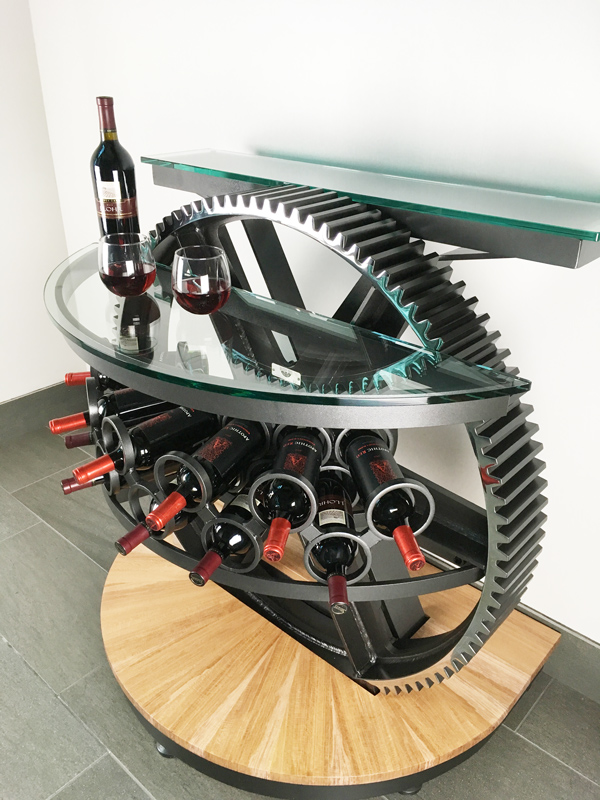 Established in 2016 as an early-stage investment firm in Midwest-based startup companies emphasizing manufacturing, Banyan Tree Ventures LLC in Hudsonville, Michigan has since evolved into a multi-endeavor business. Now, the diversified business comprises Banyan Tree Surplus, an industrial supply source; Banyan Tree Equity, a private equity investment arm; and Banyan Tree Fabworks, a specialty proto-design shop where it designs, creates, and acquires statement pieces for customers, businesses, and other designers. 
Banyan Tree Fabworks was also the firm's first endeavor that began as a creative way to create initial momentum and led to the creation of one-of-a-kind furniture from forgotten industrial machinery by the Banyan Tree Ventures team.
"We started making a few pieces to show our capabilities and show people what we can do," said Greg Davis, vice president of sales and operational development at Banyan Tree Fabworks. "As that evolved, we made a portfolio of products. That business has evolved into a separate entity now: Banyan Tree Fabworks." 
The Banyan Tree Fabworks team crafts unique, signature pieces of furniture and home accessories from vintage items such as wheel bearings from old trains. They are inspired primarily by an industrial aesthetic favoring heavy metals, chrome, and a gritty character, tempered by more modern elements such as carbon fiber and glass, or warm woods. 
Davis said the selected piece of machinery incorporated into a design is often chosen before the overall vision fully emerges. 
"The three of us collaborate on the design and what to do next," said Davis, in reference to the team. "We like that turn-of-the-century design where form and function are part of the design; so some of the machinery pieces are functional and have an appeal to them—they have curves instead of being just a box."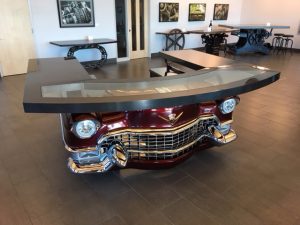 The curves are evident in the recent repurpose of a dilapidated 1955 Cadillac sedan that has been transformed into a home bar, complete with a Chrome Class A finish and carbon fiber bar top. Combining unique, once-forgotten pieces with modern amenities and styles is what inspires Davis to do his best work on every piece since it can't be recreated. 
"There are guys out there who do stuff like this out of their garage and when you look at the pieces, they'll get about 80 percent of the way there or they won't have the capability to finish, or they'll cut some corners," Davis said. "We're trying to do the best that we can so that you're proud of the piece; we don't mass produce. The Cadillac bar—that'll be the only one."
Some of the industrial machinery incorporated into furniture comprise bulldozer and vehicle timing chains, vintage gears incorporated into wine racks and tables, and even a chocolate roller used at the Hershey Chocolate Company some time between the 1920s and 1950s. Within the 25,000 square-feet of multi-purpose space Banyan Tree Ventures calls home, there is a 5,000 square-foot showroom, office space, and prototype shop where the firm's creations come to life and are available for viewing. All materials are locally-sourced and each piece is designed and fabricated in the United States, further advancing the recent industrial machinery revitalization movement appearing in shops throughout the U.S. that continues to grow.
Text: R.Collins | Staff Writer
Photos courtesy: Banyan Tree Fabworks | Greg Davis