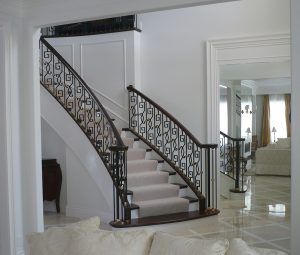 With a well-tuned eye for detail developed by an early introduction to the art of carpentry and further honed by a 15-year specialization in stair systems, Matthew Conrad, design and installation specialist at Stair System Specialists in Saginaw, Michigan is no stranger to the craft. From compelling works of art designed to last and engaging stair systems unified with—and enhance—the architectural personality of a space, Stair System Specialists works to create solutions aligned with space, budget, and a vision blending beauty and function. 
While initially pursuing carpentry before working specifically as a trim carpenter for a regional high-end custom home builder, Conrad developed an affinity for the grand entrance of spaces. Now, Conrad leads the Stair System Specialists team in the creation of center piece products for dramatic foyers and other spaces; collaborating with clients—architects, homeowners, and builders—to create custom solutions that bear the company's professional signature. 
"I want to put our [mark on it too], and in finishes, especially in the radius per-stair that we do, most people see them and know the work was done by us," Conrad said. "We don't go to a lumber yard or something and put up a [ready-made product]. We usually end up making most of our parts, so that's unique to us."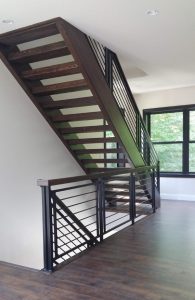 Designs are created using a refined material palette consisting of wrought iron, stainless steel, painted part combinations, and wood species including Hickory, Maple, domestic Cherry, and occasionally Poplar. With the resurgence of industrial trends dealing heavily in twisted wrought iron and meticulous, repetitive details, Stair Systems Specialists has developed a task force for baluster replacement that utilizes reliability and timely installation to execute projects smoothly. Developing specialties in new stylistic trends while savoring old favorites is one thing Conrad enjoys about a unique array of projects.
"A lot of welded application recently has become more popular and so has the industrial look, even in the residential arena" Conrad said. "I [also] enjoy creating floating stairs. There're a few design challenges that go with it, so it's rewarding and challenging at the same time."
Stair systems appear in many styles, from classic and luxurious aesthetics that utilize dramatic curvature capturing the eye, to clean-cut and minimalistic renditions that trade curves for straightforward angles. Whether customers seek service for high-end new construction, historical renovation, industrial commercial applications, or code compliant guard rails, Stair System Specialists adapts to various needs and excels in service and quality as a designer, installer, and finisher of custom stair work.
Text: R. Collins | GLBD Staff Writer
Photos courtesy: Stair System Specialists