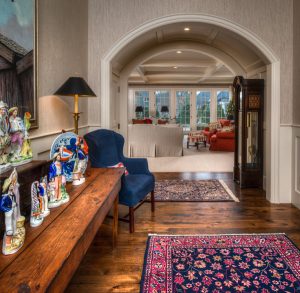 Variation in project scope and typology often brings new opportunities to play with different architectural styles, and for Elaine Keiser, AIA, architect and principal of Elaine Keiser Architect, Inc., those opportunities bring a breath of fresh air and thrill. 
"I really embrace the idea that we can venture out into different styles of architecture and find some new way to bring them together for what the client is looking for," Keiser said. "What we design is tailored to them and that makes it a lot of fun and very interesting for everybody involved. I'm not stuck on any particular type of design."
Keiser, who is a licensed architect in seven states in addition to Michigan, established the architecture and planning firm Elaine Keiser Architect, Inc. more than 18 years ago in Petoskey, Michigan. From retail and restaurant, light commercial, and professional offices, to residential and interiors, the firm's portfolio spans a range of stylistic influences, while tending to focus on those comprising the classic northern Michigan cottage with its rustic craftsman details and waterfront lots. With its in-house support staff and comprehensive integrated design services, the firm also has the capability to provide master planning and site evaluation; and civil, structural, mechanical, and landscape engineering; as well as plumbing and electrical services. 
When the opportunity came in 2017 to design a traditional home in a coveted area of Plymouth, Michigan, Keiser relished the process of crafting a home in brick and utilizing traditional trim, arches, and columns that paid tribute to the surrounding—and decidedly more urban—stylistic influences in the city.
The exterior is characterized by brick in intermixed hues, topped with gently sloped, heather-gray roofing, square entry columns, and fixed with Boral trim, colonial style-influenced Kolbe windows. A Unilock driveway—high performance and wear-resistant—hugs the perimeter, while also leading to a traditional service entrance next to the kitchen. On the interior, a traditional entryway, crisp white craftsman-influenced molding in straight lines, and a light, neutral color palette on walls and ceilings is met with the occasional curved arch, a signature of Keiser's personal architectural style. 
"I use a lot of curves in my designs, including my own building. I feel that they're such fluid components that tie different areas of a building together without too many harsh lines," Keiser said. "In this house we didn't really have the opportunity on the exterior, but we did sneak some into the brackets and on the inside we were able to integrate some into the arches. I like to be able to have a lot of transitions from one room to another and arches are my favorite way to do that."
Keiser also paid special attention to the homeowners' distinguished style and vast collection of Britain toy soldiers, which have been in production since 1893. The entire second level of the home is dedicated to the care and storage of their collection, and comprises internally lit, custom-built display cabinets, tables, and overhead lighting. 
The personal connection and insight into client lifestyles and preferences is an integral part of the firm's process and approach; with continued repeat business and the nurture of ongoing relationships being one of Keiser's favorite aspects of designing for homeowners. 
When it came time to find the right contractor for the Plymouth house, Keiser visited with nearly 18 contracting firms for three days before partnering with Johnston Brothers Construction in Ann Arbor, Michigan. The attention to detail and desire to deliver clients—and friends—the best quality of work and process attributes to the relationships Elaine Keiser Architect, Inc. is built on. 
"It's thrilling; when I first started my business 18 years ago, I designed a home for some clients here and my daughter was just learning how to walk," Keiser said. "They called a few months ago saying they were ready to downsize and design another home and [now] my daughter is just graduating high school. This is what it's about: creating relationships with people."
Text: R. Collins | GLBD Staff Writer
Photography: Phoenix Photographic | Michael Gullon