Northern Michigan residential design often captures the intersection of breezy summer style oriented toward the area's bounty of lakes and rivers, and the practical features necessary to withstand Midwest winters, which have recently pushed historical records. 
With a preference for the former, one homeowner in Northport, Michigan collaborated with Mapleridge Construction LLC, a custom home builder in Williamsburg, Michigan, to fit a contemporary, southwestern-inspired home within its setting on Lake Michigan in the summer of 2018. When approached with an initial design plan, Scott Naumes, co-owner of Mapleridge Construction, worked to create multiple renderings of it to incorporate the desired style and structural elements practical for all seasons. 
"It gave me a sense of what she would like, so working off of that and the [constraints] that we had, we tried to make it as cool as possible within those parameters," Naumes said. "There's a lot of back-and-forth [collaboration]; it's a team effort. I like having the homeowners' input; I don't want them to just do what I think they should have in their house. I want to make sure they really love it."
From the client's original design plans, Naumes pulled the open-air breezeway feature that connects the garage and guest rooms to the main portion of the home and enclosed it entirely in glass, save for stone columns that reinforce the structure. On the exterior, flat metal roofing, stone, and clear cedar and vinyl siding create a contemporary look that is enhanced by tall Marvin windows with black sashes and casings.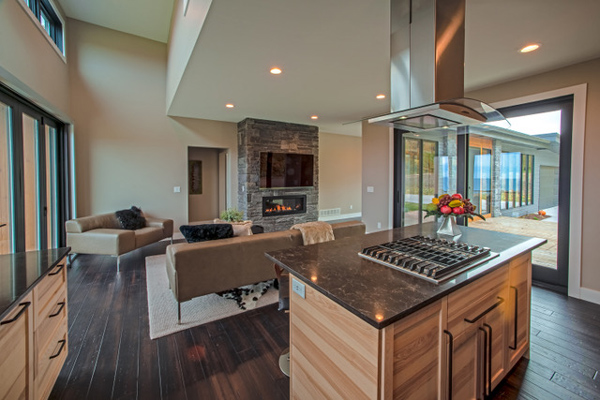 "[My favorite] aspects are the stone work and the tall windows in some areas. The house is also positioned on the property to take advantage of the [lake] view," Naumes said. "It's a unique house which fits her personality."
Simple trim in clean lines solidifies the contemporary theme, which also permeates the interior—although pops of warm color added by some of the client's accessories add distinctive summery elements to the minimalist design. Sandy tones found in wall color and rectangular wood furniture play off of Northport's own picturesque beaches; while dark stained and distressed bamboo flooring and a grey stone fireplace add classic cottage features that warm up the interior during colder seasons. 
The three-bedroom, two-and-a-half-bathroom home features an open kitchen and living room floorplan, skipping a formal dining room in favor of entertainment-oriented spaces. The central master suite is a retreat for the client and highlights panoramic views of its surroundings, and each other bedroom offers views of Lake Michigan. The home's overall contemporary style of architecture is illustrated by block-like sections that build off of one another at unique angles, resulting in many parts of the exterior being visible to guests while inside. The style adapts the minimalistic and contemporary design—with tall ceilings and high visibility between indoors and outdoors—into a more private arrangement, which offers full views of Michigan's seasonal changes from every room in the house.
The challenge of transforming a pre-designed rendering into a stylish and practical home that satisfies constraints such as budget and climate is one that Naumes approached openly and with great attention to detail, noting that he not only builds and designs homes, but also consults clients throughout the course of a project to ensure that they are equipped to make informed decisions.
Naumes is co-owner of Mapleridge Construction LLC, along with Chris Miller who founded the firm in 2006 with the goal of creating dream homes that exhibit the highest quality and attention to detail possible. The firm offers a range of services, such as: engineering, historic restoration, landscape design, and construction management; along with specialized services, such as producing exterior and interior stonework and custom wine cellars. Whether creating a somewhat unconventional home akin to the Northport project or making adjustments to an existing structure, Naumes looks forward to continual growth and new challenges.
"I'm never 100 percent satisfied with any job I do just because I'm always looking to improve. All in all, I'm satisfied with [this home]; I have a happy client so that's my number one goal," Naumes said.
Text: R.Collins | GLBD Staff Writer
Photography: Mapleridge Construction LLC