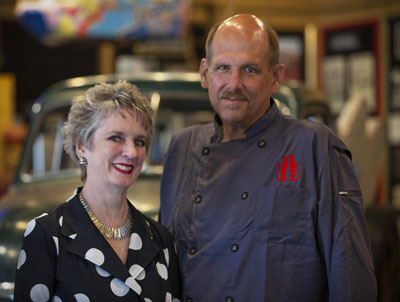 As Detroit becomes home to more creative dining concepts, a new upscale retail and dining destination in Clawson, Michigan is making eclectic small plates and a singular shopping experience accessible to the city's northern metropolitan region. 
Now known as Three Cats, the full-fledged restaurant and bar opened this fall in the repurposed historic Clawson Theatre and was established by longtime Detroit area restaurateur Matt Prentice and retail connoisseur Mary Liz Curtin. Curtin and husband Stephen Scannell also own the eclectic and upscale lifestyle store Leon & Lulu right next door, which they opened in 2006 in what was formerly the 15,000-square-foot Ambassador Roller Rink. 
Leon & Lulu's previous lunch-time eatery of Three Cats Café—which offered soups, sandwiches, pastries, and coffees in an art deco-inspired setting—eventually inspired the expanded, full-service Three Cats restaurant, which boasts seasonal American-style small plates for a well-rounded variety of prices that rarely exceed $20. The concept—the only one of its kind in Clawson—offers a lot of glamour for the buck, according to Curtin, and was created in the tradition of classic department stores like Hudson's and Marshall Fields, which offered dining alongside destination shopping.
"Because we are a destination store, all year long people would drive up to two hours to shop here. We have a lot of people come from Ann Arbor, which is almost an hour away. They're going to get hungry so we have to take care of them; and that's how the restaurant got started," Curtin said. 
"We never quite got it right; it was a charming little place, we had some nice showers and [set ups], but we needed a real kitchen and a real chef and a real person running the restaurant and that's [Prentice]," Curtin added.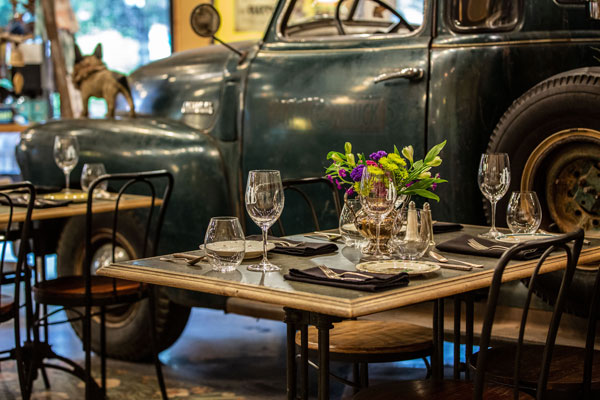 Prentice brings decades-worth of experience in Detroit's restaurant industry—establishing notable names like Deli Unique, Coach Insignia, and Shiraz along the way. He also holds a career-long appreciation for regional and seasonal ingredients, which is reflected in each small plate menu at Three Cats. Menus feature fresh, refined compositions for a well-rounded variety of prices under $20; a unique offering amongst Detroit venues where small plates and pricier entrees tend to converge.
"Fresher is better. If you just take something simple like Michigan sweet corn, which is one of my favorite ingredients, we can get in corn year-round, but once you pick it, the sugar in the corn begins to convert to starch," Prentice said. "The older it is the less sweet and flavorful it is, so when I'm getting fresh Michigan corn from the farm, its sublime."
As ingredients of the late summer like sweet corn transition to fall staples like assorted squash, pears, cauliflower, and Brussels sprouts, Prentice said items like lamb shanks and short ribs are also likely to appear late in the season, alongside duck and gamey meats like venison. Likewise, the colorful, summer stacks of Michigan heirloom tomatoes and house-made Boursin cheese—which Prentice said offers some attitude—will become beet stacks fashioned similarly, and dishes like Michigan Butternut Squash Raviolo—featuring beet and horseradish root emulsion, brown butter, and sage—showcase an equally vibrant fall bounty. 
As they respond to the season, the offerings at Three Cats change nearly daily, according to Prentice, and this characteristic is also mirrored by the restaurant's setting, which offers seating for up to 99 people indoors and up to 50 individuals on the patio. Three Cats is also furnished with many items available for purchase and reflects Leon and Lulu's existing signature style. 
"The aesthetic is very similar; it's the same kind of quirky, peculiar combination of new things and old things; the restaurant has our Michigan shop and greeting card shop so we have a lot of memorabilia in here," Curtin said. "It's always changing and it's one of the few restaurants where the room won't be the same every time you come. The furniture and accessories are going to change and it'll be a slightly different experience."
A cocktail lounge is also set to premier within Leon and Lulu, and it will provide Three Cats patrons with seating and a selection of cocktails and wines while they shop or wait. The offerings pair with an intimate city setting that attracts visitors from regions far and wide to the unique retail—and now dining—destination, which always offers something to discover, whether for the palate or the eye.
"I feel very comfortable here; it still has that small little village atmosphere to it which I like a lot and I have a feeling once people find that, they'll enjoy it too," Prentice concluded. 
Text: R. Collins | GLBD writer
Photography: Leon & Lulu