Exhibitions in art and its many related fields often serve as a catalyst for new ideas, a shift in perception, and at times, recognizable change. It is frequently used as a forum in which to engage audiences and peers, to spark conversation and innovation, and to provide opportunities for emerging and established talent. There is a statement or question often posed, challenging, inspiring, and disrupting the routine. 
During the third edition of the Chicago Architecture Biennial, an international architecture and design exhibition held from September 19, 2019 through January 5, 2020 throughout downtown Chicago and its network of partners across the greater neighborhood area, that statement reflects upon social, geopolitical, and ecological processes that have and continue to influence the city's collective past, present, and future. 

Developed by Artistic Director Yesomi Umolu, director and curator at the Logan Center Exhibitions at Reva and David Logan Center for the Arts and the University of Chicago; with curators Sepake Angiama, a curator and educator based in Europe; and Paulo Tavares, architect and professor at the Faculdade de Arquitetura e Urbanismo at the University of Brasília; the 2019 Chicago Architecture Biennial was carefully created and curated to address space, architecture, and the natural world based on their relationship to four areas of inquiry. Titled "…and other such stories," this year's Biennial is a holistic perspective on architecture and practices that relate to building, design, visual arts, planning, policymaking, education, and activism. 
Through its structured frames of No Land Beyond, Appearances and Erasures, Rights and Reclamations, and Common Ground, the Chicago Architecture Biennial seeks to highlight key issues confronting architecture and urbanism using Chicago as its model. Based on its geographic location at the crossroads of the Great Plains and the Great Lakes, which are subject to ecological challenges, climate change concerns, and the ebb and flow of industry—and the resulting flow of people, goods, and capital—Chicago's stories are intended to be an applicable and relevant lens to other built and natural environments beyond regional and national boundaries.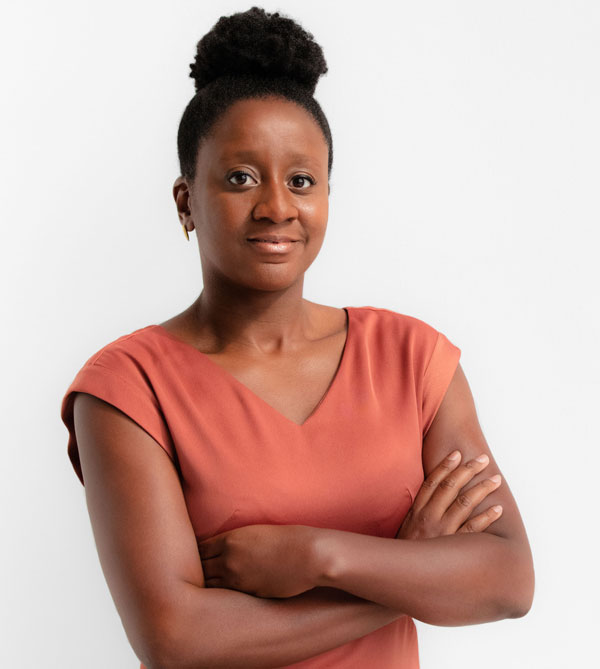 There is an honesty, an authenticity, and a boldness to this year's edition, which is evidenced not only by the commissioned work spanning disciplines by artists from across the globe, but also the land acknowledgement from the American Indian Center of Chicago featured in the main venue, the Chicago Cultural Center. It recognizes the city as part of the traditional homelands of the Council of the Three Fires: the Odawa, Ojibwe, and Potawatomi nations; as well as a shared view with the architecture community of the importance of the land and the place where people of many backgrounds and perspectives have converged. 
Great Lakes By Design Magazine had an opportunity to speak with Artistic Director Umolu to learn more about what led her to the Biennial and the inspiration—and aspiration—behind the latest edition of the international exhibition. 
Great Lakes By Design: What led you to the role of Artistic Director? What excited you about it?
Yesomi Umolu: I trained as an architect before turning to curatorial work. I earned my master's degree in architectural design from the University of Edinburgh and after working in architecture firms for two years, I realized it wasn't my calling. I was interested in the ideas around architecture, but decided I did not want to be a practicing architect. 
I began volunteering at the Tate Modern Museum in London developing youth arts programming and that's where I learned about the role of curators and the amazing potential curating art offers. A curator can bring together ideas from across disciplines, connect them to experiences from other aspects of life, and give it a new perspective that can be local, national, or global. 
I eventually moved into curating contemporary art, but my interest in architecture and spatial practices remained. 
Before moving to Chicago, I was at the Walker Center in Minneapolis and the Eli and Edythe Broad Art Museum at the Michigan State University in East Lansing. I came to Chicago in 2015 to become the Director and Curator of the University of Chicago's Logan Center Exhibitions at Reva and David Logan Center for the Arts. That led me to become the Artistic Director of the Biennial, which offered an incredible opportunity to engage with local and global audiences, and different forms of production and presentation, including exhibitions, programs, and education initiatives. 
What excites me most about being the Artistic Director for this year's Biennial is the chance to encourage visitors to expand on their perceptions and understanding of architecture. Our goal with this edition of the Biennial is to broaden definitions of architecture and its role in society, considering the diverse range of practices and perspectives that shape our built and natural environments. 
Thinking back on the last two editions, how did you want to build on its foundation? What did you want to see for its future?
I think the first two Biennials really established the exhibition as a global platform for new ideas across architecture and the built environment. The third edition of the Chicago Architecture Biennial is distinct in a few key ways. One is the research-based approach that we took in developing the Biennial. Our research process took us to São Paulo, Johannesburg, and Vancouver, in addition to Chicago, where we learned about topics such as land, memory, rights, and advocacy with local practitioners, activists, and other experts. 
This edition of the Biennial also positions Chicago as more than a backdrop, looking at the historical and contemporary special conditions in the city as a lens through which to interrogate questions that affect the built environment globally. Going forward, I hope that each edition will continue to inspire more conversations and collaboration to take on the issues faced in Chicago and beyond. 
What inspired the "…and other such stories" concept?
"…and other such stories" is not a singular statement or concept, but a collection of complex narratives about architecture and the built environment. The title is intended to be open-ended and it evokes an unfinished conversation, inviting others to intervene and offer their own stories. 
Why do you think this is an important—and relevant—topic for viewer and practitioners today to explore?
We all have a story to tell and these stories are what mark our relationship to space and places. Our interactions with our surroundings shape our future. It's highly important and relevant both for architecture professionals and everyday citizens. These interactions impact our lives every day. 
The Biennial invites visitors and Chicagoans to reflect on their everyday experiences with architecture. Many people may not have thought about architecture in these ways before, and it can be eye-opening to see how the built world goes beyond the latest high-rise or new apartment complex and creates a dialogue of stories they might not have ever heard before.
Can you tell me more about the four curatorial frames and the intent behind them? How do you hope people will engage with them? What do you want them to walk away with?
"No Land Beyond" examines the relationship between land, nature, and society; "Appearances and Erasures" speaks to collective memory as it relates to public space, monuments, and social history; "Rights and Reclamations" sees the city as a site for advocacy and activism; and "Common Ground" proposes new forms of collaboration and exchange in and around architecture. 
As the Biennial brings contributors and visitors from all over the world, we hope to create connections between various organizations and individuals, leading to future collaboration and strengthening the conversation about some of these topics. We hope that all the visitors who experience the exhibitions will learn from these collaborations, the public programming, the Biennial publication, and the work of our contributors. 
How does the network of citywide partner sites and organizations contribute to/support the curatorial frames?
The off-site locations are a key part of this year's curatorial program, bringing the conversation beyond the Chicago Cultural Center and into neighborhoods across Chicago. These collaborations and communities across the city allow us to root the Biennial in Chicago and draw the connections locally, regionally, nationally, and internationally. These programs allow us to raise questions about what constitutes the city and envision new forms of engagement with our built and natural environment. It's important to remember that architecture doesn't stop when you leave downtown. 
In addition to the curatorial off-site locations, the Biennial as an institution has a network of more than 100 partners across the city with their own exhibitions and programming, which relate in various ways to the curatorial frame of the 2019 Biennial. These partnerships strengthen the Biennial as an organization and help bring the public to different locations across the city. 
The contributors are from across the globe: what excites you about having them participate in this event and engage with these topics centered on a single city?
The insights form our cohort of international contributors enable us to connect spatial conditions and lived experiences across multiple geographies. I am excited that through the Biennial we can support ambitious new work and research in the areas of architecture, urbanism, activism, advocacy, social history, and much more. These projects will not only resonate with urban realities in Chicago, but that will go on to impact other international contexts and communities. 
When considering design, architecture, and art—its ability to communicate, disrupt, and reflect—what does it mean to you? What is its significance?
I believe that it is important for design, architecture, and art to create dialogue between different contexts and backgrounds. We positioned this edition of the Biennial as a platform for diverse voices; to shed light on the untold stories from Chicago and other communities around the world. 
Text: R.J. Weick
Featured image courtesy of Chicago Architecture Biennial | Francis Son, 2019
Territorial Agency Yates Hall, courtesy Kendall McCaugherty
Originally published in Great Lakes By Design: Architectonics, 2019