As economic, social, and industrial shifts presented by the coronavirus pandemic continue to impact the design profession and its many facets, professionals across the country and the entities that organize them are also adapting. In a special survey series launched March 31, 2020 by the American Society of Interior Designers, or ASID, many interior designers, in particular, have shown an optimism for the future of the profession and a willingness to adapt alongside the pandemic. 
The bi-weekly, industry-wide "pulse survey" series seeks to identify issues interior design businesses and professionals are experiencing in close to real time, across four census regions of the United States: West, South, Northeast, and Midwest. It was also developed to assess the pandemic's impact on current projects, business performance, and professional challenges, and gather insights on advancing the profession currently.
"As we headed into the change with COVID-19 and its impact, we wanted to really capture the response not just from us as an institution, but also the entire industry: practitioners, retailers, manufacturers—really everyone in the interior design community to see what the impact was on the economy, business, professional work lives, etcetera," said Dr. Susan Chung, Ph.D., director of research and knowledge management at the ASID.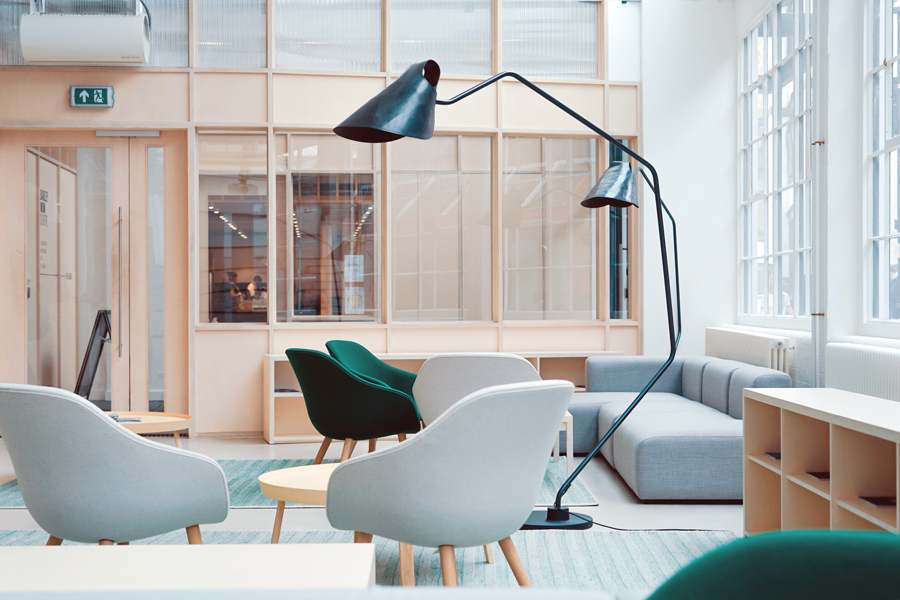 As opposed to a deep examination of the industry, Dr. Chung envisioned each pulse survey as a health check, with questions for professionals focused on addressing their level of concern, strategies for coping with changes in work, and, possibly the main factor on many minds, expected recovery times. 
One benefit of conducting a fresh survey every two weeks is that anyone wishing to utilize the ASID's data can see the nature of current change, alongside those being experienced in the rest of American society. For the most recent survey period, beginning April 28, 2020, the Midwest comprised 18 percent of survey respondents, as compared to 21 percent in the April 14, 2020 survey. A more noticeable change lies in an almost complete flip in the pandemic's impact on work.  Whereas the last survey, published April 14, 2020 saw 27 percent of design professionals experiencing a significant impact to changes in work and had to make major adjustments, the newest survey shows half the respondents experiencing no impact in work compared to a month ago.
"How we interpret it is that the interior design community has now adjusted to the changes in work, whether that be from working from home or virtually communicating through the process," Dr. Chung said. "I will say I'm curious to see how that will change once we return back to physical space…we may see another shift there."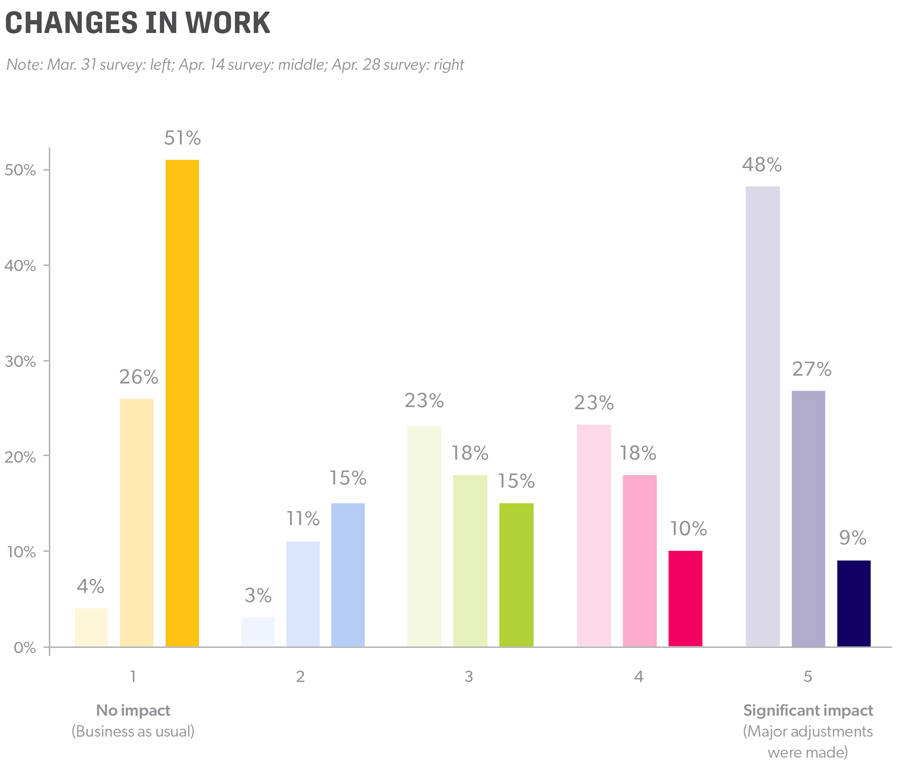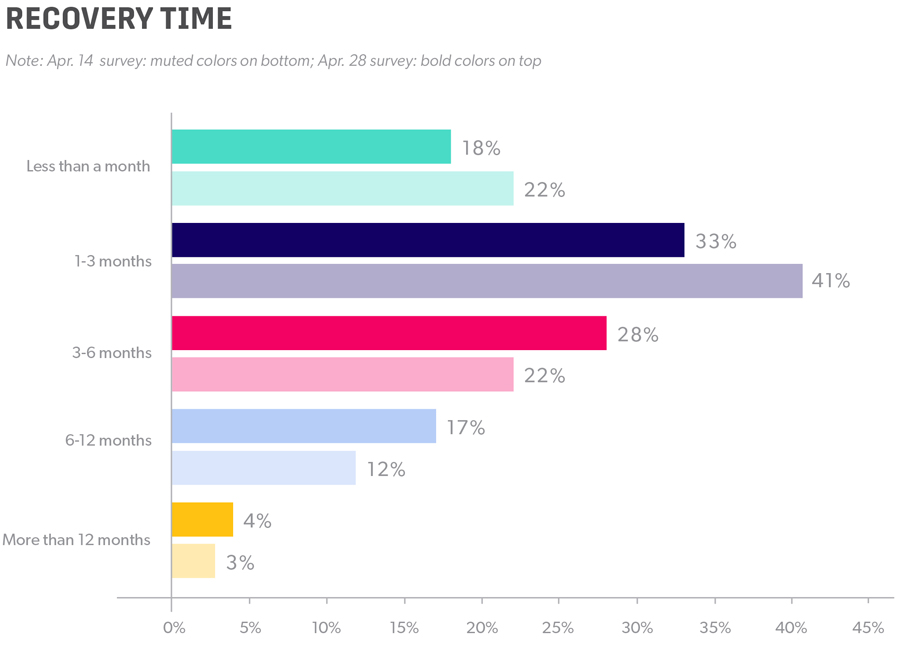 Another recent change in survey response relates to recovery time. There has been a nearly four percent decrease in those who estimate an under-one-month-long recovery period, and a six percent increase in those who estimate between three months and six months for recovery. In all, the ASID's most recent pulse survey shows relaxing levels of concern and longer estimated recovery times, as well as quick adjustments to changes, and continued engagement with clients and customers through personal outreach and virtual communications. 
Dr. Chung, whose professional background includes a doctorate degree in human behavior and design from Cornell University in New York, said among these engagement efforts, continued education, and webinar resources, designers are connecting with clients by perhaps taking a healthful approach to design and assessing ground-up methods for ensuring a space's ergonomic reliability. Methods like these could continue to become more prevalent as home offices and healthcare spaces continue to grow in importance to everyday life, and Dr. Chung noted that many cues can be taken from the interior design of healthcare spaces to create optimally conscientious designs for all interior design sectors.
"I think the healthcare industry overall, and through time, has been a pioneer for design in many ways," Dr. Chung said. "Interior design is about the health safety and welfare of people, so those lessons we take from healthcare are something that we've implemented into other design sectors in different ways." 
Whether these measures relate to ensuring air quality and circulation, selecting materials for durability versus just color, pattern, and texture, or assessing the chemical components of those materials, there are countless factors that can build into the powerful dynamic between person and personal space that many may not realize. Before international pandemic and after, the role of interior designer as mediator between these two could be more powerful than ever. For the interior design profession, Dr. Chung said there is an opportunity among the direness of the global situation to focus in on individual spaces and make them more meaningful, adaptable, and conducive to personal wellbeing. 
"There are these relationships between humans and the environment, and I think that people will come back into these spaces in a more cautious and thoughtful way," Dr. Chung said. "I do hope that we move away from a linear relationship where the person controls the environment or the environment chooses the behavior of the person, but it becomes more of a cyclical and dynamic relationship where we get to [interact] with the space."
Text: R. Collins | GLBD writer
Featured photo by Daniel McCullough on Unsplash