Home offices spaces have perhaps never played such an integral and important role in everyday function as they do now. Nationwide, homeowners can be found flipping entire rooms, secluded corners of their houses, and even kitchen tables into makeshift office spaces where the same daily work duties are performed as they were in the workplace. 
The differences between these home offices and their more corporate counterparts are clear, but for Royal Oak, Michigan-based Interior Designer Carrie Long, the home office has all the potential to yield rich periods of productivity and co-working with the help of intuitive, personalized design. Long's career and eponymous design firm Carrie Long Interiors LLC are founded in early construction experience and working in the international design sphere—namely Tel Aviv—and it shows in the designer's ability to diagnose spatial disparities and envision ideal interiors down to the studs of a home. 
From simple furniture refreshments to newly built interiors, Long's attention to the multi-layer potential of any design project also yields some helpful advice when it comes to creating workspaces. Recently, Great Lakes By Design Magazine had the opportunity to speak with Long about her advice on making an ideal home office, whether it's formed from scratch or existing design elements. Above all, Long noted that it is now more convenient—and more helpful—than ever to reassess or re-envision how we live, work, and live together. 
Great Lakes By Design Magazine: In your opinion, what are some of the factors that make a good home office space design?
Carrie Long: Everything we do is custom fit to clients, but what you want out of your home office is always the same: you want a space that you can feel comfortable spending time in and you want a space where you can feel functional in—a space to fit your needs of how you work. It's not one size fits all. You want it to be comfortable to sit in, to have it function, to be a place you want to spend time in, and, actually, a place that isn't overly stimulating.
We talk about how you work and how should you work. Lighting is also crucial in any office space, because if it's overstimulating, if it's not efficiently laid out, if the space planning is bad or the lighting is bad, that means you're not going to want to spend a significant amount of time in there and be productive.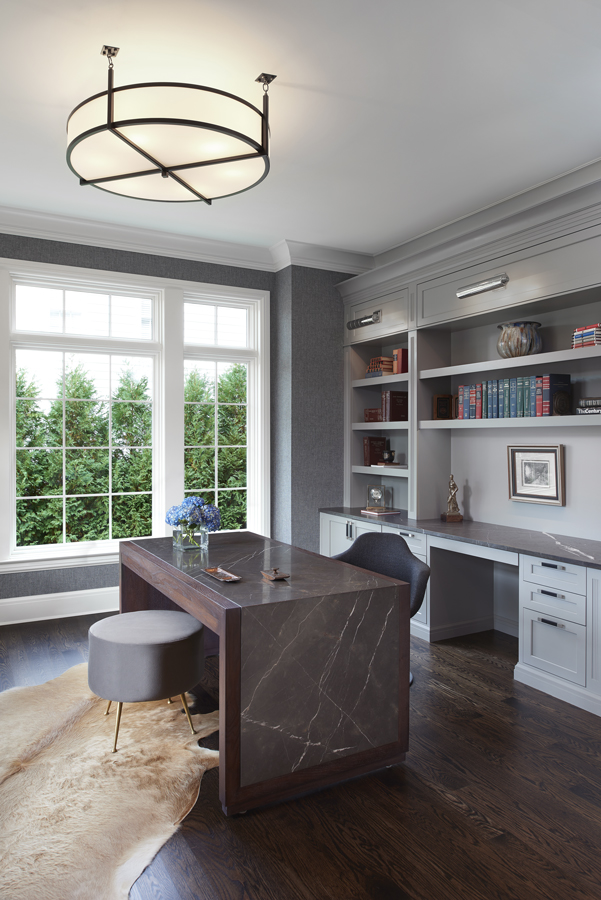 What materials might make spaces better for working? What materials, surfaces, textures, and that sort of thing make a better working environment?
I always love textures. I love layering textures and I just think it gives so much warmth for home offices. A lot of people like stone tops, because you can't hurt them. Some people like the look of wood, but don't like the durability of wood on their desk surfaces, yet they also don't want stone because stone can be cold when your arms touch it. We do a lot of inset faux leather tops, which are great for writing, great for touching, and another great material to use. 
In some of the [spaces], you'll see the stone top and then the stone top inset with wood so the part that's touching you is wood and the part that you're working on is stone; or we do leather inset tops and things like that. Those are the three main surfaces that we use. We do glass as well. I don't love doing glass, because a lot of time it's just never going to be clean and then people are like 'I have to clear off my desk and get Windex and wipe it down,' and then it becomes more of an issue of keeping the glass top clean than getting work done.
If someone was doing a completely fresh office right now, like a total renovation starting from scratch, what are some good guidelines for them to follow to make the best home office possible?
I love built-ins in a home office. I think it's just a beautiful custom way to completely utilize storage so you can have your picture frames, some of your books, and [maybe] hide your printer or your scanner, files, and things like that. You can have this beautiful look and have all the things you need, but it doesn't have to look just like your office; it can have a touch of your personal home there as well. If I was doing an office from scratch with a client, built-ins would be the number one thing that I think would look great to incorporate there.
On the opposite end, for those who can't do a renovation and are largely just trying to update as they go, what are some easy ways you can update a used space to be a better working environment?
That's a much tougher question, because for something like that you have to see what works for that person. Can we just rearrange the furniture you currently have to make it function and work out the space planning? Do we just add better lighting with lamps or open up the window treatments, or do we have some readymade bookcases you can utilize in storage? 
A lot of that comes down to what we have to do in there; do you need something or can we utilize what you have and just rearrange it? That one is always a little bit trickier, because you're trying to create from things that already exist; it's always easier to create from nothing.
Are there any office projects that particularly stand out to you as good examples of creating a home office space like we've been talking about? If you'd like to talk about your personal office space, I'd love to gather insight on that. 
One thing I like for home offices is I want you to be able to function multiple ways in the space. In a lot of home offices, you'll see that I do like a Parsons desk where somebody can sit on either side and I think it's a great way for husband and wife to sit on either side of each other. I have another client—a mother and daughter—they sit opposite each other and work. I have another client who sits there and works, and his little boy sits there—six-years-old—and has been doing his homework opposite the desk with him. 
There are a couple of them where somebody's sitting at the desk working and there's a group of seating opposite that and somebody's sitting over there on the iPad or reading a book or just hanging out. It is a home office where you need to be productive, but it also needs to fit the lifestyle of your home. Again, I like to create spaces where in one room you can function multiple ways, in multiple groupings and be together in there working, reading, hanging out and talking—whatever it is—and you'll see that in almost all of the pictures of offices that I've done where I try to incorporate that.
I'm curious, have people been kind of reaching out to you recently for your experience with this and how to make the home space better?
Yes, and it's actually from clients that I wasn't expecting. … [I'm thinking] when we open back up, am I even going to have a business that we can open up? Michigan has been really shut down tighter than a lot of other places—we haven't even been able to make deliveries—so if I order something for somebody online, it doesn't mean that I can get it delivered to their house even if it's from a big box store. That is a challenge and it has been hit or miss. 
That has definitely been a concern, but what's really nice is in the last couple days, construction and things like that are able to open back up and there's been a huge outreach in clients that I haven't even done anything for in maybe two, five, or six years, and they're all reaching out saying 'you know what, we want a home office.' There has been four just this week who said 'when you open back up, can we do a home office?' 
Some of them want the full, mega-renovation and want to have it planned out now and then do it when they're comfortable with people coming into their house; and then the other three want to just see if we can rearrange some of the furniture they have in their house and then order a couple more pieces to put in there. We're experiencing both and it's been really nice. I always feel blessed and fortunate when I have clients come back—like in five years they remember you and have good feelings and love their home and want you to continue to help them make it their home. There's been a huge outreach.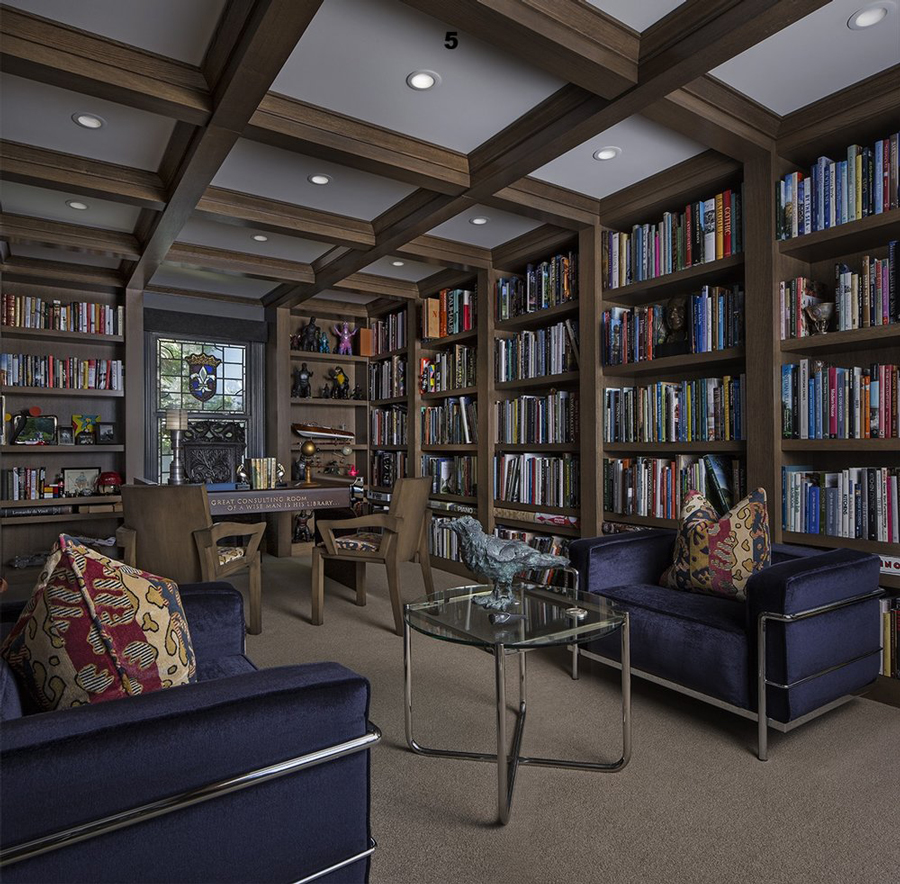 Is there anything you'd like to add?
You had asked me about my home office and it's interesting: I was one of the ones who the home office was not a priority. We have a home office set up in our lower level, but then having to work down there I was like 'I don't want to be in my lower level when all my family is upstairs, and I want more natural light.' Then I realized when I worked from home I wanted to completely spread out; I wanted my plans rolled out and I wanted all my fabrics rolled out—everything out.
I then took over the dining room table. I have a son who's 19-months-old and he would bring his crayons and the crayons definitely made it onto a few plans and things like that, and it was also interesting that even with him being so little, seeing me drawing and working and doing stuff made him to want to get involved. In having gone through all of this, my husband and I sat down and had a serious conversation about our home. It's beautiful and great, but it doesn't fit the way we want to live in there now, so we are planning to build a house. We're now planning out our dream home office, because this really opened our eyes to how we want to live in our home and what our needs in our home are, so we're now in that process.
What are some of those things you can see for this new space right off the bat?
I'm actually going to have another baby in two months. 
We don't do anything slow at Carrie Long Interiors. In thinking about it, I want a space where I can, for one, spread everything out and see everything: the furniture plans, lighting plans, and architectural plans; see the built-ins and the fabrics. I want a surface I can spread everything out on, and I also want a space that my family can be in there with me. 
My husband and the boys could have a Parsons desk where my husband and I could sit opposite each other and the boys could potentially sit opposite of each other or have a place to have their crayons and coloring and things like that. I'd like a decent-sized home office—one that we can all function in and hang out and also even sit in there and read and things like that. I have one client whose home office is a complete library with books just wrapped all the way around him. 
He's actually a good friend of mine; I've been working with him since I was 18-years-old and we've done five homes for him. It's fun, because my son loves that room when we go there and he'll sit with my client's son and they'll look at the books, because he has a lot of really cool coffee table picture books. 
I want something like that too: a spot that encourages learning and exploring and reading and investigating and creating. I want it large enough for the whole family to be in there and have their own space to work. That's something that was probably the lowest priority on my list and after all of this I'd say it is number two after the kitchen and my pantry.
Text: R. Collins | GLBD writer
Featured Image Photography: Beth Singer