Museums tucked within nature, sculpture gardens offer unique experiences for those with a love of the outdoors and for the discerning art and design enthusiast that are increasingly appealing in a currently deepening digital reality. The Midwest is home to a variety of sculpture gardens of varying sizes, whether independently owned and operated, or a result of rich, decades-long collaboration between organizations invested in regional arts, design, and environmental wellbeing and education. 
Great Lakes By Design takes a moment to marvel at sculpture gardens throughout the Great Lakes region, where visitors can find everything from curated explorations of tropical flora, a carnivorous plant house, and brass-cast depictions of America's first people, to larger-than-life pop sculptures and architectural idiosyncrasies that went on to help define careers. They are currently open to the public as economies attempt to reopen in the wake of COVID-19 and residents nationwide come into the outdoors to explore the environmental and cultural makeup of their regions in more detail. 
McGregor Reflecting Pool and Sculpture Gardens
495 Gilmour Mall, Detroit, MI 48202 
Detroit, a designated UNESCO City of Design, is home to countless architectural masterpieces, including several by prolific, world-renowned architect Minoru Yamasaki. One of Yamasaki's most celebrated works is the McGregor Memorial Conference Center at Wayne State University, and its reflecting pool and sculpture display, which opened in the 1950s. Together, the two-story building and its surrounding components are highly sculpted depictions of Modernist and International Style architecture created in the prime of both movements. The exterior massing of the folded-concrete building slab on its raised platform and steel frame look out over the glassy shallow pools at its footstep. 
The reflecting pool and its accompanying sculpture court were more recently refurbished by Quinn Evans Architects, a long-integrated and influential design presence in the modern-day city. They are a tranquil, worthwhile visit on the campus, and within walking distance to other guardians of Detroit design and historical markers, such as the Detroit Institute of Arts, the Detroit Historical Museum, the Michigan Science Center, and the International Institute and Museum of African-American History.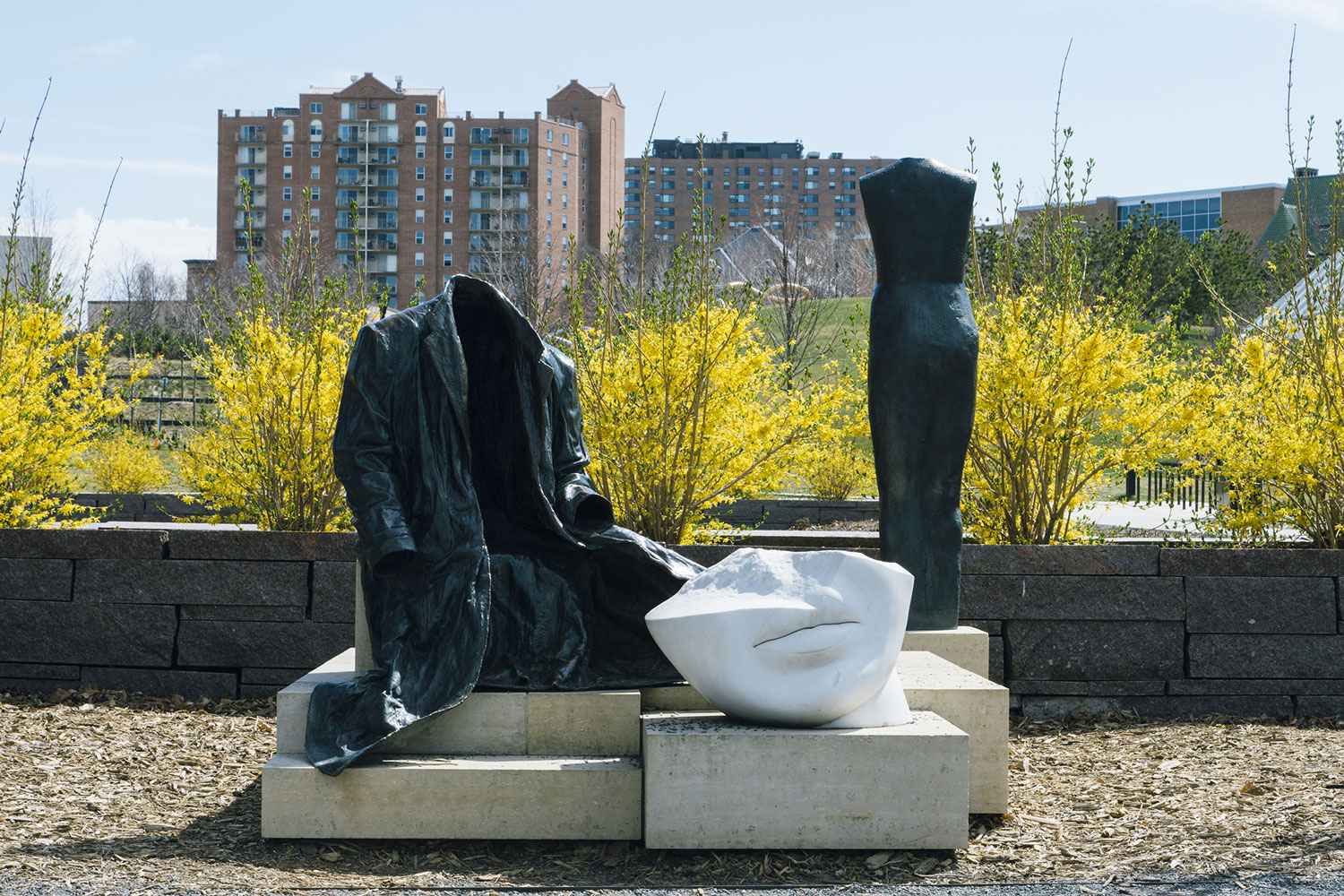 Minneapolis Sculpture Garden
725 Vineland Place, Minneapolis, MN 55403
Tucked in the core of Minneapolis' Hennepin Avenue arts district, a prolific piece of architecture overlooks the recently renovated sculpture gardens beyond; these, however, amble throughout a 17-acre urban garden campus. The Minneapolis Sculpture Garden has hosted millions of visitors since opening in 1988, and it showcases works from the Herzog & de Meuron designed Walker Art Center expansion and greenspace, known for its innovative presentations, acclaimed collections of contemporary art across media formats, and as one of the most celebrated art museums in the country.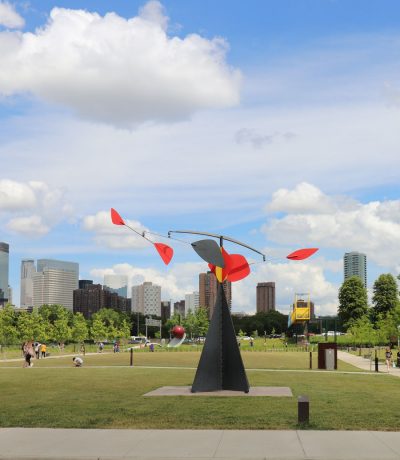 More than 40 sculptures by generations of artists from 10 countries compose the Minneapolis Sculpture Garden's collection, which is nested in quadrants through the urban park—an arrangement from the garden's more recent renovation by Minneapolis landscape and environmental design firm O2 Design. The iconic Spoonbridge and Cherry sculpture by Claes Oldenburg and Coosje van Bruggen marks the heart of the garden among similar works of physical and conceptual scale, while others offer spaces for gathering, conversation, and reflection. 
The garden's current video series, Garden Stories, brings viewers closer to the art and artists featured in the Minneapolis Sculpture Garden through interactive narratives, and behind-the-scene tours of favored outdoor sculptures.
Lynden Sculpture Garden
2145 W Brown Deer Rd., Milwaukee, WI 53217
The 40 acres of parks, woodlands, and lake composing the Lynden Sculpture Garden in Milwaukee create a unique experience with more than 50 sculptures. The garden offers a range of nature, ecology, and environmental-related programs for kids, families, and adults that range from summer workshops—such as the current edible wild plant foraging workshops—to grounds exploration with a naturalist and multi-day intensive programs. 
The sculptural work in Lynden's collection includes pieces by Alexander Archipenko, an originator of Cubist sculpture; Henry Moore; the Modernist British sculptor Barbara Hepworth; Clement Meadmore; Marta Pan; Tony Smith; and Mark di Suvero, among others. It is supported by the Wisconsin Arts Board, with funds from the state and the National Endowment for the Arts. 
The Eiteljorg Museum of American Indians and Western Art
500 W Washington St., Indianapolis, IN 46204
The only museum of its kind in the Midwest, the Eiteljorg Museum of American Indians and Western Art pairs thorough collections, conservations, and exhibitions of Western and Native American art and cultural objects with impactful art and sculpture work in its gardens, nestled along a scenic canal in downtown Indianapolis.
The museum houses what has been ranked as one of the best contemporary Native American art collections in the world, alongside artworks by T.C. Cannon, N. C. Wyeth, Andy Warhol, Georgia O'Keeffe, Allan Houser, Frederic Remington, Charles Russell, and Kay WalkingStick, among others.
Its gardens also host noted works capturing the essence and stories of the American West and Native America, as well as a restful reprieve with seating throughout the space, and an abundance of native plants that paint their own picture of ethno-botanical history. At the front of the museum, guests are greeted with the iconic Whitetail Deer sculpture fountain, while in other areas flowing glass manifested in an artistic waterfall can be found, as well as work from environmental artists, and depictions of Native peoples and Indigenous plants in cast bronze.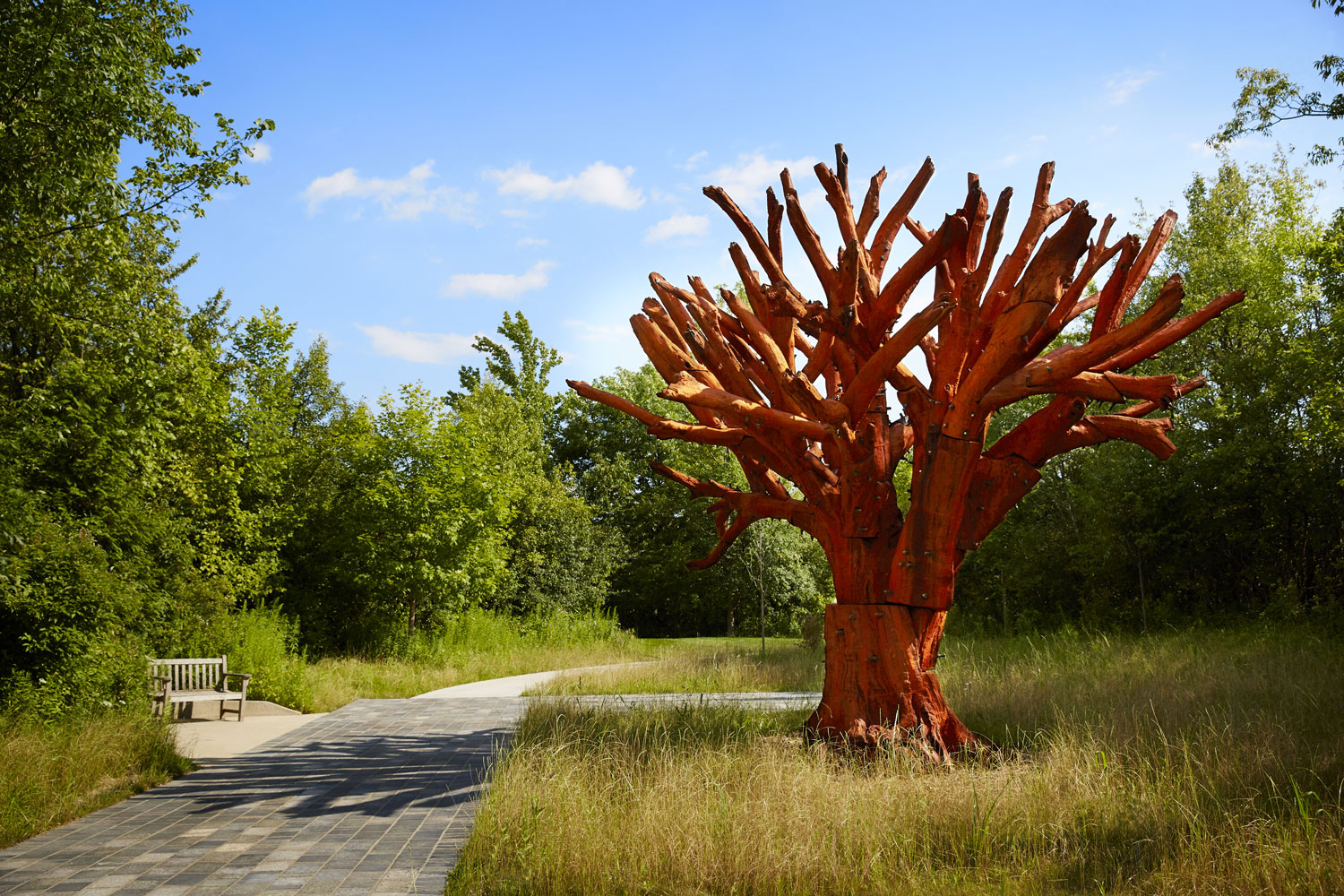 Frederik Meijer Gardens & Sculpture Park
1000 E Beltline Ave NE, Grand Rapids, MI 49525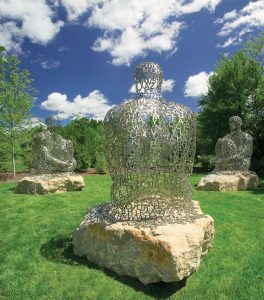 This sculpture garden in western Michigan is joined by a plethora of other specialty gardens on-site, like a five-story tropical conservatory, a carnivorous plant house, an arid garden, Victorian garden, and seasonal display greenhouse; not to mention nature trails, a boardwalk, library, café, gift shop, and education center. The 158-acre main campus is barrier-free and handicap accessible and is certified LEED Silver. Since launching in 1995 after 13 years of planning by the West Michigan Horticultural Society, the gardens have attracted more than twelve million visitors to its grounds.
The Meijer Gardens & Sculpture Park also typically host three temporary sculpture exhibitions each year. Their year-round sculpture program is composed of both dynamic exhibition programs and an internationally acclaimed permanent collection featuring nearly 300 pieces created by creators like Edgar Degas, August Rodin, Alexander Calder, Henry Moore, and Louise Bourgeois. The greatest concentration of work is housed in a 30-acre sculpture park featuring large and traditional scale works. Recent acquisitions include pieces by Ai Weiwei, Lee Ufan, and Coosje van Bruggen.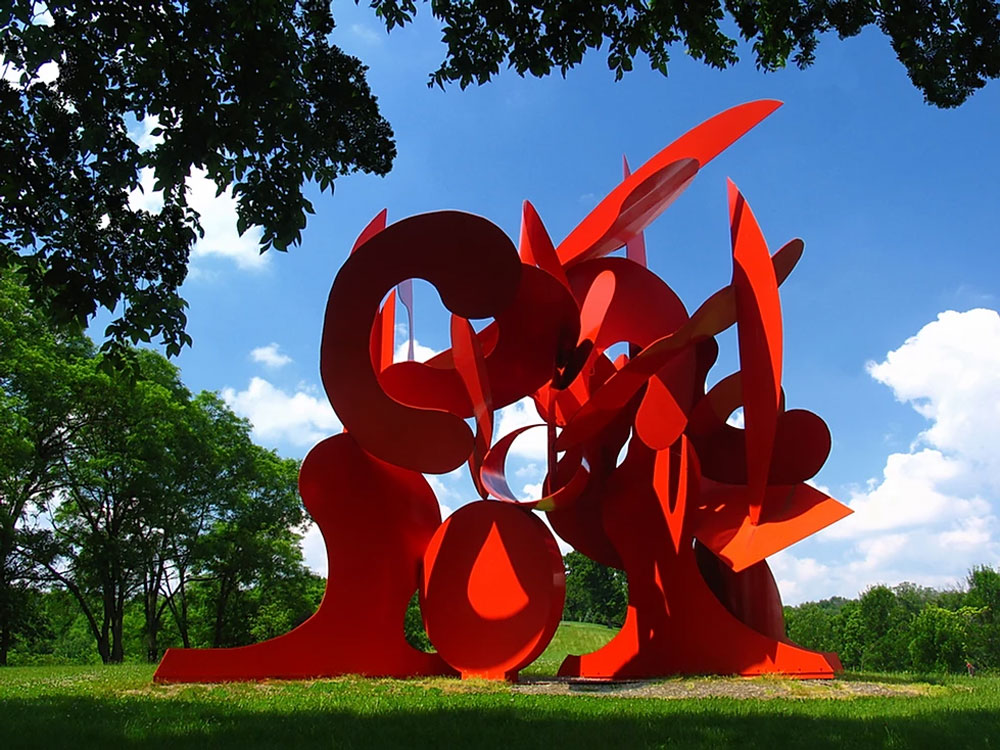 Pyramid Hill Sculpture Park & Museum
1763 Hamilton Cleves Road, Hamilton, OH 45013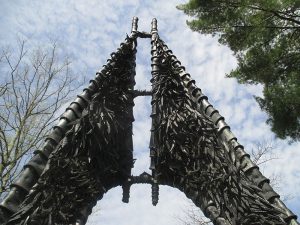 Roughly 300 acres of rolling hills, meadows, lakes, and hiking trails connect more than 80 outdoor sculptures that call Pyramid Hill Sculpture Park & Museum home. Guests can peruse works in a motorized cart and with leashed pets, and can meander up to the pioneer house that dates back to the 1820s. The park also features an Ancient Sculpture Museum displaying Greek, Roman, Etruscan, Syrian, and Egyptian sculptures dating from around 1550 B.C. 
Local, regional, and national artists also feature work at Pyramid Hill. A current contemporary exhibition on view is a series of 11 pairs of cast iron and aluminum that depict life-sized, figurative sculptures by internationally known Icelandic sculptor Steinunn Thorarinsdottir.
Wandell Sculpture Garden
2808 S Race St., Urbana, Illinois
This unique, free outdoor sculpture garden sits among 22 acres of recreated Illinois tallgrass prairie within the surrounding Meadowbrook Park's 130 acres. Serving both recreational and educational purposes, the area features looped paths, creek corridors, a farmstead, organic garden plots, walking trails, and a tree grove, sensory garden, and herb garden, which complement its permanent and rotated sculptures on the site from both local artists and residents of New York, California, and New Mexico. 
The Chicago Athenaeum's International Sculpture Park
On the grounds of the Robert O. Atcher Municipal Center
201 Schaumburg Court, Schaumburg, IL 60193
Housed in the configured grounds of the Schaumburg Municipal Complex and planned 20 years ago by Greek architect and artist, Ioannis Karalias, the Chicago Athenaeum's International Sculpture Park's extensive collection of contemporary sculpture is placed within the natural confines of an open native Midwest Prairie intersected by pathways and outdoor rooms. 
Most sculptures reflect the abstract, industrial aesthetic of the late 1990s, and are made by international and American sculptors; they punctuate 20 acres of meadow and forest that can currently be visited in person or through the Athenaeum's interactive story map, which lets visitors discover the sculpture work on display virtually.
Text: R. Collins | GLBD writer
Featured image: Frederik Meijer Gardens: The Grand Rapids Arch by Andy Goldsworthy Photo by William J Hebert