"There is a kindred spirit between people who collect campers, people who collect old cars, people who collect old motorcycles, and people who collect old boats. We are all in the same group that appreciates and honors history, and likes to preserve things," said Sondra K. Phillips, ASID, EDAC, principal, founder, and owner of SKP Design LLC, an interior design studio with locations in Kalamazoo and Holland, Michigan.
SKP Design was founded in 1996 and offers services for commercial and residential spaces, such as space planning, design development, furniture and finish selection, window treatments, art consulting and project management. In 2015, nearly two decades after the boutique firm's establishment, Phillips decided to take her keen eye for design and apply it elsewhere: renovating vintage campers.
Phillips noted she was first inspired to design campers when sleeping in one for an event and decided that although it was functional, the design needed something more. Following that event, in 2015, the Shasta Airflyte was introduced to the market, featuring a vintage aesthetic on a brand-new camper.
"I got so excited, because it was designed in bright colors, not beige and brown, and the curtains had adorable patterning. When I looked up the price of them, they started at $15,000 and went up to I think around $20,000," Phillips said. "It was like, 'that is a lot of money for something that I was not planning on purchasing.'"
Inspired to fulfill her vision by designing a camper tailored to her personal taste and at a more affordable price-point, Phillips began her journey into the camper space when she purchased one to remodel, called a Go Tag-A-Long, that was 13-feet long.
Shortly thereafter in 2018, after her first camper renovation on a smaller model went smoothly, Phillips bought a 42-foot long, 1956 Spartan Imperial Mansion for $900, with the assistance of her partner, Christopher W. Havlock. Honoring the era it was built in, Phillips said she wanted to keep its original vintage charm while also modernizing it by taking a resto-modern design approach, with a color scheme that incorporated pops of orange. Before the interior decorating and furnishing process could begin, the 336-square-foot camper needed a lot of body work done, as well as thorough planning.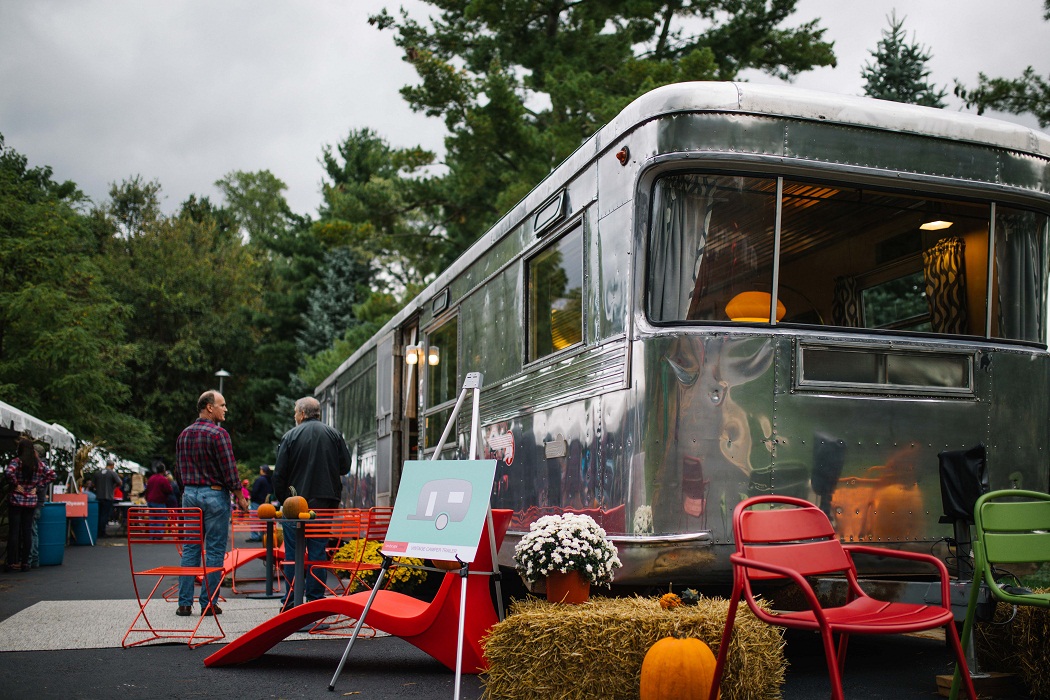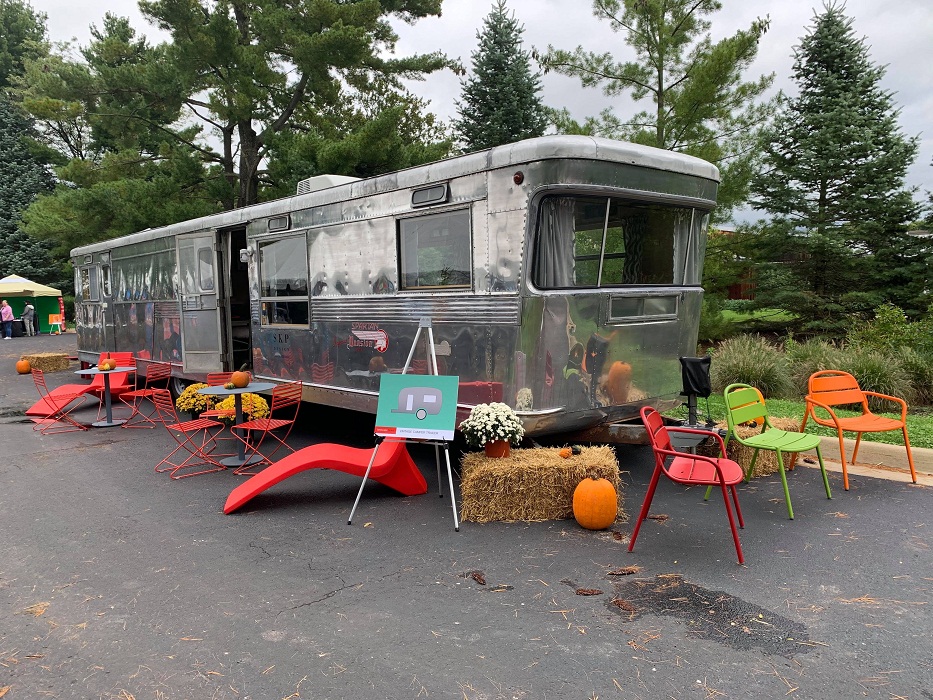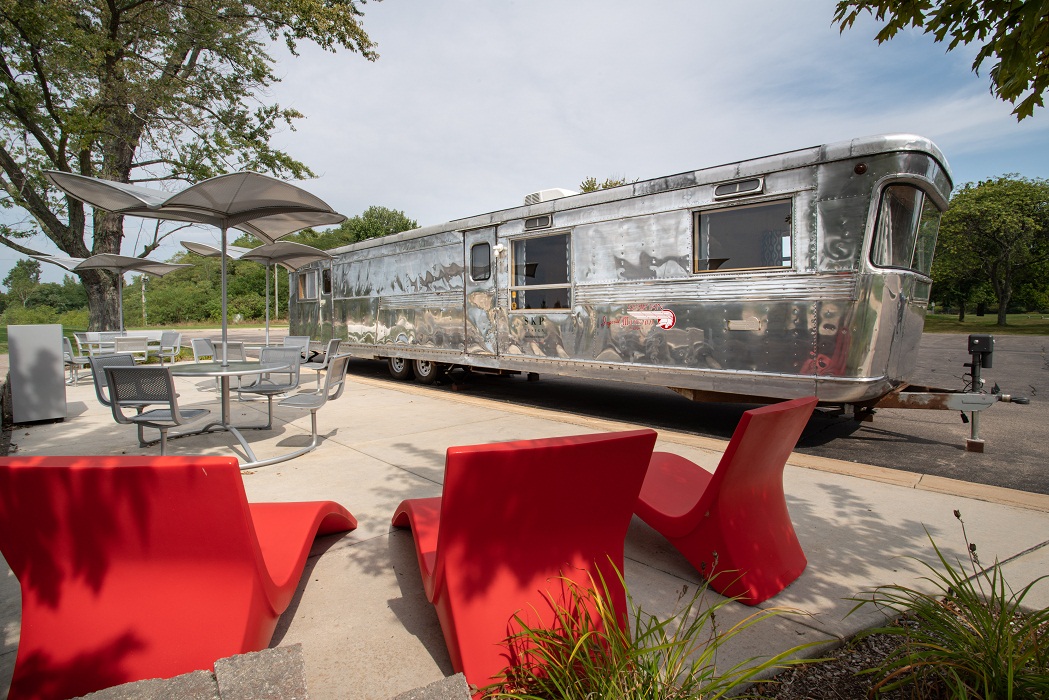 Phillips noted that the planning process took approximately four months, and the remodel added another four months on top of that, although it could be done in more limited time. The initial planning comprised taking field measurements of the existing camper and drawing it to scale in AutoCAD, which assisted with accurate space, furniture, and electrical planning. With that information, calculating the cost of the project materials was made more efficient. Ultimately, Phillips decided to keep the floorplan similar to the camper's original layout, with the exception of the L-shaped kitchen, which was torn out and replaced with a galley kitchen to create more space.
"A great deal of time was spent polishing the exterior to get it restored. We did what you call a frame-up restoration, meaning all the floor came out, all the wall panels came out, all the insulation, all the electrical—basically we want to make it safe," Phillips said. "You don't want anything that is electrical from 1956."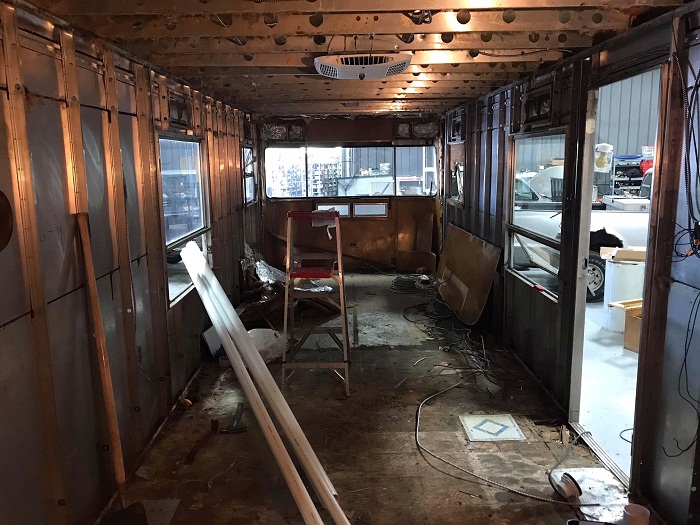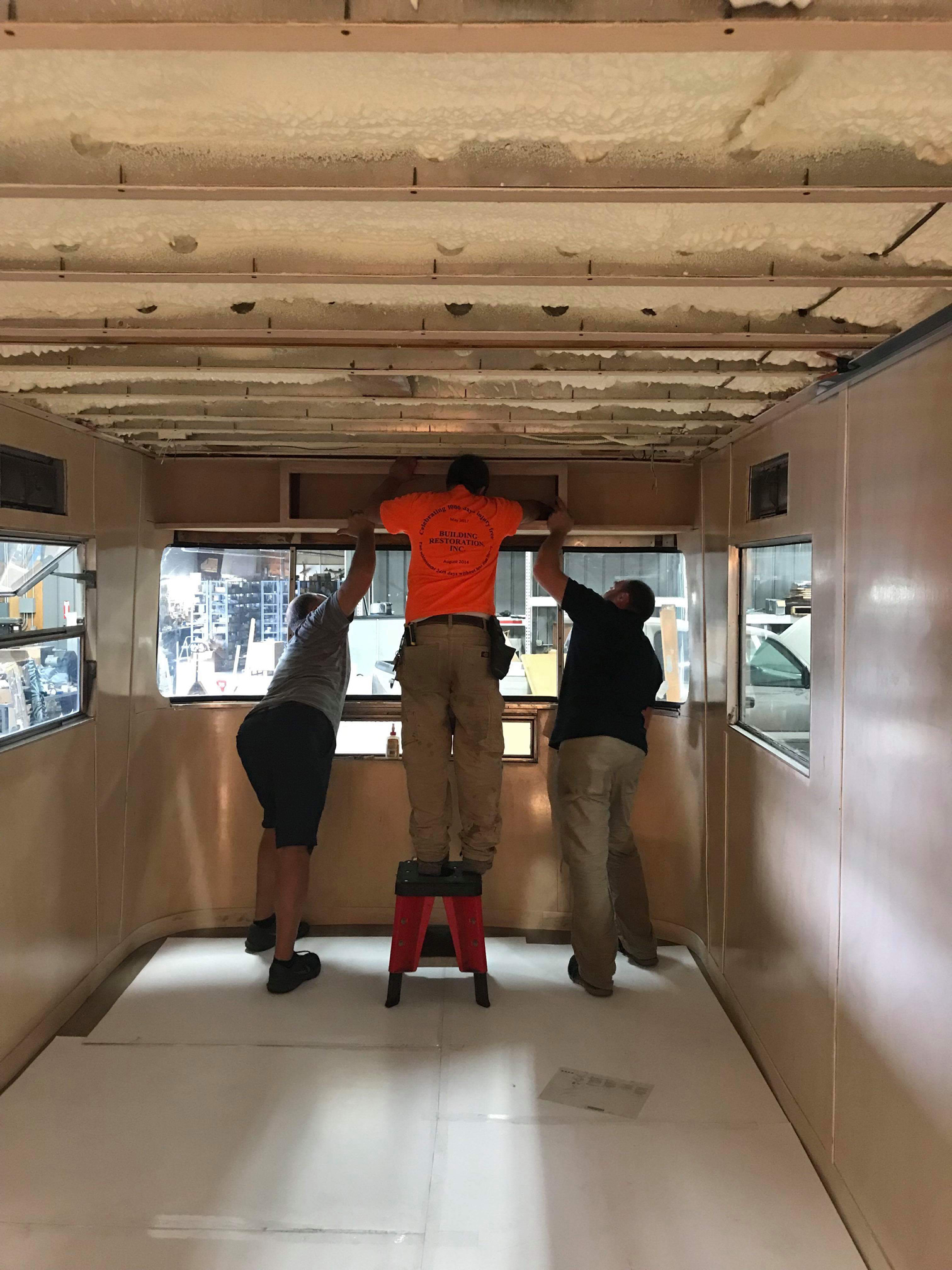 During the design process, other new materials were implemented in the interior shell of the camper, such as LVT wood plank flooring and birch wall paneling. Allowing natural light to transmit between spaces and adding pattern to an otherwise plain door, a translucent door panel from Lumicor Inc. was installed in the pocket door of the bathroom. A corrugated galvanized ceiling was also installed, creating the illusion of a taller space due to the way the ceiling reflects light, and adding to the roof's durability against water damage.
In place of the old L-shaped kitchen, Phillips opened the space up with a contemporary galley kitchen, sourcing from Ikea, with soft blue cabinets on either side of the walkway. A statement piece, a vintage Westinghouse refrigerator painted a bright orange ties the kitchen together.
"Renovation is always harder than a new build," Phillips said. "One of the challenges is really just getting it down to the point where you can restore it. They are constructed really well, so all the paneling and floorboards and everything is attached to the framing with thousands of screws."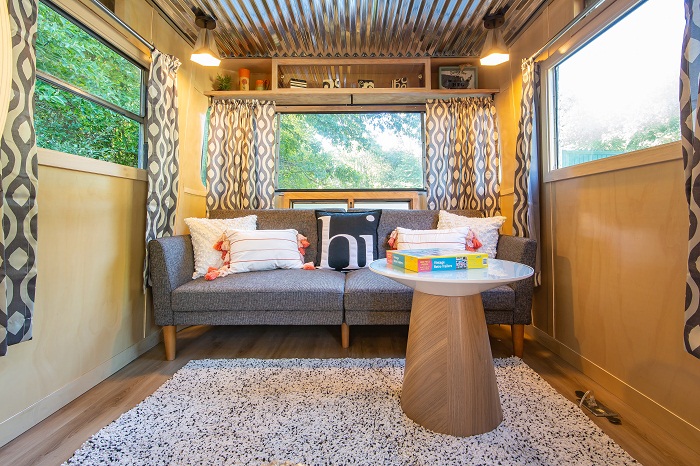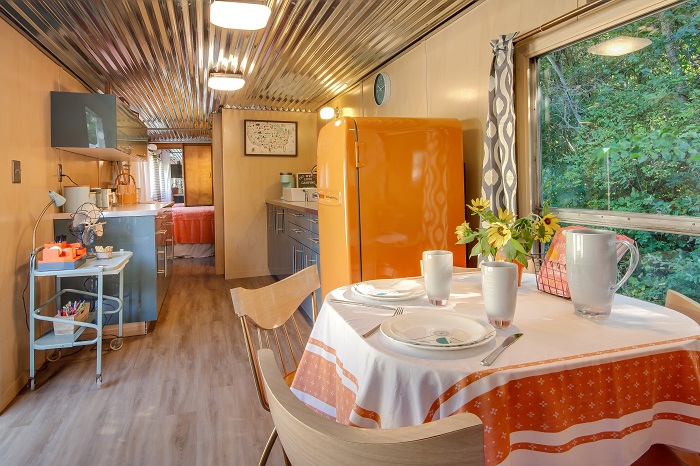 Although a lot of reconstructing needed to be done on the interior, quite a few of the original features were preserved. Some elements of the original bathroom were salvageable, including the bathtub, sink and vanity, exhaust fan, and wall heater. There were also a couple of storage units kept intact, such as a built-in storage system featuring two hanging closets and two sets of drawers on the back wall of the bedroom, and cubbies with slider panels above the front window of the camper.
The furniture and décor in the space is intended to reflect the era the camper is from with retro patterns and colors, while also adding modern touches throughout. Old and new combined, Phillips' own vintage finds are integrated in the design, such as an orange chenille bedspread from the Netherlands, and an antique typewriter cart.
Leveraging the camper's length and spacious volume, the project also integrated a number of seating and sleeping arrangements throughout. There are seats for four people to sit at the kitchen table, with the option of sitting nearby in an orange egg chair that swivels to face either the kitchen or the living area. In the living room, a grey couch also doubles as a pull-down bed, providing an additional sleeping space to the queen-sized bed in the bedroom.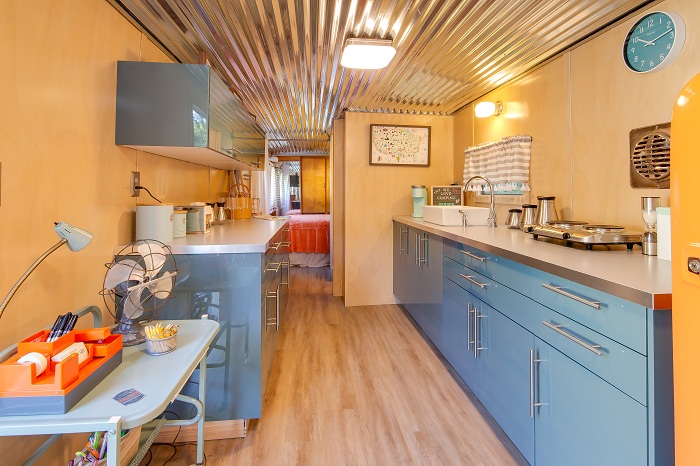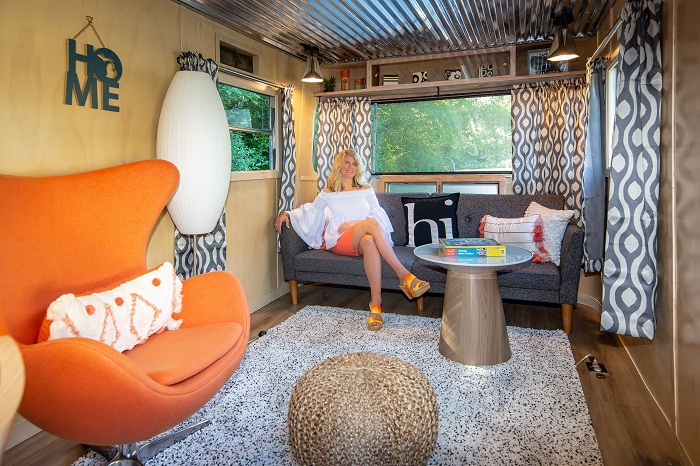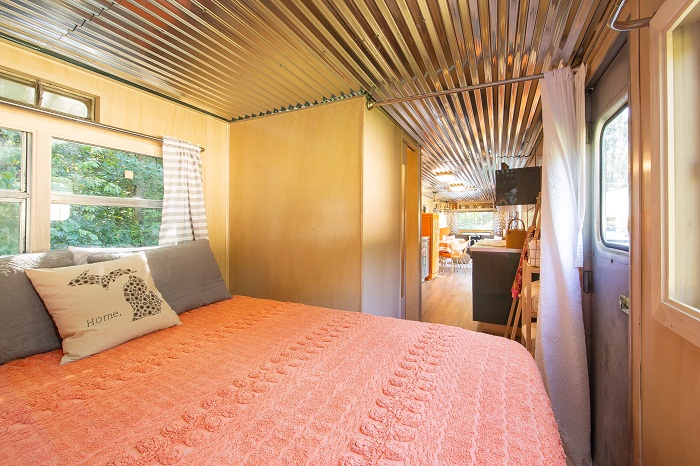 While Phillips invested approximately $40,000 into the project, much of the work was self-performed by herself and Havlock. The value of a remodeled camper typically ranges anywhere from $75,000 up to the hundreds of thousands. In comparison, Phillips mentioned two campers of similar models that have sold through RM Sotheby's, a classic car auction company headquartered in Blenheim, Ontario.
"Two of these have sold in the last two [years]—one in 2019, and it was restored and sold for $351,000, and one sold in 2021 for $78,000," Phillips said.
Phillips has completed two camper renovations and is currently in the process of renovating a third camper for her daughter. In total, she has collected eight campers, and indicated that when searching for more, she takes price, construction, and the current state of the camper into consideration.
"Sometimes people just end up with these on their property and they serve no purpose, and they are actually happy to get rid of them," Phillips said.
"We are not looking to restore something to its exact original state. We actually look for the ones that have been deteriorated to the point that maybe certain special things can be saved, but it makes more sense in a way to start over on the interior. That, in turn, gives us the opportunity to be creative and put our own spin on it," Phillips added.
Due to the Spartan Imperial Mansion's considerable size and the challenges that come with traveling in such a sizable vehicle, Phillips' intention is to eventually park it next to a half-acre flower garden on a 3.5-acre piece of property in South Haven, as an oasis or getaway location. That being said, she has also traveled to show the camper at Gilmore Red Barns Spectacular, the Vicksburg Old Car Festival, and the Turkeyville Vintage Camper Rally hosted by Terri Lynn Hall of Tin Can Tourists, as she noted that car shows are often good for marketing SKP Design.
"We will promote SKP Design when we are at shows with the camper, and the beauty of that is it is an instant attraction. People flock and line up to see the campers," Phillips said. "It attracts people who appreciate the extra creativity that goes into this, which can lead to and does lead to some good client connections."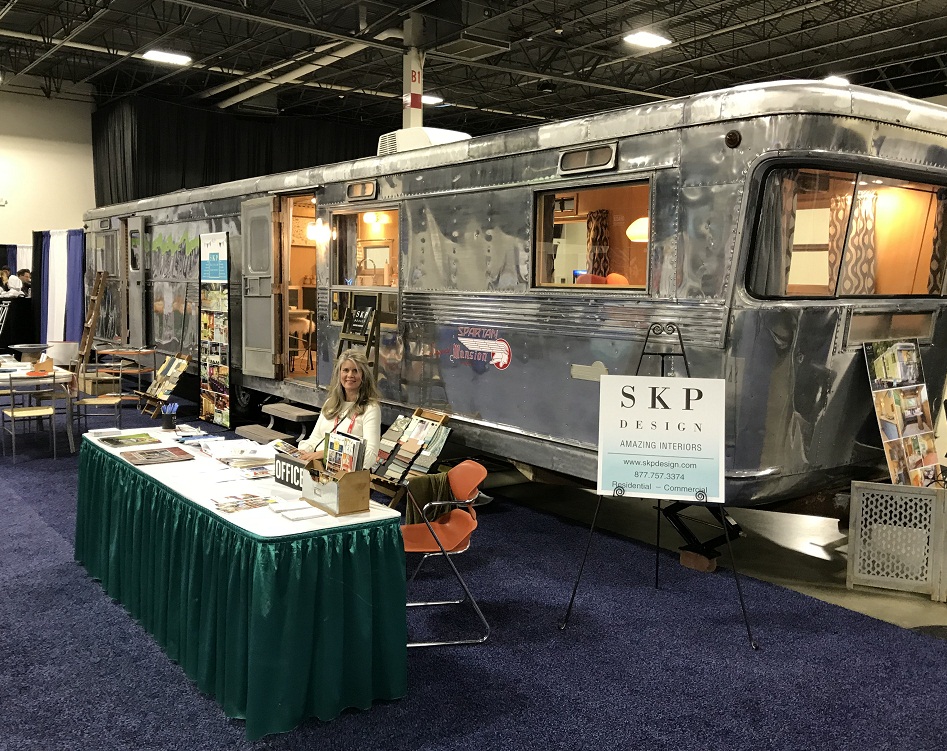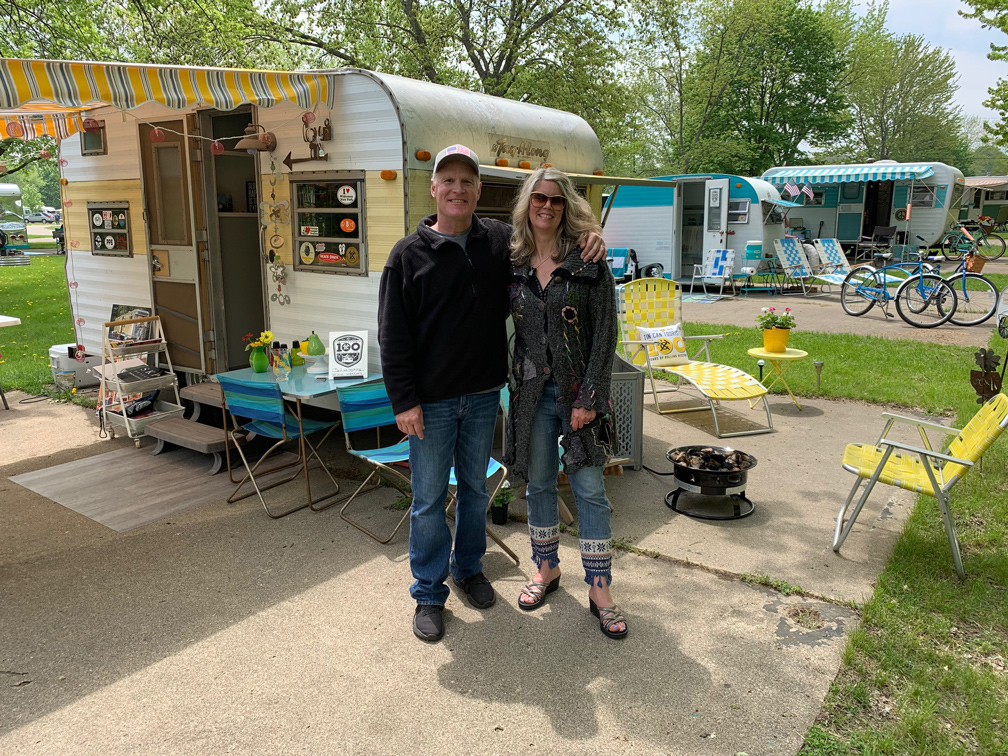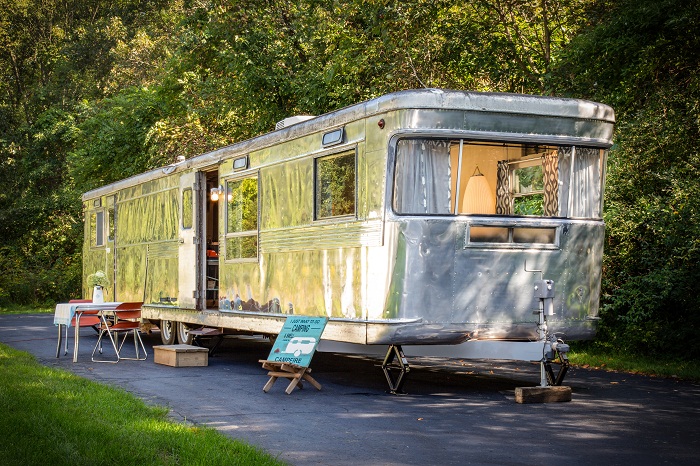 For Phillips, renovating campers has been a creative outlet and a side-hobby, but her big ideas and dreams do not stop there. As her children are getting older and becoming more independent, she has more availability to expand her business into new territories. As office environments shift, Phillips noted she would like to purchase a Cargo Van to serve as a mobile library. Differing from her camper renovations, she would purchase a new van for the sake of functionality and reliability. Phillips also has goals of regional expansion and opening a retail venue to sell upcycled vintage items as the next phase of her career and for SKP Design, which has been in Kalamazoo for 25 years.
"We are a boutique firm, which means we are small in size. That is a distinction between larger firms where there might be a team, or work might get passed between departments. In our firm, I am on every single project," Phillips said. "A lot of times interior design is at an architecture firm or a furniture dealer. To have a firm focused on interiors only, that in and of itself is kind of rare."
Text: Brenna Buckwald
Photography: Sondra Phillips, SKP Design LLC