The craft and curation of a restful, residential atmosphere is often a foundational priority for design professionals, and in many ways, it has become even more relevant with a global pandemic as new stressors on the body and mind arrive at home in lockdown. Along with a changing notion of home, one valuable resource—sleep—has changed as well. Interior design professionals and suppliers strive to respond accordingly, with new and longtime clients reaching out for assistance in maximizing both the rest and production value of their homes-turned-offices and bedrooms-turned-respites.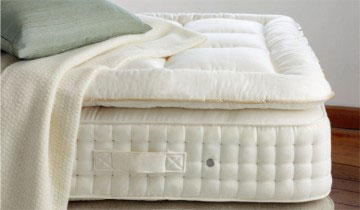 Within this industry, both Amy Kartheiser Design of Evanston, Illinois and Chicago Luxury Beds in Chicago have made careers out of creating home habitats that are restful and personalized by design and expertise. Amy Kartheiser Design is a residential interior design firm championing the art of balancing elegance and ease through the traditional, modern, and global. The firm offers a range of design approaches, from full-service to "E-Design;" while Chicago Luxury Beds—and its upcoming, nationwide rebrand as the Luxury Bed Collection—is a luxury bedding and accessories retailer that has served custom and designer collections to the Chicago market for nearly 13 years. 
Both firms are experts in the profound relationship between sleep and design and noted that it is a time to refocus on that relationship as people respond to changing habits and new normalcies from e-learning and employment to financial shifts. 
"Those are just stressors put on your day that you take to bed with you, and you need to quiet your mind. I think by having a bedroom set up in a way that [emits] calmness and is soothing—that's what [many clients] are looking for; that if this had been a hectic or stressful day and their mind is full of chatter, that they can kind of quiet it down and get a restful night's sleep," said Amy Kartheiser, founder and principal designer of Amy Kartheiser Design. 
When reconfiguring a bedroom around the concept of sleep quality, Kartheiser emphasizes a healthy interplay between light, color, and texture; and some of the designer's preferred combinations comprise light blue, green, cream, and pink hues amongst materials like velvet and mohair. While generous amounts of natural light support productivity at home during the day, they can damage the potential for a full night of sleep when not considered in window treatments. Choices in artificial lighting, from overhead lighting and low lighting to bedside reading lights, can also correctly charge a space throughout the day. 
Layering is a key theme in bedroom furnishing and design for both teams, whether it is in lighting options, color and pattern, or the fabrics and textures that build a personalized bedding arrangement. For the latter, Mary Pat Wallace, founder of Chicago Luxury Beds, noted that the foundation for great health is the mattresses we sleep on and their material bodies. In this case, Wallace favors natural materials that have been used for centuries, long before synthetic alternatives arrived in market.
"The only way to get a really cool night's sleep is by having natural materials in your bed," Wallace said.
Materials like horsehair offer natural cooling and drying properties, while the once-popular foam and latex alternatives are increasingly silk, alpaca, wool, and cotton, according to Wallace.
"We're seeing more comforters and pillows filled with other natural materials that still breathe beautifully and give more support and pressure, which I think it great, and a lot of people don't know these things exist," Wallace said. 
Luxury names like Hästens and Vispring—Swedish and English handmade manufacturers, respectively—appear in Chicago Luxury Beds' collection at a variety of price-points, as do bespoke options that can be customized for partners with split preferences. Wallace noted she would recommend tried-and-true combinations like Hästens' 2000T king-sized mattress and pillows, dressed in a quilted mattress protector and the brand's Satin Pure Linen sheet set; as well as Vispring's Sublime mattress covered in Egyptian cotton sheet sets by Sferra, among others.  
Whereas a bed may have once been a focal- and resting-point in a bedroom, it is also being utilized as another furnishing in spatial plans that seek to infuse single spaces with multiple uses. Kartheiser said seating areas that take a similar approach to layering comfortable textures make great additions to a traditional bedroom respite, though something like a supportive fabric-covered headboard can also do the job of productive, but comfortable, seating.
"I think a soft headboard can be really great, because it gives you the comfort of a chair, but you can prop the pillows so you're sitting upright; it can be beneficial to your bedroom," Kartheiser said. "I also think that losing clutter [is beneficial]. When people think about reconfiguring their bedrooms, before you go to bed at night, it's important that you kind of put everything in its place, because I think the more clutter we have in our houses and rooms, the more clutter we have in our heads."
The power of a bedtime ritual—whether cleaning up clutter or otherwise—also resonates with both firms and is a highly personal, last-step in creating a hospitable bedroom atmosphere to support a good night's sleep. In the end, it is this personalization across the sleep and design relationship that will support and elevate the bedroom space for many years to come. 
"It's not a space that will maybe ever be seen by guests or used by any guest, so I think it's really important for people to understand that this space needs to be super personal to how they not just live, but also need to sleep," Kartheiser said. "They can't design it with their kids in mind or anything; it's something you need to do for you."
Text: R. Collins | GLBD writer