In 1956, Arthur Kornberg, American biochemist, realized a pursuit in biochemistry that forever changed the landscape and nature of biology. Kornberg's discovery of DNA polymerase I not only led to the 1959 Nobel Prize for Physiology or Medicine—shared with Severo Ochoa for his discovery of RNA polymerase—but also served as a catalyst for a biotechnology revolution. Kornberg's exploration in enzymes and innovative work isolating DNA polymerase—and synthesizing DNA in a test tube—would ultimately lead to the development of genetically engineered drugs to treat illnesses like cancer and autoimmune disorders, pave the way for gene sequencing, and inspire generations in scientific discovery, process, and curiosity.
His work would also lead to the discovery of Taq polymerase, which is used in DNA research, and a collaboration with a Madison, Wisconsin-based biotechnology leader, as both a member of its legal team for Taq polymerase patent litigation and as an educator, speaking at seminars. Driven to discovery and innovation through creativity and collaboration, Promega Corporation provides innovative solutions and technical support to the life sciences industry across its branches in 16 countries. Since 1978, Promega Corporation has developed more than 4,000 products, technologies, and instrumentation supporting a number of fields like clinical diagnostics, academic and government research, and agricultural and environmental testing.
Recently, Promega Corporation announced the completion of its three-story, 280,000-square-foot Kornberg Center at its Fitchburg, Wisconsin campus named after the late biochemist. While intended to support core product and technology development, Promega Corporation's Kornberg Center is more than a functional building, but rather a celebration of scientific discovery as it captures the spirit of collaboration and innovation through creative, technical design and rich materiality.
To help realize their pursuit of the innovative, sustainable facility that could adapt to future needs, Promega Corporation turned to long-time working partner RAMLOW/STEIN Architecture + Interiors Inc., a Milwaukee-based architecture and planning firm, and SmithGroup, a global, integrated design firm working across a network of 15 offices in the United States and China.
Nat Stein, AIA, LEED AP, NCARB, vice president at RAMLOW/STEIN, said the firm began working with Promega Corporation nearly a decade ago when designing its Feynman Center, a 262,000-square-foot research and manufacturing facility named for the Nobel Prize laureate and physicist Richard Feynman in 2014.
"We have been working with them for a long time on many projects and when we were approached about designing this new R&D center, the Kornberg Center, and listened to the vision from Promega, we knew this was going to be really special and we wanted to work with a design partner that embodied the same core beliefs in good design and good collaboration," Stein said. "Our firm had just completed a project with SmithGroup at UW Madison and they were naturally the first choice and the right fit for who we wanted to partner with."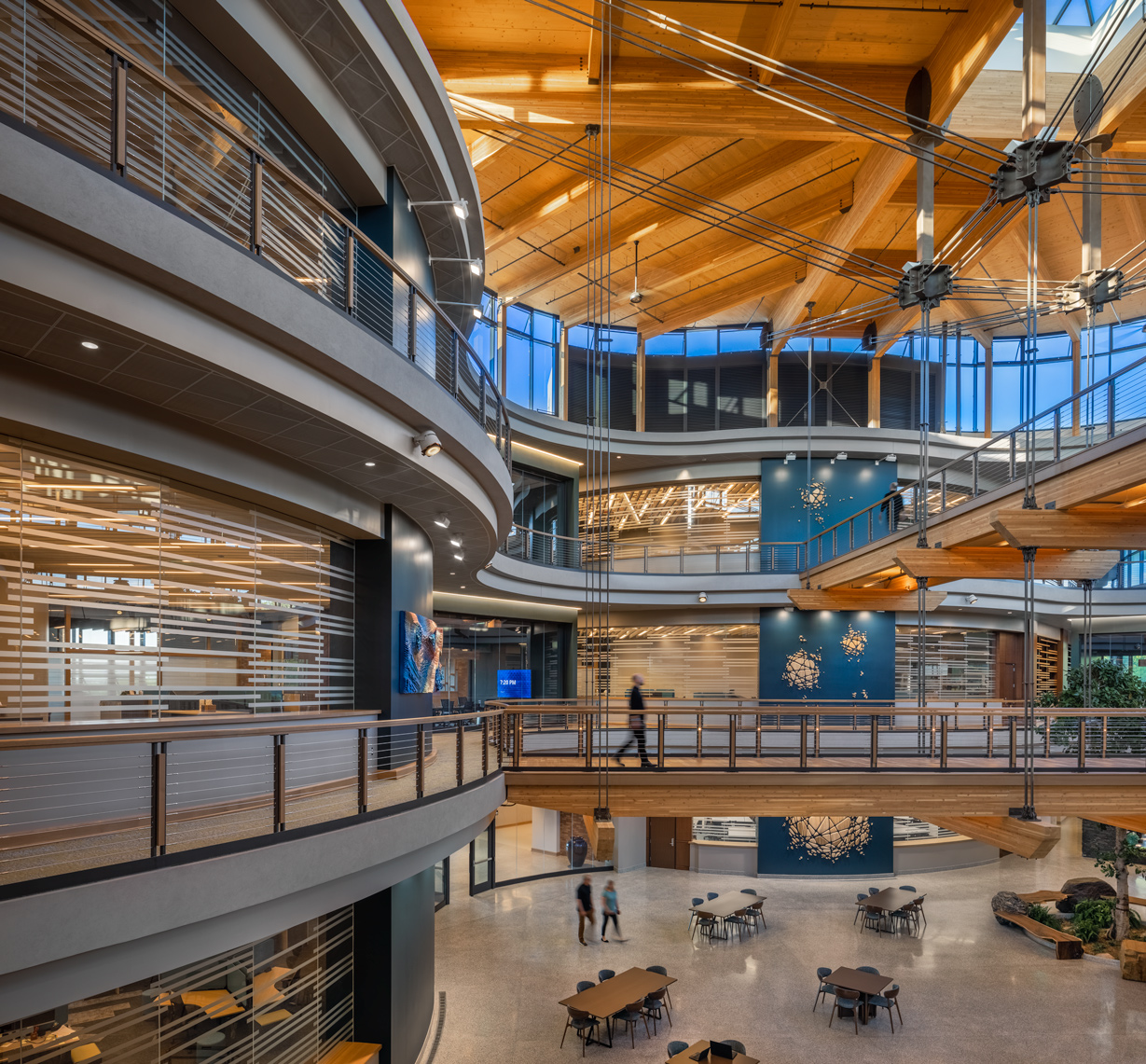 RAMLOW/STEIN is a full-service design firm driven by a philosophy that architecture exists to serve. Deliberately mid-sized, RAMLOW/STEIN works with clients and partners to provide a range of architectural capabilities, from architectural design, space planning, and cost modeling, to master planning, and construction administration, among others. Since its initial establishment in 1985, RAMLOW/STEIN has developed a portfolio of work in community, workplace, higher education, historic, and K-12 education fields, ultimately delivering projects that reflect the values and vision of their client and meet the needs and enhance the lives of its users.
Stein noted, as with a lot of their work with Promega, the first step in the planning was to gather the core team and the leadership at the corporation to develop a personality profile that described the goals of the project and its relationship to the existing campus. Early goals envisioned a holistic design that embraced a high degree of flexibility, resilience, and sustainability to ensure the building could last 200 years.
"They're a group of folks who like to push the envelope when it comes to design and creativity and it is really about—you don't want to design the building for right now, you want to design it for future needs. There is extra space or frontier space that is built into every aspect of the design, the offices, and the labs," Stein said. "Biophilic design is also a really important aspect of all the projects that we do on their campus, so there are elements of water and plant-scapes, really creating an environment that people want to be in, like a second home."
Jason Smith, AIA, design principal at SmithGroup in Chicago, said the idea of collaboration emerged very early on in the process among the architects, engineers, construction experts, and scientists during one of the workshops.
"We broke into smaller groups and everyone was asked to talk about—and maybe even sketch a little—what the building might aspire to be, what the character should be like. One of the things that was just so amazing to me is that everybody had some version of a thing that brought people together," Smith said.
"They just recognized and wanted to celebrate that collaboration that they have and recognition, I think, that their best work comes from teams, from groups of people working toward a common goal. That was pretty amazing to see and it definitely stayed with us; it influenced our whole process moving forward," Smith added.
Backed by more than 160 years of experience and a network of 15 offices in the United States and China, SmithGroup is on a mission to design a better future. The award-winning, integrated practice is focused on developing sustainable, beautiful, and future-focused solutions across disciplines in the built and natural environments, working with partners and clients to deliver well-designed spaces, places, and processes.
Nestled among timbers and a series of structures, such as the Feynman Center, the 1988-built Research & Development Center, and a parking garage, Promega Corporation's Kornberg Center sits along the eastern perimeter of its Fitchburg campus. Stein noted the siting of the building was important, essentially serving as an extension of the campus to the east, and its roughly 20-foot slope from west to east allowed for different entry points for staff and for visitors.
"We made a pretty conscious decision to divert vehicular traffic in and around the building in such a way that it promoted pedestrian connection to the rest of the built environment," Stein said. "Then, another thing that was really important to our client, was trying to work with the landscape and be sensitive and respectful. There is a 100-year-old oak tree that we deliberately worked around and planned around to maintain between the parking structure and the new building."
Its form takes cues from its surrounding natural environment, and sits on the land in dynamic, four-leaf clover inspiration. At its core, a four-story central atrium engages its users and bridges the four leaves where laboratory spaces, open workspace, meeting areas, and flexible, frontier space for future build-out and testing emerging technologies are organized. The labs also feature dedicated cell culture facilities, lab benches for visiting collaborators and interns, and a touch of design whimsy that felt distinctive to Promega, according to Smith. The atrium itself leverages floating walkways, collaborative spaces, and niche, focus areas in physical representation of placing people at its core and as a means of encouraging collaboration and connection.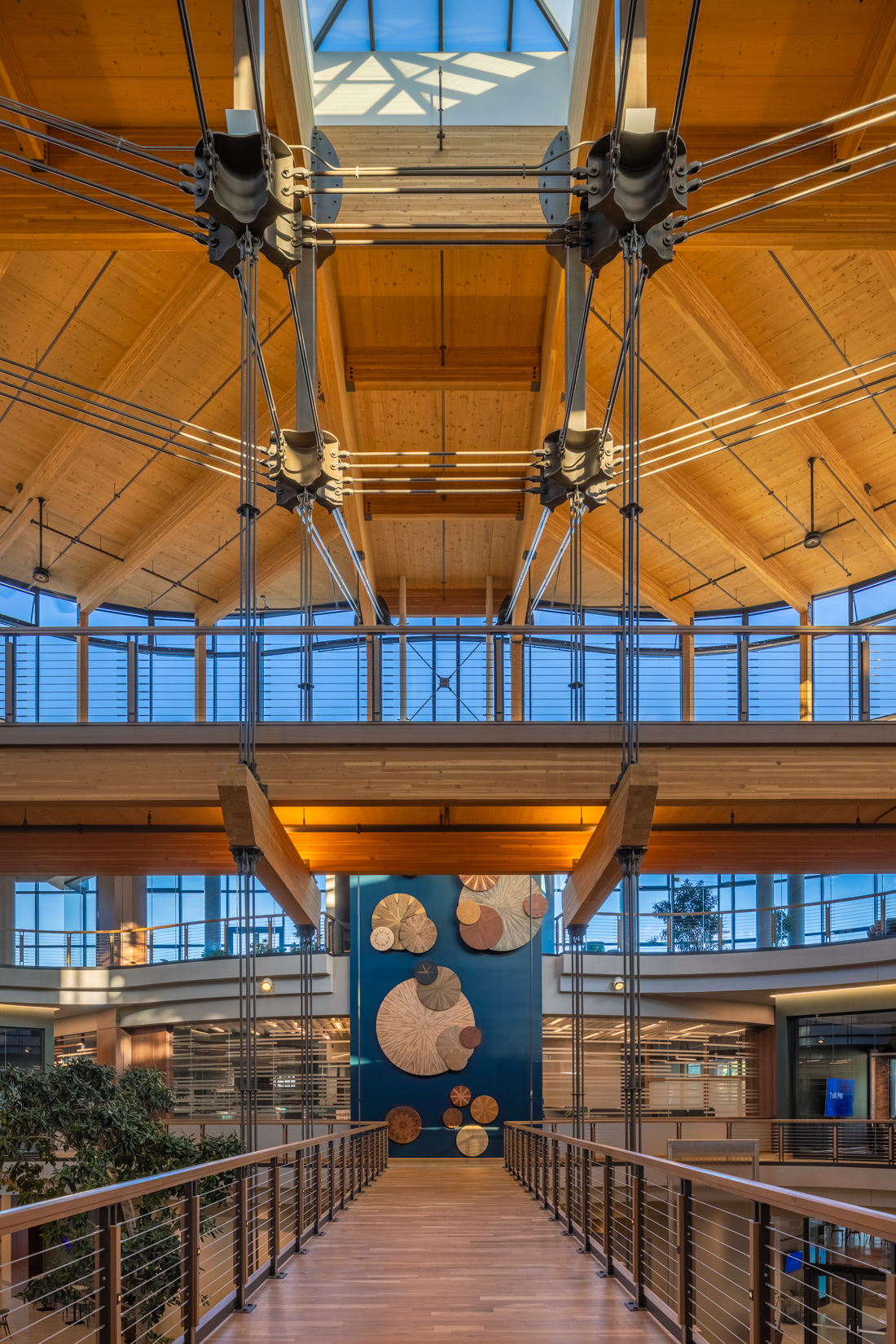 The design also integrates exhibition space, commissioned artwork to inspire new perspectives in discovery, a multipurpose auditorium, fitness courts, a sound therapy room, green house, kitchen and dining, outdoor courtyards, and an accessible rooftop throughout a biophilic-inspired interior where green space, fresh air, and an abundance of natural light floods the welcoming environment. Brick, stone, metal finishes, heavy timber, and glass materials speak to a vernacular language found elsewhere on campus, like the Feynman Center. Expansive windows, water installations, and natural plantings, such as a 25-foot-tall strangler fig tree, are paired with innovative and sustainable features, such as radiant heating and cooling comprising 22 miles of in-floor tubing, a rainwater collection system designated for toilets and cooling towers at the campus utility plant, and 672 photovoltaic panels on the green roof.
Its double skin façade of double-walled construction features an exterior wall of glass, a three-foot air space of separation, and an interior wall to enhance energy efficiency and thermal comfort. The intentional dual-skin façade and atrium also draws tempered air from the perimeter toward the atrium and up to its clerestory, providing a sustainable and low-energy solution for a projected nine months out of the year for interior climate control.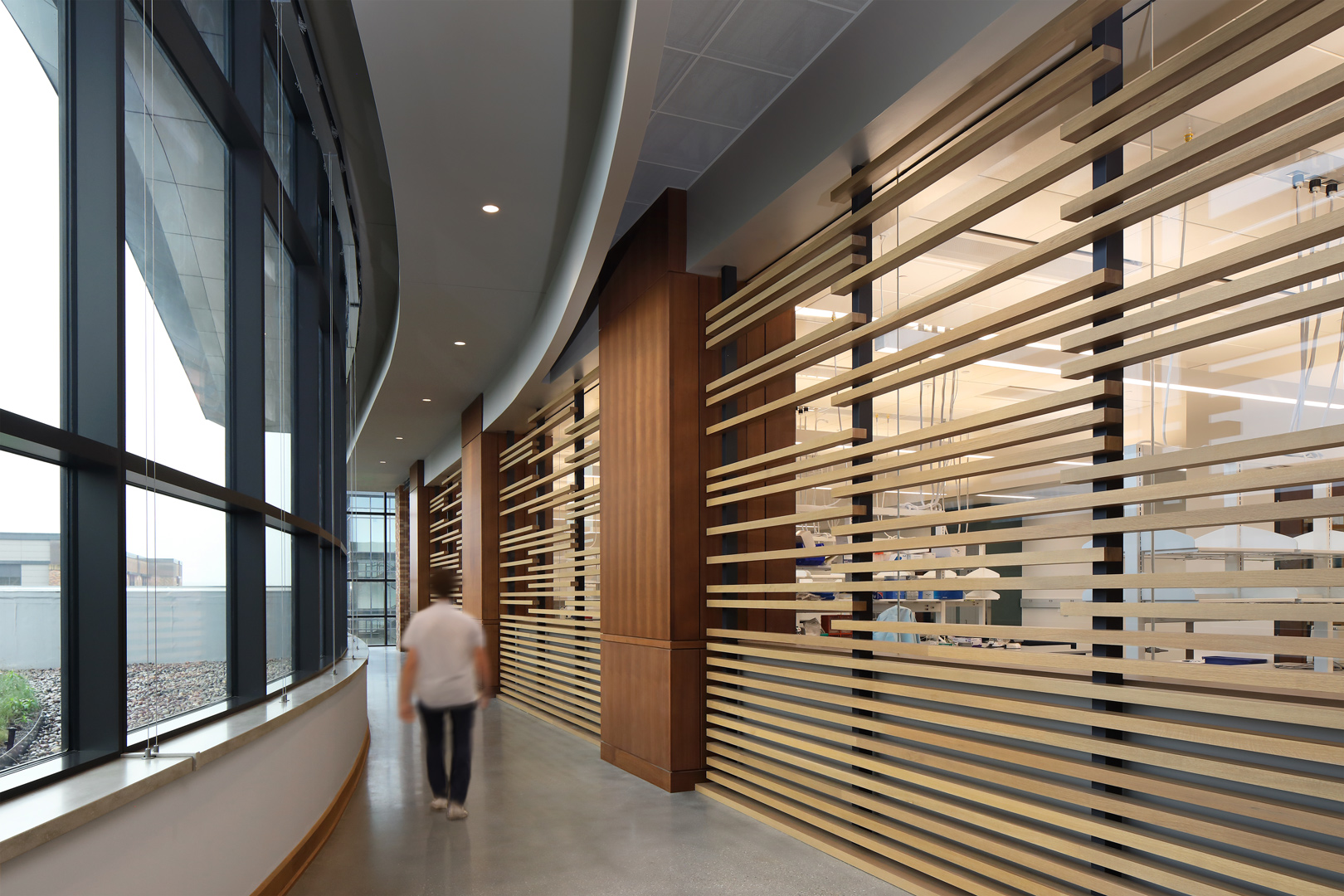 To reconcile all the moving parts of the project into a cohesive, flexible structure that could adapt to future needs for 200 years, Smith said the team worked a lot of parallels, spending time studying certain elements and then reconvening to discuss how to stitch and weave all of it together.
"The design process was very scientific in nature. There was a lot of openness to exploring potentially good ideas around lots of different facets of the project and that mindset of, 'well, everything is on the table, let's test it, see how it does, if it does good, we will keep moving along and see what is next, see how these things combine,'" Smith said.
"It really did open a door for a lot of creativity and it allowed them to look at new ideas or new relationships through the lens of, 'how can we do something that will be more sustainable or allow folks to work better or be more comfortable for people to be in.' I thought that was pretty compelling, so in some ways the design process really emulated the scientific process," Smith added.
Rebecca Rodriguez, NCIDQ, LEED AP, senior interior designer at RAMLOW/STEIN, noted since the team was working for scientists, they approached it as best they could like scientists, leveraging a lot of data-driven approaches to the different challenges and opportunities.
"We did a really in-depth survey—they called it their workplace activity survey—tracking percentage of time they spent in each type of work mode, whether it was lab or desk or relaxation, so we were able to show them, 'this is percentage-wise where you are at all times and that is why we need to devote this kind of square footage to that building,'" Rodriguez said. "Similarly, we took that approach into the labs: 'you use X amount of linear square footage to do the work that you are doing and all this equipment,' and 'how many different types of typical work environments that you have per lab.'"
The organization of the more functional lab spaces was also driven by an intuitive use of space, prioritizing ease of transition from one area to the next.
"Adjacency was huge," Rodriguez said. "They talked a lot about that flow between work modes all the time, so making sure it was easy to hop into a meeting room, go to your desk, go to your lab, but within each group, what were their immediate needs and making sure those fit around the puzzle."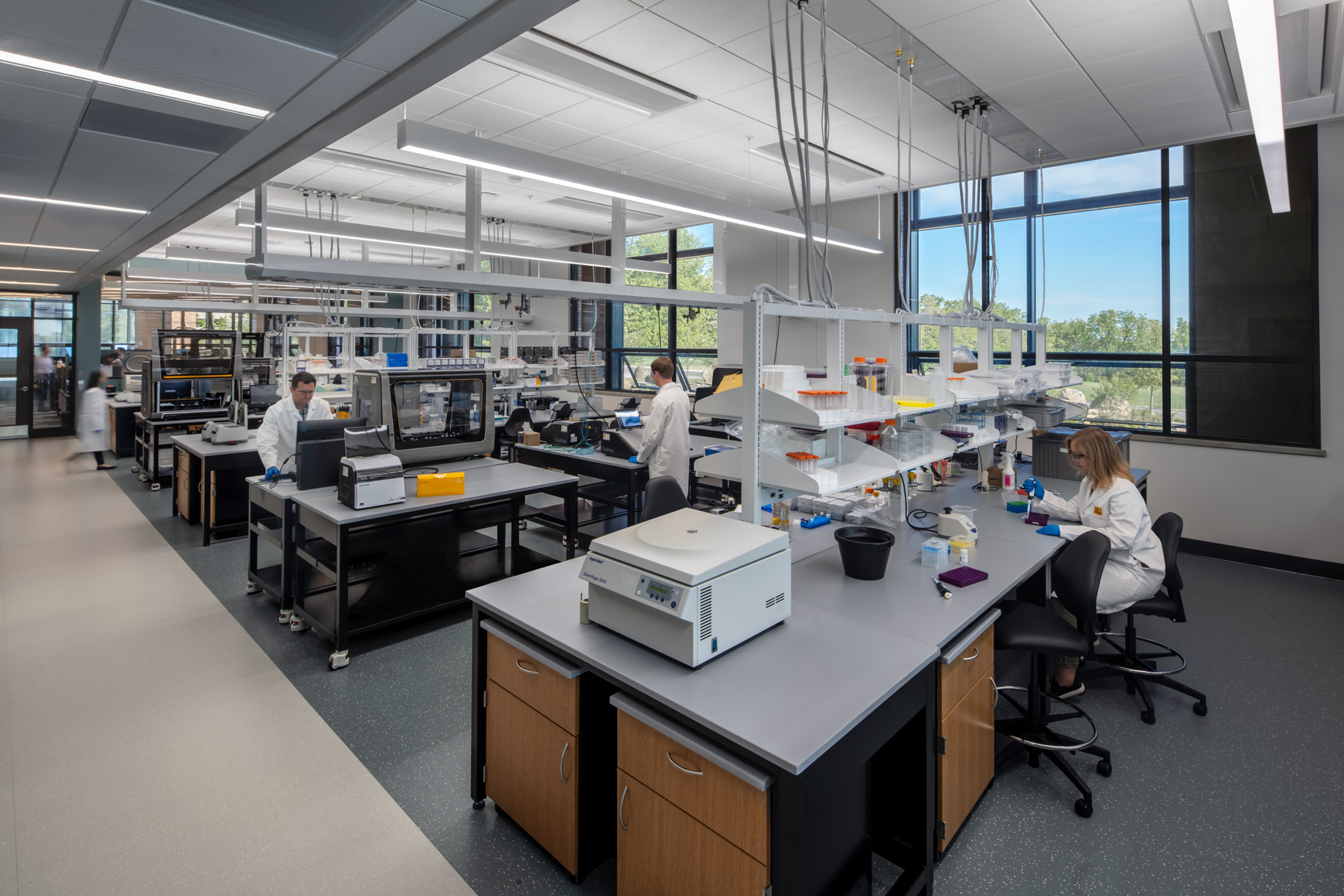 Smith also noted the scale itself was huge both in terms of physical size and for projecting out roughly 200 years when planning the design.
"There is a lot you want to happen. I remember early on when we were figuring out how big the building should be and we were all a little bit surprised to see that it was pretty large and we could have done one great big block and it maybe might be slightly more efficient than the building is today from purely an enclosure standpoint, but I think what everyone recognized is there is so much more value in breaking that up into human-scaled blocks," Smith said.
"It is something you look at and you are not overwhelmed by, but instead you look at and you understand it, it feels inviting, and then that atrium and those office spaces really glue those blocks together, so places where people want to go are the things that bring them all back once they are separated for that scale," Smith added.
To create a more intimate atmosphere within the large footprint, the team looked at it in five-foot increments to ensure the width for the atrium felt right, inviting, and experiential, leveraging interior landscape and daylight that floods throughout the different levels. For its longevity, Smith said part of it is about flexibility.
"You have to be able to rework a building that is going to be around that long and there was a lot of modularity that was studied and modularity that has been tested, especially in the laboratory environments that will be able to be repurposed easily in the future," Smith said. "The whole building follows that logic. There are also things on the envelope, like the large overhangs do a lot of work to protect that exterior wall and make sure that it is going to be in good condition for a long time."
Stein also noted in terms of resilience in design, a big part of that was understanding the offices and workspaces will change in time just as much as the labs may adapt.
"The raised floor system allows for the adaptive use of technology to meet the different configurations they might need over time, we also have a solar panel array on the roof, rainwater collection systems, vegetation roof, and a lot of different engineering things or some of the behind-the scenes that you don't see that are contributing to the life of the building," Stein said.
"They are always forward-thinking in terms of designing additional space, so there were a lot of metrics done during the programming that projected this decades out so we didn't have to tear down walls. We have a lot of extra space within the components and also the placement of stairwells and restrooms within each pod was pretty strategic as well so we wouldn't have to move those later," Stein added.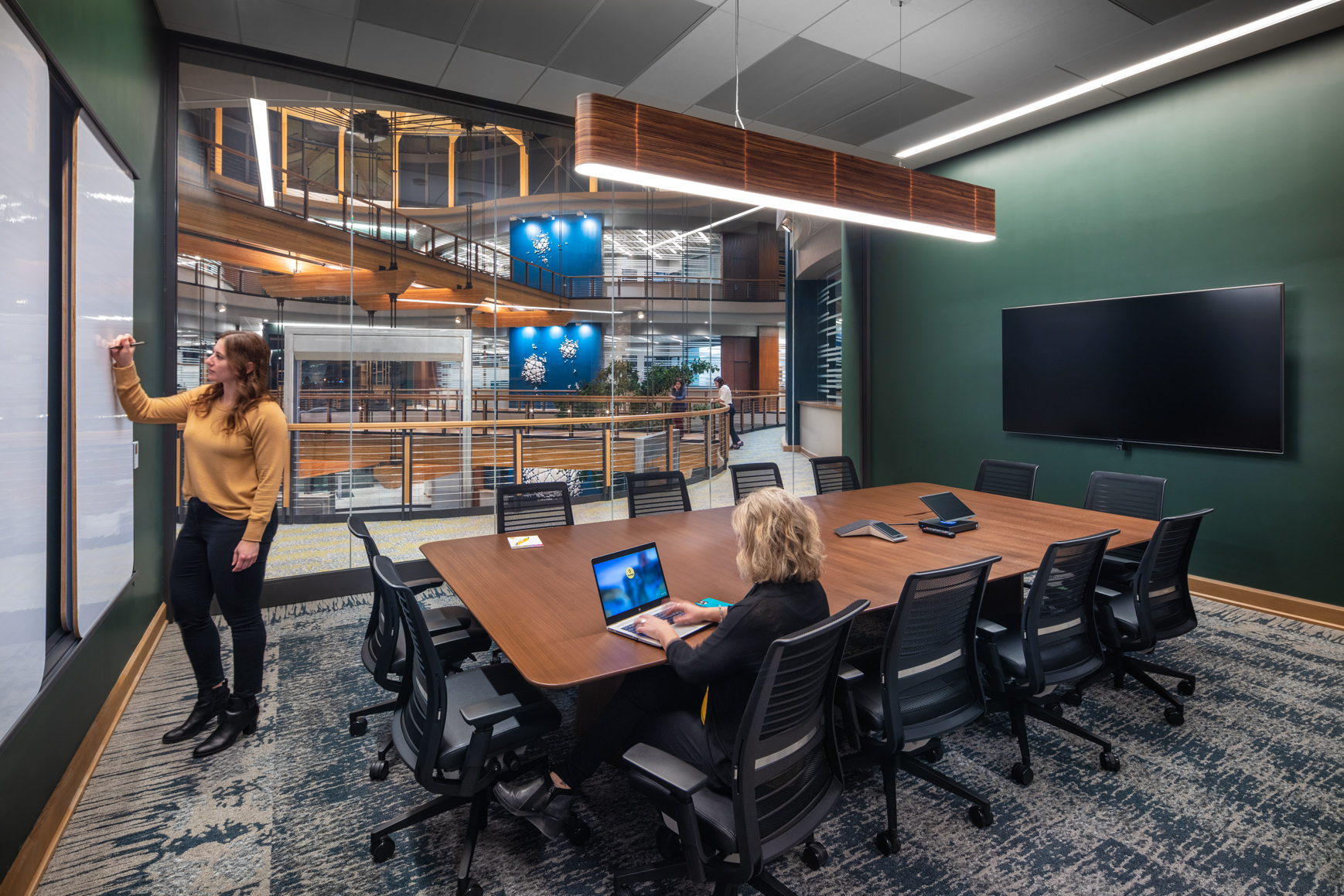 While sustainability and resiliency were a high priority for Promega Corporation and wanted the building to go as far as it could in that direction, Smith said that there is a lot of alignment the building has in enhancing comfort of people and becoming more environmentally responsible.
"I think well-designed is important for longevity as well as in making spaces that people want to be in," Smith said. "I get really excited when design allows things to become more than what they first seemed they could be, so when you think about going to design a new laboratory building for a client, you don't often imagine that you will be designing interior landscapes with wood structures and fireplace nooks and all these other amazing features."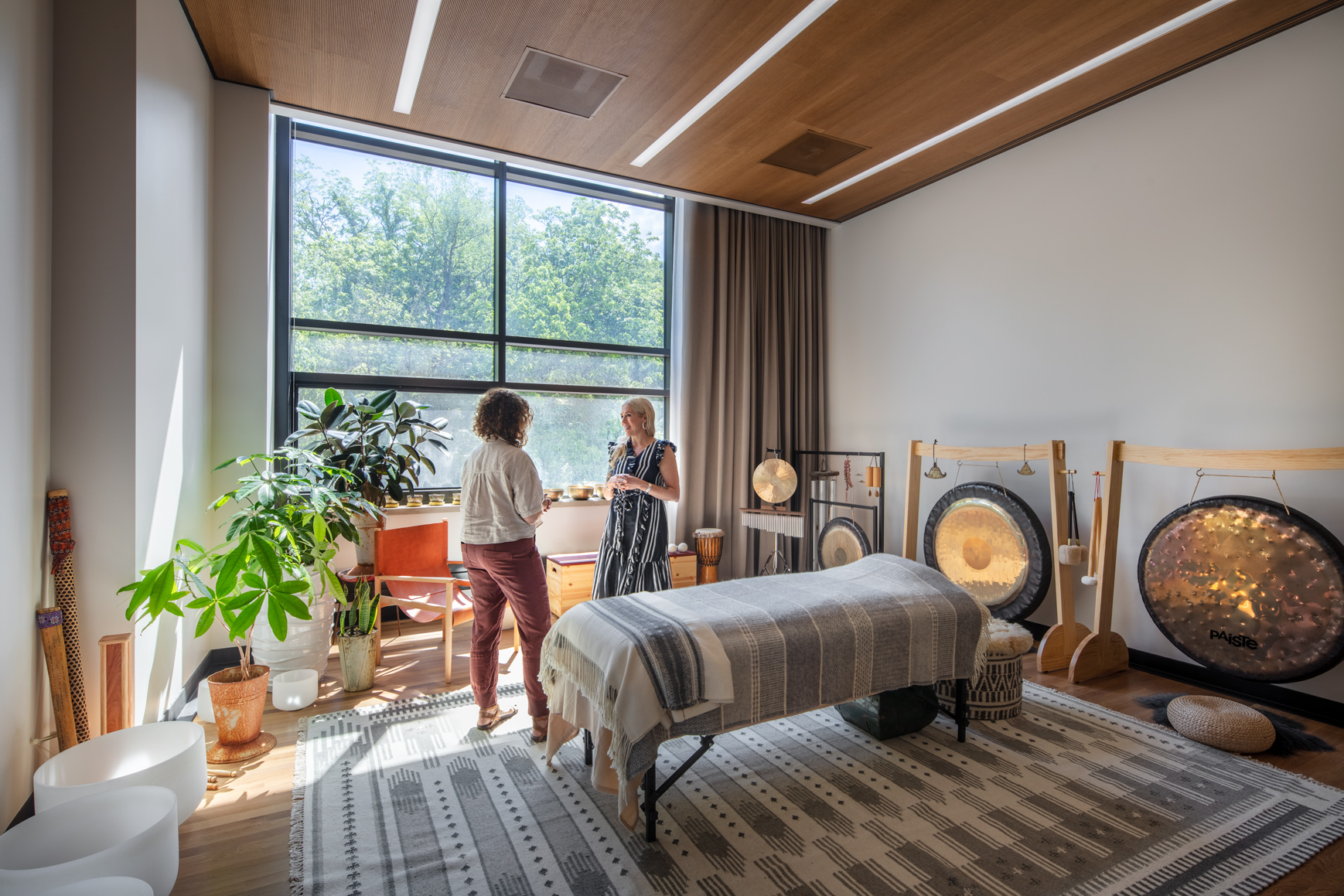 For Rodriguez, who noted design is often about finding that unique answer, combining an idea and feeling and merging those two into a solution that fits at that moment, one of the distinctive elements about the project was how employee-centric it turned out to be.
"I actually found that to be very unique: how much space, energy, and design was allowed to be dedicated for people," Rodriguez said. "It is all those in-between spaces, all those unique spaces, those third spaces, and somewhere where you can get away from your desk and your lab and do different postures for work; take a respite. That is unique sometimes in projects and I thought that was really special that they allowed us to create for them."
To Stein, who also noted the firm's relationship with Promega Corporation has resulted in a very lean, efficient delivery process, as technical as the building is, the variety of spaces celebrating artwork, nature, and human connection have resulted in a workplace that is very welcoming and feels like home.
"[Design] is about expressing yourself and capturing emotion and drawing emotion out of people too when they experience a building like this. I mean, as humans, this is about making human connections with the built environment and being in a building where you can create memorable experiences and friendships and have events," Stein said. "That is what we strive to do. It's a great experience designing it, seeing it built, and then experiencing it after it is built. Design is always a learning process, to me."
Originally published in Great Lakes By Design: Raising The Bar, 2021
Text: R.J. Weick
Photography: C+N Photography, Tricia Shay Photography