The process of distillation is often a poetic one, speaking to age-old traditions spanning rich, diverse cultures, landscapes, and agricultural origins. Within its composition—from the herbal notes of gin and bright earthy flavors of tequila and the malted aroma of whiskey—a narrative unfolds of both planting and harvest, climate and soil, innovation and historical technique, and chemical equation and artful dedication.
For Rich Lockwood, co-owner and head distiller of Motor City Gas in Royal Oak, Michigan, it is the latter that defines the award-winning, small batch distillery's ever-evolving whiskey, bourbon, and moonshine portfolio as it takes a fresh take on the age-old trade. The distillery, led by the husband-and-wife team of Rich Lockwood and Tonya Lockwood, is driven by a passion for a venture in creative and culinary exploration, blending traditional techniques like slow-drop filtering whiskey through 10 feet of sugar maple charcoal, with modern craft leveraging exotic heirloom grains and distinctly finished barrels.
"We are different from the large distilleries where you know they are interested in consistency. They are taking many barrels of whiskey and they have master blenders who are blending those barrels together to create the Jim Bean flavor, if you will. We are on the opposite end of the spectrum where we fully embrace a departure from consistency," Rich Lockwood said.
"We treat making whiskey like old world wine-making, where each season Mother Nature is going to do something a little different to that barrel or that batch, and we love that. It's not something that is for everybody, but our core following loves that about us; that each barrel, each season, things are going to be a little bit different," Lockwood added.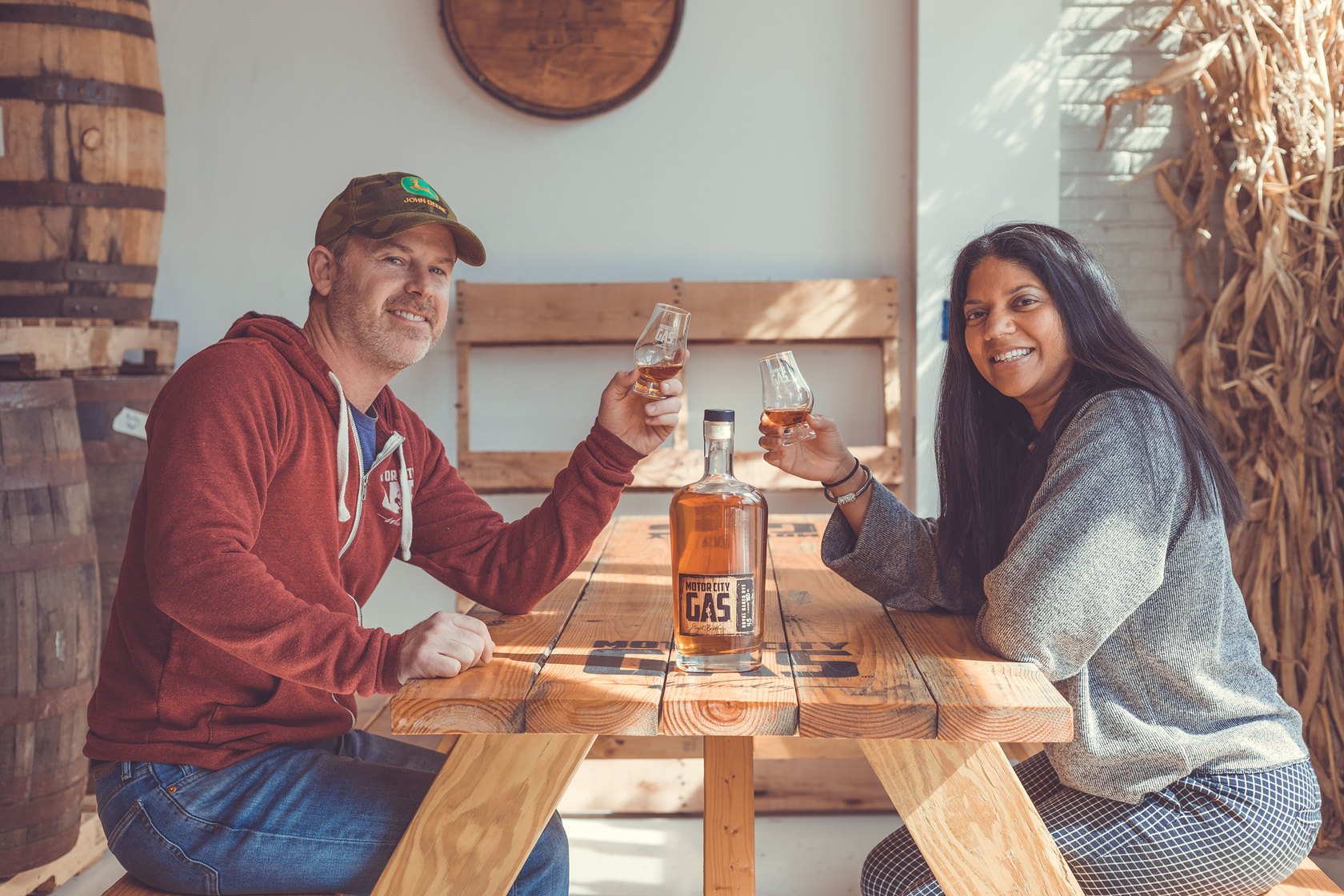 Considered a dedicated whiskey distillery, Motor City Gas designs and manufactures a variety of small batch whiskies in-house, from grain and malt whiskies, bourbons, moonshines, and alternative heirlooms styles. Its name, inspired by Lockwood's love and respect for the automotive industry shaped by his formative years growing up in an automotive family in Dearborn, was also inspired by his time homebrewing when "gas" became a nickname for whiskey. Since its establishment in 2015, Motor City Gas has become known as a diverse whiskey and bourbon styled destination for the inquisitive palate, where grains are milled, cooked, fermented, distilled, aged, and poured in its roughly 5,000-square-foot facility on E. 4th Street in Royal Oak. The distillery has produced more than 60 different bourbons and whiskies to date with 10 to 20 different whiskies on the menu at any given time, where no more than 130 bottles are available from each batch.
"We are, like other craft distilleries, licensed to make any type of hard liquor—vodka, rum, and tequila—but whiskey is my passion, so we decided very early on that we were only going to focus on whiskey, but we ended up doing a hyper variety within the whiskey family," Lockwood said. "So, everything we do technically classifies as a whiskey, but we do tons of different varieties. Our menu constantly rotates with no set rotation. We are just constantly tasting barrels and the barrels tell us when they are ready and that is when that whiskey goes up on the board."
While Motor City Gas has recently become more than a grain-to-glass operation with its acquisition of an approximately 20-acre farm in Superior Township as it expands operations to growing its own organic, heirloom grains—and recognized by Michigan Celebrates Small Business with a 2021 Michigan 50 Companies to Watch award—Lockwood noted it originally began as an adventure and hobby in homebrewing. It was while playing around with beer and wine that spirits caught his attention and he fell in love with the process of making whiskey.
"I used to work in the corporate world. I worked in advertising and marketing and lost my job during the recession and was burnt out on what I was doing," Lockwood said. "That is when I decided to take my hobby and try to make a profession out of it. That is when my wife and I started Motor City Gas."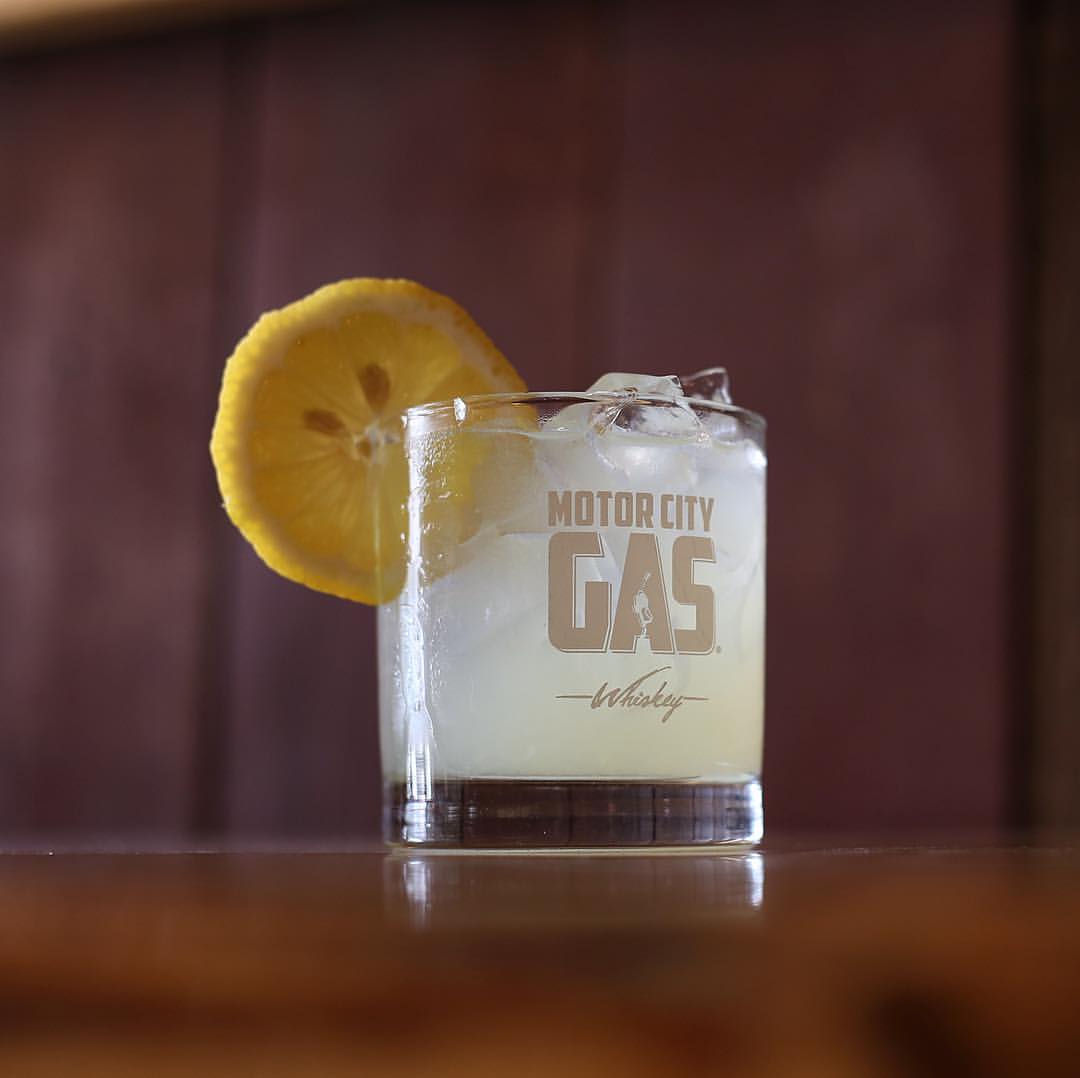 In true entrepreneurial spirit, Rich Lockwood and Tonya Lockwood dove into researching distilling on a commercial level and traveling the country to visit other craft distilleries before Rich Lockwood went on to take classes at Michigan State University and training from KOVAL Distillery in Chicago, Illinois. Upon securing funding for retail space and equipment, Lockwood said they opened the doors with a single whiskey and have slowly added staff and a craft cocktail menu throughout the years.
"I am mostly self-taught and most what I learned was a trial-and-error process here when we started the distillery. It was just my wife and I—we borrowed as much money as we could and dove into it head first and did a lot of the work in here ourselves," Lockwood said. "It was a very grassroots start and in March of 2015, we ran out of money, and it was time to open the doors, so we opened the doors with one whiskey, with no cocktails, no T-shirts, nothing. It was not the sexiest launch in the world."
The husband-and-wife team quickly grew its footprint from the initial roughly 2,500-square-foot space with an expansion nearly doubling its footprint, and its tasting room now serves as a retail shop during the day and craft bar in the evening offering whiskey flights, tastings, and a rotating seasonal craft cocktail menu using the whiskies made in-house. Its recent farmland acquisition near Ann Arbor has also provided the team with an opportunity to apply their same distilled spirits creativity to the land as they look to plant a constantly revolving variety of crops.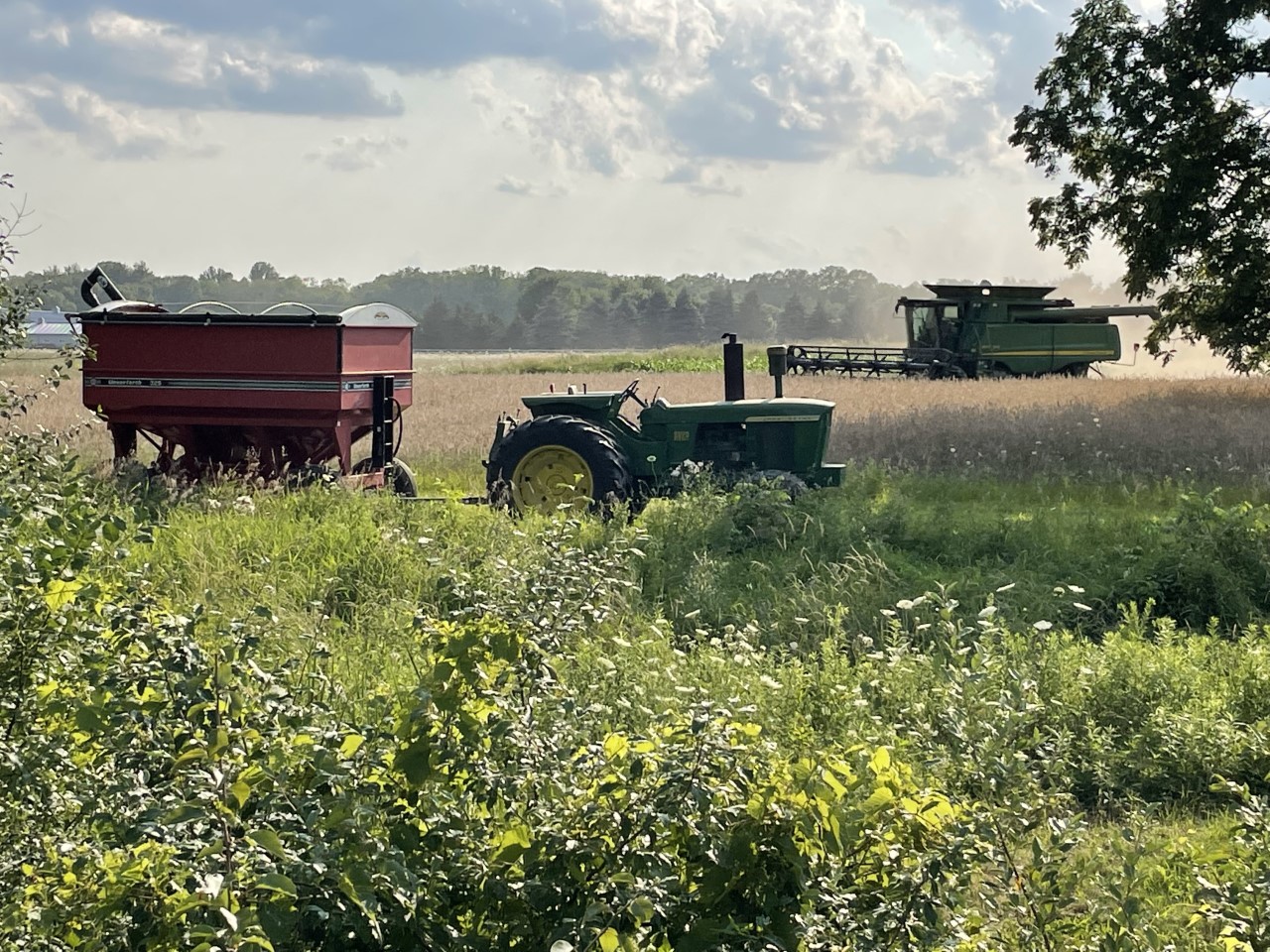 "We are all things whiskey and we are a fusion, in my mind, of old-world whiskey techniques with new age whiskey and what I mean by that is we have a lot of respect for the old-world ways that whiskey was made and we use a lot of old-school techniques like sour mashing. Then, we also get into new age craft where we are using exotic, heirloom grains and we are aging whiskies in very unique barrels," Lockwood said.
"One of the oddest whiskies we have done, we aged a bourbon in a barbecue sauce barrel. We have also distilled craft beer into whiskey, so we get into some more modern, innovative techniques, but we also have a lot of respect for the way things used to be made. In fact, a lot of the grains that we are growing out at the farm are very old, heritage-style grains," Lockwood added.
Their process, at times sparked by spontaneous inspiration and an avid curiosity to try something different, begins with research and talking with to people to understand a technique or style, such as with an Irish-styled whiskey. Lockwood noted they would then learn the techniques traditionally used to make Irish whiskey, what methods are used today, what flavor and aroma notes are typically found in the spirit, and what types of raw ingredients are used.
"We do our best to replicate as much of that as we can, whether that is importing grains that were grown in those regions or using fermentation and distilling practices," Lockwood said. "We understand with whiskey, especially since things are going to be barrel-aged here, it is going to take on a Michigan nuance. Those barrels are like sponges, so they are going to absorb a lot of their environment and it is going to have a Michigan twist, but we do the best we can to emulate the practices and the ingredients used in those regions."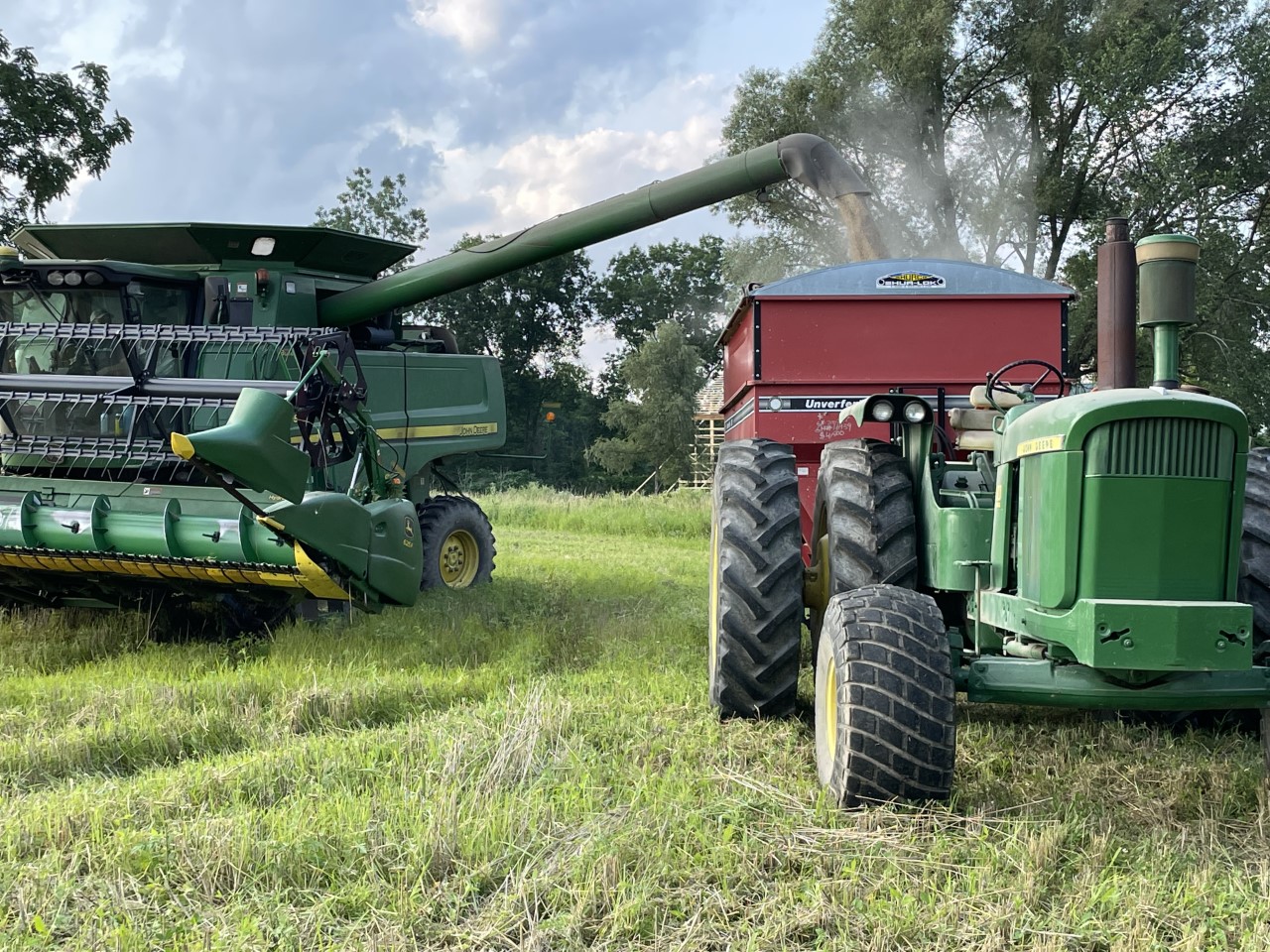 Though some grains are imported from other regions to lend authenticity to specific styled whiskeys, such as peat malt from Scotland when crafting their range of lightly peated to heavily peated Scotch-inspired whiskies, Motor City Gas has sourced most of its grain from local Michigan farmers, primarily two of whom often grow custom crops for the distillery. Now, the distillery has already begun growing its own grains as a farm-to-bottle operation at its nearby farm—heritage-style Danko rye from Poland, heirloom corn known as Otto File, among others—with an intent to explore other grains in addition to rye, wheat, barley, and corn, as well as the creation of a local, Michigan peat version to smoke grains.
"I love every part of the process from milling grain all the way to bottling and labeling. I think probably the thing I love most about it is the barrel aging process. It is just so spontaneous and unpredictable. I am one of the few distillers who does not come from a chemistry background or any sort of engineering or science background, so I love unpredictability and just the way whiskey ages in the barrels," Lockwood said.
Their artful approach to recognizing when a whiskey is ready to be pulled is built on a foundation of traditional technique, modern innovation, and an affinity for the culinary, creative surprise. When sampling a given whiskey, it is tasted over a number of days with a number of team members, weighing all the numerous factors that can influence aroma, flavor profile, and finish such as the wood, size, humidity, toast level, char level, and soil conditions before harvest. Each barrel is then bottled one-at-a-time as a single-barrel distillery, celebrating the signature touch each barrel imparts on their whiskies.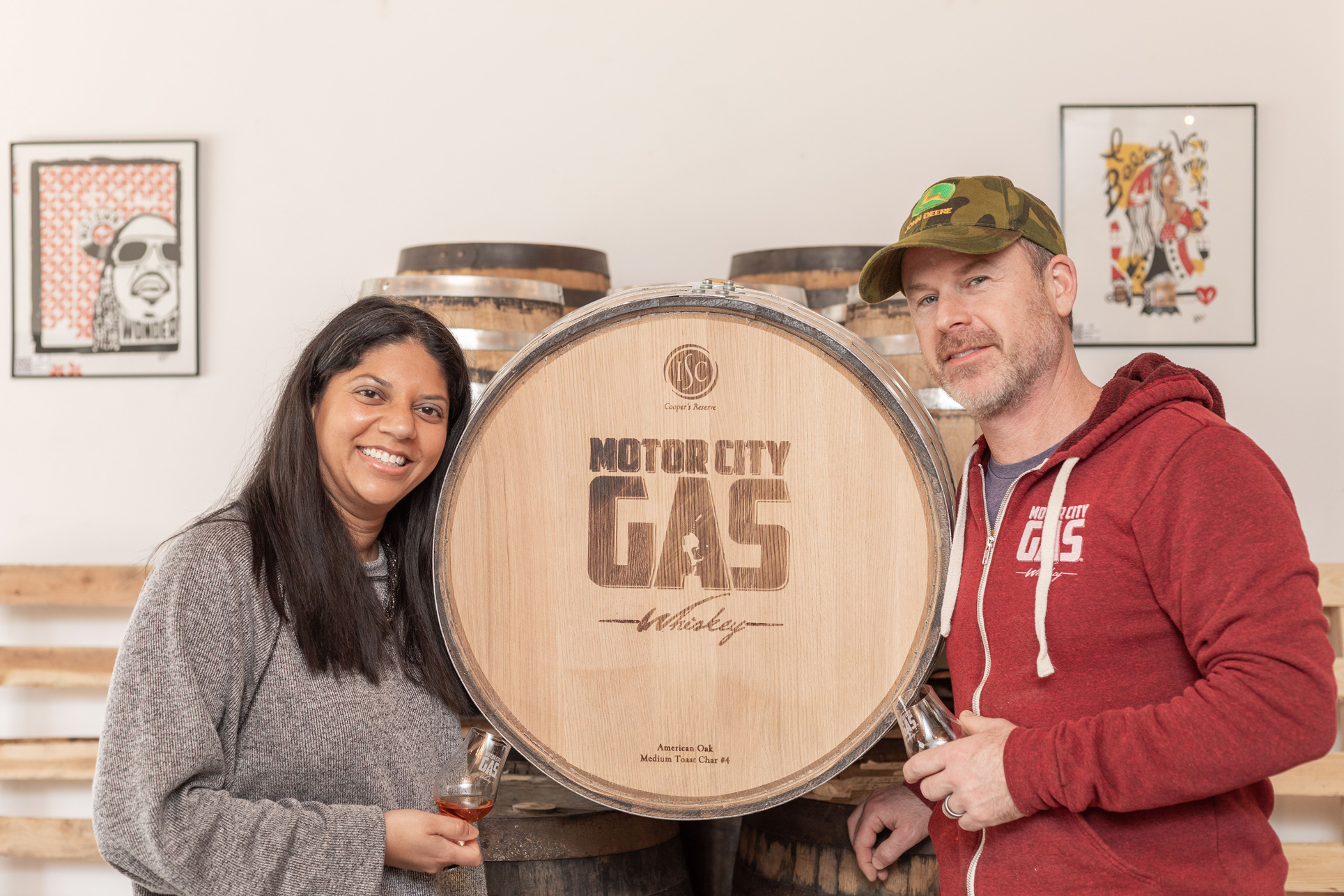 From the peated, smoked wheat whiskey aged in chocolate malt barrels—a two-year-old, 90 proof whiskey known as Jack Knife—where the aroma and taste end in smooth finish; the Barley Legal, Irish-style whiskey triple-pot distilled and bourbon-barrel aged for four years with an 86.6 proof; the Royal Oaked Rye, a two-year, 86 proof corned rye whiskey; and the Apple Sauce Moonshine, which is a rye whiskey barrel finished apple pie moonshine; to the 12 Bolt, distilled Axle Pale Ale beer aged in lightly charred oak for two years at 85 proof; the released barrels are meant to be a unique experience, with the understanding it may be brought back at some point in time—or never at all.
"To some people, they hate that," Lockwood said. "They want to be able to come in here every time and buy the same bottle and have it taste the same, but our following is the crowd that really embraces it."
For Lockwood, there is a lot of design in whiskey from developing a grain bill and mashing techniques to distilling method and barrel-aging process, and while the conceptual vision should be done upfront before starting the process to make a great spirit, the creative end of it comes into play when allowing the spirit to evolve into something more.
"Creative design is not trying to stick strictly to that design, but allowing it to free-flow. That is usually where our best whiskies come from, is when mistakes happen, Mother Nature causes us to do something different, and that design evolves and drifts," Lockwood said. "Again, the unpredictability and uncontrollability, and to me, that is usually where we end up with the most exciting end product."
Full text available in Great Lakes By Design: Raising the Bar, 2021
Text: R.J. Weick
Photography: Motor City Gas