Landscape, as a design practice and as a research field, is a rich and complex discipline with the powerful potential to influence the human experience and its relationship with the surrounding environment. It can serve as a catalyst, inspiring innovative strategies and solutions to address social, economic, environmental, and health issues, where landscapes—urban, rural, coastal, wooded, and agrarian—are brought to the center of the conversation. It is inherent to the human condition to often be drawn to landscape and contemplate its connection with and to daily life, which the recent pandemic in many ways reinforced the value of living with the land and immediate exterior spaces rather than separate from it.
From rooftop terraces and urban greenspaces to meticulously crafted gardens and coastal vistas, in the residential space, there was a relative landscape renaissance as homeowners, clients, architects, designers, and developers embraced the land, water, and soil as an integral component to their projects, whether they were driven by sustainable, amenity, or experiential goals.
For the clients of this small island property located in Brighton, Michigan, the landscape and its envisioned outdoor living spaces were a critical element of the overall experience on the property, and they quickly looked to the design and build expertise of Ventures Design Inc. of Wixom, Michigan to help bring an inspired, beach-resort vibe to life. The resulting design drew inspiration from its defining feature as an inland island and the existing, octagonally shaped vacation home onsite—reflected in the shape of the pergola and the patio beneath it—to curate a unique series of spaces that could accommodate large groups while entertaining across different weather conditions.
"They really wanted to have an island feel. They wanted something that seemed more natural and really an island-party-type feel, which is where the swinging bar stools came into play. They wanted a space they could grill at and they wanted some sort of fire feature or fireplace," said Brandon Bertrang, co-owner and co-founder of Ventures Design.
"It's about trying to create true outdoor living spaces for people who really want to have a functional space other than to just sit outside with like a patio or a deck. It's about trying to bring really unique, out-of-the-box ideas, and usually each project involves some aspect that we have never thought of before or even attempted to build," Bertrang added.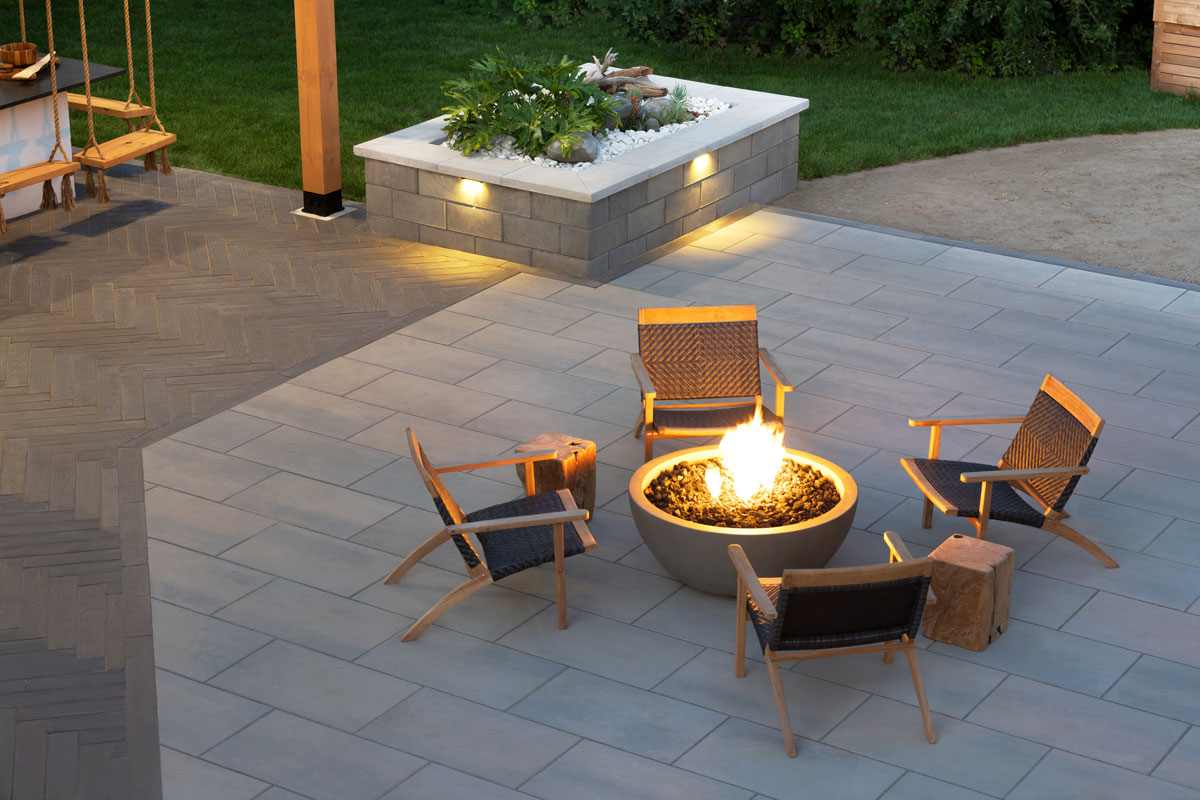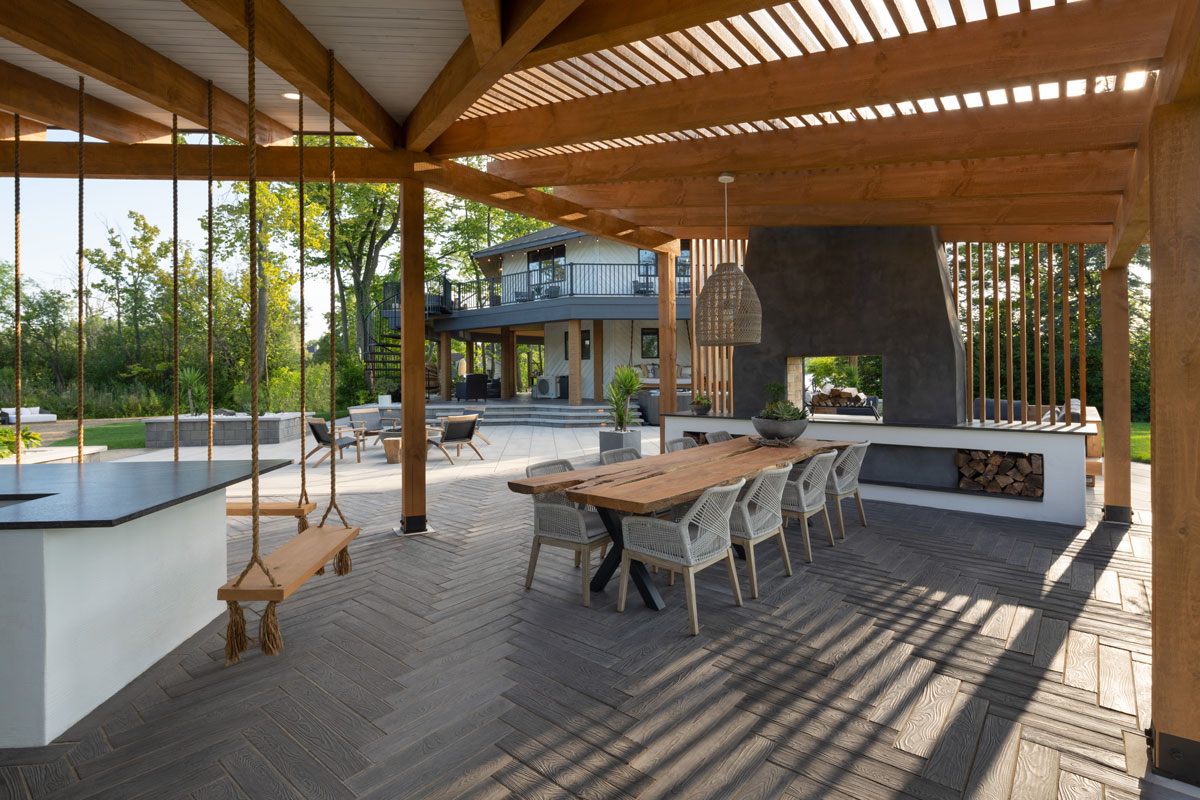 Ventures Design is a design and build firm specializing in creating innovative and functional exterior living spaces such as pools and spas, patios and decks, outdoor kitchens and bars, pergolas and pavilions, and fireplaces. Founded in 2014, the firm has since developed a portfolio of contemporary outdoor projects, as well as interior spaces, in Michigan, offering services like sales, scheduling, design, selections, permits, planning, and construction. Backed by a philosophy of creating distinctive spaces through a client-based, design-and-build experience, Ventures Design also provides a personalized online portal for clients to track construction progress, build schedules, approve change orders and selections, and access documents at any point in time.
"We always say our philosophy is 'build dope shit.' Honestly, we just like to create. Our standard client is someone who is looking for true outdoor living spaces, who want something unique and different. They are people who want to make a pretty significant investment and basically bring the same joy they get from the interior of their home outside, and we try to bring that all together for them," Bertrang said.
"Design is about being able to be creative. You get the opportunity to kind of take in the surroundings and the land and the home and the existing architecture and the existing natural elements of the space like trees and water and slopes and try to design something that is harmonious with the lay of what is there as a whole," Bertrang added.
Bertrang, who has a family background in construction and managed a small landscape company, said it was a natural progression to go from cutting grass and other small landscape projects to pursue larger, comprehensive design work at Ventures Design upon tapping the design expertise of long-time friend Jake Steward. Steward, who attended Michigan State University for landscape architecture, had been drawing for a couple other companies before teaming up with Bertrang. From small front walkways and plants, Ventures Design quickly expanded into working on custom decks to realizing full-scale outdoor living environments for their clients. The team has since grown into a staff of 55 talented individuals.
Loch Durrant, project manager at Ventures Design, also noted their process first begins with meeting the clients, taking initial measurements, and sketching out rough concepts to present based on their wish list, but at the end of the day, it is about delivering just as good of an experience each step of the way as it is to create a unique outdoor environment.
"I think a lot of it is creating an actual enjoyable experience, because building as a whole can be terrible for most people. Creating an experience that they are going to enjoy—there are always going to be hiccups, but being transparent about that and that things will come up and being upfront and honest and transparent is a big thing that we try to convey," Durrant said.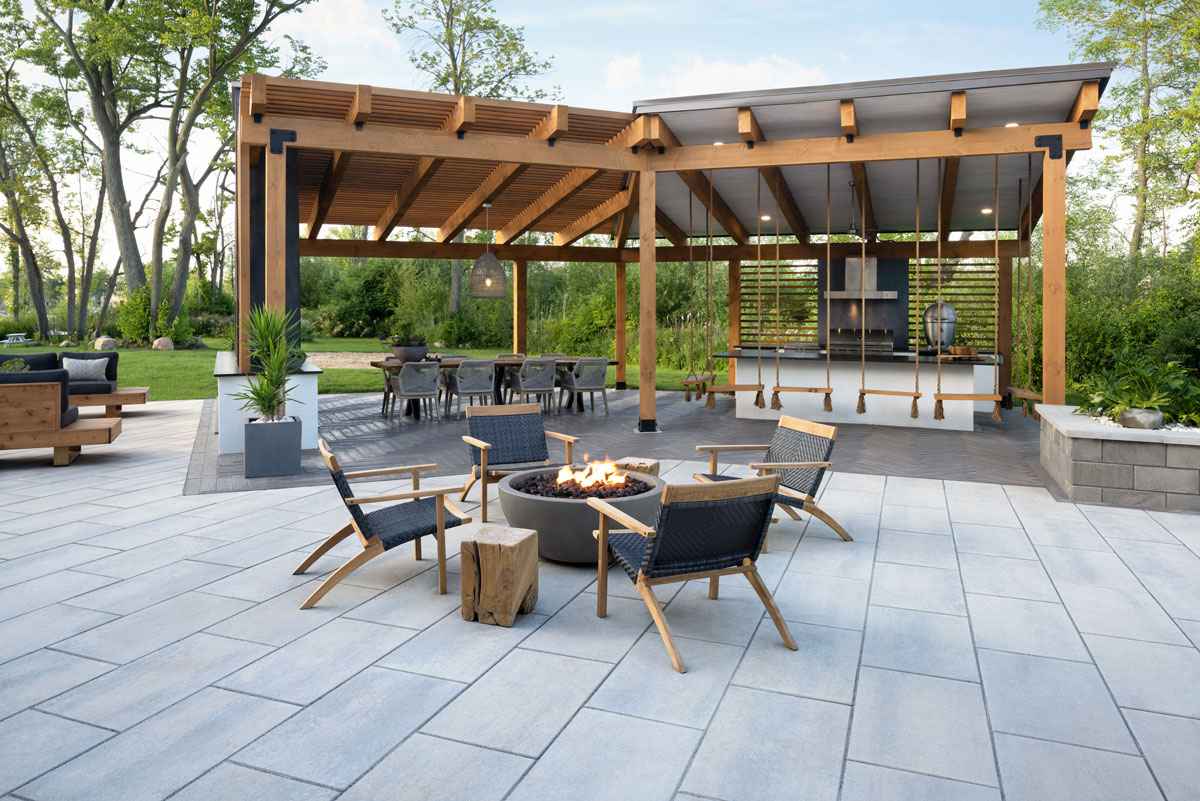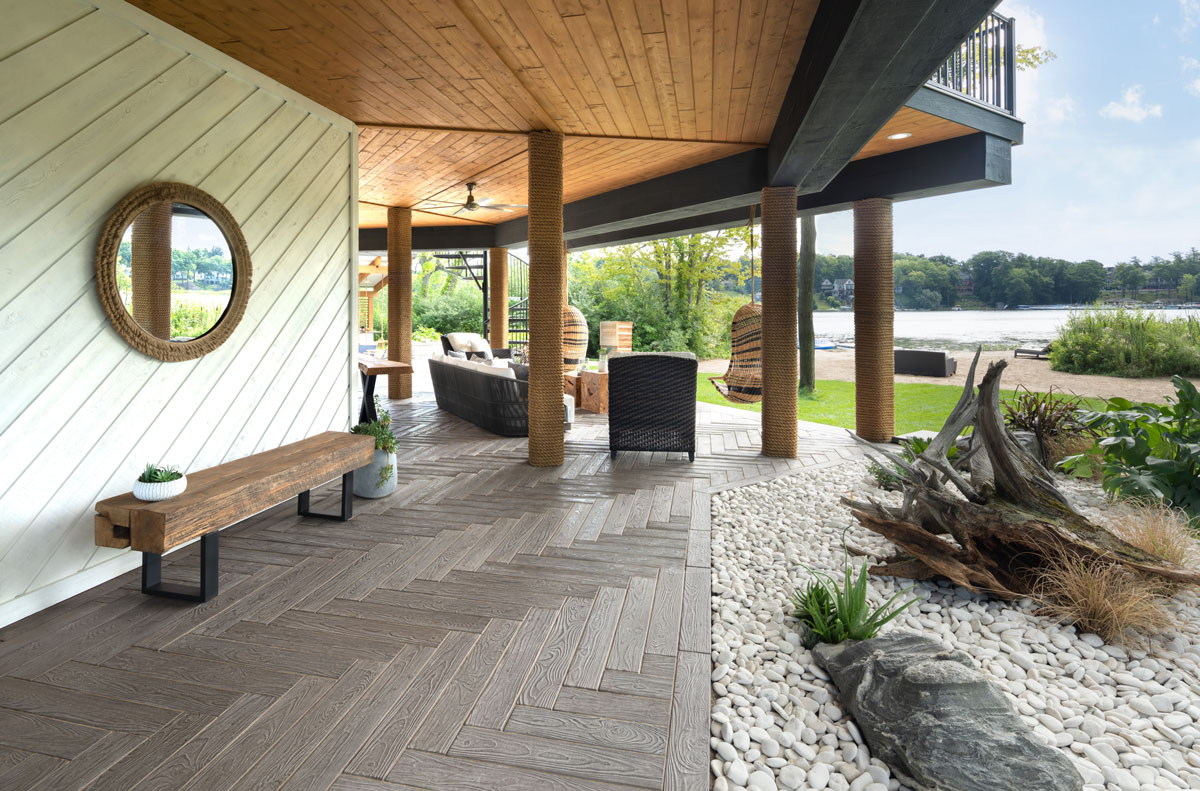 For the clients of this island retreat, they initially reached out to Ventures Design based on a referral from a previous client. Brought early on in the process, Durrant noted the team went out to the small isle habitat in southeastern Michigan for a site visit to begin reimagining the slightly dilapidated outdoor spaces and eight-sided home.
"They actually purchased the island site unseen and contacted us I think the same week they closed on it, because they knew their brother and sister-in-law had a good experience working with us," Durrant said. "We did a walk-through to figure out what their wish list was and then we came up with concepts, priced it, and presented it."
The design, which went through a couple of design iterations as well as creative evolution as the process progressed, embraces the shape of the home and the outdoor experience, where a half-covered, exposed pergola and pavilion of cedar wood and black metal hardware mirror the shape of the home. Custom, barstool swings surround the outdoor kitchen featuring stucco and black granite countertops, and Techo Bloc Borealis pavers of hazelnut brandy are laid in a geometric, chevron pattern. The adjacent, outdoor fireplace reflects a similar materiality with its stucco finish.
"We honestly didn't know what we were building for the fireplace until the project started coming along and a lot of times through the build of a project, you get different ideas," Bertrang said. "It is a 14-foot-tall fireplace, so in person that thing looks massive, but at some point, we decided it would look pretty sweet to finish it with stucco. We didn't want a material that was going to look too modern like a tile."
The upper-level and ground-level deck were also in need of repair, which led to finishing the underside of the new deck-and-patio system with an under-deck draining system to keep rain, snow, and other spills from leaking through deck boards. The hardwood-inspired patio slab pavers of the Techo Bloc Borealis on the house deck and patio are laid in a herringbone pattern and paired with signature black railing and a deep, wood-grained composite decking pattern from Trex Company Inc.
Other features of the outdoor living spaces comprised columns wrapped in rope, a retaining wall finished in shale gray, and greyed nickel pavers in subway pattern accented by Techo Bloc Borealis pavers, finished in hazelnut brandy, around the lounge patio and firepit.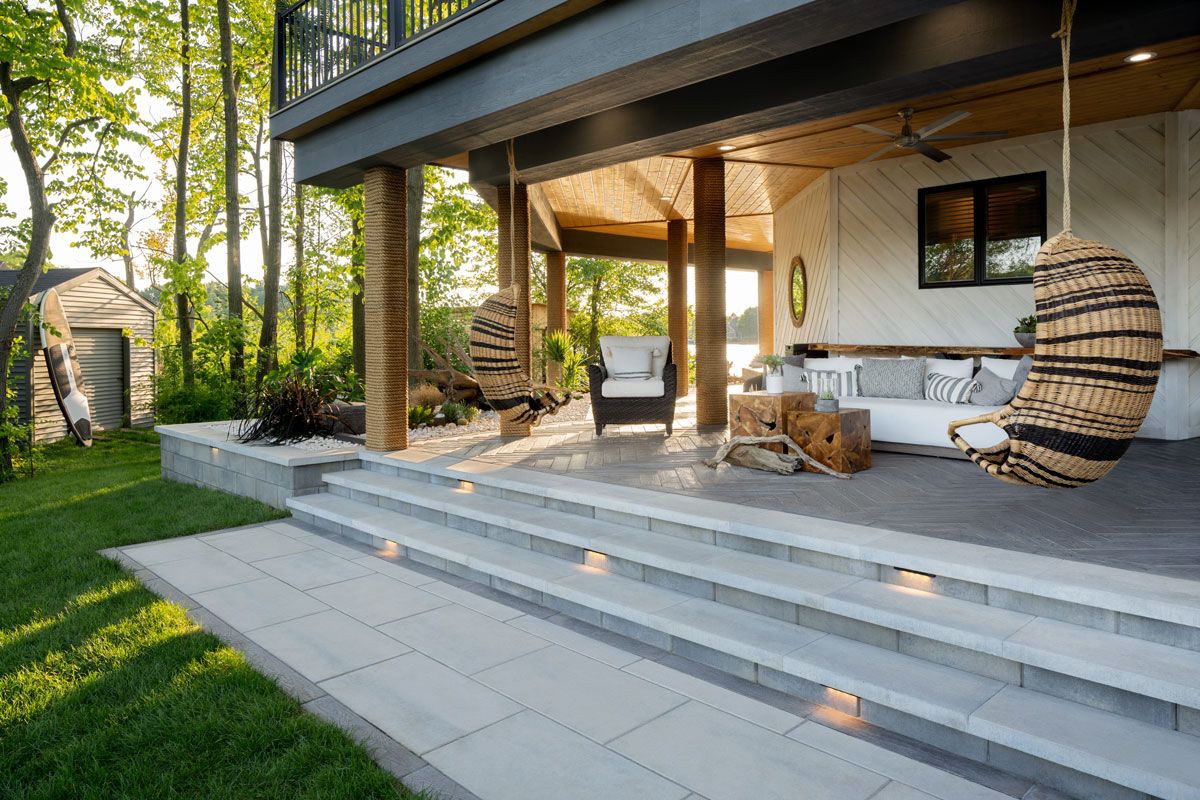 Jake Steward, lead designer at Ventures Design, said after visiting the island property and seeing the unique architecture of the house, the concept for the outdoor living spaces became relatively intuitive to ensure the end result would be one coherent whole.
"I think it was straightforward to mimic the lines of that octagon shape with the pavilion down with everything in the landscape, the patios, and the pavilion. As far as materials, I think that is what really makes this project so unique, is how many different hands that were involved throughout the whole project from the carpenters and masons and the crews and even the homeowner who was involved in every step and in every decision," Steward said.
"I think that is what really made this project good, is that everybody wanted to be so awesome, everybody came together, and if the carpenter had a different idea, they would present it. So many different hands were involved creatively throughout the project," Steward added.
While the logistics of access and transporting materials, machinery, and people to the island proved challenging, and soil conditions were less than ideal, the Ventures Design team was able to negotiate with another client on the lake for access to the water and purchased a barge from Indiana to reach the island itself. Throughout the course of the nine-month project timeline—five months of which they were unable to build due to frozen lake waters—the Ventures Design team transported roughly 92 pallets of brick and six trains-worth of gravel, and had more than 200 roundtrips before the project was completed.
"I mean, whenever I talk about it with people, it is the difficulty of building it, but in terms of aesthetics, the feature I would be most proud of would be the bar and the fireplace—the creativity on that. They are both huge features, you don't see a lot of bars that are finished in stucco around Michigan and just the size of everything," Bertrang said. "It really has a great island feel, so I mean at the end of the day, when you can really see the space and think like alright, 'did we execute the island feel?' I think we did and that is what stands out the most to me."
For Steward, some of the distinctive elements of the project are the herringbone-patterned brick underneath the pavilion, the wood elements, and the vertical aspect of the pergola that brings an unexpected moment of interplay of light and shadow to the outdoor space.
"It creates these really cool shadows at all times of the day to help mimic all the lines. I think that is a really cool element," Steward said.
"[Design] is a blend of form and function where it makes a space usable, but you know, that can only take you so far, so you have to get creative with it and that is where the form comes into play and that is where you can have some fun and break some rules and when you are in a space, to make it memorable, that is what makes it," Steward added.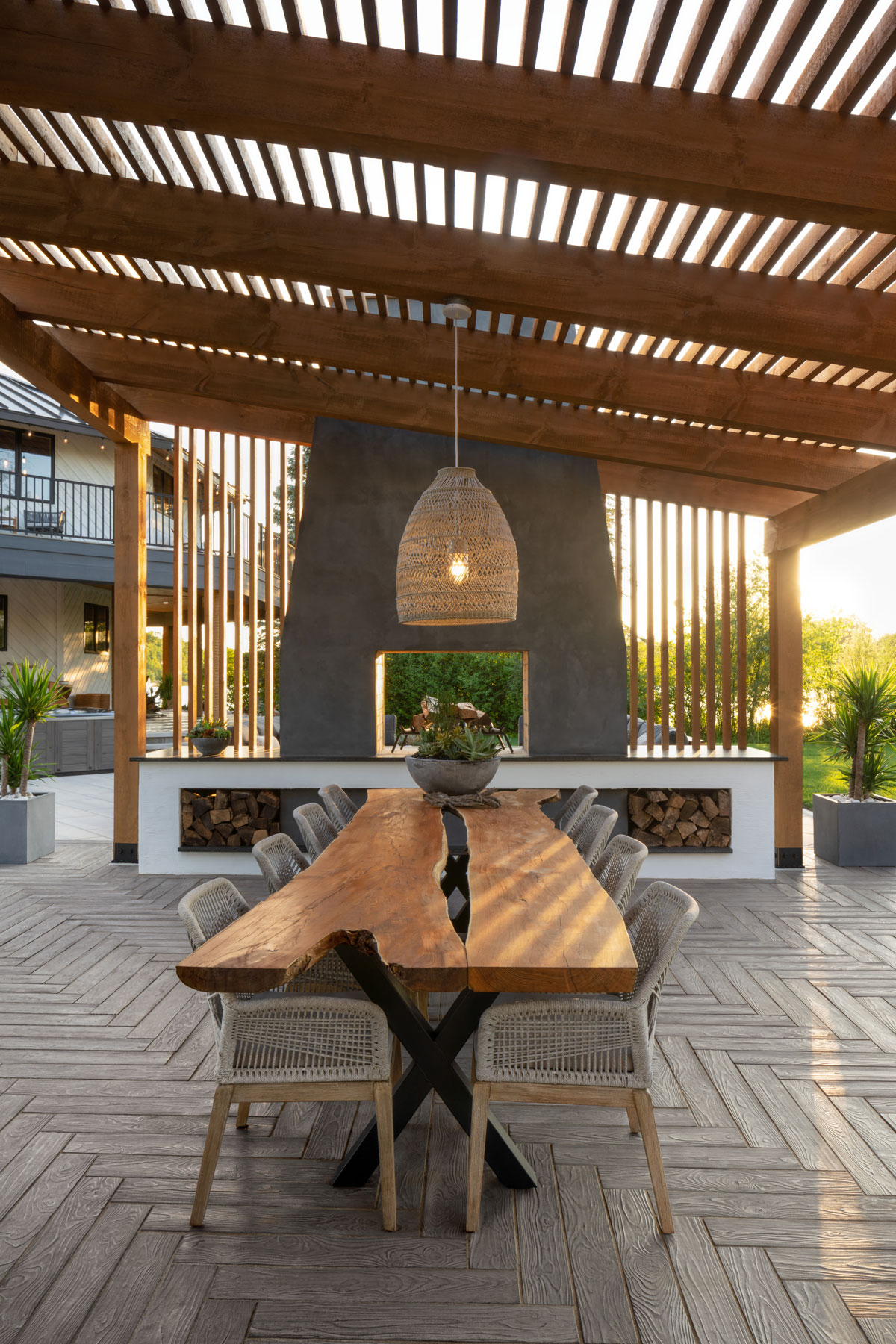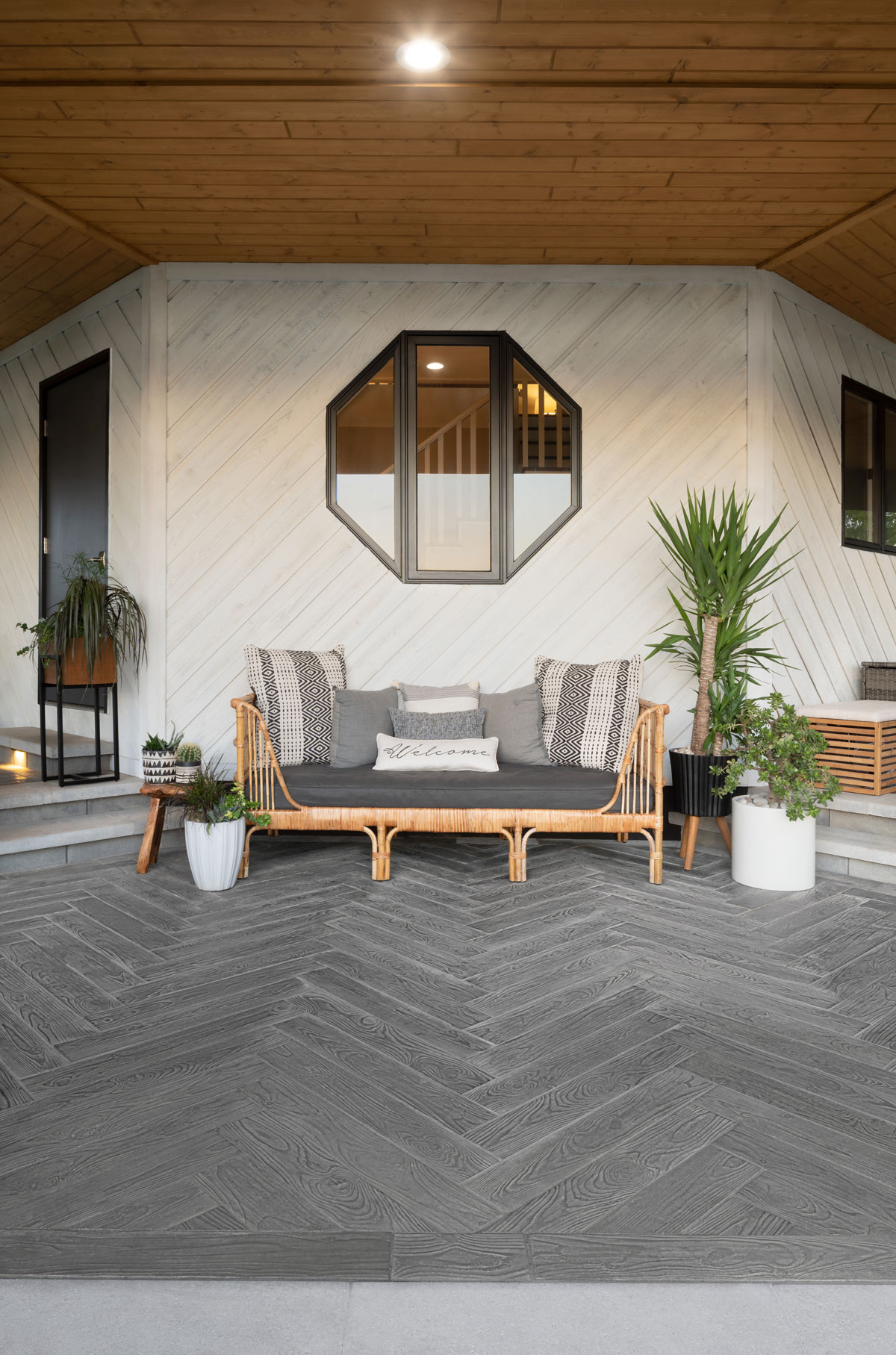 From a functional standpoint, the series of outdoor spaces—pavilion and pergola, lounge patio, and house deck and patio—are also intentional in position and ability to deliver full-shade, partial shade, and full-sun areas to create protection and exposure to the weather. Bertrang noted it was pretty important to the overall design to have the flexibility integrated into the project to provide both coverage from the elements like sun and rain as well as an ability to enjoy the sun when desired.
"It was trying to give them something to be able to enjoy the space regardless of the weather," Bertrang said. "I mean, the work we are doing is all luxury. I always tell clients what we are delivering is more of a lifestyle than anything else and I think it is important, because it just gives someone that extra lifestyle experience of true enjoyment of their outdoor elements of their house. People focus so much on the inside, you can really tell the difference between people who are willing to invest outside their home, versus people who aren't."
Durrant also noted the house deck and patio creates so much additional practical space for the clients of this island project, and for many clients who live in Michigan with seasonal changes, there is often an elevated appreciation for good weather.
"Everyone gets kind of caught inside during the winter and gloomy days, so when they can be outside with other people, that is a huge deal to how people want to spend their weekends here," Durrant said.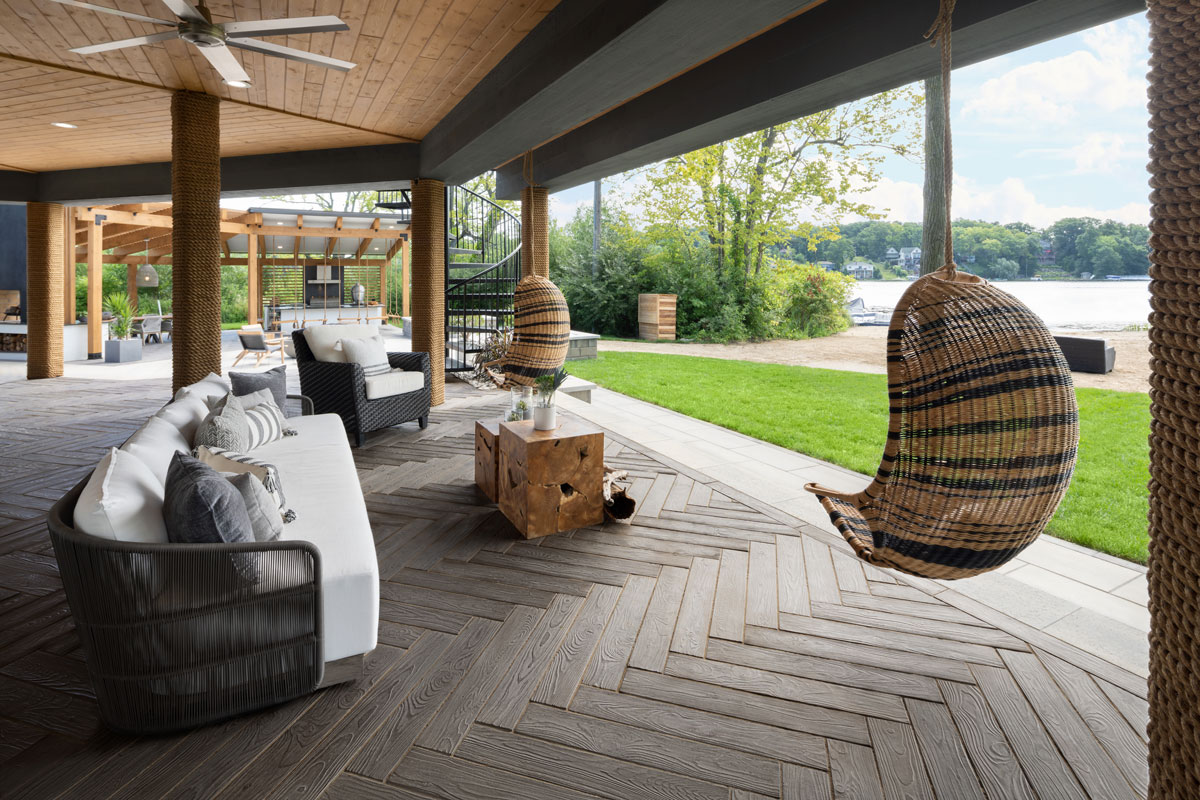 Originally published in Great Lakes By Design: Bold Graphics, 2022
Text: R.J. Weick
Photography: Jason Keen