When Aparium Hotel Group LLC, a Chicago-based hospitality management company, looked to realize a new contextual, modern vision of luxury inspiration in partnership with Mark Mitchell, owner and local entrepreneur, on a prominent corner in Birmingham, Michigan, the company tapped the architectural design expertise of Booth Hansen of Chicago. At its core, the project and collaborative team sought to bring a world-class property deeply connected with the community, to life. Through intentional massing, a refined albeit eclectic palette of natural materials and rich hues, singular moments of architectural and interior delight—where the visual experience turns sensory—the Daxton Hotel seeks to capture the authentic flavors of Birmingham's main thoroughfare—Old Woodward Avenue—side streets, and dynamic art scene, while setting a new cultural standard for hospitality and serving as a gateway to the community.
A stately and engaging silhouette on the corner of Old Woodward and Brown Street, the Daxton Hotel is a 151-room-and-suite destination featuring wellness, dining, retail, event spaces, below-grade parking, and a roughly 3,800-square-foot modern-inspired ballroom. Its flagship, high-end restaurant, known as Madam, offers fresh, vegetable-forward dishes and a seasonal, ever-evolving menu overseen by Executive Chef Garrison Price; while private terraces surround premium suites on the setback fifth floor and a second-level, outdoor green roof courtyard breaks up the visual massing of the property from the street. With its hidden details like zinc panels on the underside of the welcoming canopy and a skylight of tessellated form located adjacent the ballroom, it invites exploration and delivers the unexpected. The strategically placed corner curtain wall and opulent, tall openings on the ground floor dissolve traditional boundaries as both avenue beyond and activity within are framed; and its interior design by KTGY Simeone Deary Design Group of Chicago offer musing and reverie in visual, textural form.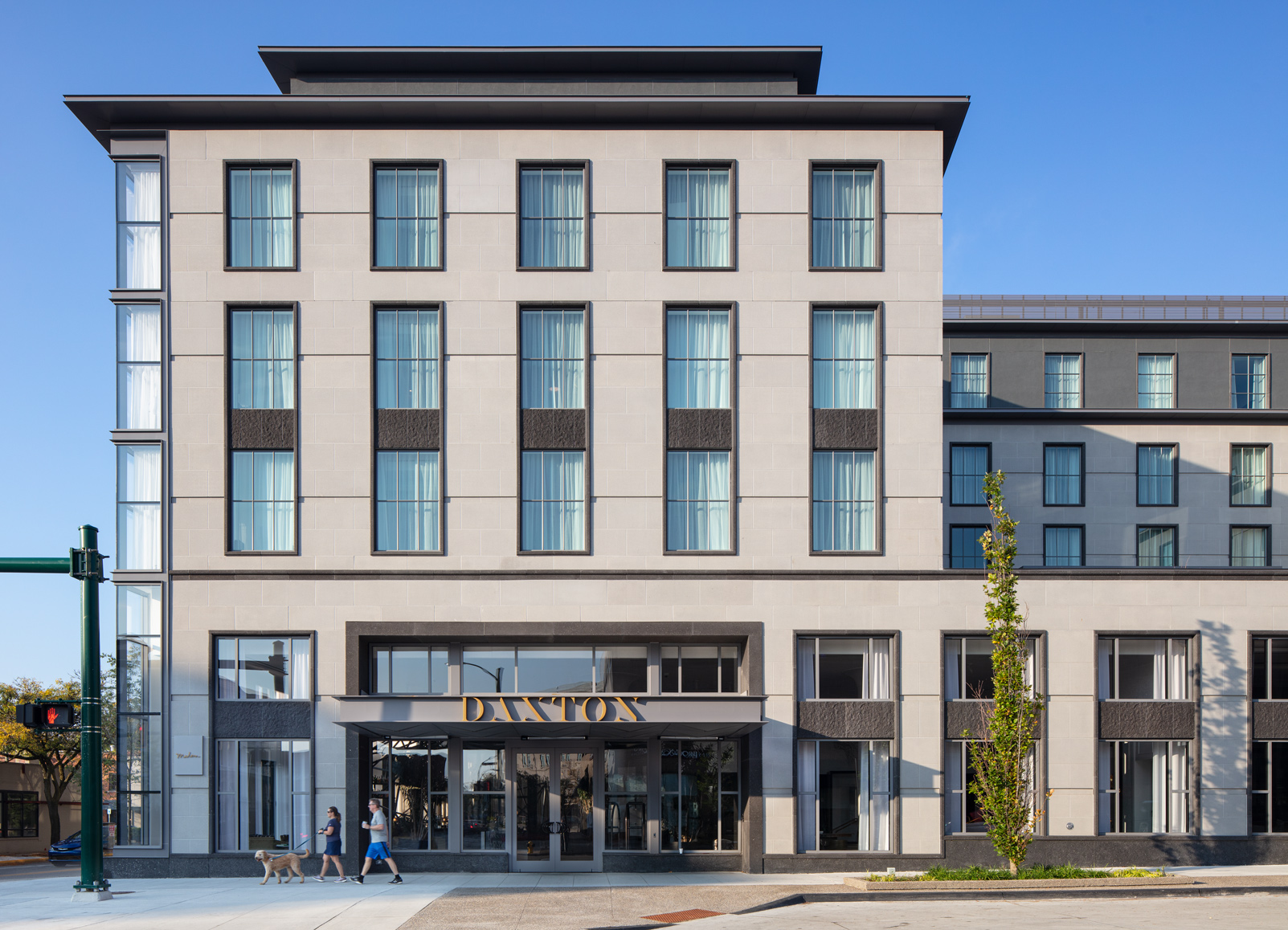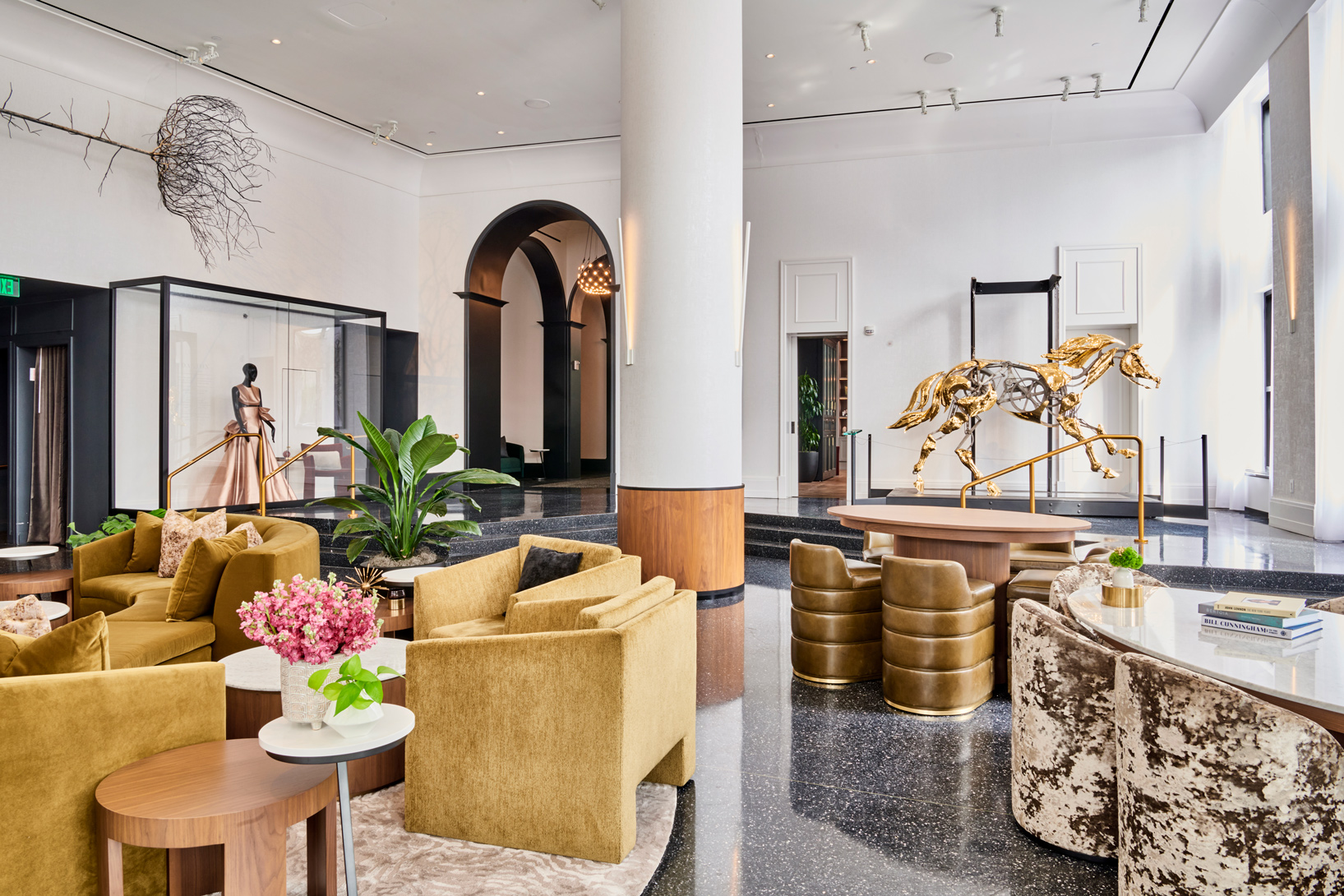 It is where light and shadow play with architectural interior detail and bold hues of chartreuse, burgundy, cream, and lavender serve as intentional backdrop to a distinctive, multi-medium artwork collection curated by Saatchi Art, a leading online art gallery. The latter of which served as a driving force on the project and imbues guestrooms and corridors with whimsy, energy, and artistic expression.
Scott Cyphers, AIA, LEED AP, NCARB, design principal at Booth Hansen, said the firm was brought on board at the very onset of the project after going through an interview process with Aparium Hotel Group and Mark Mitchell, who was the "heart and soul behind the hotel."
"We provided full, architectural design services with an emphasis on creating a world-class hotel, deeply connected to Birmingham with high-quality materials and details," Cyphers said.
"At the base, it was about a comfortable luxury. The team didn't want to create something that felt like it didn't belong, it had to be welcoming and connected to the Birmingham community. [Mitchell's] goal from day one was to create a luxury boutique hotel at a national level," Cyphers added.
Booth Hansen is a nationally recognized architecture, planning, and interiors firm dedicated to creating beautiful places people treasure informed by a well-organized process. Founded in 1980 with an initial focus on single-family residential work, Booth Hansen has since developed a robust portfolio of projects throughout the years in commercial, cultural, academic, single-family, multi-family, and hospitality sectors. Intentionally mid-sized, the firm's team of experienced architects and designers work to address the functional needs of their clients and capture that distinctive quality of each project to ultimately express a connection between the human spirit and poetic, architectural language.
Cyphers, who has been with the firm for nearly 18 years focused on its cultural, institutional, and hospitality work, said high-end, luxury, single-family residential projects in the Midwest and across the country is built into the firm's DNA and has helped to inform its work in other sectors, particularly hospitality.
"We have spent time learning about how people live and use their spaces, whether it is dining, sleeping, kitchens, or bedrooms. We've translated that over the years to a larger scale with our multi-family projects," Cyphers said.
"Developers of those types of projects are thinking of that high-end, luxury feel and we have been able to translate that to hospitality as well. What makes for a very successful and luxurious hotel project these days, is a place that makes you feel like you are at home with that comfort and richness," Cyphers added.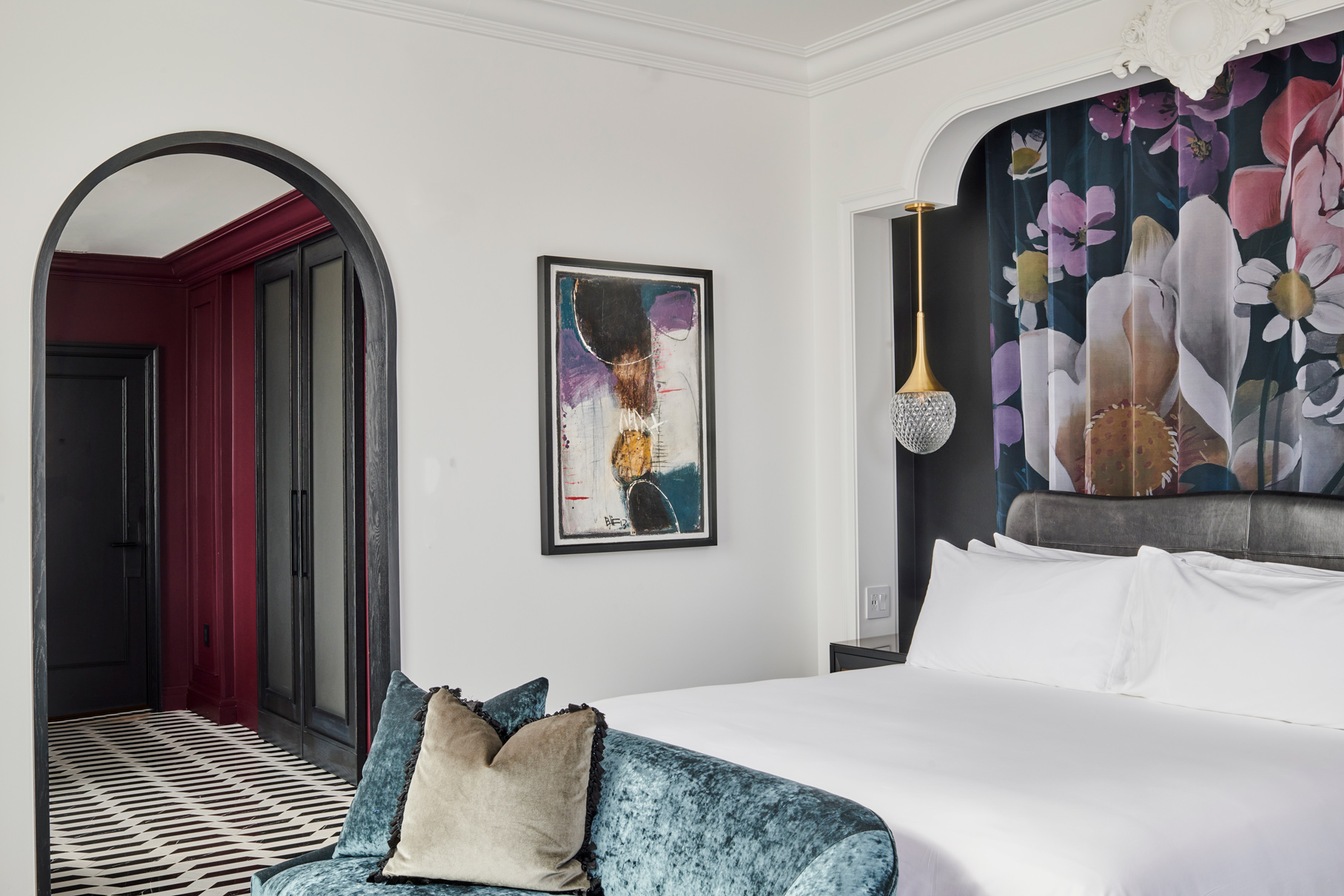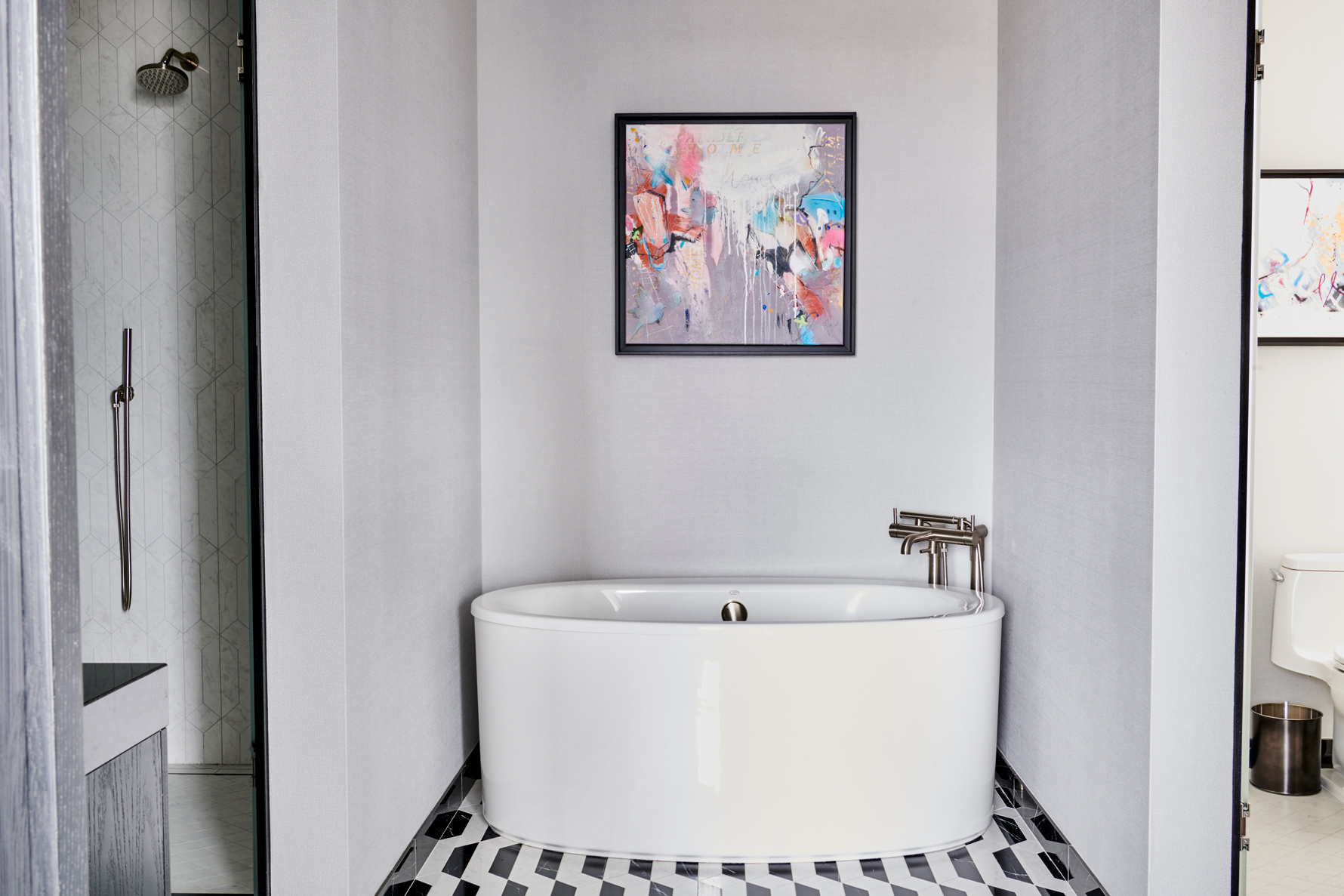 Informed by basic tenets of stewardship, spirit, and connection—and a firm belief in collaboration—Booth Hansen worked with Aparium Hotel Group, Mark Mitchell, KTGY Simeone Deary Design Group, and a whole team of structural, MEP, acoustics, and AV consultants to bring the Daxton Hotel to the built landscape. The site, which previously housed two retail structures and dedicated parking space, offered the team an ideal opportunity to leverage its location as a welcoming presence to Old Woodward Avenue and Birmingham's downtown retail district. Cyphers said it was important to address both Brown Street and Old Woodward Avenue elevations when developing the overall form for the hotel structure. While working within stringent zoning codes that guided height and articulation in the design, as well as a required easement or via on the north side, Cyphers also noted it provided an opportunity to really activate the street level as it traversed the site.
"There are architectural surprises that pop up along the ground level that showcase a really important aspect of the design. We sought to activate the street front and become a welcoming neighbor to the city as opposed to a building that is more inward-looking and shutting itself off," Cyphers said.
"Rather than just create a street wall along Old Woodward, we broke down the massing with a U-shaped courtyard and green roof, which helps with the units that are inward facing. It creates surprise or architectural features you might not normally expect to occur," Cyphers added.
While classical in presence, where fundamental aspects of architecture like proportion, harmony, and symmetry were considered, there is a transparency and interaction between hotel and passerby. Oversized windows using a specialized, ultra-clear glass on the first floor allow for views into ground-level spaces—where a geode installation of structural form and light encompassing the bar can be seen as pedestrians move along the easement—and large openings across its exterior facade also draw natural light deep into hotel public spaces and its more private rooms on upper levels.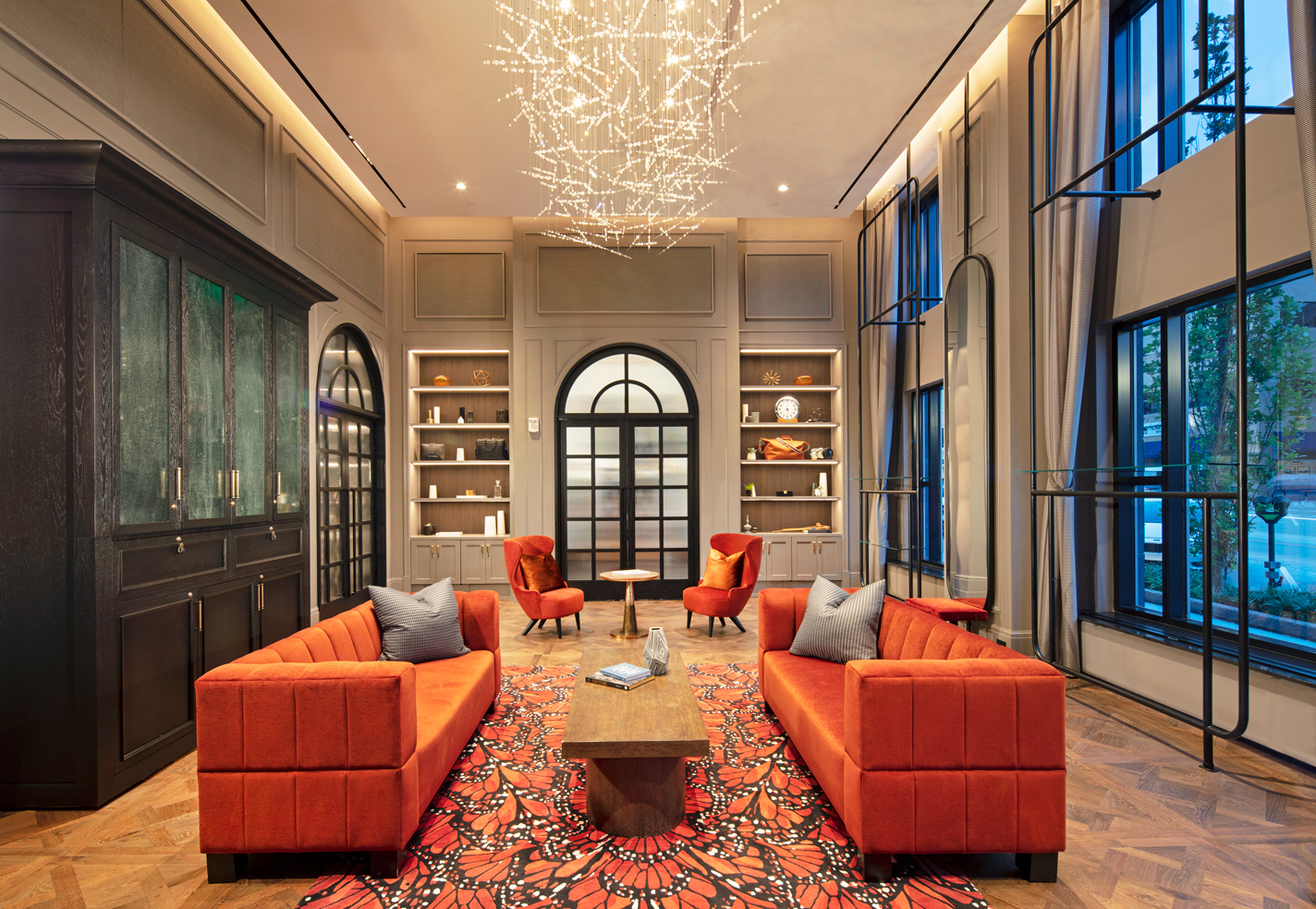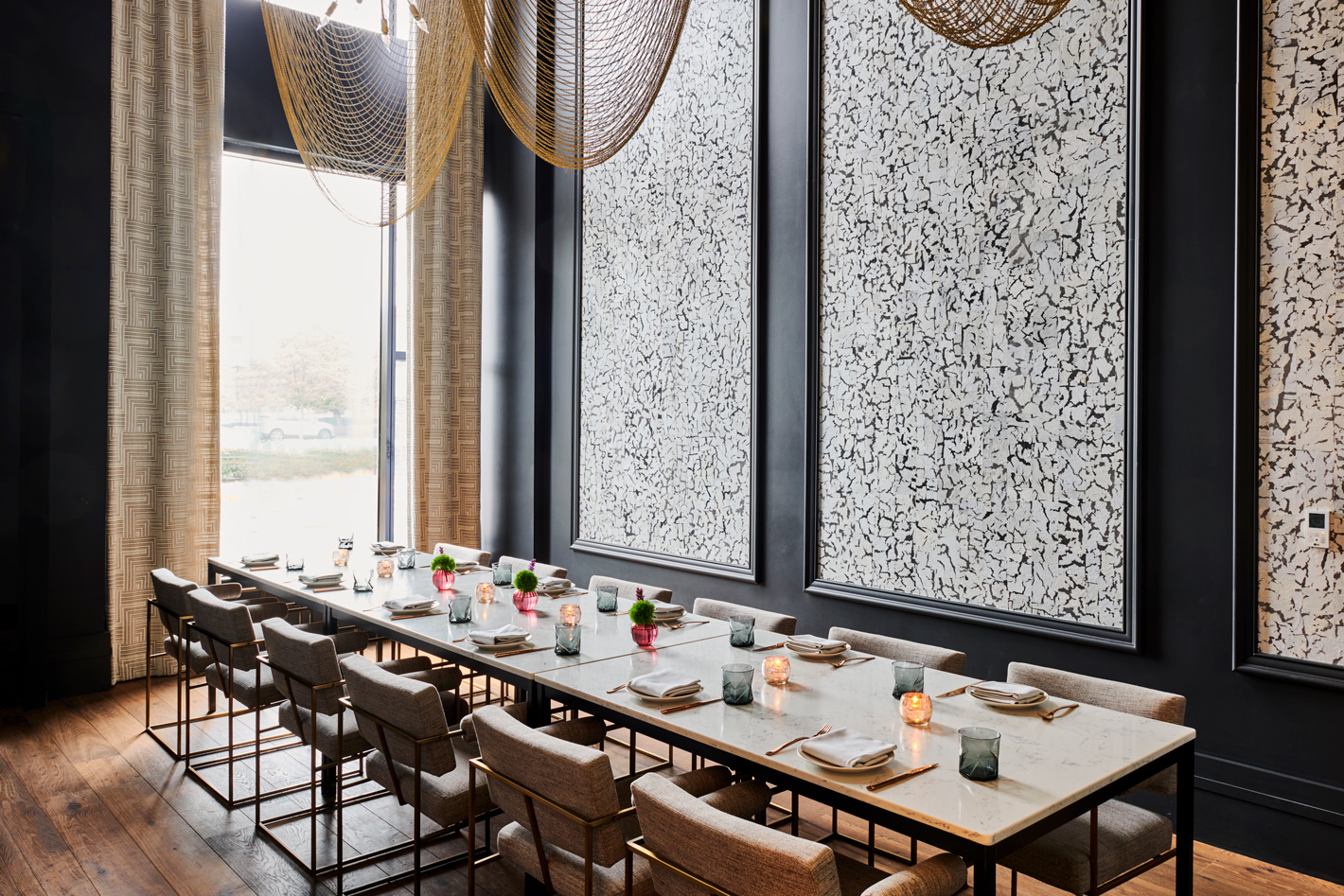 Its exterior materiality of black granite, gray stone, and glass are meant to reflect its surrounding Birmingham context and ground the hotel firmly in its site, and intentional tweaks to classical detailing such as in the window surrounds, serve to create the unexpected amid an old-world feel and solid character of luxury, according to Cyphers.
"That rings true as we enter into the interior. There is terrazzo, but it is black terrazzo," Cyphers said. "There is this wonderful and rich materiality, which is played up in a very interesting and maybe unexpected way."
Designed by KTGY Simeone Deary Group, formerly Simeone Deary Design Group, the interior is a woven narrative where the realm of dream and reality collide. KTGY Simeone Deary Design Group is an award-winning hospitality design group that approaches each project through a lens of possibility and purpose. The firm strives to redefine what it means to be somewhere that is contextual to place, evokes emotion, and delivers transformative experiences.
The defined materiality of the Daxton Hotel's exterior becomes more ethereal as rich hues and furnishings open up into bright, white spaces where lighting and avant-garde fixtures lend ornate reverie and an almost added dimensional layer to spaces, particularly in the ballroom where LED strands of lights arch above it. Lighting for the project was designed by Morlights, a lighting design practice located in Chicago.
"The lighting is otherworldly," Cyphers said. "It was an element as the design progressed, the lighting fixtures, especially in the public spaces—there are very integrated, concealed lights around the arches of the corridors, the lighting on the geode, the fixtures in the restaurants, and the parlors—are jewel elements that weave their way through the space."
Cyphers noted the entry sequences into the rooms themselves also played with this concept, where dark burgundies and vibrant floor patterns greet at the threshold and then lead visitors into the main sleeping area where the room opens up in bright whites and custom design scrim headboard by acclaimed local muralist Louise Jones, or Ouizi, is complemented by sweeping architectural elements.
"The whole room explodes in very bright whites with beautiful light fixtures and large windows," Cyphers said.
"[Simeone Deary] used this idea of reality and dream to bring those two worlds together. They called it reverie and interestingly enough, it is reflected on the exterior of the building with this solid corner lot building, but then the corner windows, green roof, skylight, and other elements that take on a less solid feel that enters that dream world," Cyphers added.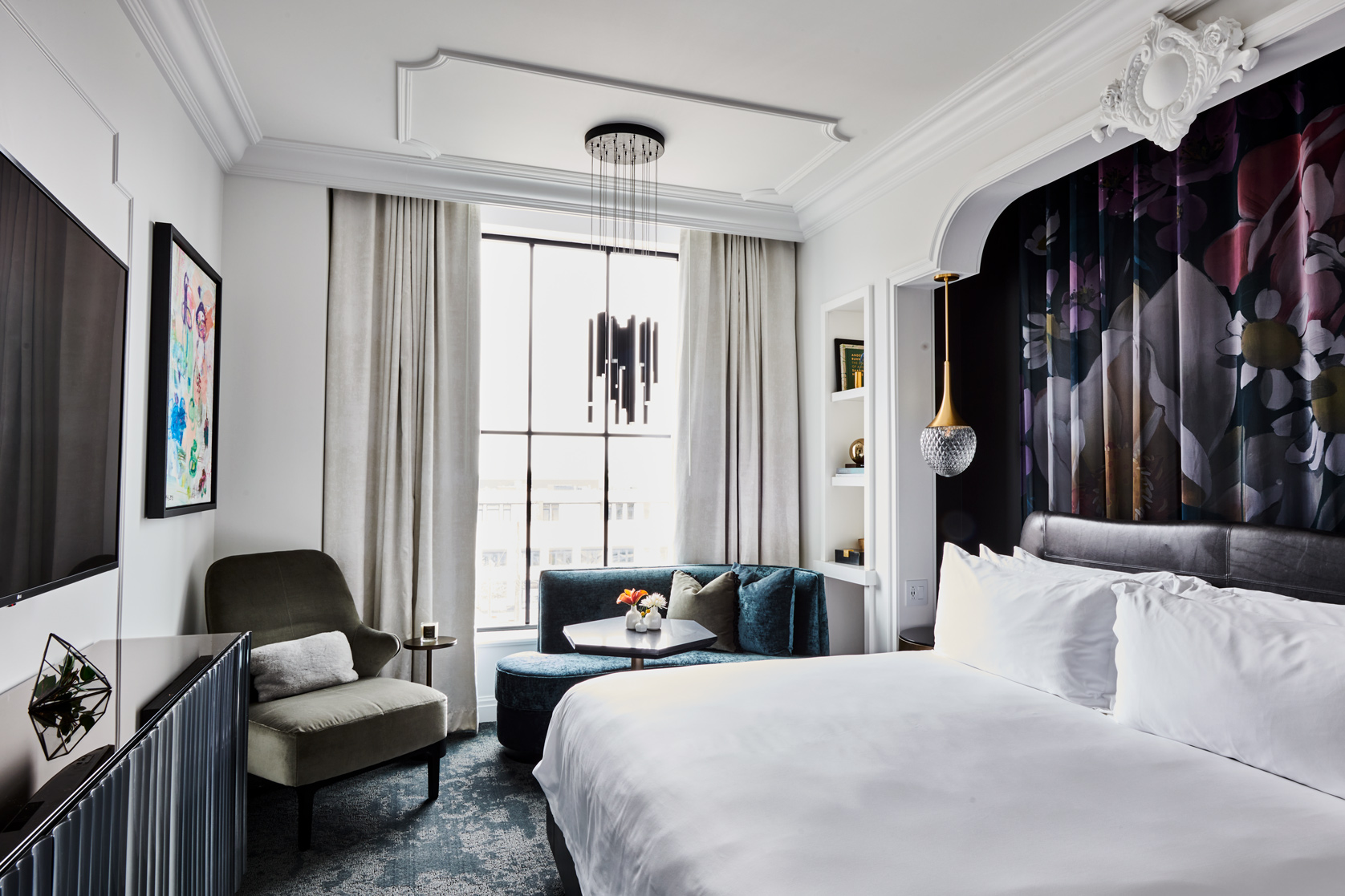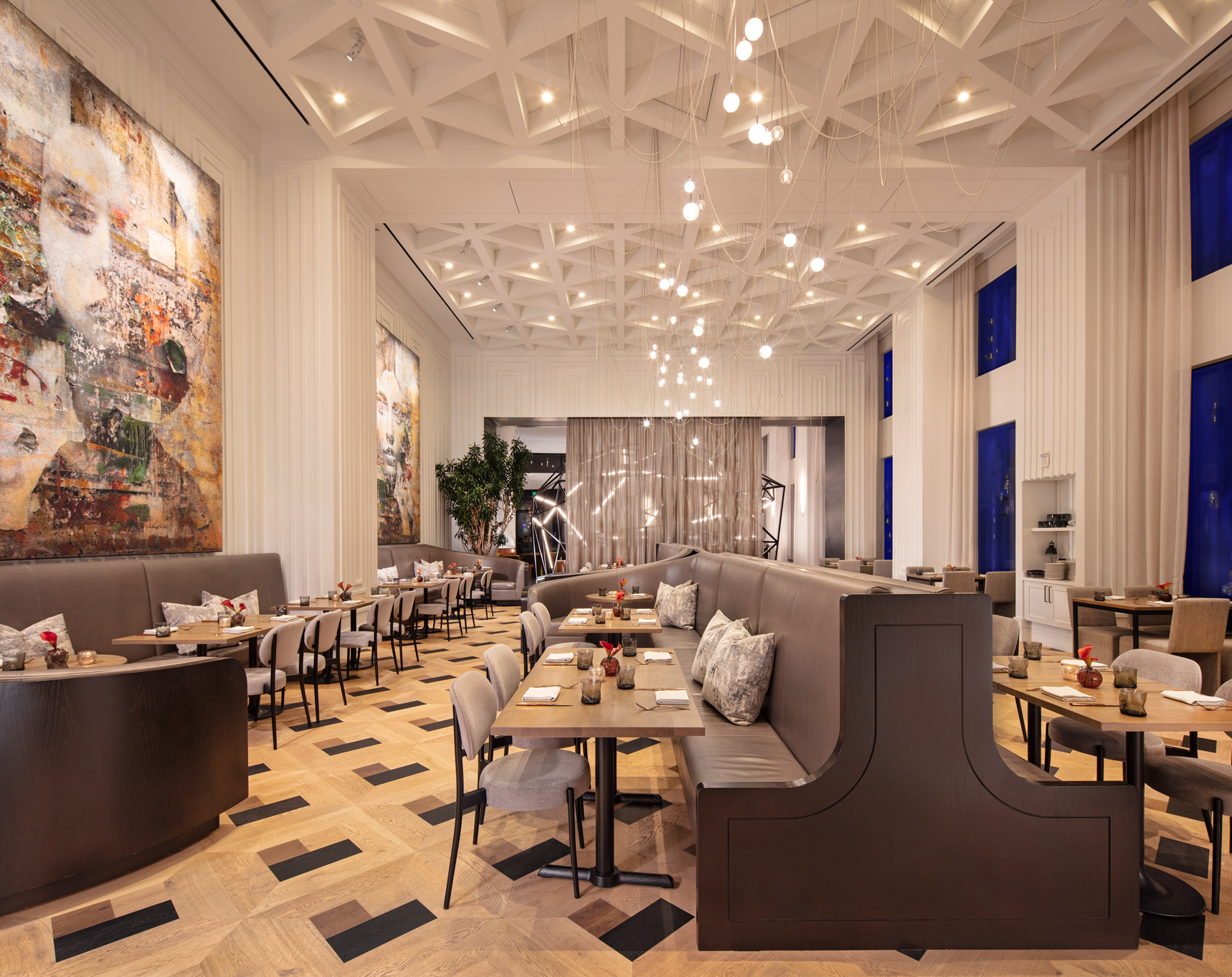 Dru Furbee, AIA, LEED AP, associate architect at Booth Hansen and project architect for the hotel, said the Daxton carries the concept through to the final product, which is evident on the interior and exterior.
Its interior also sets the stage for a more-than-400-piece artwork visual experience where roughly 160 artists representing nearly 40 countries can be found throughout public space and private rooms and suites at the Daxton Hotel. Each guest room features at least two custom pieces of artwork and the overall collection encompasses mixed mediums such as paintings, photography, drawings, sculptures, and collage. The art component, which was a fundamental element of the project from the onset, continues to play a role in the Daxton Hotel's future as it plans to have an ongoing, collaborative partnership with the Cranbrook Academy of Art and Cranbrook Art Museum.
"The planning of the hotel, element of the spaces, even just how the rooms work—many decisions were made based on art elements, whether it is sculpture, painting, or this vision of the unexpected turning the corner and seeing a piece that [Mitchell] has been a part of," Cyphers said. "It is a tour-de-force of art that is unique, and brings that level of sophistication to the Birmingham community."
Furbee also noted one of the more subtle elements of the unexpected is the level of thought, design, and coordination put into the hotel corridors, often an after-thought resulting in low ceilings and a long stretch of doors.
"The corridors are an important part of the guest experience: when you walk off the elevator and walk to a guest room. The intermittent arches and light coves help break down the corridor length and provide function too, allowing mechanical and electrical to cross over the corridor," Furbee said.
"Another area of coordination between the architecture and interior design was above the ballroom, where there are long spans and transfers of the concrete structure. We have these thick, concrete walls that are essentially supporting the levels above, but then those are also integrated into the arches. It is very seamless in the corridor even though the structure on level two is completely different than the levels above it," Furbee added.
From the lavish sensory experience of its interior and active presence on its site to its dynamic art program, the Daxton Hotel seeks to position itself at the intersection of luxury and community where surprise awaits at every turn. For Cyphers, it is in the contextual realization of its design, its connection to the Birmingham community, and its level of details, materiality, and quality of craftsmanship, that make it successful.
"It was this idea of refined and eclectic, while having a constant focus on detail and craftsmanship. We worked hard to achieve those goals and are excited about the end output," Cyphers said. "It is a hotel that is bringing a modern vision of luxury in Birmingham. We are excited to be part of the team that brought this forward."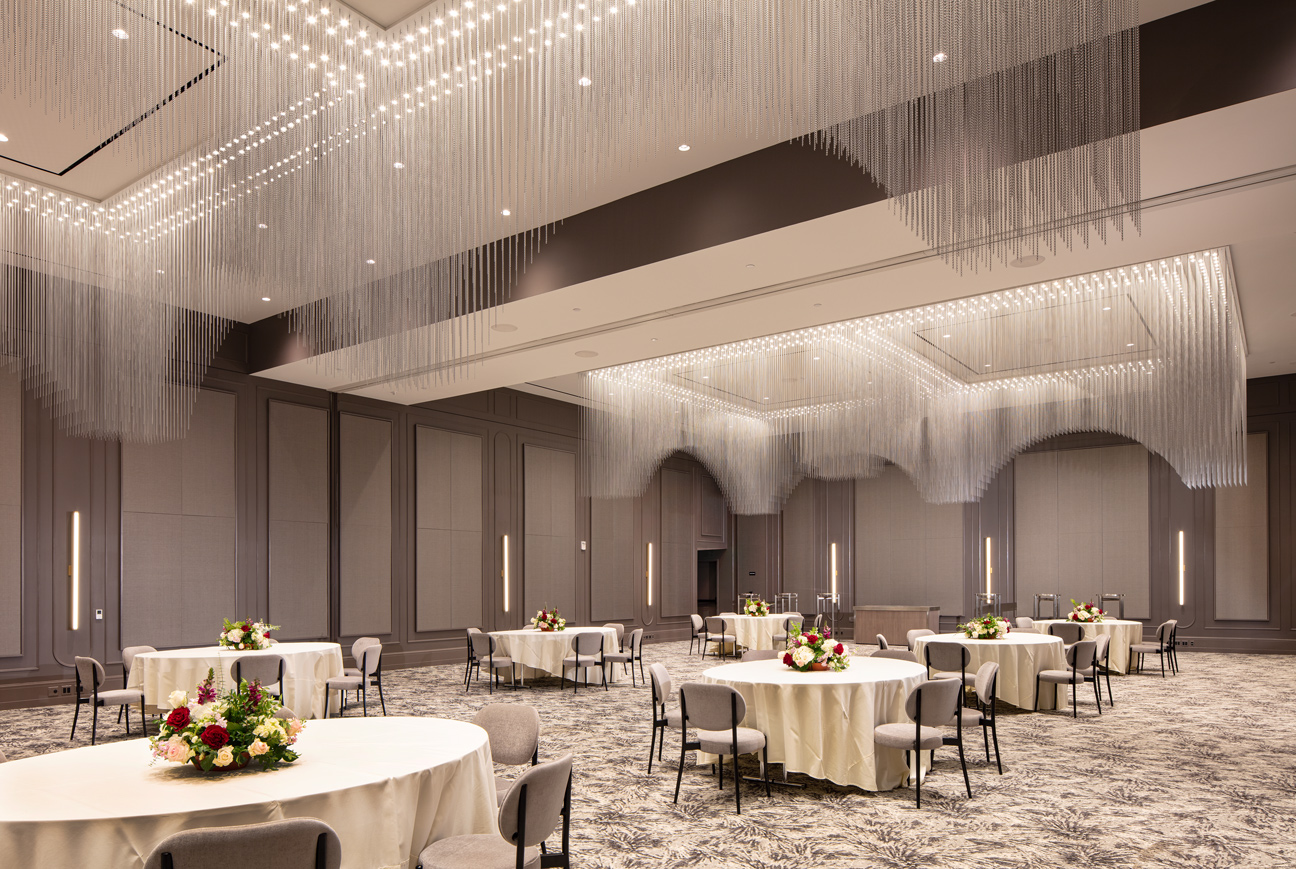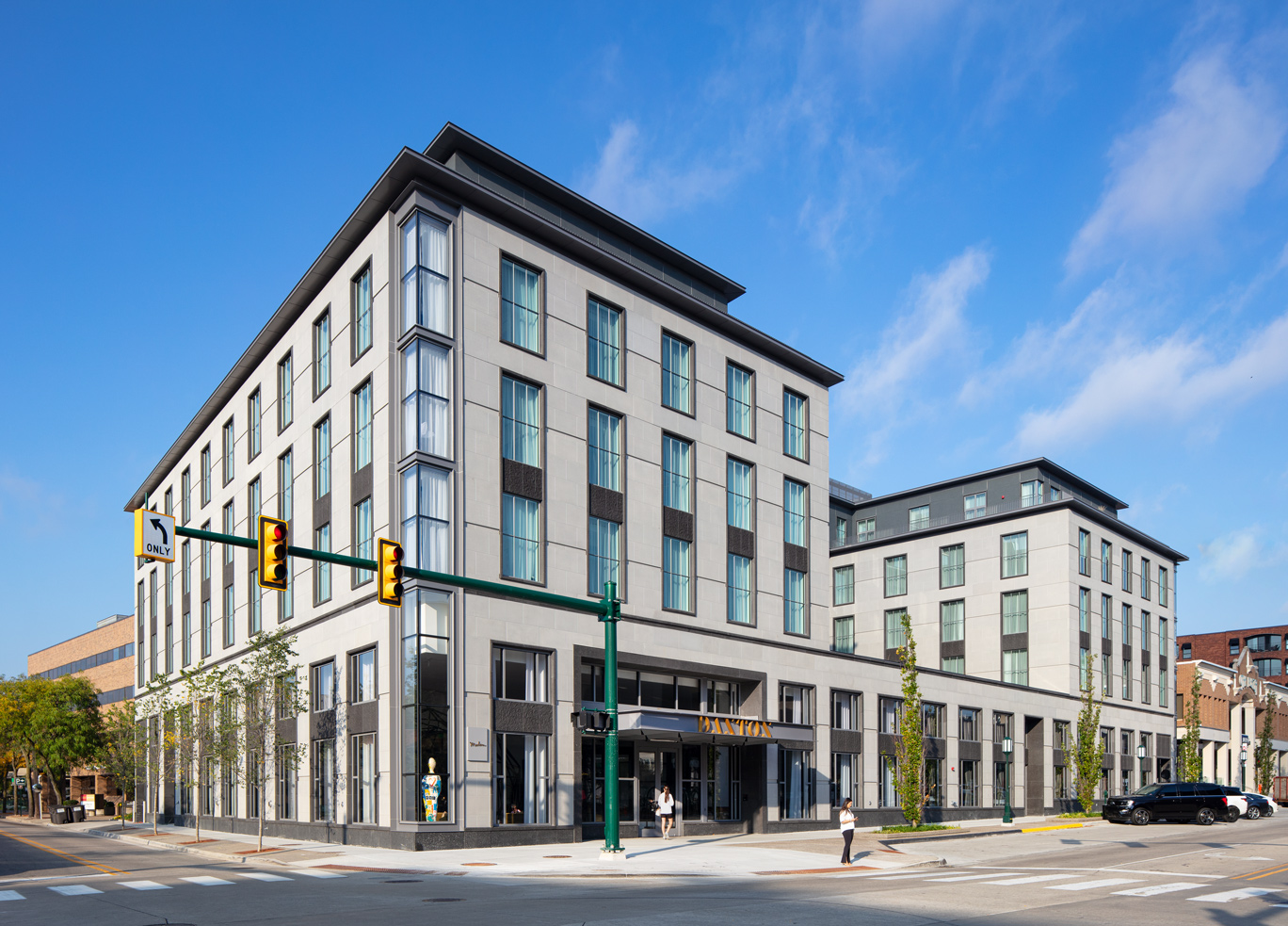 First published in Great Lakes By Design: Architectonics, 2021
Text: R.J. Weick
Photography: George Lambros, Joe Vaughn