The heat of fire, a touch of smoke, and the rise of artisan grains: there is something dynamic and alive to the process of baking bread. It is a food staple and craft that has become entwined with the human narrative throughout the centuries, from unleavened flatbread and tortillas to 60-hour-fermented sourdough baked to caramelized finish in wood-fired hearths.
To Head Baker Greg Wade at Publican Quality Bread in Chicago, bread is about more than a boule, ciabatta, or baguette. It is a craft of memory, community, and opportunity; where the metaphorical rise and return to quality whole-grains can be used as a vehicle to empower the creation of a regional food system built upon regenerative agriculture.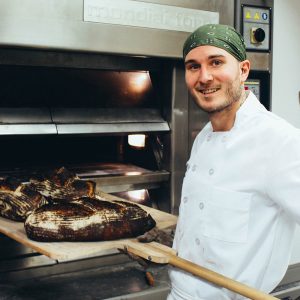 Wade, a 2019 James Beard Foundation Outstanding Baker award-winner, has not only grown Publican Quality Bread into its own wholesale operation from within the kitchen of its sister restaurant Public Quality Meats, but also is a founding member and Chair of the Steering Committee for the Artisan Grain Collaborative. His passion for the craft goes beyond creating a high-quality, consistent bread program to one that acknowledges its relationship with the land and the human condition. 
"There has been a loss of sense of where things come from in this country and we are trying to rediscover that. Grains are a huge part of a staple food crop and something that has sustained us for a really long time," Wade said. "It is just something that is important to understand where it comes from." 
Long before helping create the Artisan Grain Collaborative, or overseeing the program for Publican Quality Bread and its parent company of One Off Hospitality Group, Wade developed a love of bread in the kitchen at a young age when baking with his grandmother, leaving flour-coated handprints on cabinets behind him.
During his first foray as a baker at Taxim Restaurant in Wicker Park, where he specialized in breads and pastries, Wade honed his craft of making high-quality bread. While at Taxim, Wade met Chef de Cuisine Jan Rickerl as he and Stephanie Izard—the 2013 James Beard Foundation Best Chef: Great Lakes award-winner and fourth-season-winner of Bravo's Top Chef—were looking to open up the Girl & the Goat in 2010 in what is now the Randolph Restaurant Corridor. 
"[Rickerl] had a spot for me, but he wanted me to make bread full-time. I was like, this is cool, I'll give this a shot, I'll do this for a year or two and go back to line cooking and be on my way to being a savory chef," Wade said. "I just fell in love with bread making and used a wood-fired hearth oven at Girl & the Goat for all of our bread. It was just like this huge push to be the best at it, be really good, and really learn it." 
In 2012, Wade then transitioned over to Little Goat, a diner concept from Izard and BOKA Restaurant Group, and oversaw the bread program for Girl & the Goat, Little Goat, and Little Goat French Market. It was only a short couple of years later when he was introduced to Chef Paul Kahan, partner and executive chief of One Off Hospitality—the culinary and creative mind behind Blackbird, avec, The Publican, Big Star, Publican Quality Meats, Nico Osteria, Dove's Luncheonette, Anker, and Pacific Standard Time—as he planned to open up the wholesale bakery that would become Publican Quality Bread. 
On a daily basis, Wade can be found developing recipes, overseeing quality control, ensuring mixes are working according to plan—managing desired temperatures and fermentation times—and participating in a variety of events, such as the two-day, Bread Camp at Spence Farm in Fairbury, Illinois alongside Marty and Will Travis in July. Publican Quality Bread and Spence Farm have cultivated a collaborative relationship for more than five years, and it is where the bakery sources its varieties of heritage wheat. 
It is this work and ability to craft quality, whole-grain bread that was recognized last year with a James Beard Foundation Restaurant and Chef Award for Outstanding Baker. It is an award he has been a nominated finalist for twice before in 2017 and 2018, and helps validate the work that is taking place, according to Wade. 
"It is a huge honor. I am a self-taught baker and all of the hard work that went into learning how to do this, train all of the staff, and grow the bakery at Publican Bread into a bakery that serves over 100 restaurants and retailers—and we are producing about 13,500 pounds of dough in a week right now—it is a lot of validation that we are working hard and that people see it," Wade said. "We are being recognized not only in the amount, but also in the quality and integrity of what we are doing: trying to be a forward-thinking leader in the development of whole grains and the use of them."
It is this interest in the whole value chain throughout the Great Lakes region that led Wade to help creat the Midwest-based group focused on developing and creating a better regional grain system known as the Artisan Grain Collaborative. A collective of bakers, chefs, nonprofits, farmers, millers, distributors, agriculture researchers, entrepreneurs, food system venture investors, and school nutrition experts, the Artisan Grain Collaborative, or AGC, was born from the 2016 Food to Market Challenge supported by a philanthropic initiative developed by Kinship Foundation and The Chicago Community Trust known as Food:Land:Opportunity. 
"The overall goal is not only improving the quality and the integrity of the crop itself, but also combating climate change through ground cover and carbon sequestration," Wade said. 
Text: R.J Weick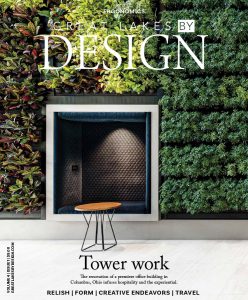 Full length available in Great Lakes By Design: Ergonomics, published 2020
Featured photo by Rachel Dickens