On a riverfront site along the Monongahela River, located just south of downtown Pittsburgh, Pennsylvania, as it flows northward to confluence with the Allegheny River into the Ohio River, a multi-phased, comprehensive redevelopment and adaptive reuse project has quietly added a new chapter for both the city and its immediate neighborhood community. What began as an aspirational initiative to transform a roughly 170-acre waterfront, brownfield site into a global center of tomorrow, tracing back to 2002 when Almono Limited Partnership acquired the property, has taken on tactile shape and form, telling a storied narrative through salvaged steel, sunken sun decks, and curated voids that play at the interstitial space between old and new.
It is a narrative that gestures to the past, where early site investigations informed the textural character and materiality of selections, finishes, and hardscape elements. Threads of that story are also evident in the exposed steel superstructure that leaves a sense of permanence, a stalwart mark, for the historic ruins of a decommissioned steel mill that once defined the site as a hub for the steel industry. There is a thoughtful interplay of restraint and forward-thinking design, as sustainability, innovation, and flexibility collide into a simple, albeit striking series of speculative, multi-tenant buildings set within a monumental and dramatic metal sheet skin. It is also in its connection to landscape as intentional greenspaces, elevated pathways, and stepped terraces welcome tenants, and visitors alike. And it is in the invitation to community, where the roughly 263,200-square-foot, quarter-mile-long steel-framed building known as Mill 19 of Hazelwood Green, is intended to serve as a catalyst for the future of the district.
Donald F. Smith Jr., Ph.D., president of Regional Industrial Development Corporation, or RIDC, of Pittsburgh, said at one point in time, the Hazelwood steel site, owned and operated by Jones and Laughlin Steel Corporation, or J&L, was an economic center for much of the city. The site and its adjacent Hot Metal Bridge were also one of the most heavily defended pieces of infrastructure in the United States during WWII due to the significance of its steel production. During its peak, the combined J&L sites of South Side and Hazelwood employed roughly 12,000 people with the Hazelwood neighborhood growing to reach nearly 13,000 residents alone in 1960. However, when Ling-Temco-Vought Incorporation, or LTV, which purchased the site in 1974, closed the site in 1997, a mass exodus of residents and jobs left a community unsupported and a post-industrial site in dilapidation.
"I run into people every single day who say, 'my father worked there,' or 'my grandfather worked there.' It played a huge economic role in the life of Pittsburgh. With the evolution of steel production and technology, the site had fallen on relatively hard times with [LTV] closing being the final straw. There were no jobs on the site where there used to be thousands and the neighborhood around the site had also experienced hard times—a lot of abandoned property, a lot of vacancy, and property values were really low. It was an area screaming out for economic redevelopment, and I think in part because the foundation ownership of the site had a commitment to doing things the right way rather than doing things the fast way, we ended up with a plan that was community-tested," Smith said.
"RIDC did over 100 community meetings during the process of developing the master plans and the building plans. I like to say we are not doing this in Hazelwood, we are doing it with Hazelwood. We started with this part of the site, which is relatively close to the neighborhood rather than the part closest to the universities, because we wanted to make that connection to the community, the job creation, and the redevelopment and revitalization that would happen because of it," Smith added.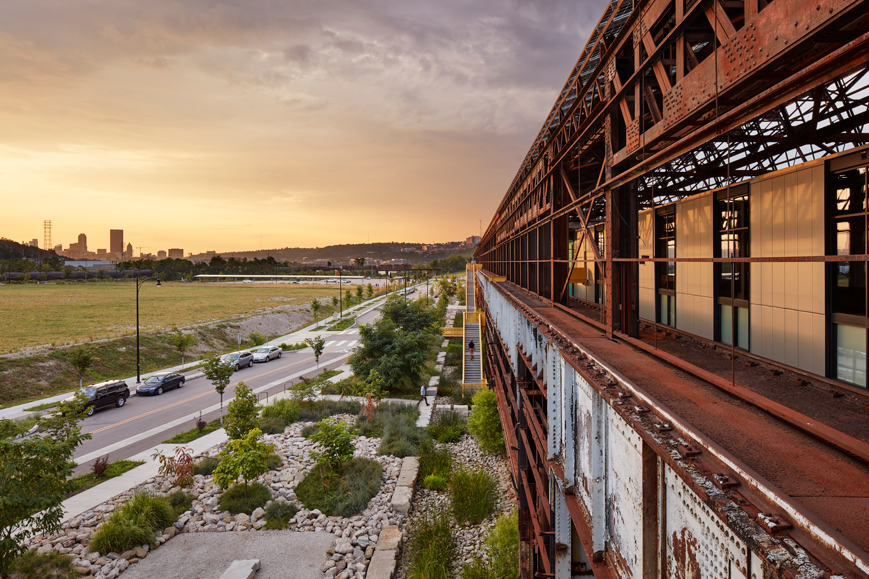 Mill 19 is a sustainable, advanced manufacturing development anchored by tenants like Carnegie Mellon University's Manufacturing Futures Institute, Advanced Robotics for Manufacturing, Catalyst Connection, Motional Automated Vehicles, and YKK AP Technologies Lab Inc., where speculative office space is informed by flexibility, adaptability, and functional performance to support manufacturing, research, and emerging technologies. The first structure to be realized in the 170-acre Hazelwood Green Mill District, the COTE® Top Ten Award-winning Mill 19 is part of a larger vision to revitalize the last remaining large-scale brownfield site in Pittsburgh as a world-class destination that celebrates innovation, technology, and advanced manufacturing.
Nearly 25 years in the making, initial dialogue to revitalize the urban waterfront stemmed from the 1999 Riverlife Task Force and has since evolved into a master plan featuring affordable and market-rate apartments, greenspaces, retail and restaurant space, and other public amenities. In 2002, Almono Limited Partnership—today, a joint venture of three foundations—acquired the vacant, brownfield site from LTV and looked to RIDC to serve as general partner as comprehensive planning and environmental remediation began on the site. Smith noted the foundations acquired the site with the express desire of making sure it was redeveloped to its highest and best use and after a number of iterative plans—and a brief contemplation in which to extend the Mon-Fayette Expressway into Pittsburgh through the site—worked with Almono LP to transition their role to focusing solely on Mill 19 and its adjacent 5.5 acres.
"We did a competition for architects, and MSR Design came up with this really visionary approach to how you would reuse the mill building," Smith said. "We had looked at various ways to reuse it sort of as is—reskin it, build inside—and none of them really made economic sense. MSR Design came up with this really clever plan to put three buildings under the superstructure of the old mill, and then those new buildings would be super energy-efficient, very modern, very tech savvy, water-efficient, light-efficient, and great modern desirable space."
MSR Design is an award-winning, architecture and planning firm based in Minneapolis, Minnesota. Founded in 1981 by Thomas Meyer, FAIA, Jeffrey Scherer, FAIA, and Garth Rockcastle, FAIA, MSR Design is dedicated to creating innovative, transformative, responsible, contextual, and enduring work that is informed by human-centric design solutions. Thomas Meyer, FAIA, founding principal emeritus, said the firm has built a reputation around adaptive reuse throughout the years, which led to RIDC's invitation to compete in the design of the former steel mill.
"It was a really great opportunity, so we worked hard to get it. Adaptive reuse is a great project type. We always felt in the over 42-year-history of the firm, we were seeing more interest in sustainable design in society, and of course reusing something is very sustainable. It merged with our interest in sustainability. [Adaptive reuse] is a version of cultural preservation, cultural advancement, but also an opportunity, like all design projects, for current creative expression," Meyer said.
"It had been in the works for years, not specifically focused on Mill 19, but on this broader area. The city saw this as a major opportunity. It had all kinds of potential for redevelopment, and I think, significantly, they saw a new identity for the city which had been so much about Pittsburgh as a steel city," Meyer added.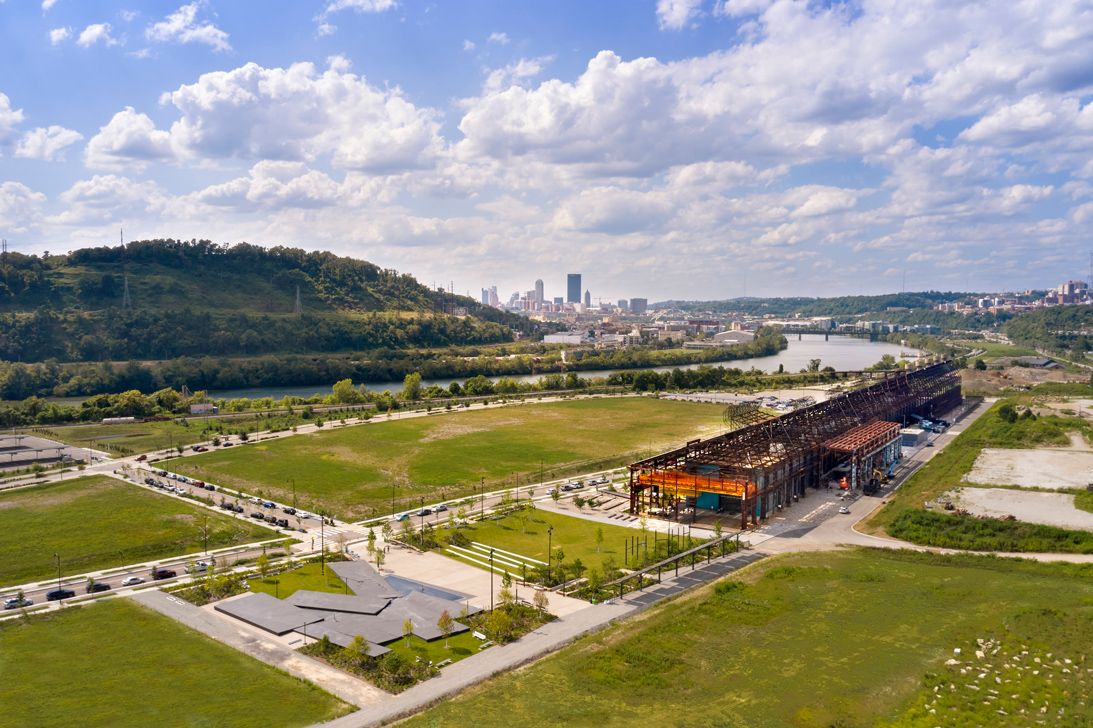 Jeryl Aman, AIA, architect and associate with MSR Design, said the winning proposal was aspirational and ambitious and intended to show the greatest vision they could achieve for the site—featuring roof decks, higher finishes, and a lot of "bells and whistles," which is not uncommon in the competition process.
"We got it through schematic design, and it was far over budget for what RIDC could feasibly execute. We stripped everything out and did a very simplified building. Because they are an industrial developer, they take brownfield sites and turn them around to rejuvenate communities and help businesses in Pittsburgh thrive. They hadn't really done a project of this nature, one that is going to get a lot of attention, and become a world-class facility," Aman said. "We did that box and it came in on budget and everyone hated it."
Meyer also noted of the scenarios presented, where one plan considered insulating the exterior envelope and another looked at setting a contemporary, energy-efficient building within the metal skin, the latter was the more practical option in terms of interior conditioned to rentable space.
"That might have called into question, well why not tear down the whole steel structure rather than working within it, but the master plan called for saving this building. This was to be the icon of the steel tradition, of Pittsburgh, and the first building to be built presumably in the master plan with public space around it, so keeping the steel was an important identity of Pittsburgh," Meyer said. "The steel has got to stay and the new building has to fit inside, because it is practical. Then what do we do, how do we do that?"
To solve it, Aman said the idea was to find that right balance between the aspirational and economical, where the design had a lot of life to it and would benefit the community, but also hit metrics like having leased, market-rate space with top-of-the-line systems that helped achieve sustainability goals.
"We found a good balance and to RIDC's credit, every time we asked them or proposed to them a design concept, they've been very willing and eager to listen and execute it, especially on the landscape side," Aman said. "RIDC believed in doing this right, so we found ways, as a speculative building, to keep cost controls in mind while bringing forward elements that were going to be the most visible to the public."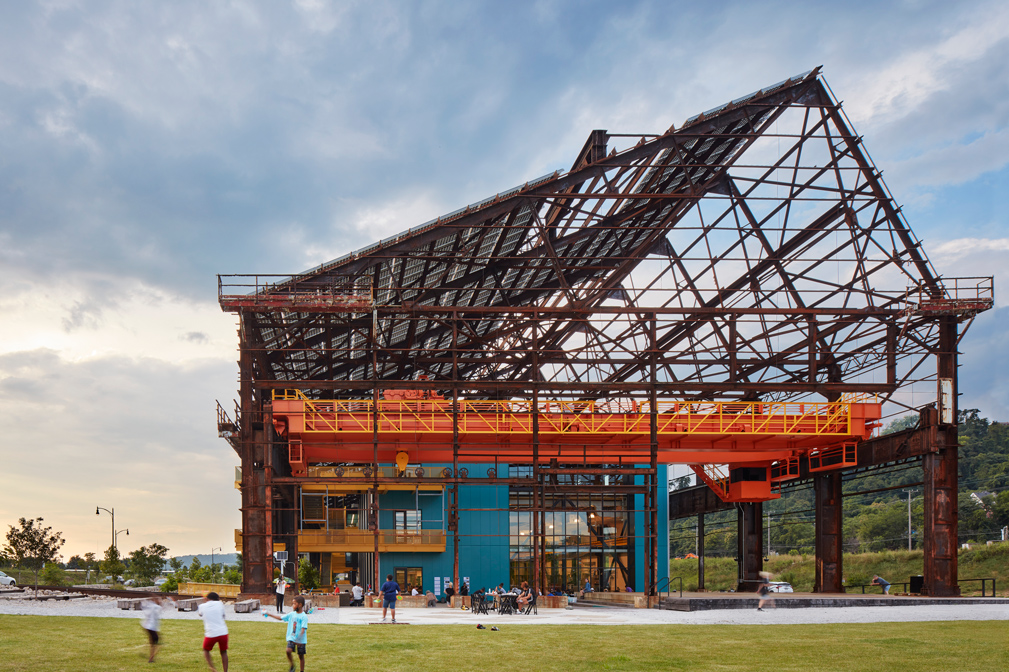 The overall design is an experiential overlay of industrial and human scales, where the three buildings and superstructure are interwoven with internal streets, courtyards, vertical circulation, disturbance-adapted gardens, and performative landscaping. Realized by the collaborative, transdisciplinary team of MSR Design, TEN x TEN of Minnesota, D.I.R.T. studio of Virginia, Atelier Ten of London, and Lennon, Smith, Souleret Engineering Inc.; R3A Architecture; Bala Consulting Engineers Inc.; Alderson Engineering Inc.; PCS; and RIDC of Pennsylvania, the five-acre site evolved in three phases over the last seven years.
Though relatively simple in form and subtle in intervention, the project is full of details where salvaged materials lend character and pay respectful homage in the bunker blocks and custom furniture elements, and intentional sustainable measures to achieve LEED-NC v4 Gold certification with near net zero energy usage. Some of those measures comprise a 2MW photovoltaic solar array on the existing roof that generates enough electricity to support the demand of the first two buildings due to ideal pitch and orientation, the energy recovery ventilation system, and a high-performance envelope. There are also additional measures like bifacial glass PV panels that allow daylight to permeate interior spaces and corridors, and a 12-foot-wide water channel flanking the western façade that diverts water from contaminated soils and conveys 1.1 million gallons of rainwater through wetland retention basins and infiltration gardens.
For RIDC, which is a private, nonprofit with a mission of facilitating high-quality job creation and tax base enhancement through dynamic economic development, brownfield redevelopment has been a part of its work since the 1980s. Smith noted the company, which is approaching its 70th year milestone, has endured because it has evolved and adapted from greenfield redevelopment to brownfield redevelopment over the years, based on regional needs in the wake of the steel industry collapse. Pivoting to take on highly efficient, sustainable work to support tech-based and emerging industry needs, was a natural move.
"We have taken on sustainability goals through solar energy that can fully power two of the three buildings, and through water conservation, where we have a purple pipe water reclamation system. All the non-potable needs are met with reclaimed stormwater from the site. We have 100 percent primary treatment of the stormwater on the site for the building and by using energy-efficient heating and cooling systems and paying attention to using natural light as much as possible—and designing the building in a way that allows the greatest penetration of natural light into the space—we've been able to reduce the energy consumption by over a third of ASHRAE Standard B for new building code," Smith said.
"That is a 20 percent water savings, a 33-to-35 precent energy savings, and solar that will produce a very big chunk. We've added that sustainability plank to our platform, which is really focused on the economic development impacts on jobs and tax base," Smith added.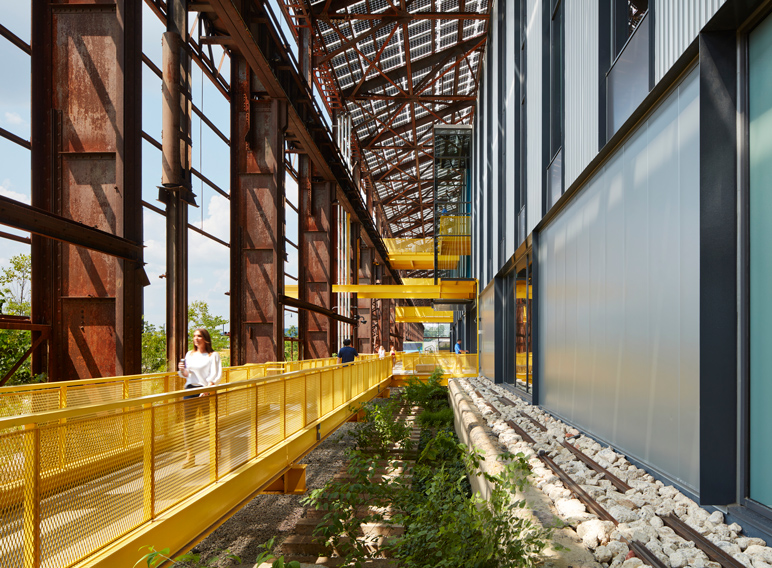 The surrounding landscape also played a vital role in supporting those sustainability goals, as the landscape team integrated other key strategies like material reuse and gardens focused on carbon sequestration and resilience. Aman noted the landscape work itself was very intensive, from the unknown variables of discovering what is beneath a brownfield site, such as having to replace soil to correct pH levels to onsite grading, planting, and furnishings onsite.
"There are locations where we are not allowed to infiltrate water, because of contaminated soils and had to install liners to prevent the water from entering those areas. This approach translated into an opportunity for a water feature for ecologically diverse vegetation," Aman said. "We've also installed cisterns to collect the roof rainwater for reuse in the building, as well as site water to circulate back to the water feature and allow it to naturally evaporate."
The landscape team also planted species like sumac, black locust, willow, ferns, quaking aspens, and sedges, forming the backbone of an array of wild gardens. Inspired by the unruly and tenacious spirit of the post-industrial landscape, the wild gardens also provide ecological benefits, are low maintenance, and are low cost. Concrete slabs were salvaged and reused for stepped terraces, decorative rail ties, and crushed rubble at different scales for surfacing materials and base for plantings; salvaged steel was repurposed for furniture elements and stepped terraces; and even pulleys, sliding doors, and an operable crane have been salvaged and are intended for reuse.
"It's a pretty simple building, which surprises people. You go there, and it's a box. We made sure to have the details right, like how the windows and the corrugated panels frame into each other with steel fins, because we didn't want to overpower the existing steel with an intervention that was loud. We wanted something new that was layered behind, that was respectful of what was there, because that is what is cool about the space," Aman said. "It is this interplay of old and new and then layered on top of that is the landscape—the trees growing in, the hardscape of the cut-outs, of how you walk around the space, the floating walkways."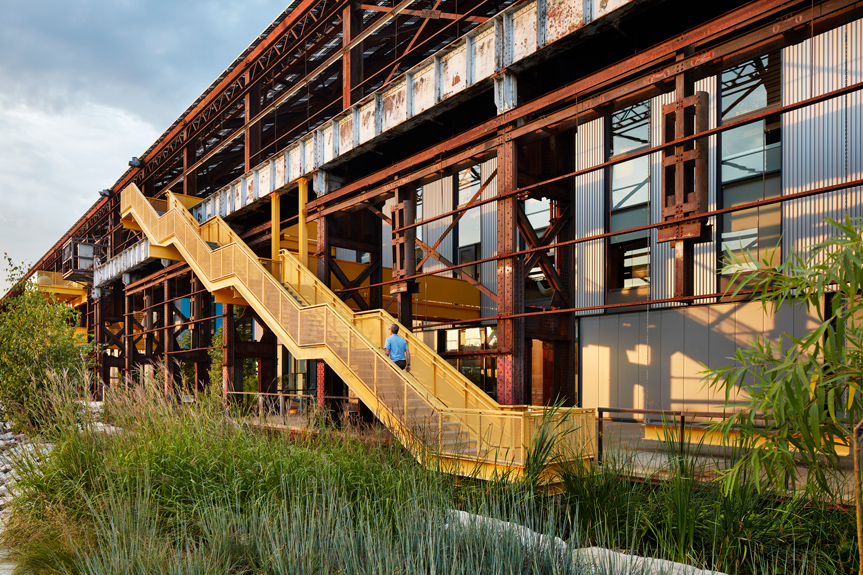 Subdivided into three phases, the first stage saw the construction of Building A, which was completed in 2017 and is home to Carnegie Mellon University's MFI and Advanced Robotics for Manufacturing. The roughly 90,000-square-foot, three-story interior floorplate comprises a double-height lab space, complete with a new girder crane, to accommodate high bay projects. It also includes flexible workspaces, conference and meeting rooms, a manufacturing laboratory, and a modern workshop. Building A also includes an entry bridge, a rain garden, an exterior procession, and a south porch and adjacent public plaza.
Building B, which is roughly 74,000 square-feet and houses Motional, also involved completion of exterior public plaza and pass-through, elevated walkway over rain gardens, and service yards. Building C, which is anticipated to be completed in 2023, is 100,000 square-feet and designed to be divided into multiple tenant space to support small start-ups in the high-tech sector. This phase will also involve the completion of the exterior garden, scenic elevated overlook of downtown Pittsburgh, public entrance lobby, rain gardens, and the north porch that launches the exterior public promenade. Plans are also in place to install public art created by Vanessa German.
In 2023, the RIDC Mill 19: Building A & B was recognized by the AIA Committee on the Environment, or COTE, for its integration of design excellence with environmental performance as a COTE® Top Ten Award recipient. The COTE Top Ten Awards celebrates 10 innovative and sustainable projects each year that exemplify a holistic approach to design while meeting measures for integration, for equitable communities, for ecosystems, for water, for economy, for energy, for wellness, for resources, for change, and for discovery. Now in its 27th year, the COTE Top Ten Awards highlights projects based on jury evaluation that set a standard for design excellence and sustainability.
For Aman, who sees successful architectural design as positively impacting the world through space and experience, noted one of the main goals behind Mill 19 was making it a distinctive, world-class, speculative office building. Its success as a project is in its design for change and adaptability—creating opportunities to convert windows into loading docks—and he noted he is struck by the transformation of both the site itself and in the building as sunlight reveals an altogether striking composition of form and a materiality that continues to live and breathe.
"There is a lot of pride in Hazelwood and I hope the people of Hazelwood are proud of Mill 19, because it is theirs now. It is theirs to own and to enjoy," Aman said.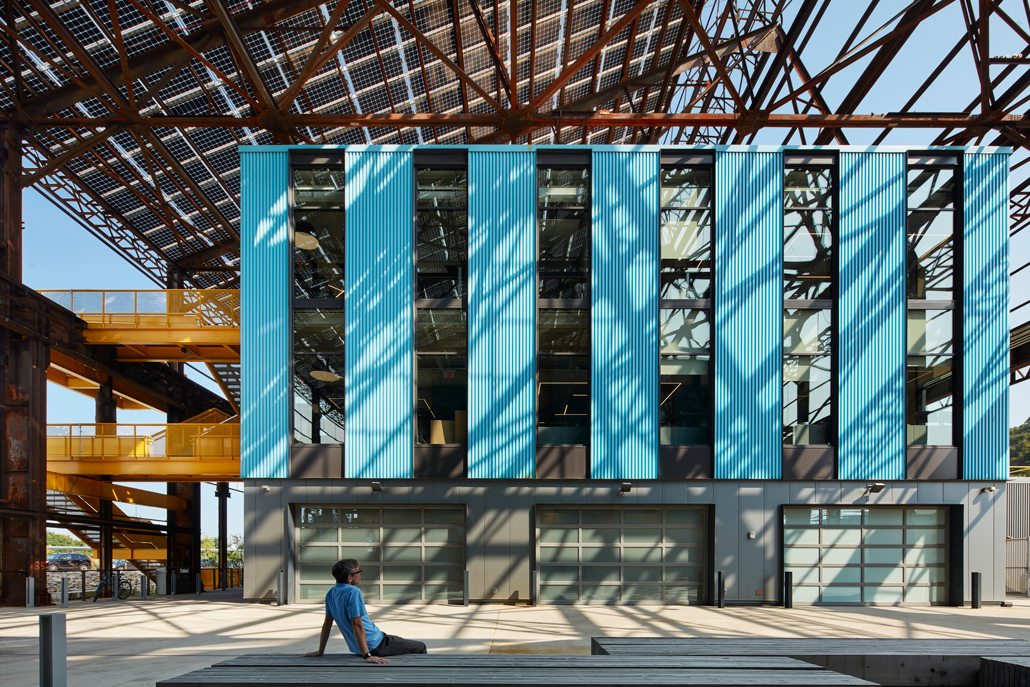 Smith noted it was important to create work space within the new buildings that could support a range of specialties, from robotics, autonomous vehicles, and research, to makerspaces, manufacturing, and technology, to ensure they are accessible to people in the community, while also drawing global, leading companies to the region. For him, the hope is that Mill 19 will reflect that Pittsburgh is fundamentally a place that still makes things as it drives innovation in technology and advanced manufacturing, as well as serving as a catalyst for the district to become an epicenter of growth in those new industries.
"I think that is what inspired design is all about: how do you accomplish those kinds of really important societal goals while doing it in a way that is economically feasible and viable and will survive and last?" Smith said.
"The ability to reuse the history and preserve the history, while creating a modern platform, is in many ways the coolest part of the project. The proof is in the pudding and the product is phenomenal," Smith added.
To Meyer, it is the potential of adaptive reuse that excites him about the project, particularly in how a quarter-mile-long building with a steel, muscular presence onsite can respond to its surrounding environment and serve as great architecture—and it was the client's ambition and investment in using an existing structure that shows the humanity of time to create a world-class facility.
"Having old and new working simultaneously with the new responding to the old is what all architecture must do to find its place in an existing context. A building that successfully responds to where the sun is coming up, where the view is, where trees and rocks are, will feel authentic. It will have a place in the world where it belongs," Meyer added.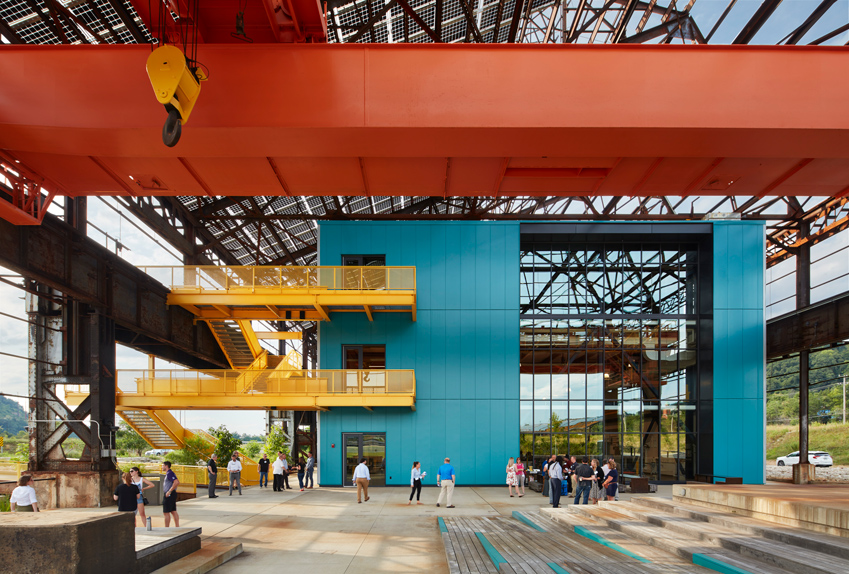 First published in Great Lakes By Design: Raising the Bar, 2023.
Text: R.J. Weick
Photography: Gaffer Photography LLC