Associate Principal
DMAC Architecture & Interiors | Evanston, Illinois
For Kavitha Marudadu, AIA, LEED AP, architecture has a powerful potential to impact everyday life. It has the ability to shape experience and evoke emotion, and when the design considers a sensitivity to both context and the human element throughout the entire collaborative process and journey, it can result in meaningful spaces.
"I truly believe that your environment shapes the way you think and even now I find I'm more organized depending on how the space around me is. I have better clarity of thought—I'm a very minimalistic person, so I can't deal with visual clutter or physical clutter—so in a way, the environment really shapes the way you act in a space and I think the power of architecture is really transformational in that sense. It gives you the opportunity to impact everyday lives," Marudadu said.
"I think architecture would be meaningless if it did not offer an experience to the user and that is very important to us, because it is not about what the space looks like, it is about how the space is experienced, and that is very innate to how we approach design. The lighting in the space matters, the sound in the space matters, and all of those little things that are easy to overlook, but it is very key to how space is perceived and lived in. It is an important factor to how we approach design," Marudadu added.
It is a philosophy that defines the architectural firm of DMAC Architecture & Interiors of Evanston, Illinois, where Marudadu has spent more than 14 years developing her craft and pushing the boundaries of design. The firm, which was founded in 1995 by Dwayne MacEwen, AIA, NCARB, principal and creative director, embraces the remarkable moments that speak to the human experience and the idea that brick-and-mortar can become more than a building, but rather a creative journey in storytelling. Marudadu, who now serves as associate principal providing team leadership and takes an active role in the design, said the time at the firm has allowed her to evolve as an architect.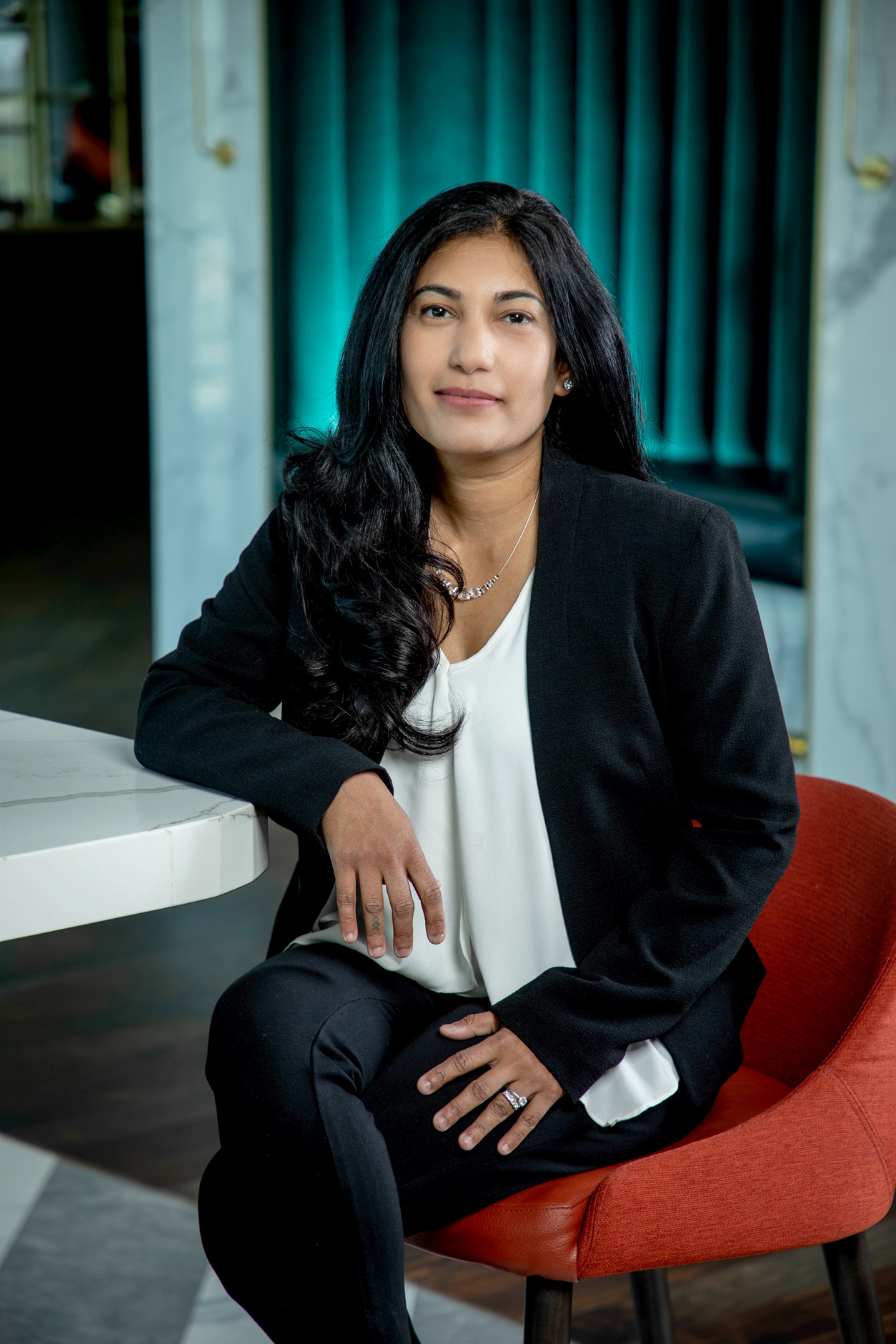 "I was really drawn to [Dwayne MacEwen's] design philosophy and his passion for design and how he approached architecture, really creating thoughtful and responsive design. I continue working on projects that challenge the norm and push the boundaries of design. That is what sets DMAC apart," Marudadu said. "MacEwen has been an amazing mentor and advocate of my professional growth."
Throughout the years, DMAC Architecture & Interiors has become known for its hospitality and commercial work, such as with the design of the Midtown Athletic Club, The Hotel at Midtown, Roka Akor, BetRivers Lounge Rivers Casino, and the American Airlines Admirals Club. They are projects informed by a team and process that carries conceptual ideas down to the smallest of detail to deliver spaces for clients that not only evoke an emotional experience, but also have the ability to evolve with future users. Marudadu noted that while the studio does a lot of hospitality work, it does not specialize in any one typology, but rather embraces the challenges and opportunities of each project as a new creative possibility.
"For me, design is an evolutionary process, where each project is a shared experience between the designer and client, beginning without any preconceived solutions. We tend to delve more into the process of design and the making rather than the end result. The journey is just as important," Marudadu said.
"We do a lot of hospitality spaces, but then again, hospitality is such a huge range. We don't limit ourselves to only do hotels or only do restaurants. We've done big projects and small projects. I think that is what is unique about the firm, is that we take on a project if it has a design opportunity. So, we don't call ourselves specialized in that we say we specialize in hotels or restaurants, we only specialize in ideas and contexts," Marudadu added.
Marudadu, who first studied context-based design at the School of Architecture and Planning at Anna University in Chennai, India, noted she was drawn to art and architecture from a young age. Growing up in Chennai, the dynamic capital of Tamil Nadu on the southeastern coast of India known as a cultural destination rich in art, heritage, and architecture, she said architecture became a medium of exploration into the art of designing space—and recognized its powerful ability to make an impact on people's lives.
"A lot of the way I am is shaped by where I grew up. In a way, southern India is very underrated, because people don't know about it. The city and the whole region is deeply rooted in culture, heritage, dance forms, and architecture, so a lot of my inspiration or my need for pursuing architecture as a career really started from drawing inspiration from the environment that I grew up in," Marudadu said.
"Given Chennai's density of over 11 million people, there was an obvious scarcity of space and conscious design was a luxury only few could afford," Marudadu added.
Upon completing an undergraduate program in context-based design, Marudadu said at the time it lacked the global exposure she was looking for and sought to pursue graduate study at the University of Illinois Chicago in downtown Chicago. The intensive one-year program introduced her into the field of parametric design, where elements and components are informed by algorithmic processes and can serve as a tool for architects to design innovative buildings and simulate the generation of biological forms.
"The approach to the design was very different than anything I had experienced until then. It was how rules and algorithms really transform what the design would look like. It was creating three-dimensional design concepts based on how a computer-generated program transformed it and what input you applied to it really guided the design process. It was a great experience, it was very experimental, it wasn't functional, but it was a good way to explore and understand design possibilities," Marudadu said.
"It is very different from how I approach design now, which is more simplistic and experiential than algorithmic. Nevertheless, it gave me a good grasp of possibilities in design," Marudadu added.
Marudadu then worked at a couple of Chicago-based firms upon graduation, building both foundational training at Lucien Lagrange Studio and Macondo Corporation, as well as a familiarity in building systems and technical construction language contextual for the region and the United States.
"I realized the challenge that I had was that I was not prepared for getting out there and working, especially because of foreign education. In one of my first interviews, I was asked to draw a wall section showing drywall and metal studs and I didn't know what drywall was at that time," Marudadu said. "Although I had an architecture degree, the constructability is very different in India. I had to go back to school, in a way, to learn a lot of the technical constructability and building systems and how it works in the country."
The idea of context and conscious design is one that has informed her approach to architecture and design, emphasizing the experiential and intentionally understanding the characteristics, both literal and abstract, of the environment in which a building or space is built. Rather than apply a "cookie-cutter" concept to each project, Marudadu noted architecture really needs to respond to the people it is being designed for, whether it is a historic context or a geographical design.
"The responsiveness of design is truly understanding what is being asked out of the architecture," Marudadu said. "Once a design is completed and the space is completed, it is still evolving. People don't use it the way we intended them to use it and that is a good thing, because architecture has to allow for accommodating different needs of people and as needs change, culture changes, what needs to be the constant is the timelessness of design, that it still allows for room for growth without losing the spirit of the design, the intention of the design."
In one recent instance, the team considered how a lake house in Union Pier, Michigan could respond to its site and ultimately, how the user would experience its landscape from each space within the home. While the play of volumes and layering was a wonderful aspect of the project, Marudadu said her favorite part of the design was the thoughtful positioning into the site which intentionally framed a massive cottonwood tree out of a third-floor window.
"It's a jewel of a building. It is one thing to draw on paper and think it's the right move, but I was there a couple of weeks ago taking photographs and the third floor is an open floor and we call it the tree house level and you look outside and you see this beautiful, massive cottonwood tree picture-framed in the window. You realize that is where the success was, we thought through it, we were responding to our context," Marudadu said. "That is really the success of design, continuing that thought process and taking it to the finish line and actually looking back and seeing it really came true."
It is that finer point, or the human element, that she sees as both a challenge and an opportunity facing the field of architecture today as the fast-paced evolution of technology continues to be integrated into the spaces and buildings people interact with and use each day. From mobile applications to monitor and manage use of space to air quality sensors and climate control systems, there are a number of innovative solutions and tools being introduced into the hospitality and commercial sectors meant to support safety, health, and wellness.
"I think it is all a good opportunity, but the challenge I see is we are, in a way, losing that personal touch and the opportunity for architecture here is actually to humanize the experience. Architecture has the power to make people pause and take cues from their surroundings and that is what we want from them," Marudadu said.
"It is not about making the tallest of buildings or the grandest of spaces, it is not about finishes and materials and what looks good; it is more than that. It is beyond that. It is the light that hits the wall, it is the sound of the space, it is really engaging all of the senses and it is what we slowly seem to be losing. We want to bring it back and we want that for the future of architecture," Marudadu added.
While sustainable, environmentally conscious design are important factors, she noted the risk is moving farther away from more nuanced elements of the emotive experience of physical space where light, shade, smell, sound, and material have the power and ability to disrupt and inspire. For Marudadu, who is inspired by the unknown and the idea each day will bring something new, the ability to imagine and take a project to fruition, like the Midtown Athletic Club where the legacy and storytelling is carried throughout while also looking to the future, is like magic.
"That's what is so exciting about what I do. I don't have all the answers—and definitely have more questions than answers. That is a good thing in design, having that open mind and getting into something without any preconceived notions," Marudadu said. "I think the devil is in the details and when everything just falls into place, it is like magic and the gratification you get is priceless."
First published in Great Lakes By Design: Architectonics, 2022
Text: R.J. Weick
Photography: (profile) M-Buck Studio LLC; (gallery) Courtesy of DMAC Architecture & Interiors
Selected DMAC Architecture & Interiors projects:
This slideshow requires JavaScript.