Visser Design delivers great experiences both during the design phase and in the home.
Michigan, a state known for its freshwater coastline boasting of more than 3,200 miles1 of undulating sugar-sand and island shore, has an approximately 50 percent chance of experiencing sunlight in an average year2. For J. Visser Design, a Grand Rapids-based residential design firm, natural lighting is an important aspect of creating a space that allows their clients to feel right at home.
"We are obsessed with sunlight: with bringing sunlight into a house," said Jeff Visser, principal and co-owner of the design firm. "When we design a house we try to imagine it if we were living in it. What we would want in it and in Michigan, sunlight is huge. When you do get it, you want it."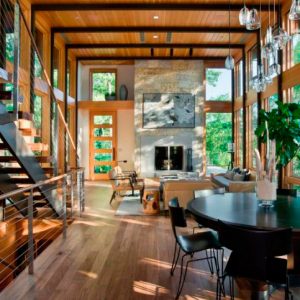 By paying attention to the position of both the house and windows in a residential project, the design firm is able to use what they call a "common sense" approach to sustainably creating a house.
"I think people's perception of a green project could be just the products put in it," said Visser. "There are a lot of things involved: it is walkability, it is building a quality house that is going to be there for a long time, for a couple hundred years; it is not going to be a house that is torn down in 40 years because it is not built well."
While J. Visser Design's portfolio of projects are all unique and at times provide challenges, such as building a house with space for two boats underneath it on an 75-acre island off of Drummond Island, the team approaches every job and site without preconceived ideas.
"It is really a blank slate and we try to get to know the client, the site they are building on, the neighborhood they are building in, the style they like, what the site brings in terms of typography, and views," said Visser. "Based on that information, we make a determination on what direction to go style-wise. We have done very modern and very traditional."
The design, style, and artistic choices in the firm's portfolio range from homes featuring vaulted ceilings with exposed beams encompassing an open living and dining space, tall windows inviting the outdoor lighting into the home; to a limited footprint contemporary design with a quarter-mile long elevated boardwalk on a remote property with challenging typography; and classic revival with white exterior and complementary dark shutters, and curved hallways with rows of floor-to-ceiling windows.
"We have intentionally tried not to get pigeonholed in a style," said Visser. "For us, it is really about getting the scale right, the amount of windows, and the sunlight coming in. it doesn't matter if it is modern or traditional spaces, as long as the proportion and scale are done right, it still feels good."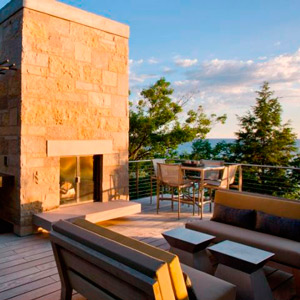 Recently the firm has noticed a trend toward modern design in residential projects, which Visser noted is a style emphasizing clean lines and incorporating a lot of glass to create strong indoor-outdoor relationships in each room. While modern design projects native to warm climates such as California, Florida, or Arizona can use very stark and cool palettes, Visser indicated the same choices don't always quite fit with Michigan.
"I think because of the climate we are in, colors and textures are a huge part of it and the type of materials that are used so it still has a warmth to it," said Visser. "If someone wants to use a lot of concrete, I think you have to balance that out with a lot of wood so there is warmth: a balance going on."
Although J. Visser Design primarily works in West Michigan on waterfront properties from the southwestern Kalamazoo area to the northern Bay Harbor region, the firm has also completed projects out-of-state, such as Jackson Hole, Wyoming.
Visser launched the firm in 1990 to focus on providing a service to individuals who were in-between the market segment of people who went to lumber yards for a basic set of prints drawn and those who hired a larger architectural firm that primarily did commercial work.
"There was a huge gap in between. The market I went after was sort of that gap; providing good design for a fair price," said Visser. "We have really built our business on developing relationships with builders…and making sure that every client that comes in our door is happy."
Since launching more than 25 years ago, J. Visser Design has grown through "word-of-mouth" to now manage nearly 10 active design projects and an additional 10 to 20 projects in the construction phase.
"We are very schedule-driven, so we don't take on more than we can handle and we are very hands-on," said Visser. "I try to keep my fingers in every project so there are only so many you can take on at once to do that."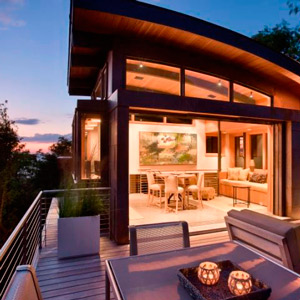 Curtis Visser, co-owner of J. Visser Design, said the firm has kept the business small and grown organically to maintain its high-level of service.
"We want people to have a good experience, so it is important to us to keep that high level of service," said Curtis Visser.
Whether the client have adventurous ideas or unique ambitions for their residential projects, J. Visser Design strives to create spaces that are not only scaled properly, are light and open, but also make their clients feel good in them.
GLBD
Visit J. Visser Design
1 State of Michigan: http://www.michigan.gov/som/
2 Ranking of Cities Based on % Annual Possible Sunshine, National Oceanic and Atmospheric Administration's National Centers for Environmental Information: http://www.ncdc.noaa.gov