Nestled among 16 acres of mature forest—and hemmed by a private deep-water marina—this design for sale in Charlevoix, Michigan is a private boater's paradise on the north shore of Lake Charlevoix. The property is listed at $2.99 million with Pat O'Brien and Associates Real Estate, a real estate brokerage firm specializing in Northern Michigan's luxury, residential, lakefront, and commercial properties. 
The property, located on Boyne City Road, features a waterfront yard with sunrise and sunset views, allowing prospective homeowners to step from the patio to clean, scenic waters and shoreline. Owners can enjoy a deep-water harbor with room for multiple vessels—sail or powered—and extra room to spare. It also includes approved permits and plans for a waterfront and harbor renovation, providing many possibilities for homeowners to perfect their parcel.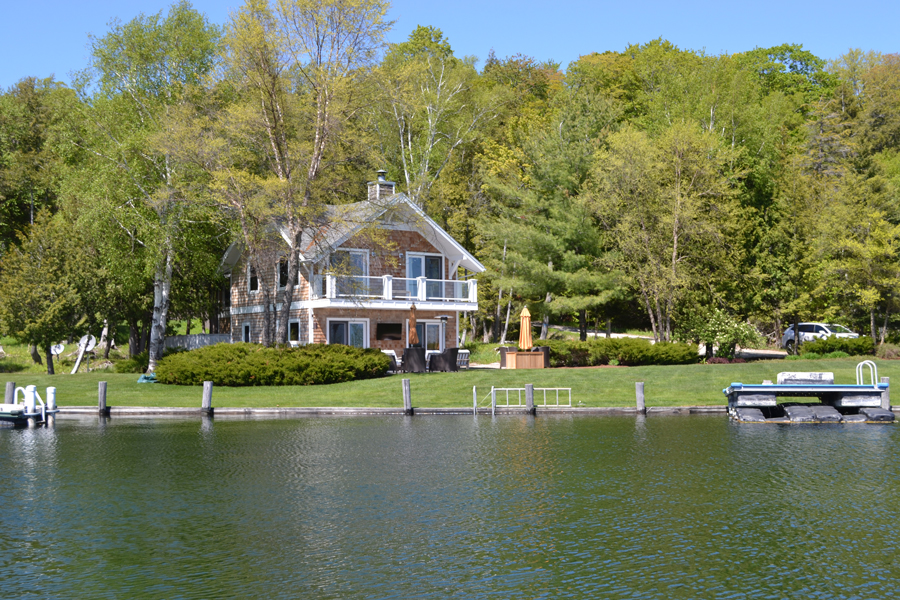 The property's harbor is protected by a 500-foot pier, blending boating amenities with private access for the family compound on shore. The home, approximately 1,500 square-feet, provides a quaint two-story waterfront destination for gathering and entertainment, and features the craftsmanship of renowned Northern Michigan builder and woodworker Andy Poineau. 
A full set of plans was created for the property—which was designed for mobility on the site—and includes a generous storage structure topped with living space. Wood shingles and extended roof eaves immediately create a cozy, private appearance on the exterior of the home, which includes a second-floor balcony—encased by transparent guardrails—overlooking the shoreline. The interior evokes a similar feeling, with warm wood composing many of the built-ins and moldings. 
In all, the property blends key amenities for enjoying watercraft with a comfortable indoor setting for enjoying company. With access to Charlevoix's surrounding bounty of outdoor and indoor recreation, it is an exceptional destination for lake living in a premier location for Northern Michigan real estate.   
Photography: Pat O'Brien & Associates Real Estate
Text: R. Collins | GLBD senior staff writer