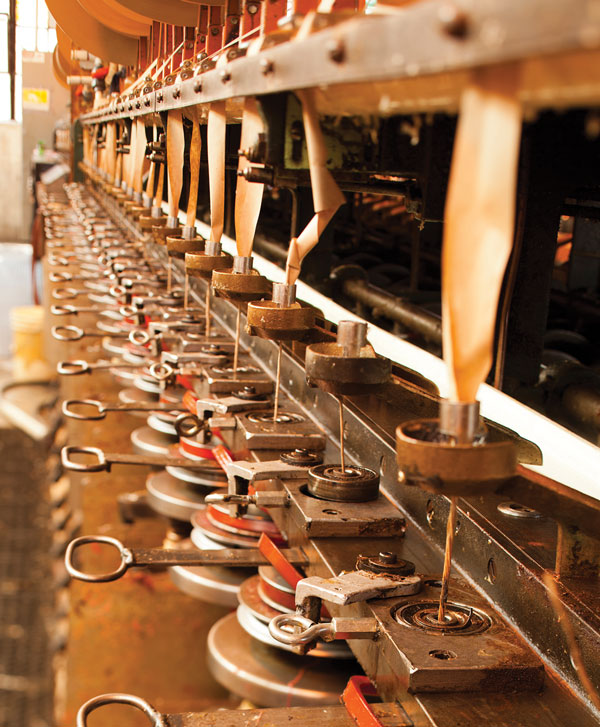 By R.J. Weick
Lloyd Flanders Inc. has become known as a premier outdoor furniture designer and manufacturer built upon a dedication to great design and craftsmanship. For more than 110 years, the Menominee-based company has cultivated a reputation on par with its innovative patented loom process; high-quality, durable materials; and timeless, handcrafted furniture.
While its collections impart a sense of well-balanced function and style—integrating visual aesthetics with comfort-scale seating—it could be argued its position in the industry is based upon a single, interwoven cellulose strand.
In the early 1900s, which was a time when cane-wrapped frames was a choice method for crafting furniture, Founder Marshall Burns Lloyd developed a rather innovative alternative: the weaving of cellulose strands into a wicker fabric. While the 1917-patented Lloyd Loom process has evolved throughout the decades to integrate advanced technologies, the unique and timeless method to creating distinctive outdoor furniture has endured for an impressive 100 years.
"Our factory has been producing wicker furniture since 1906. It started off as the Lloyd Manufacturing Company making wicker baby buggies and the Flanders family bought the company in 1982," said Jess Flanders, marketing manager at Lloyd Flanders. "We started making the outdoor furniture at that time. In 1985 we produced the first all-weather outdoor wicker. That's kind of our claim-to-fame."
Behind the clean-lined, island relaxation-inspired Catalina collection; or the unique five-strand weave emulating natural sea grass in the Mandalay line; is a process that begins with a single strand of cellulose fiber twisted into cord and wound onto small spools. The cord is then rewound onto larger spools before feeding into the looms, which draw simultaneously upon more than 500 spools to weave the wicker fabric.
However, it was the drive to improve upon an already proven process that led to adding steps to produce a continuous strand not prone to burring, cracking, or peeling, such as a long-lasting, high-performance Durium polyester coating. The end result was all-weather wicker furniture with durability, flexibility, and minimal maintenance requirements.
"Our product development process is always ongoing. There isn't a beginning or an end to it. It's just constantly evolving," said Flanders.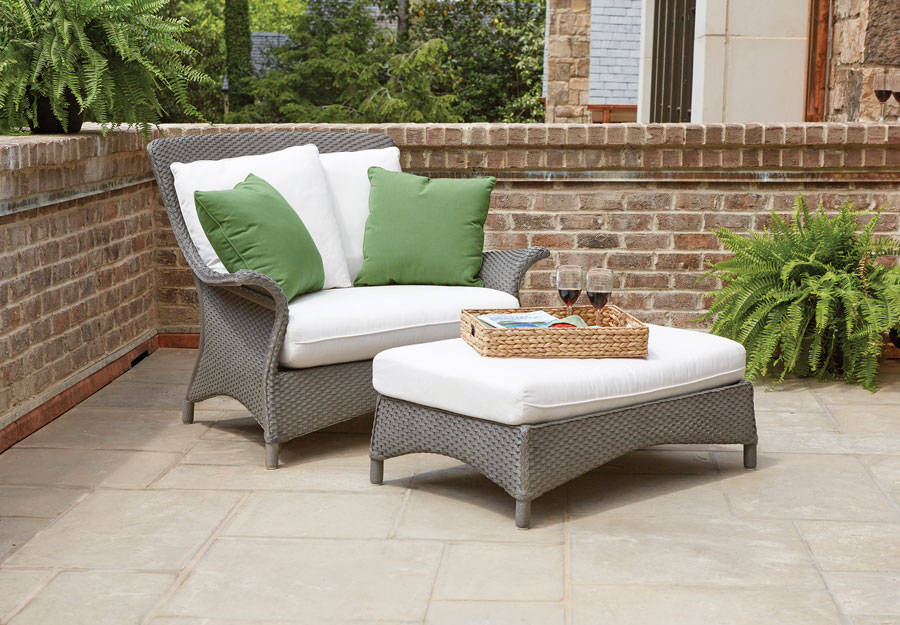 "We're always trying to improve all of our materials and challenge ourselves to come up with what's next, how can we improve this process, how can we improve this design, is this the best function, and how are people using their furniture in their homes?" added Flanders.
From the loom, the woven wicker fabric is then dipped into a protective coating and reinforced with aluminum rods to ensure the natural-fiber product has the strength and durability of other outdoor furniture, according to Flanders.
Once the woven fabric is sealed to withstand outdoor elements ranging from the southern Texas sun to the northern Canadian cold, the wicker is cut to the specifications of each piece of furniture and Lloyd Flanders' team of skilled craftsmen fit the weave to shaped and welded aluminum frames. Custom-made steel staples and trimmed edges quickly follow, until the wicker braid is handcrafted into place and beautifully wrapped.
The fully assembled furniture then receives a double coat of the environmentally-friendly, polyester resin-based Durium paint. From there, the wicker furniture is granted its finishing touches with the addition of customized fabrics, and dual-core cushions, which are hydrophobic, hypoallergenic, and antimicrobial. While most of the cushions feature 100 percent acrylic fabrics, there are others with a polyester blend.
"The durability of the acrylic fabric really outshines anything else out there," said Flanders. "We have really seen huge advances in performance fabrics since we have been in the industry."
With more than 20 different paint finishes and more than 500 fabrics to choose from—not including the company's accommodation of customer-provided fabrics—Lloyd Flanders is able to deliver a truly customized product for clients through its 22 unique furniture collections.
"It can get overwhelming with the sheer number of choices, but that is what part of your home is all about," said Flanders. "We want people to use their spaces and be comfortable by making it exactly what they want."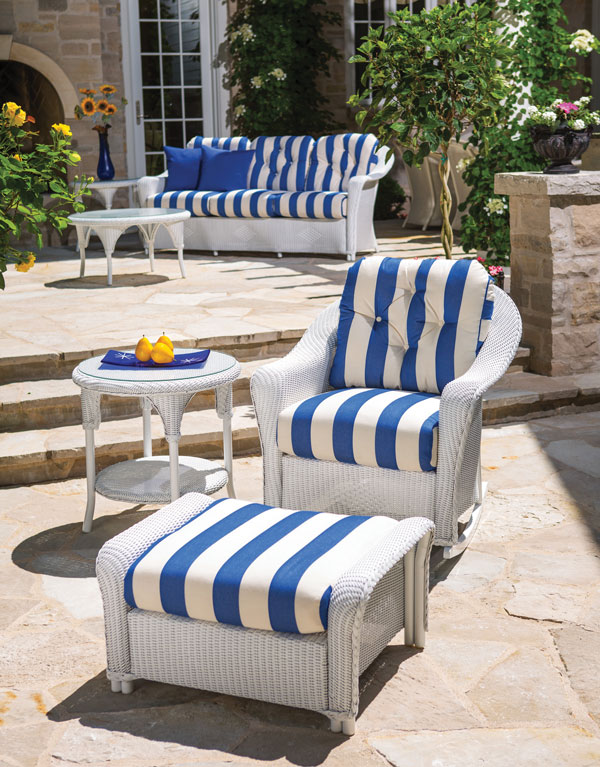 Lloyd Flanders also offers a selection of woven vinyl all-weather wicker furniture with aesthetic designs inspired by island romanticism, modern elegance, and transitional style; and Forest Stewardship Council-certified Brazilian teak wood tables and accessories to complement the Lloyd Loom collections.
"We have a line of teak products we pair with our wicker, because people aren't doing the matching look they used to do in the '80s and '90s. They like a little more diversity," said Flanders. "They can mix and match collections, which is something we are seeing people do a lot more now. They might buy one piece from one collection and then pair it with an end table and cocktail table from a different collection."
Each selection reflects a slightly different visual design aesthetic, whether it is the bold lines of the robustly urban Mesa collection, draping side skirt and open weave of the Havana line, or refined elegance and delicate detailing of the Nantucket collection. Drawing inspiration from places, nature, in-house design team, and outside designers, Lloyd Flanders creates a robust portfolio of outdoor furniture ranging in traditional, and transitional, to contemporary.
"We try to have a cross-section of looks that will work with our natural materials. With Catalina, we had been working on something that could be more modern and challenged ourselves to make wicker as something more exciting than we had seen," said Flanders.
"It has been very successful. People love the outdoor natural aspect and when you put a natural material in there and blend it with the teak, it takes the coldness out of the metal materials you see out there and warms it up," added Flanders.
With its longstanding run in the industry and distinctive wicker designed furniture, which has been featured both on private residential patios and at historic hotels across the country, Lloyd Flanders' slogan of "woven for life" is an apt one.
"Design is the perfect balance of form and function. You have to make it beautiful and appealing, but it also has to be comfortable, livable, and durable," said Flanders. "It is a tall order for us, because we pride ourselves on making quality, durable, handcrafted furniture. The design isn't going to be trendy, it is going to be timeless."