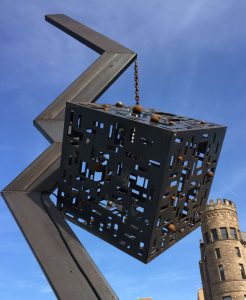 Text: R.J. Weick
Whether public or private, noticed or overlooked, art can cause a shift in how one encounters space and contemplates the culture and history of its community; or in the very least, is an emotive and dynamic expression with the potential to disrupt thought. It can create a statement; which is what has come to define the work by the Nordin Brothers—Erik and Israel Nordin—who have been creating sculptural objects for space in and around Detroit for more than 20 years.
The Nordin Brothers founded the Detroit Design Center in 1999 and have developed an intuitive and complementary style marrying metal and glass into a distinctive sculptural form. While the vast majority of the Detroit Design Center's work is custom-commissioned for both public and private clients, the Nordin Brothers were recently invited to showcase their personal art throughout Beacon Park in Detroit in late fall 2017.
The traveling sculpture exhibit, known as Spark, features 10 large-scale sculptures ranging from seven-foot-tall-to-18-foot-tall that are inspired by the creative energy fueling the positive momentum in Detroit. The exhibit was sponsored by the DTE Energy Foundation and produced by Detroit Downtown Partnership.
---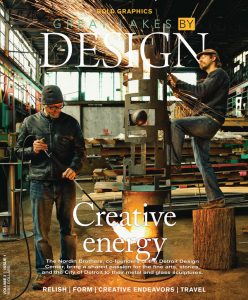 Read the full story in print in Great Lakes By Design, Volume 2 Issue 1: Bold Graphics. 
Cover photo by Brian Doben