By: R. Collins
On September 29, 2018, theMART, formerly known as The Merchandise Mart, will host a series of curated digital artworks projected across nearly 2.5 acres of its exterior riverside façade after dusk around 7:15 p.m., launching an inaugural program known as Art on theMART. 
The inaugural exhibition will showcase the works of renowned artists Diana Thater, Zheng Chongbin, Jason Salavon, and Jan Tichy; exploring genres and subject matter while using the digital model as a springboard for visual arts in the 21st Century. The artists were selected and commissioned by Art on theMART in consultation with a curatorial advisory board shaped by theMART and the City's Department of Cultural Affairs and Special Events, as well as in partnership with the Terra Foundation of American Art as part of Art Design Chicago, which is a year-long celebration of Chicago's art and design legacy. 
"Chicago has long been known for its innovative art, architecture, and design; and we are proud to celebrate these inaugural artists as they are interwoven into the fabric of our iconic landscape," said Chicago Mayor Rahm Emanuel in a press release.
As a city with displays of architectural prowess dotting the landscape and precious collections from pioneering artists housed in local museums like The Art Institute of Chicago and the Museum of Contemporary Art Chicago, Chicago is poised to once again make history as Art on theMART is expected be the largest and longest-running permanent digital art projection in the world, according to a press release. The program is anticipated to run for approximately 35 minutes and culminate in a one-minute pyrotechnic display.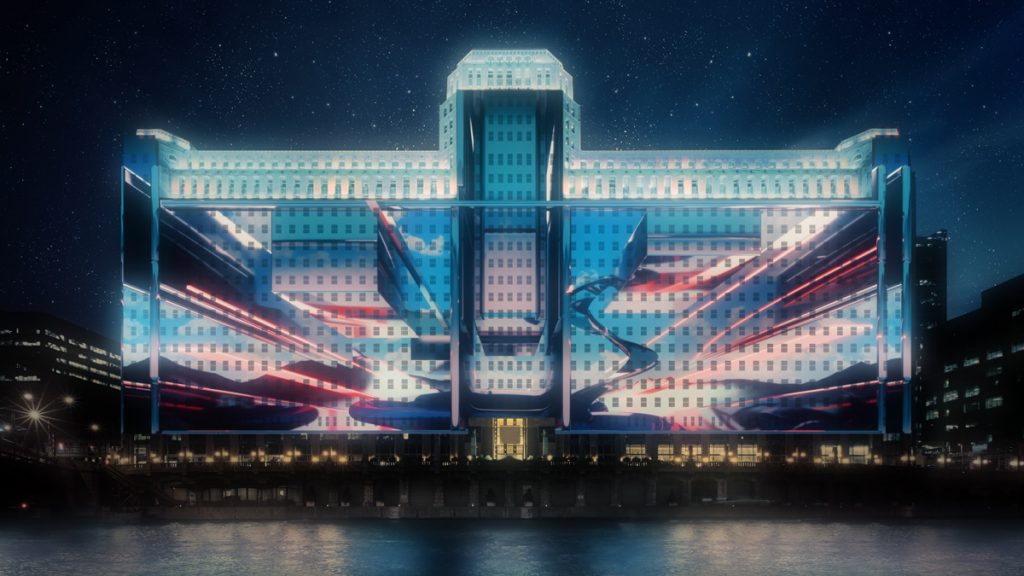 Following the launch event, projects will be displayed for approximately 10 months, from March 2019 until December 2019, for up to two hours per night, Wednesday through Sunday. 
"We're eager to welcome Art on theMART into the pantheon of iconic public artworks in Chicago," said Mark Kelly, commissioner of the Department of Cultural Affairs and Special Events, or DCASE. "This installation is a result of Chicago's first Public Art Plan and has the potential to be as impactful as Cloud Gate, the Picasso, the Pilsen mural, and the thousands of public artworks which have transformed how we see and experience our city."
To make the large-scale production possible, Obscura Digital, which is known for its extensive architectural projection mapping on iconic buildings around the world—such as the Vatican and the Empire State Building—partnered with theMART owner Vornado Realty Trust and architecture firm Valerio Dewalt Train Associates, Inc. to design and implement a 34-projector system that will cast almost one million lumens on the theMART's façade. 
The permanent projection system will also feature a new software-driven platform allowing theMART to curate an ongoing, engaging artist exhibition. To manage and curate the projected artwork, the City of Chicago and theMART—with the private funding of Vornado Realty Trust—have developed a 30-year agreement to continue producing an exhibition free of branding, messaging, or sponsorship credits. 
"theMART's gift to the city is a transformative public art platform distinguished by its unparalleled scale and long-term potential," said Cynthia Noble, executive director for Art on theMART. "The inaugural set of projects, with the high caliber of artists, range of subjects, and technological innovation, signals limitless opportunities for artists and cultural organizations to engage audiences from Chicago and around the world."
theMART, which is a 25-story business hub for interior designers, architects, contractors, business owners, and buyers located in the River North Submarket, has served as a platform for innovation and creativity for Chicago, and become intertwined with the city's continually unfolding artistic and architectural history. Established in 1930 and encompassing nearly 4.2 million gross square-feet of city block, theMART welcomes nearly 10 million people on an annual basis. 
Photos courtesy: Carol Fox and Associates