When it came to this Arts and Crafts-inspired home set on the rolling terrain of Cantigny Golf Club's 300-acre property in Wheaton, Illinois, the clients looked to bring Joan Kaufman, FASID, LEED AP, founder and president of Interior Planning and Design Inc. of Naperville, Illinois, on board with their existing design and build team. Recognizing its potential for their dream home, the clients were drawn to, and purchased, two sites that would ultimately be combined into a single property. They then challenged Kaufman and her team with a comprehensive new build that would capture a sense of serene delight throughout it as it nestled into its envisioned landscape.
"My philosophy, I call it the 'two wows.' When you are in a space, first of all, the overall space should evoke a sense of wonder. That sense of wellbeing one gets in a space that is well designed, draws out that 'wow.' There is something amazing about it, that initial impression of 'wow this is great,'" Kaufman said. "The second 'wow' comes a little while later, once the client absorbs the space and is able to have a second realization. The second 'wow' is what I really strive for and that is where a client truly loves it. It is deep. They feel a true sense of appreciation for all of the details that went into it."
Established in 1990, Interior Planning and Design Inc., or IPD, is a full-service firm specializing in turn-key commercial and residential projects, working with clients to achieve their goals without compromising beauty and comfort. Since then, the firm has developed a portfolio of work informed by its mission to foster harmonious environments that are healthy for both client and environment. Led by Kaufman, a nationally recognized award-winning designer, the design staff leverages its industry-specific knowledge and experience to help coordinate every detail throughout the process, working with clients from initial conception to completion. The studio also coordinates with design and build partners, assembling teams that can deliver client vision on time and on budget. With a practical eye and relentless attention to detail, IPD strives to develop long-term solutions that keep in mind that life, design, and people matter.
Inspired by the impact design can have on the human experience, and the value interior designers can provide in the art of designing socially responsible, healthy, and sustainable spaces for people, Kaufman has dedicated her career to creating complete environments for clients that leave them with a sense of wonder.
"It is a calling. It is not just a job; it is something I think is in my being. I think for any good artist really, it becomes part of you. I don't know how to separate myself from design," Kaufman said. "The design process is part of who I am now and after you've done it for a while, it really does become that more and more. It is just an outgrowth of my being. It is my gift to the world, my way of making the world a better place, my way of contributing in some way. That is what design is for me."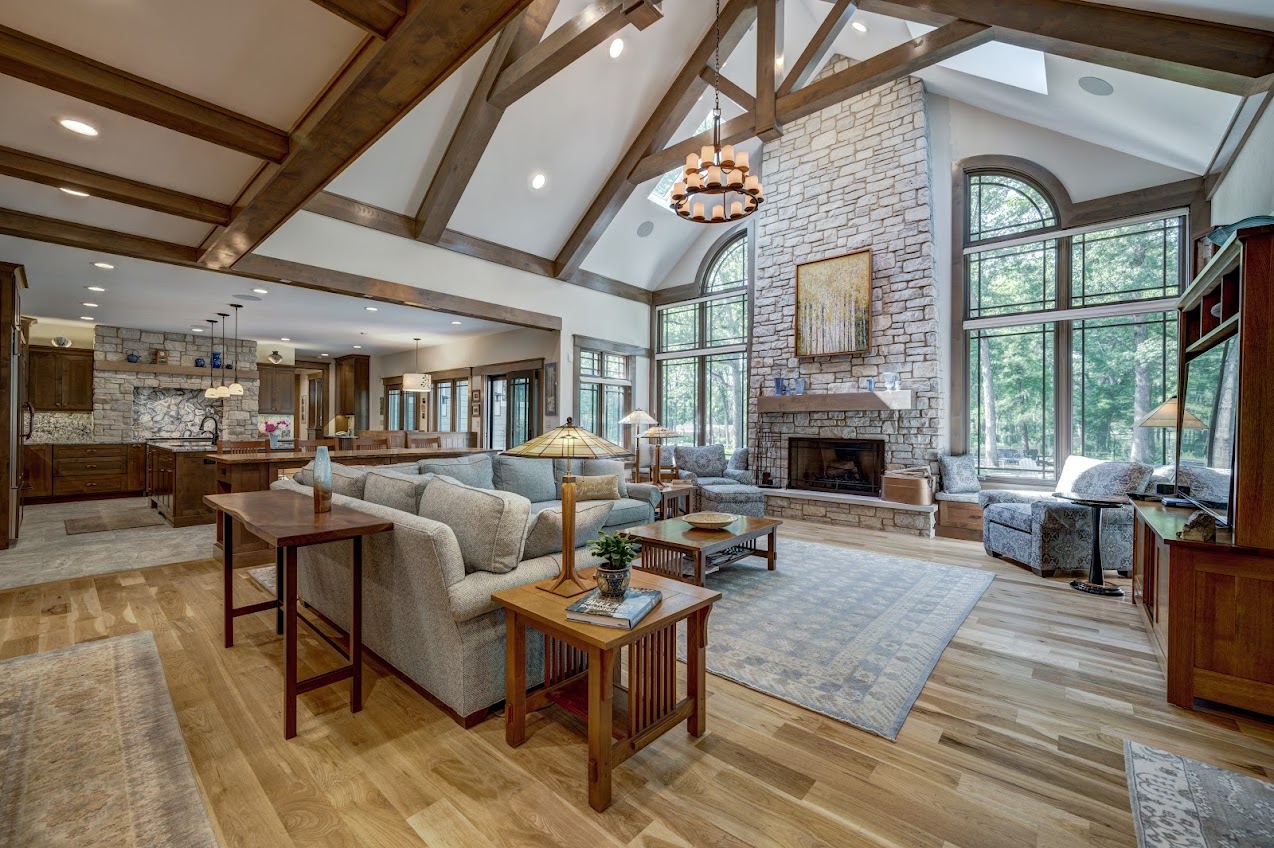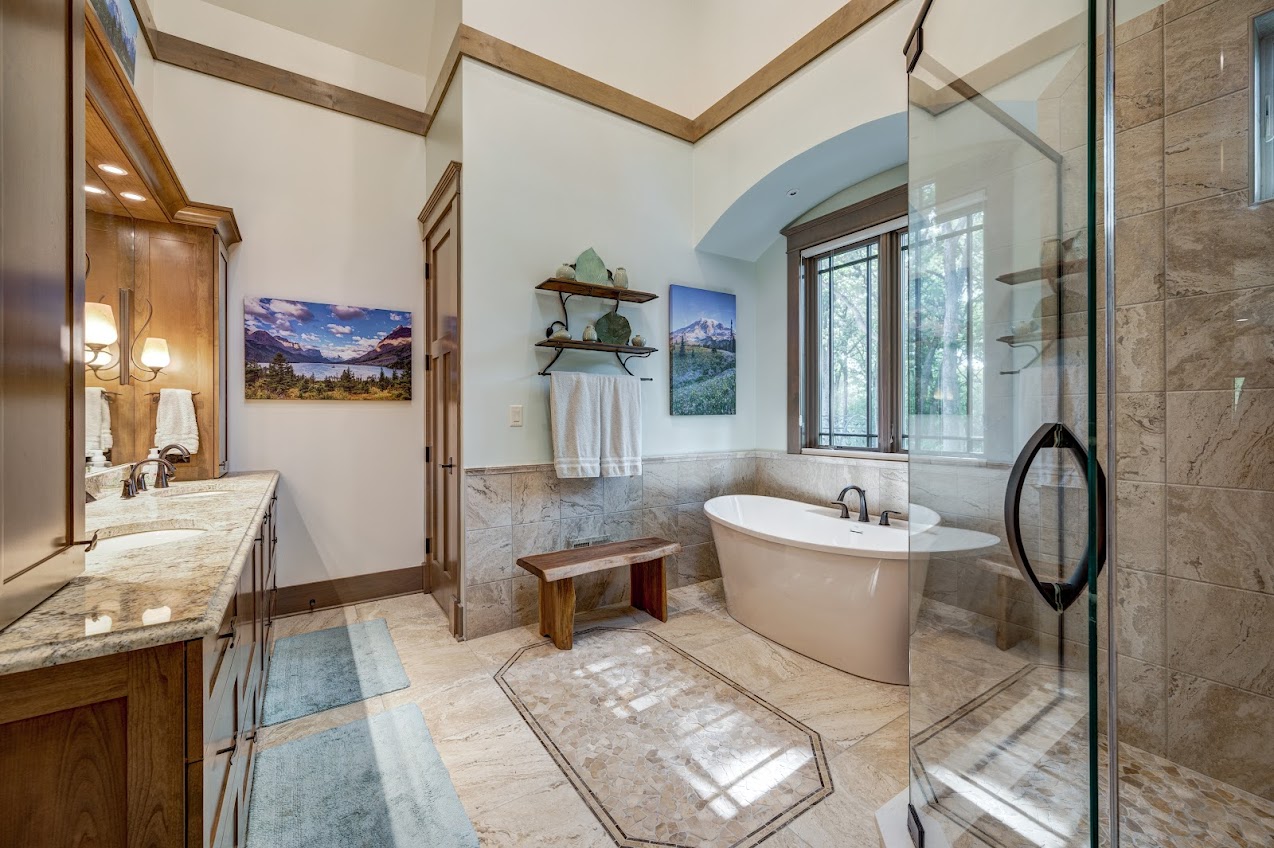 For Kaufman, transforming space for clients is a vocation that continues to inspire her and a calling that came long before she founded her own firm 33 years ago. Her interest in the field was initially sparked while sitting in on consultations between her mother and an interior designer when in the seventh grade.
"I've loved design since I was very young. I like making things. I like building things," Kaufman said. "I think I got the bug and didn't know it until years later in high school when you are trying to figure out what to major in, so I started at the University of Illinois as an art major and then switched into interior design and then ended up double majoring and have been doing it ever since. I just love it."
Initially earning bachelor degrees in both interior design and art history at the University of Illinois at Urbana-Champaign, Kaufman went on to complete additional coursework in the architectural program at the University of Illinois at Chicago. As a registered interior designer in Illinois and licensed in Florida, Kaufman has also been active as a member of the American Society of Interior Designers, or ASID, throughout her career, serving on the National Board of Directors of ASID, as a member of the ASID-IL Board of Directors, and as past ASID-IL chapter president. In 2016, ASID-IL also recognized her with a Designer of Distinction award for her contribution to the profession and distinctive body of work.
"No two days are the same. I love being creative and I love people. I do feel like I am a problem-solver. Most people do something with interior design, because something is not working. I love being able to make people's lives easier, ease their burden a little bit, and give them some joy, increase their wellbeing, and help them," Kaufman said.
"I just love that piece of it, because it is a personal relationship you have with the client. They talk to you, they confide in you, they tell their story and understanding someone's story and being able to take that and turn it into something real, is very meaningful to me. What inspires me, is my ability to transform a space and the transformation of a space is effecting a positive change in someone's life," Kaufman added.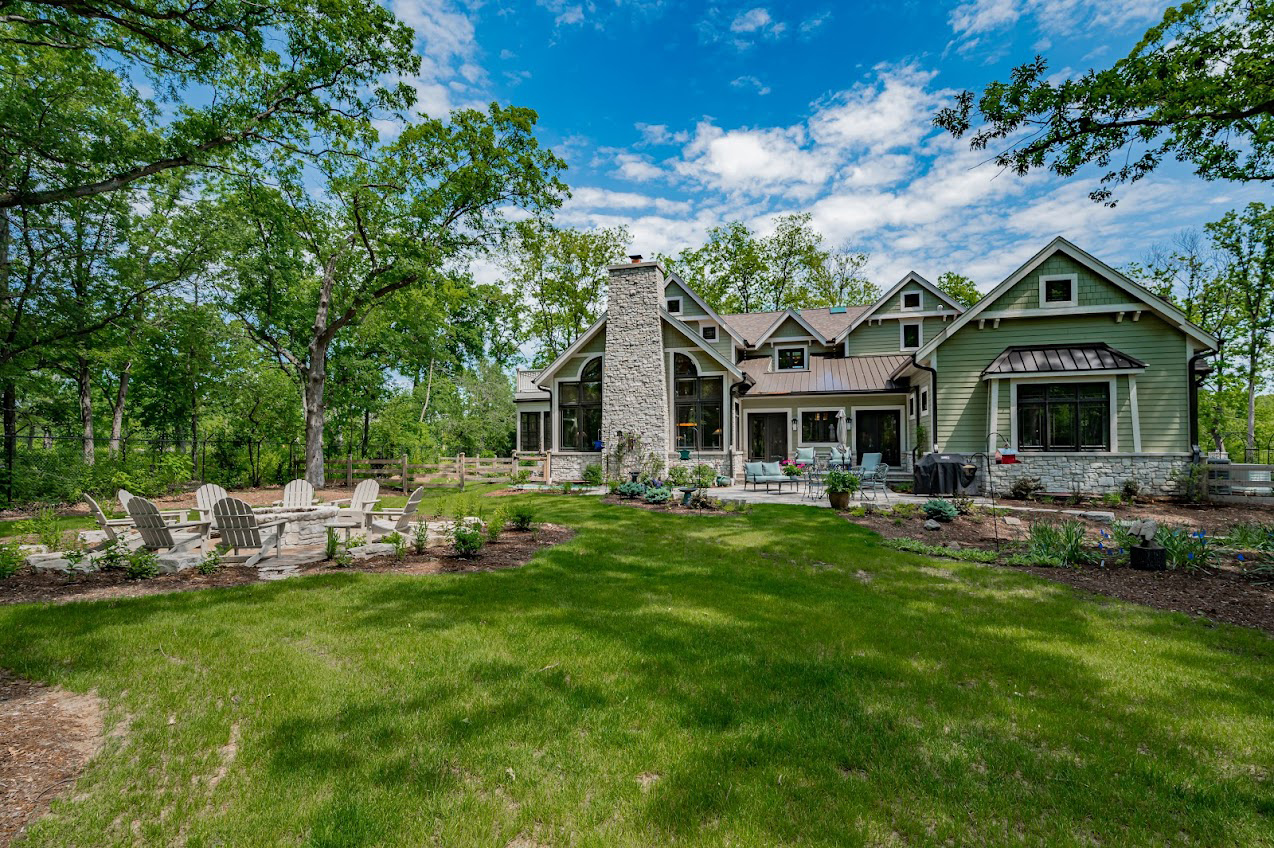 The client of this Arts and Crafts-inspired home had previously worked with Kaufman in the past, involved in a number of smaller projects as well as a modest residence in Wheaton over the last 15 years. Kaufman noted that interestingly, the new build actually came as a referral for the repeat client after she had worked on the client's sister's home in Glen Ellyn, Illinois.
"I built a third story addition right before COVID that turned into their lifesaver—a beautiful project where we completely gutted a third-floor attic and turned it into an amazing living space by adding dormers and many amenities, working through permits and entitlements with the city—and this client came to me and said, 'you know, my sister doesn't stop raving about you and I've given you a few little projects, how do you think you can handle this big one?'" Kaufman said.
"They had already talked to a builder and they were in the process of working with an architect and it was interesting, because I knew the architect and we had worked on commercial projects together on several occasions. So, it was a win-win and the client gave me the project. Then probably about three months in, on interior design, they got the price back from the builder and it was significantly higher than anticipated so they scrapped the project," Kaufman added.
Self-admittedly heartbroken, but not dissuaded, Kaufman said she rolled up her sleeves and presented a number of build partner alternatives who might be able to take on the project mid-process. She noted the client chose to move forward with the project team that would ultimately comprise Michael Sparks, architect, of Sparks Architects Inc. in Elmhurst, Brad Drendel Builders of Naperville, and Joan Kaufman of Interior Planning & Design, Inc.
"This team is like a dream team. We all had a connection to one another separately, so I knew the builder and I knew the architect, but they didn't know each other, and I knew the client. I enjoyed being the connector. I had an opportunity to help all these people get to know each other. Having a team like that where everyone likes each other, knows each other, and works together, things can happen that might not happen otherwise," Kaufman said. "It's beyond professional, it becomes more of a colleague, friendship; it makes the project more successful in many ways."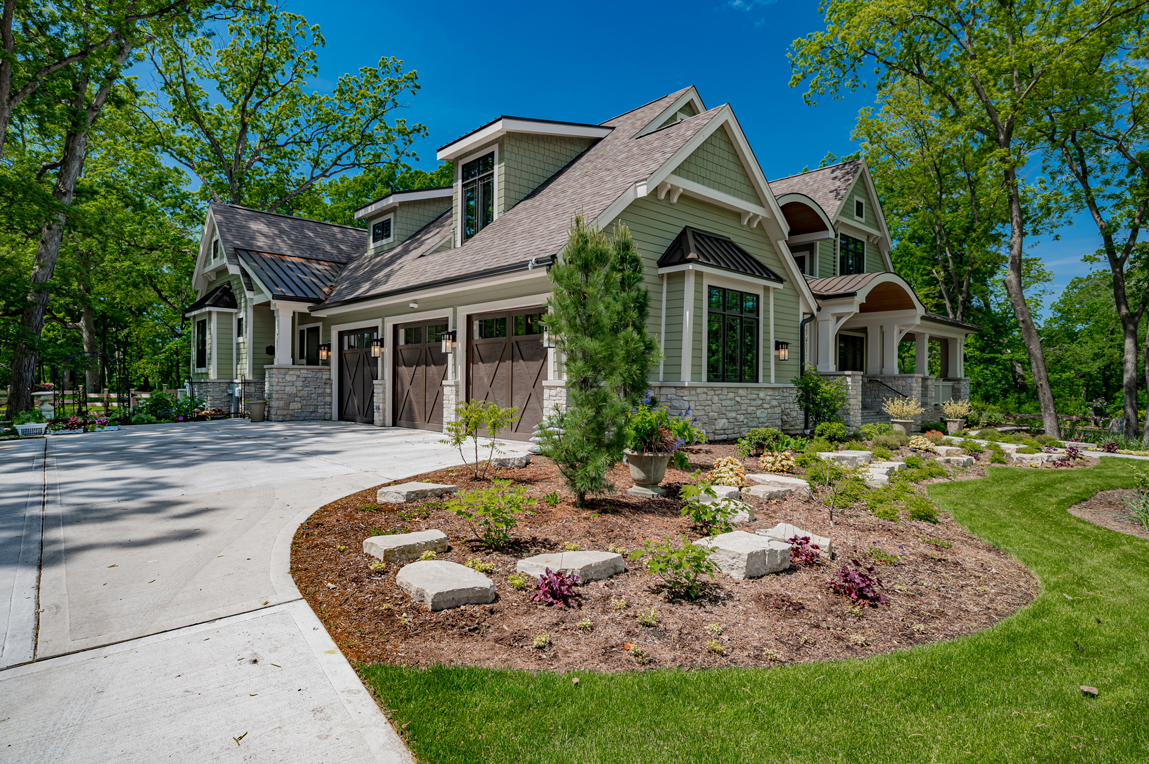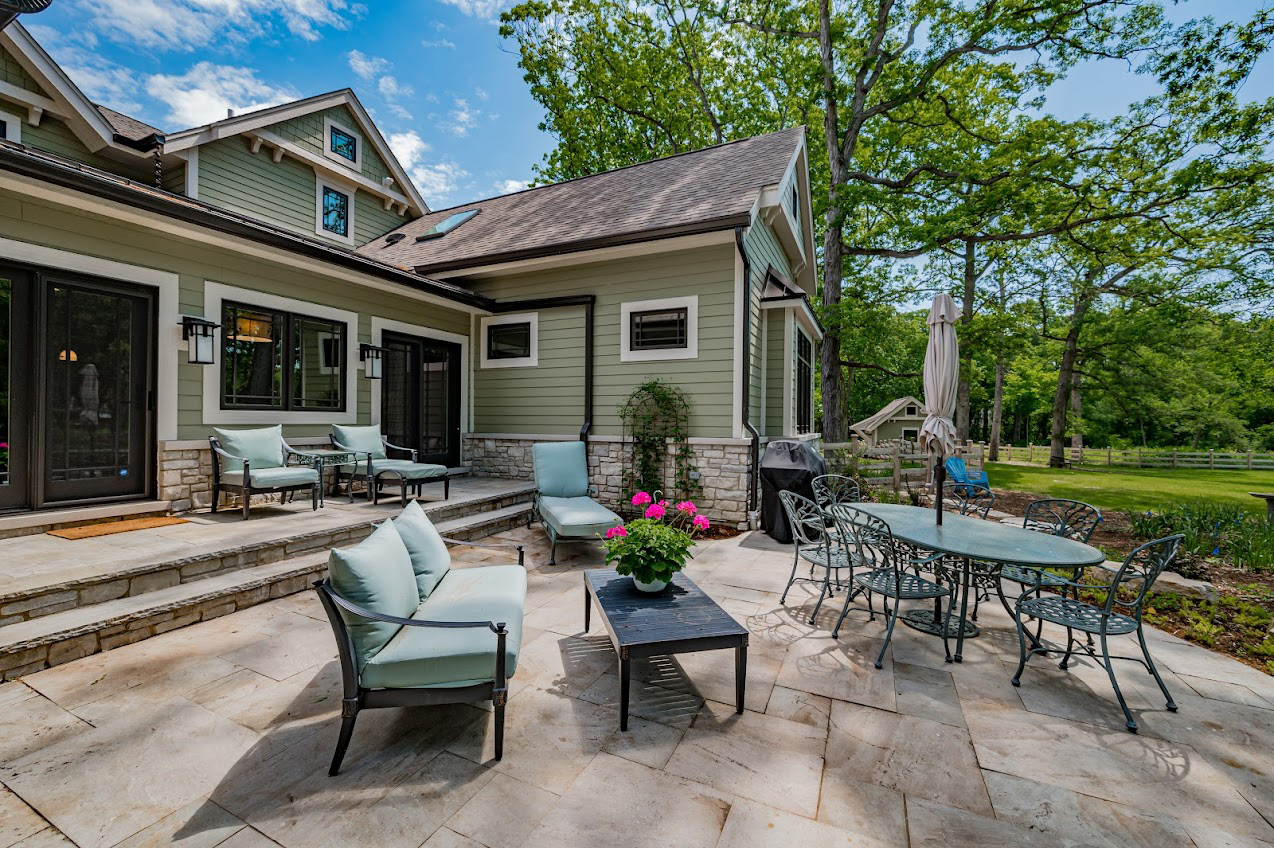 Kaufman noted the home is built on a site that most people wouldn't have wanted despite the fact that it backed up to the golf course. The client, however, as a landscape architect, recognized the potential of the property and could envision how the home now nestles into its roughly two-acre, combined double lot landscape.
"She had an eye for this property. It was surrounded by the golf course, but it was all scrub brush and you really had to look beyond: she can—and she did. It's gorgeous," Kaufman said. "My client purchased the property and then worked with the architect and engineers on the site design. I was heavily involved in the space planning, kitchen and bath design, and millwork design."
The vision was to create a welcoming and serene retreat that had a strong relationship to and with its landscape, supporting both an affinity for golf and for the outdoors for clients with adult children and families. Kaufman noted the overall look and feel of the home began with the client's love for the Arts and Crafts style, integrating a few of the pieces of Stickley furniture—an American brand and manufacturer with more than 120 years of crafting heirloom quality furniture—into the design.
"We decided to go forward with that look and the architect brought that into the way the property and the home were designed, reflected by the shape of the columns and the styling on the exterior. I helped select the colors on the exterior as well as the interior stone and all light fixtures. The architecture and interior design on this project are extremely integrated. We had a really good team where everyone respected each other and it was just a lot of fun," Kaufman said. "I'm very focused on sustainable, healthy materials and products that are healthy for my clients and the environment. [The client] is also very into healthy, sustainable products, which was a really good fit."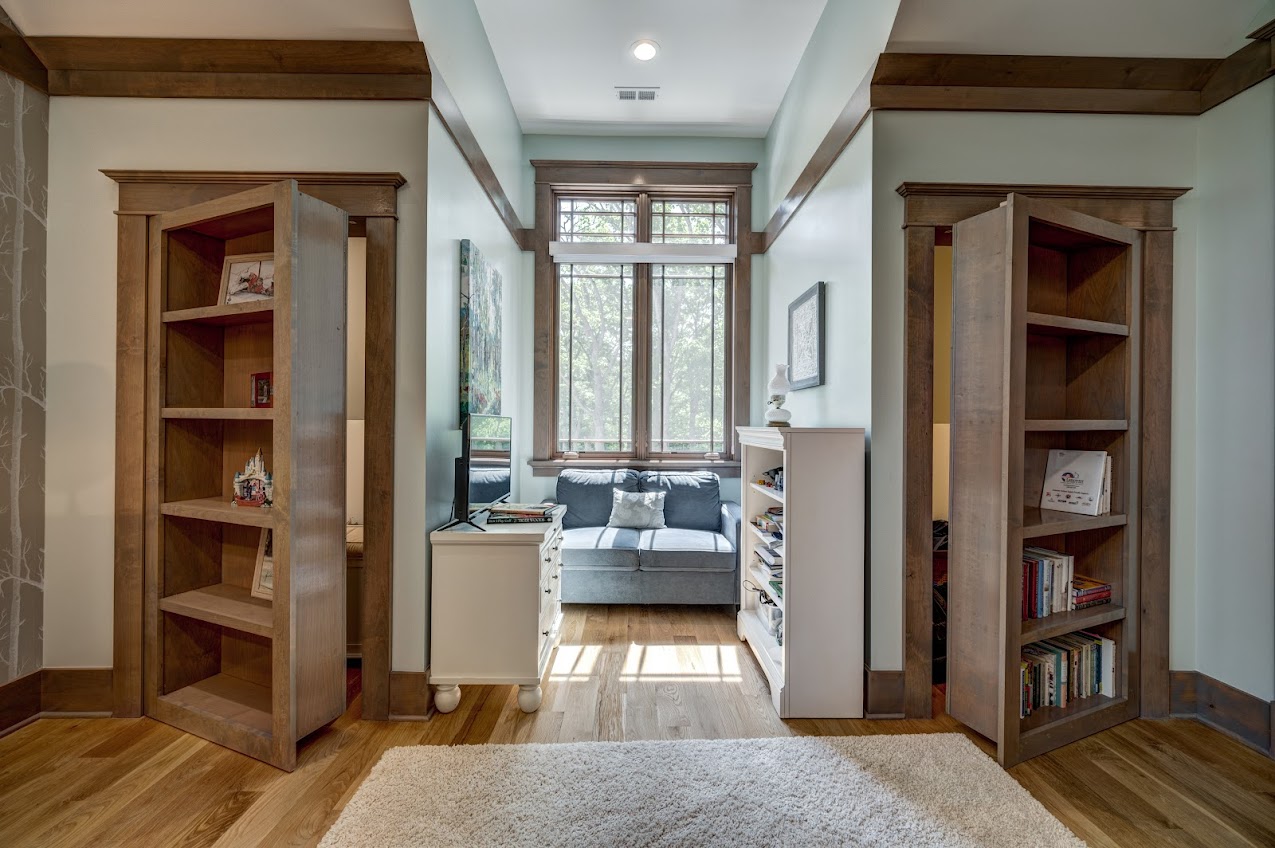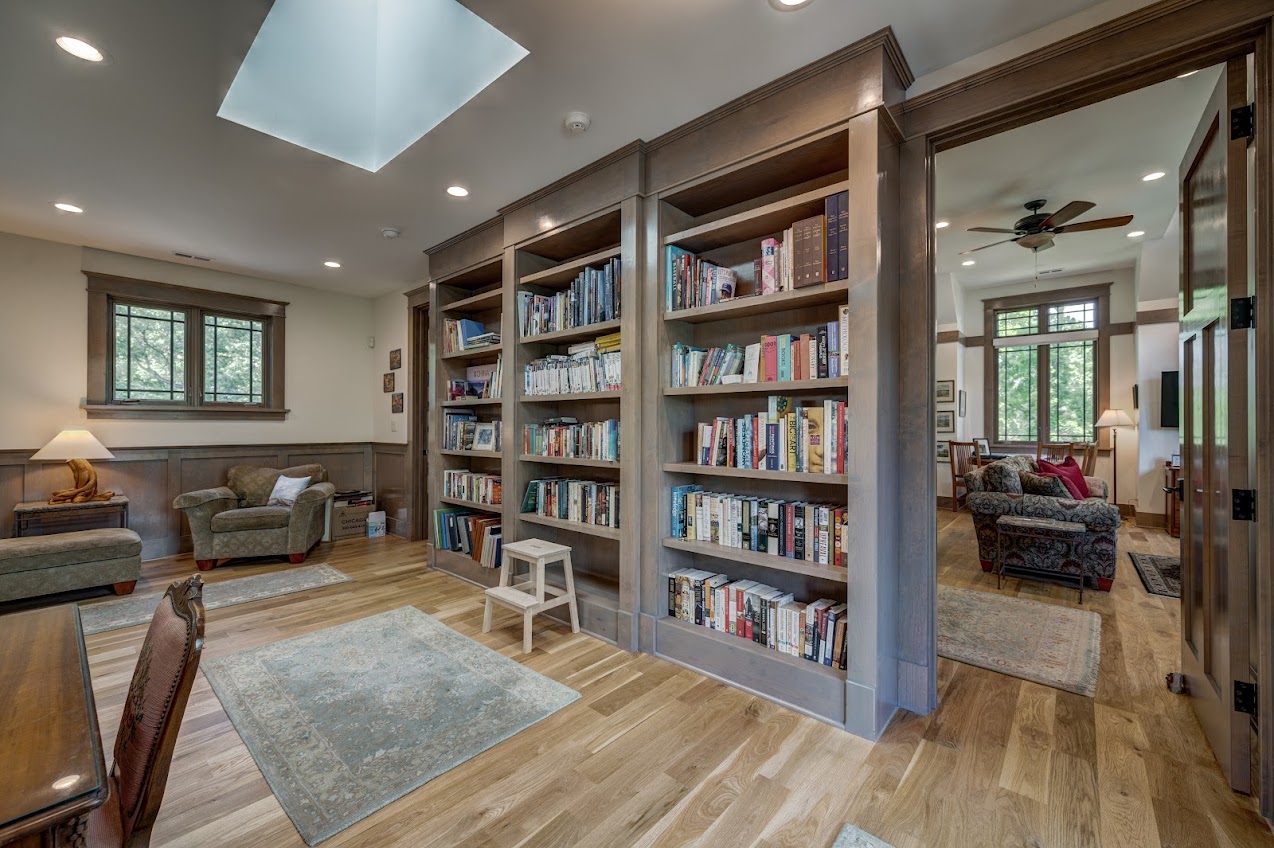 The project, which took about a year and nine months to complete, to Kaufman was a dream for the firm since the team was involved in every little detail from beginning to the end, from where the staircase would go, to the integration of faux trusses in the ceiling for architectural ambiance, and the design of the wine room. The firm was also involved in designing in the built-in bookcases that serve as doors to hidden spaces within the home, curating the powder room on the first floor that uses a piece of solid quartzite on the wall, and designing the custom booth and table in the kitchen. Kaufman and her client had a lot of fun choosing the agate stone for the backsplash in the kitchen and the Alaska Blue granite countertops. They worked with Alpine Stained Glass Inc. of Plainfield, Illinois and a custom cabinet builder to help complete the kitchen space, including the live-edge countertop made from a tree onsite. While the client, an avid nature enthusiast and as a landscape architect, was reluctant to remove the large, white oak tree in the center of the property, it unfortunately needed to be cut down to build the home. Kaufman noted they hired an arborist and had the tree milled and fashioned into a live-edge countertop for the island between the kitchen and great room—fittingly, near the original location of the tree.
"The counter is beautiful and a fitting tribute to the beauty of the trees on the lot, adding dimension and interest to the space. We designed complementary cabinets with custom stained-glass doors to complete the look," Kaufman said.
"Coordinating the many details of this project was essential to its success—project management and coordination are one of my strengths. I think that helps, because we worked with more than 30 vendors to get everything built. Every detail was custom designed and coordinated to ensure our client acquired the Arts and Crafts style home she dreamed of. My design philosophy is if a client has a vision of something, we strive to make it happen. It is not about us; it is about them," Kaufman added.
Kaufman also noted lighting is an integral part of the overall design and worked closely with the architect to recognize where and how overhangs in the rooflines might impact how much light would permeate space and interior window treatments. It is also about understanding proportions and bringing architectural heights down to human scale, as lighting often goes hand in hand with ceiling details.
"We look at light holistically. We look at it from an overall lighting and then look at the task lighting, the ambient lighting, and the accent lighting. There are proportions that we use," Kaufman said. "I usually like to do something special on the ceiling if I can, but in this particular space, because of the high ceilings, we had to pay close attention to how to bring it down to human scale and how to get some lighting in the right places. It's really a comprehensive view of lighting. I think some of the rooms have five or six types of light."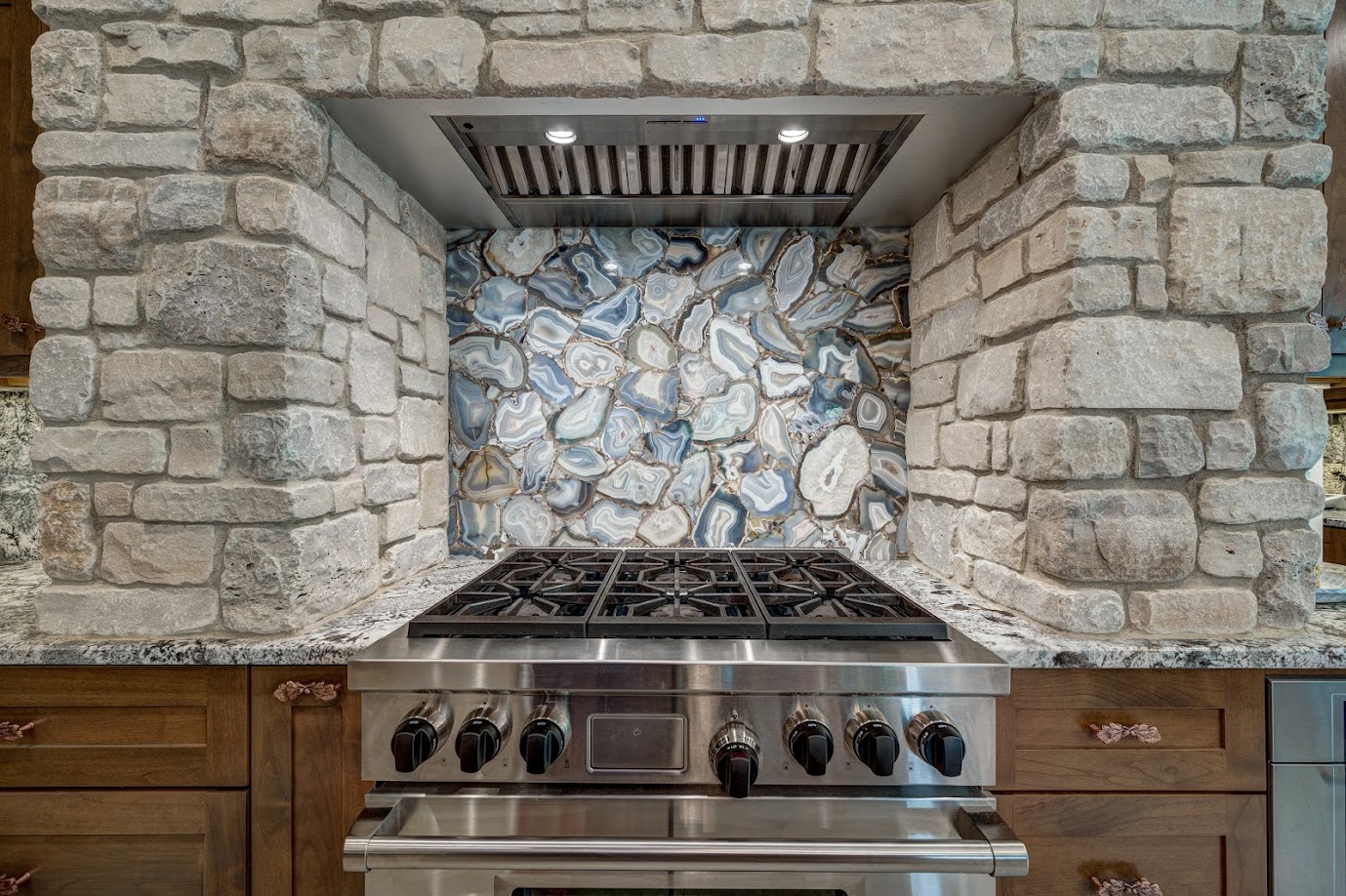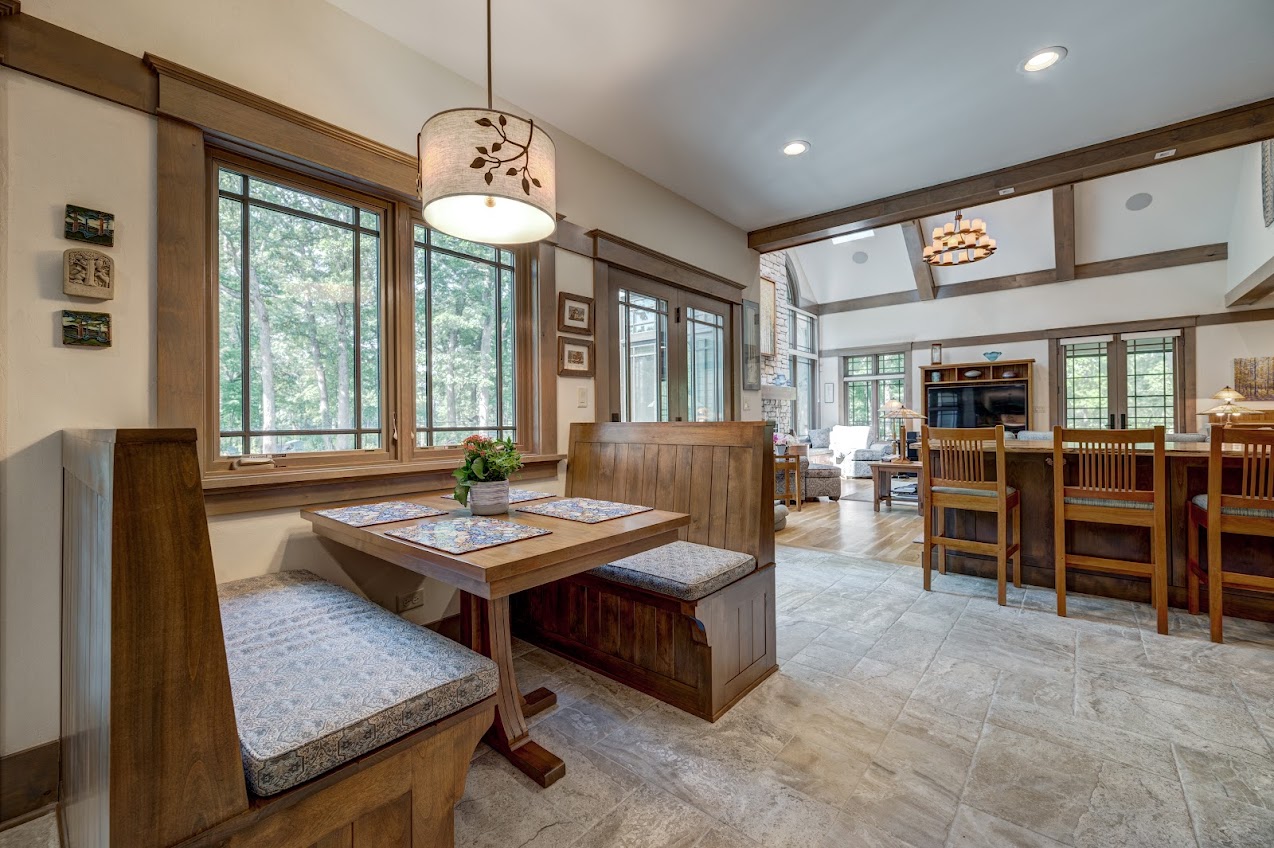 With its classic architectural and interior design details like its open floor plan, exposed beams, and natural materiality, and its high-level of custom craftsmanship, this home evokes the simple, but elegant design of a style inspired by the art and the craft of home. And for Kaufman, while the sense of wellbeing and the details of the home stand out to her—from the Arts and Crafts-inspired hardware and stained glass in the cabinets to the stone design on walls and commissioned artwork—what ultimately makes it successful is that the clients couldn't be happier in the space.
"My favorite thing about this is the serenity you feel when you are in the space. It evokes a sense of wellbeing. The woodwork is different from most; it is not oak, it is not cherry, it is alder and it is this brownish-gray tone that just grounds it and gives it flexibility to go with pretty much anything. It is just very pleasing, very timeless, and very classic," Kaufman said.
"We brought nature inside. My clients love the outdoors, and by bringing nature inside they cannot be happier—they just love it. To be able to create a space that gives someone enjoyment, where every day they walk around their house thinking 'pinch me, I love it,' to me, that is great," Kaufman added.
First published in Great Lakes By Design: Crafted Lodging, 2023
Text: R.J. Weick
Photography: Chip Haines Images & Photography