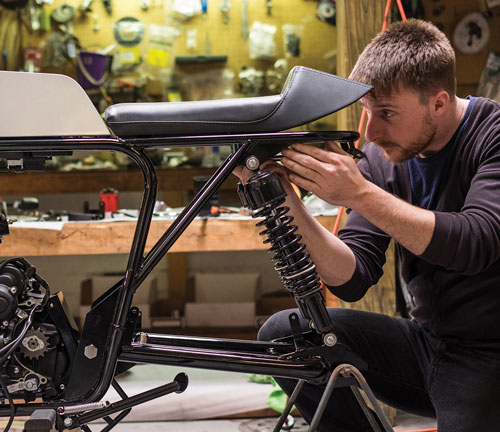 There is something visceral and interactive between rider and landscape when positioned on a leather-wrapped seat of a well-designed machine, hands tightening across the handlebars. There is a freedom, a connectedness, and a thrill made distinctive to motorcycling; and a Goshen, Indiana-based designer and small-scale manufacturer is seeking to tap into the spirit of the ride with its lightweight, small-displacement motorcycles informed by traditions in classical architecture and timeless design.
Janus Motorcycles is a small-displacement motorcycle company located in downtown Goshen, Indiana, surrounded by a thriving recreation vehicle industry and a network of fabrication, machining, and production shops in the northern Indiana region. Founded by Richard Worsham and Devin Biek based on a shared passion for a motorcycle centered on quality, performance, and design, Janus Motorcycles leverages custom-built, small-scale manufacturing to develop a machine that celebrates the riding experience—and by extension, relationship between owner and machine through its focus on the fundamental simplicity of operation and maintenance.
Worsham noted while they enjoy all kinds of motorcycles, often the technology-heavy bikes of today didn't necessarily capture the spirit of motorcycling, and at the same time the electrical systems of the vintage bikes weren't reliable.
"We wanted a bike that had all the beauty and form of the great motorcycles of all time, but also the modern wiring, engine, mechanicals, braking, and comfort that everyone should expect of a new motorcycle," Worsham said.
The resulting design became the Halcyon 250, which features lean lines in the tank and an iconic V shape, full-grain saddle seat, a leading-link suspension with Ikon shocks, and a 229cc single-cylinder engine with a five-speed transmission. With the exception of specialty components—motor, wheels, shock absorbers, and lighting—the vast majority of the bike is produced locally. From Worsham's hand drafting and 3-D modeling—mainly for the frame chassis—to Biek's shop floor, hands-on assembly, and design work with raw aluminum, the two have a symbiotic relationship as designs are refined in real time to perfect the fit and finish.
---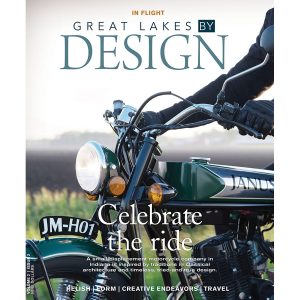 Read the full story in print in Great Lakes By Design, Volume 2 Issue 2: In Flight. 
Cover photo courtesy Janus Motorcycles
Start your one or two year subscription here.