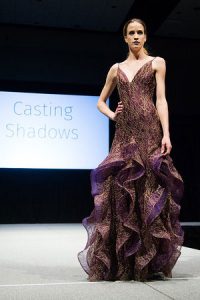 At the end of each academic year, the Kendall College of Art and Design of Ferris State University, or KCAD, holds a variety of exhibitions to showcase the work of many graduating and undergraduate students. On April 25, 2019, at 7:30 p.m., the Pamella Roland DeVos School of Fashion will present the KCAD Fashion Studies program's 2019 Capstone Fashion Show, called Joy, at the Goei Center at 818 Butterworth St. SW in Grand Rapids, Michigan.
The program is free and presents close-up looks at garments designed exclusively by KCAD Fashion Studies program students. The runway will feature collections from graduating seniors and undergraduate works all responding to the question: "What brings you joy?" Innovative techniques and materials—from high-end textiles to repurposed recycled materials—will be presented throughout designs as well as the diverse perspectives of their creators. From the central theme of joy, collections take inspiration from subjects such as music, 90s streetwear, African cultures, and Michigan beaches.
"It's critical that our students have opportunities to refine their ideas, processes, and people skills in real-world settings," said Lori Faulkner, Fashion Studies Program Chair at KCAD, in a press release.
"The Capstone Fashion Show offers that tangible experience while also helping students learn how to not just discover their own identity as designers, but also to communicate that identity effectively to an audience as well," Faulkner added.
Among a diverse range of student work, Joy will offer attendees an immersive experience in the high-energy atmosphere of a fashion show as well as chances to interact with student designers and industry professionals. Last year's show, called Common Ground, centered around themes of humans and the surrounding world, and previous shows have included UN•EARTH, an exhibition centered around themes of nature and personal growth at the Grand Rapids Downtown Market; and Insectrum at the historic The Felt Estate Mansion near Saugatuck, Michigan.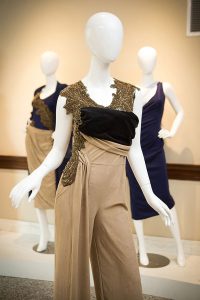 "The accomplishments of KCAD students are on full display in this annual show, one of the college's premiere events," said Charles Wright, Dean of Academic Affairs at KCAD. "KCAD Fashion Studies graduates have gone on to pursue exciting careers everywhere from bespoke tailors to large international companies. We congratulate this year's graduates on their achievements and look forward to seeing their next steps."
The annual Capstone Fashion Show is made possible through the support of Pamella Roland DeVos and the Daniel and Pamela DeVos Foundation. The Fashion Studies Capstone program itself provides students with opportunities to connect to the fashion industry during their studies at KCAD. Students are linked to industry professionals through internships and team projects, and the program offers students an opportunity for studying fashion at the Fashion Institute of Technology in New York City. Each aspect of the Fashion Studies program is designed to aid students in becoming marketable and informed designers with the resources to succeed in the fashion industry upon graduating from KCAD. Part of its foundational objective is helping students understand the delicate balance between aesthetics and functionality as they endeavor to create their own design statement.
Text: R. Collins | GLBD staff writer
Top Photo: KCAD 2019 Fashion Studies Capstone Show, garments by Danielle Cavinder, Meaghan Newhouse; photo courtesy KCAD