By R. Collins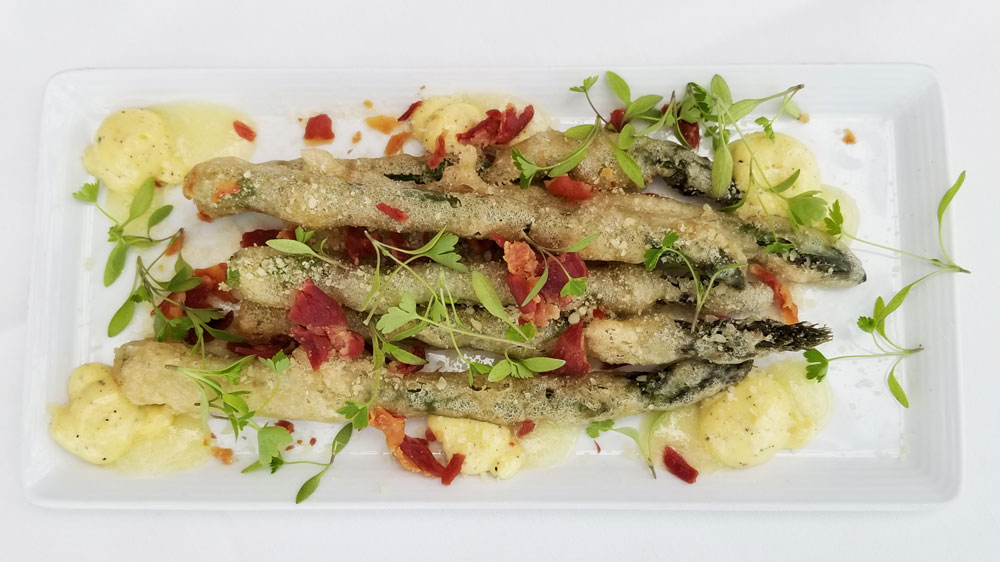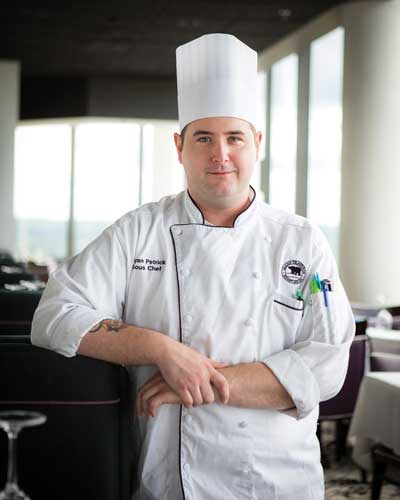 For years Aerie Restaurant & Lounge in Acme, Michigan—Grand Traverse Resort and Spa's award-winning in-house dining venue—has annually crafted two seasonal menus to showcase Michigan's diverse harvests. This summer's newest three-part menu featuring starter, lounge, and dinner menu sections, is delivering a new grouping of ingredients to the many national and international guests the resort draws in every year.
"Every ingredient up there is fresh and raw; we don't get boxes upon boxes of ingredients that are ready to go," said Bryan Petrick, Sous Chef at Aerie Restaurant & Lounge. "It takes a lot of time, labor, and effort to get everything onto a plate that we take into the dining room."
Petrick is a 13-year veteran of the culinary arts and restaurant cooking, and has held his position at Aerie since 2015. Since his arrival, Petrick has incorporated French, Latin, and Italian cooking styles on the menu to create dynamic rotating features. His annually-changing menus are drafted up to five months in advance of their release and are designed to pair with Michigan wine and beer selections from noted local locations such as Bell's Brewery, Brewery Vivant, Left Foot Charley winery, and Verterra Winery.
"There's a lot of fresh, colorful, and springy [ingredients]," Petrick said. "There are a lot of bold flavors as well."
Among his favorite additions to the menu, Petrick includes the Ahi Tuna, Salmon with fingerling potato salad—both fresh, sushi-grade fish cuts—and the tempura asparagus. These dishes, among other new additions, showcase the season's finest local produce: smoked or blistered heirloom and cherry tomatoes, asparagus either wrapped in prosciutto or fried until crispy, sweet corn blended with shell beans into a savory succotash, and fresh radishes.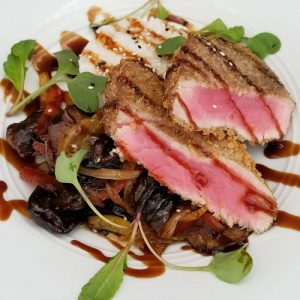 While the ratio and taste of a dish's individual ingredients can be the main factor in determining its success on the menu, its design on the plate also plays a key role. Getting the balance right is something Petrick describes as an art form. 
"Food has to taste good, but it also has to look good," Petrick said. "When you're sitting at a table and an entrée [arrives], you eat with your eyes first before you taste it." 
Visitors to Aerie might take in the view from the venue's 16th floor position in the resort tower similarly. With unadulterated 360-degree views of the Grand Traverse Bay and its picturesque sunsets, Aerie is already situated to be one of Northern Michigan's most noteworthy dining experiences. The restaurant and lounge was named a semifinalist in the Outstanding Service category of the James Beard Foundation awards and holds a wine-spectator-awarded wine list. 
Photos courtesy Grand Traverse Resort and Spa