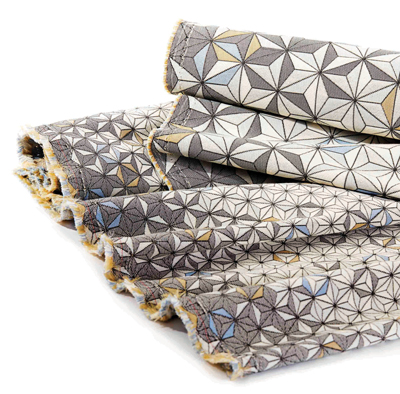 In the 1990s, Founder and Artistic Director Iris Wang noticed sunlight through a cascade of maple leaves outside of her kitchen window, which doubled as her studio at the time for the humble warehouse operations of Brentano Inc. It would serve as the catalyst for the small company as Wang then blended a painted Japanese-inspired maple leaf with a series of sketched horizontal lines derived from bamboo shades—putting Brentano in the black and well on its way to becoming the international textile house and fabric source that it has become today. 
"In the past there were a lot of fabrics that were only pretty to look at, but you couldn't touch because they were very delicate. I wasn't born in this county, but I know in the old days, the culture had such a thing as a living room and a family room. The family room was where you could go and mess it up, but the living room was always made pretty in the entrance of the house for important guests. That lifestyle has changed now," Wang said.
"We want to be able to design fabrics that are beautiful, but still really east to use and we also like to branch out into things that are even more utilitarian, but bring in that beauty," Wang added.
In celebration of its history, the evolution of textile design, and a continued pursuit of innovation, Brentano recently launched its 50th Anniversary Collection, which is an embodiment of the company's interwoven legacy—that has left a vibrant touch in spaces for nearly three decades—and its dynamic vision for the future. Described as focused and nostalgic, the 50th Anniversary Collection features 24 patterns with eight-to-10 re-envisioned textiles from the company's past. 
For Wang, fabrics have many functions—an ability to evoke comfort or a welcoming ambiance for people, create a visual and tactile statement, and add another nuanced layer to the rich, multi-dimensional practice of interior design—and weaving unity, complexity, and richness into a cohesive, technical, and dynamic whole is ultimately what makes the textile successful. 
To read the full story, pick up your copy of Great Lakes By Design: Raising the Bar here.
Photos courtesy: Brentano