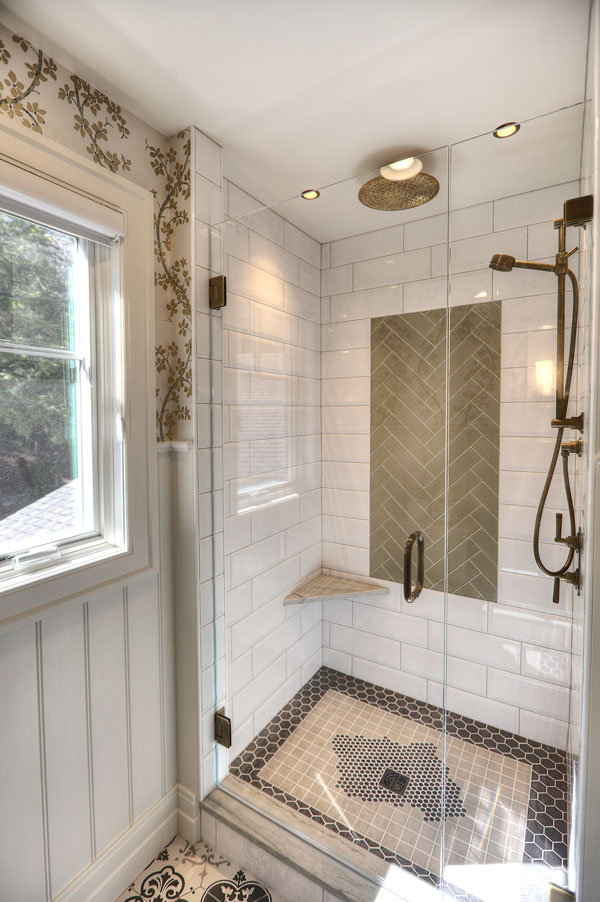 To the north of Frankfort, Michigan on the coast of Lake Michigan, Angela Goodall, owner at Kitchen Choreography LLC, had the opportunity to take creative control of interior spaces for a remodel project transforming a classic northern Michigan cottage into an elegantly orchestrated residence with some surprising design elements. The newly remodeled home, finished in July 2019, includes three bedrooms, four bathrooms, a loft overlooking its main living area, and a bonus suite over the garage. 
The homeowners originally contacted the firm Heartwood Custom Builders Inc. and architect Robert Yvon for the remodel, and for the interiors Yvon recommended Goodall's project-based design firm Kitchen Choreography, which the designer owns with husband Mike Goodall. The Traverse City, Michigan-based design firm specializes in interior design and remodeling services and has custom cabinetry offerings, giving it a wide range of residential and commercial design capabilities. For the remodeled residence, Goodall crafted a full interior design package rich in overlapping textures and rhythmic motifs.
"I really felt like in this project—for me—the homeowners gave me a lot of trust," Goodall said. "They truly did not select much of anything. I narrowed things down to two or three choices and they let me just run with it, so for me, number one, how much fun is that? But also, just the faith that they put in me to be able to pull all of this together; and it turned out, I think, just spectacular."
The interior arrangement of the structure was cabin-like, Goodall explained, and its entryway immediately revealed a furnace, followed by a cramped set of stairs. One of the most significant changes to the spatial layout involved the kitchen, which was previously relegated to the back of the home, away from the lakeside. The remodeling involved creating a linear, open floorplan joining kitchen, dining, and entertaining spaces that were connected under a vaulted ceiling and a long view of Lake Michigan. 
The setup, when paired with Goodall's interior design selections, elevates the classic cottage to something of a modern and lightly industrial lakeside retreat that retains its comfort and charm. The designer initially approached the task by creating a handful of color and material packages for the homeowners to choose from, and noted that this is a mainstay in the design process. 
"[I] do that and kind of put a few of the key elements together and really see what the homeowner gravitates to," Goodall said. 
"For this design, they really wanted that kind of light, cottagey feel, but with the volume of the space we needed to have some of those warmer elements; so that's why we went with the darker metals and introduced some of the black consistently throughout to kind of warm up that white [aesthetic] that everybody's doing now," Goodall added. 
The dark, metal finishes—such as light fixtures and furniture accents—complemented cool-toned, rough, and sleek natural stone and wood surfaces. The light fixtures and chandeliers themselves—there are 10 of them hanging from the vaulted ceiling—were an interesting design risk for the team merely due to their quantity. When paired with the repurposed, pipe fixtures over the sink, however, Goodall was pleased to find that the forged metal and glass added a light industrial edge to the space that paid homage to the homeowner's professional familiarity with older industrial buildings. The look is furthered in studded leather island stools in the kitchen and spindly metal dining chairs wrapped in fabric in the dining area.
Textures and shape motifs also took precedent in the bedrooms, which in some places feature slanted ceilings, cutting proportions of open space. To brighten the rooms, Goodall introduced elements like warm lighting fixtures, plush rugs, a smoked mirror, and, in the loft area, railing panels made of natural grass and resin, which filter light while retaining the room's privacy. 
Finally, one of Goodall's favorite spaces, the powder room, is an example of the designer's range of creativity, even in smaller areas. A combination of three tile types was applied to the shower floor alone, and the small room is clad in navy-stained cabinetry and wallpaper evoking a delicate gold-leaf-like pattern. Moments of innovative design are integrated throughout the entire remodeled interior, and Goodall said they inspired her and the homeowner to further explore their design abilities. 
"Once we kind of got that working relationship established, he would say 'I like that, but can we do something better?' So, he would do that to push me a little bit to come up with something that's [unusual]," Goodall said. 
Text: R. Collins | GLBD writer
Photography: Jason Hulet Photography