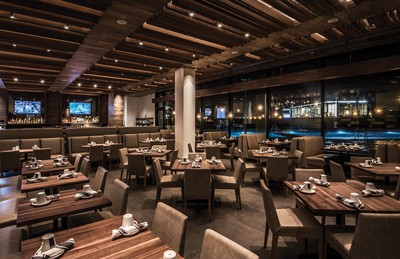 "We are an idea-based firm. We can pivot off of any design problem and I think program is really just a vehicle to test ideas," said Dwayne MacEwen, AIA, principal and creative director at DMAC Architecture P.C. in Evanston, Illinois. "Whether it is a hospital or a restaurant, I think you need to understand how it functions and it works, but it is still a vehicle to test some ideas and what is a food design for that particular problem or space."
When the Midtown Athletic Club and the Hotel at Midtown opened in 2017 at the intersection of Elston, Damen, and Fullerton Avenue in Chicago, Illinois, it reflected a desire to push the programmatic envelope. Located in the negative space left by the converging neighborhoods of Lincoln Park, Logan Square, and Wicker Park on a triangular site, Midtown Athletic Club in Chicago has been transformed from a premier, upscale tennis club into a health and wellness resort hub complete with 55 boutique hotel rooms.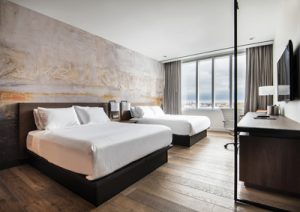 "We knew we had to make a grand statement. If it was too quaint or too cute, it was going to be dwarfed by these massive existing buildings. MacEwen said. "It is more campus-like than retail or spa and commercial. We wanted a quietness and elegance to it. There is plenty of opportunity to see the skyline and from the sixth-floor rooftop deck it has a weird serenity of being almost an urban island." 
The hotel, which features a total of 51 guest rooms, three suites, two-story penthouse, two meetings rooms, a board room, and rooftop event space, blends finishes such as wood, stone, and glass, with classic lines in a warm-hued neutral portrait. 
To read the full story, pick up your copy of Great Lakes By Design: Raising the Bar here.
Photos courtesy: Anthony Tahlier