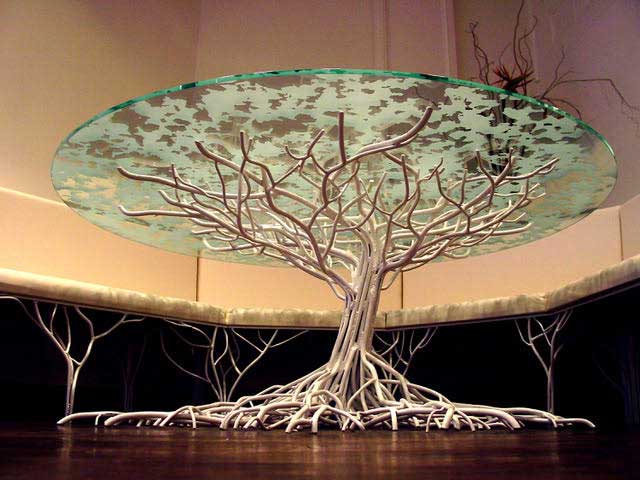 When looking out over the rooftops of Milwaukee, Wisconsin's Historic Third Ward district, a pattern soon becomes apparent: works by Flux Design appear at every corner, whether in architecture, sculpture, furniture, or interior design.
Today, the firm occupies nearly 20,000 square-feet of studio space in Milwaukee, and its portfolio spans industries and typologies from door handles and museum installations to brewery architecture and a show on the DIY Network called "Made in Milwaukee" composing its overall thumbprint on the city. However, when co-founded in 2000 by Jeremy Shamrowicz and Jesse Meyer shortly after their graduation from the Milwaukee Institute of Art and Design, Flux Design was a more modest operation.
"We literally were working out of a garage and using the space to kind of showcase [our art] and use what I would say is a nonconventional method to interject ourselves into the arts community, which changed into a lot of other things," Shamrowicz said.
Undoubtedly, the firm has expanded in tandem with Milwaukee's business and residential boom in the last several years, but its success can also be credited to a continued value on education and the pursuit of material knowledge and experimentation. Mixing traditional materials and surfaces such as glass, wood, and concrete, or forming them in unconventional ways, allows the firm customization capabilities that span its many services, and the process of creating innovative, distinctive design is ongoing.
"Truth to materials and understanding how to manipulate them as far as design and process is what I practice and preach. When we found ourselves in positions to take concrete [with steel] or plastic—or integrate them together—we were getting combinations that you just didn't generally see from the catalog," Shamrowicz said.
"What happens is people are customizing their life toward that style. So, there's a fine line between looking at internet catalog images of these things that you like or inspire you versus having something that's made for you. So, because we use these materials it's easier to manipulate the truth of [them] to something that specifically caters to you," he added.
Flux Design's portfolio is characterized by projects that vary in scope and size, but showcase a similarly unique interplay of light, shape, and texture that evokes a curiosity for design. These qualities were illustrated in the studio's creation of the Eve night club and lounge in 2002, which first positioned the firm under an international spotlight for its delicate, yet dramatic approach to the night club interior. Spindly strands of welded white steel were fashioned into root formations that held etched glass tables, chairs, and even appeared behind thin sheaths of fogged glass, lit from behind to create a dusky appearance that contrasted the interior's icy color palette.
Also indicative of the firm's unique approach to design was the sculpture and installation work created for Discovery World Science and Technology Museum in Milwaukee. Steel, plastic, and LED lighting were shaped into a sprawling "technology jungle" of trees—approximately 20 feet tall—with "palms" painted white and underlit to appear multi-colored. The installation introduces the center's visiting population of students, parents, and education facilitators to its range of labs, programs, and exhibitions. For Shamrowicz, the opportunity to contribute to the center's mission spoke directly to some of his own.
"What truly has impact is they've been open for over a decade there and in all the decades how many kids and adults walk through that facility and stop and reflect on the structure and say 'wow this is cool,' and how it makes kids think creatively," Shamrowicz said. "Even though I can't reach those kids to get their feedback today, there's a strong possibility that it had something to do with the impact of creativity in their lives. So, for me, that is an impactful and important moment of design in this city."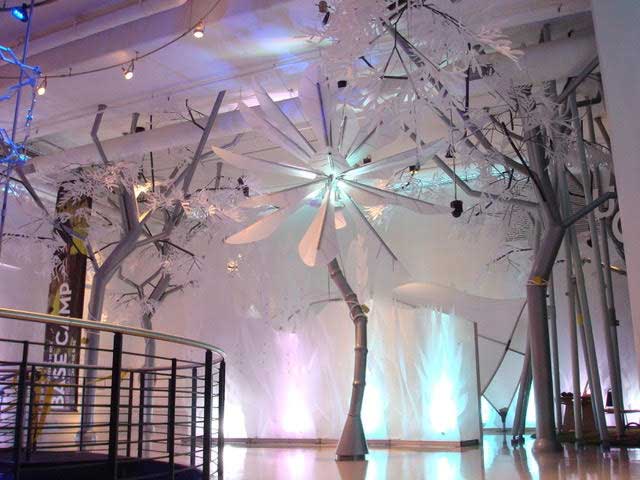 The effect of seeing reactions to Flux Design's work is profound for Shamrowicz, who is currently finishing work on a variety of projects around the city, such as the America's Black Holocaust Museum in Milwaukee. Above all, the deep connection among emotion, education, and design underlies Flux Design projects, each of which includes a learning experience for Shamrowicz, who is continually exploring new ways of manipulating common and unconventional materials and fabrication methods. He finds that the materials common in Flux Design's earlier work—glass, steel, wood, plastic, and concrete—still reward him with surprise and new knowledge to pursue.
"If I don't learn something every day, we're doing something wrong. You can constantly learn," Shamrowicz said. "There are so many things about materials it just blows my mind, and I know for a fact that because there's so much to learn I have the rest of my life to keep doing that."
Text: R. Collins | GLBD writer
Photography: Flux Design