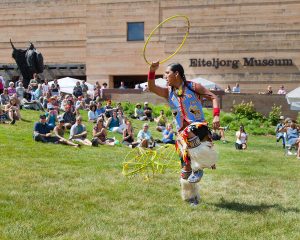 Since its inception in 1989, the Eiteljorg Museum in downtown Indianapolis has been a center for the conservation and expression of Western and Native American art and cultural objects, becoming one of the few museums East of the Mississippi River to explore the subjects exclusively.
Part of its status is credited to the annual Eiteljorg Museum Indian Market and Festival, which has gathered artists and performers across the United States and Canada since its establishment in 1993 in a weekend-long celebration of culture, tradition, and new creation. In its 27th edition this June 2019, the festival will feature acclaimed Native American and First Nation performers and more than 100 artisans who arrive with hand-crafted pottery, jewelry, sculpture, basketry, painting, and more.
"We originally wanted to foster an awareness and appreciation of traditional art and cultures of Native Americans in a market kind of environment. That is still the goal," said Brandi Crocker, public events coordinator and organizer of the Indian Market and Festival.
"This event directly relates to the mission of the museum: to inspire an appreciation and understanding of the art history and cultures of the American West and indigenous peoples of North America," Crocker added.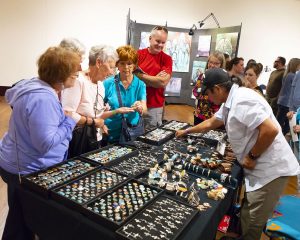 Year-round, the Eiteljorg Museum is a center for expressing historical context, artistic statement, and individual perspectives. Each year on the weekend after Father's Day, however, its programs converge with fresh contributions from artists from more than 50 North American tribes. For the 2019 market and festival, the organization team has recruited an additional 35 artists to participate from an assortment of national markets such as the Santa Fe Indian Market and the Heard Museum Indian Fair & Market, also taking place in the summer months. Crocker is particularly excited for this year's entertainment, courtesy of a variety of accomplished Native American performers like Son of Hweeldi, a resistance rock group utilizing a blend of soul, blues, and rock genres set upon a world beat-influence; and world champion hoop dancer Tony Duncan and his family—back by popular demand—who conduct hoop workshops and high-energy performances.
There will also be a trio of vocalists called Sisterz in Song performing traditional songs, and the cultural storyteller Jacque Tahuka Nunez recounting the lifestyles of California's first people, the Acjachemen Nation of Orange County. Among artworks featured at the market, traditional mediums and methods are showcased along with modern trends such as composing with metal, and Crocker said Native American fashion is a growing theme among markets nationwide.
"We're now seeing a next generation of artists. We have [some] elders—this is the 27th year for the market—who have been coming since the beginning," Crocker said. "Now we're seeing their children and their children's children bringing their art, which is many times a mix between contemporary and traditional—kind of an update of what we usually view as traditional American art."
Along with its status as an acclaimed celebration of Native American culture in the U.S., Crocker said the Eiteljorg Museum Indian Market and Festival is unique in its affordability. For $15 dollars—children under 17-years-old are admitted for free—visitors can access artwork and performance representative of a diverse array of Northern American and First Nation tribes as well as regular museum admission.
During the market and festival weekend, the Eiteljorg Museum galleries will also feature exhibits such as "Attitudes: The West in American Art," and "A Sense of Beauty: Showcasing the Power and Beauty in Native Art." Another exhibit, "Bringing Friends Together: Contemporary Hopi Carvings from the Eagle, Perelman and Rader Collections," showcases a collection of donated Hopi carvings expressing figures of motion and change, also reflecting  the adaptation of Hopi artists themselves in the 20th century.
The museum's overall collection features artists like Andy Warhol, Georgia O'Keefe, and Frederic Remington among an internationally-ranked contemporary Native American art collection. Besides the Indian Market and Festival, the Eiteljorg Contemporary Art Fellowship and the Quest for the West Art Show and Sale have helped the museum cultivate its reputation as a premiere cultural institution immersing visitors in the diverse cultures of the West and Native America.
Text: R. Collins | GLBD Staff writer
Photos of the art works are supplied by the artists themselves and provided courtesy of the Eiteljorg Museum.
The photo of the Eiteljorg Museum building exterior is courtesy of Jessica Strickland Photography, 2013.