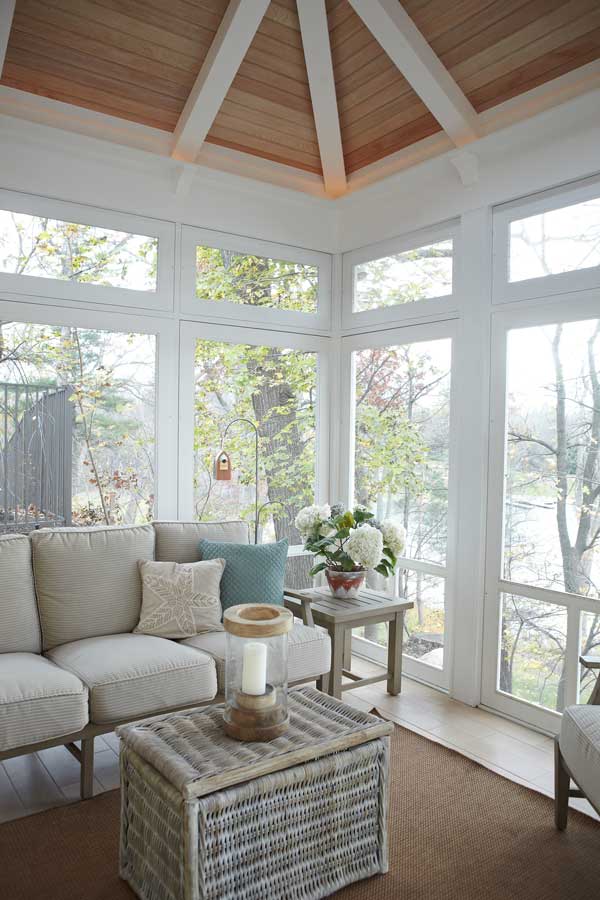 When creating a new residence, adaptability is a valuable term during each stage of the process, especially for the architect, whose task is to deliver a home balancing practical and aesthetic goals. Sometimes a difficult task, achieving this ideal balance can also be highly memorable and, in the case of the team of designers at Sears Architects, something that is reflected on during other projects for years to come. Sears Architects, an architectural and planning firm in Grand Rapids, Michigan, was the design team behind a 2013 residential project on the city's eastern side that highlighted the firm's affinity for producing adaptable designs—an element that continues to distinguish it in approach and portfolio.
The residence on Fisk Lake, a bright, shingle-style cottage with an unusual floor plan, replaced an existing contemporary ranch-style house. For Project Architect Jud Gerwin, a member of the Sears Architects team, creating the overall floorplan and aesthetic style was an enjoyable experience and one that continues to guide his approach to design.
"It was a bit of a journey, and some projects are less of a journey. To put it simply, I'd say that it was a design process that involved a lot of discovery and an exceptional piece of property; and we were working with a great client who had no problematic budget constraints," Gerwin said.
Citing the architect Robert A. M. Stern's rejuvenation of the shingle-style home in the late 1970s and 1980s as a reference during the project, Gerwin said the Sears Architect team's design of the Fisk Lake residence favored carefully detailed roof overhangs and eave returns to create a cozy, yet classic external appearance. Gray wood shingles and white trim were framed by an asphalt shingle roof and stone base to create a light, textured façade against the lakeside backdrop.
"Given our client's preferences, we realized pretty quickly that we were looking at an opportunity to design a shingle-style home," Gerwin said. "We really enjoyed developing the exteriors, with their single-story, one-and-a-half-story, and two-story massing, and plenty of eye-catching exterior features."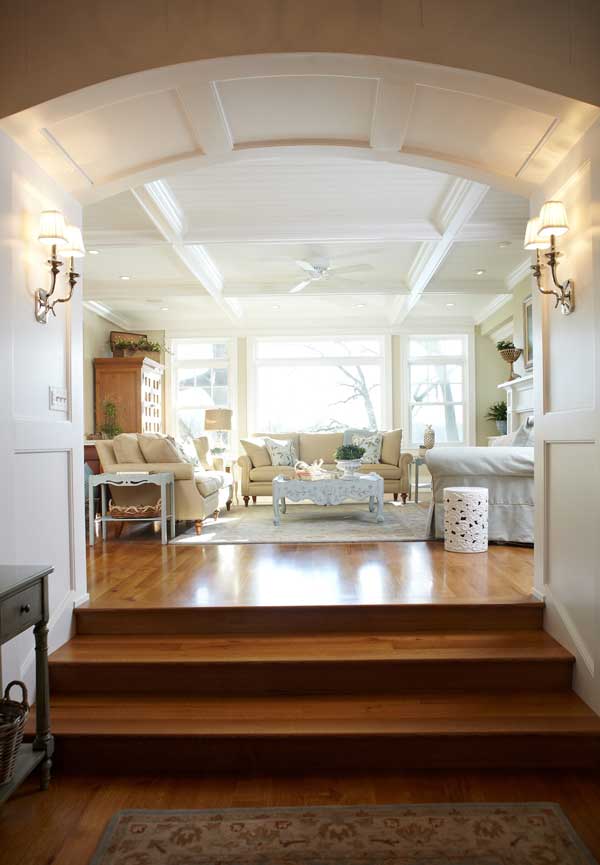 The first-floor interior made use of five different floor levels and was the result of careful planning around the site's natural topography, which featured an odd, asymmetrical shape and steep lakeside sloping. On the parcel's most narrow section—framed by the Fisk Lake bluff on one side—the architectural team tapered a driveway along a sloped edge that would culminate in a three-car garage, with an exercise room above, and the adjacent five-bedroom, approximately 5,000 square-foot home on the widest section. Next, a multi-level, first-floor plan was designed to adapt comfortably with the sloping land while still maximizing lake views for each bedroom and creating overall visual interest indoors.
From the foyer, three steps and a paneled archway lead into a long gallery encased in glass and decorative details such as white-painted wood ceiling beams and wainscoting. The gallery, living area, kitchen, and dining area were linked to create an open, sociable sequence at the center of the main floor. At both ends of the home, additional steps lead into private hallways that culminate in either the cozy den and master bedroom suite, or to the laundry room, half-bathroom, side entrance porch, and three-car garage. Overall, slight elevation changes create a dynamic open floor plan, which then leads to outdoor features like the private terrace, screened side porch, and landscaped stairway down to the lake.
The complex design and construction of the Fisk Lake residence was a family affair for the homeowners, whose son and daughter-in-law were members of the construction and interior design team, comprising Eastmark Construction and Grand Rapids interior design firm Villa Décor. Overall, the project offered an exercise in adaptability, which Gerwin enjoyed and still remembers fondly.
"Among architects, designers, and contractors, there are those that enjoy a challenge and others that don't," Gerwin said. "It was a real pleasure to work with a project team that liked being challenged by an interesting set of ideas for a new home on a unique piece of property. When we drive down Robinson Road today and look south at the front of the Fisk Lake residence, we can't help but smile."
Text: R. Collins | GLBD writer
Photography by Ashley Avila Photography