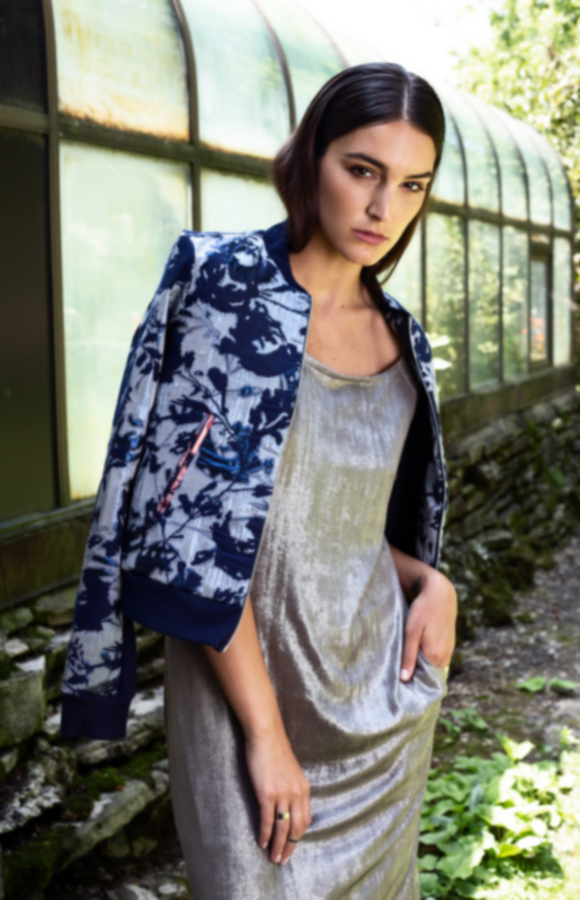 It was a home economics textbook that led Chicago-based fashion designer Masha Titievsky to discover the career opportunities in the field. Then, a high school student with an interest in figure drawing—and a path carved in business—she set out to merge the two tracks; later studying fashion and entrepreneurship at institutions like Parsons School of Design in New York City, Bocconi University in Milan, and Indiana University Bloomington Kelley School of Business.
Titievsky's journey in the formation of her current label, VARYFORM, is rich in research. An artist from the start, her studies and interest in art history and the artistic process have continually influenced her crafted garments and current business model; both of which are curated in an intensely purposeful fashion, with no thread left untucked.
"[Design] is a combination of art and function, so I really view it as both," Titievsky said. "What I'm bringing to the table is my taste, a new idea, the fabrics choices, and how it's draped or sewn; but then I also have to make sure that it's wearable, comfortable, washes well, and they understand how to wear it."
VARYFORM is a contemporary womenswear line for the bold, sophisticated working woman, with elevated classics that transition from desk to dinner, according to Titievsky. Its namesake is the Vary Form Curve tool—a nuanced relative of the French Curve—which is used when pattern making to craft intricate contours in areas like side seams and arm holes.
As its name suggests, the Vary Form Curve satisfies a variety of shaping needs, and Titievsky's designs function similarly. They often feature precisely curved seams—sometimes paired with color blocking—to accent the figure or visually transform its shape. For their natural draping sensibilities, she favors silk and wool, noting that they offer a favorable softness and overall "glow."
Designs such as jacquard evening coats lined with silk and the gently-ruched essentials in her 2019 spring and summer collection create elevated classics largely inspired by nature. Titievsky enjoys drawing on natural themes, from naturally reflective surfaces—like water and glass—to the organic growth patterns of crystals and plant life. Though she is continually gathering inspiration—soon to be complemented by a trip to Milan—no design is left unfinished for the sake of speed. Each piece is fine-tuned and completed, even if the process involves re-altering a garment.
"[It's] taking time to develop old styles and not moving on to a completely brand-new style," Titievsky said. "There's something that works and it just needs a fabric change or the color needs to be a little bit darker for it to be more flattering for people; or maybe it needs a lining in the next version."
To keep the VARYFORM line fresh throughout the year, Titievsky releases small groups of items on the online retail platform Nineteenth Amendment, which is an independent brand curator focused on launching sustainable products without risk. This small-batch approach to production, along with her preference for using decomposable natural fibers, is also mirrored in her process for producing custom design work, which is made on a pre-order basis to reduce waste. Though the notion of sustainability has underlined VARYFORM's business model since inception, Titievsky is continuously researching ways to increase its presence in her process and designs.
"I'm researching other textile sources and manufacturers that find that important and can offer solutions that are still beautiful, and I can still have the right price point for my pieces," Titievsky said. "That's the direction that I'd like to go in."
Titievsky's waste-reducing, personal approach to production yields garments that are either made-to-order or completely customized for a single person. This is an especially satisfying part of design for Titievsky, who enjoys crafting bespoke designs for clients. Beside flexing her affinity for researched design solutions, Titievsky continues to merge art and function on a smaller scale. She is currently experimenting with accessory designs that utilize leftover garment fabrics to further diversify VARYFORM's product line.
Text: R. Collins | GLBD writer
Featured Photography: Alex Kornfeind