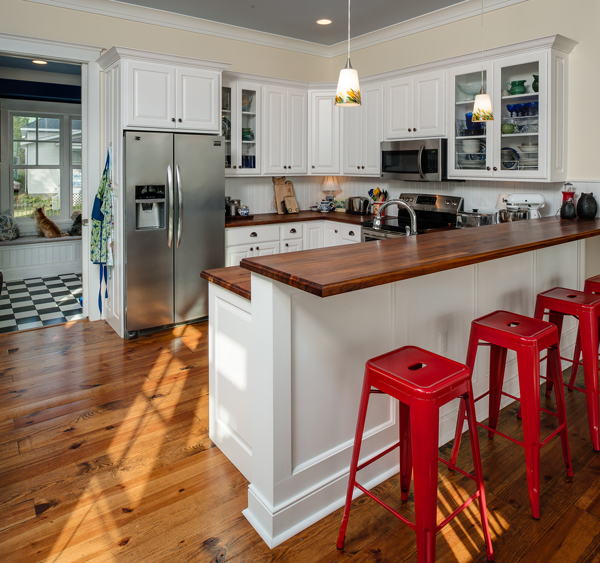 Within its approximately eight-mile circumference—contained by the limestone bluffs of Lake Huron—Mackinac Island holds a bounty of original and inspired Victorian-era architecture. The historic state park is as famous for its architectural details as its primary methods of transportation—bike, horse, and buggy—and each building on the island maintains characteristics of the era's many popular stylistic movements, from the shingle and French rustic styles, to Queen Anne and colonial revivals. 
Just under a decade ago, the architectural team at Shoreline Architecture & Design, Inc. in Petoskey, Michigan crafted an island residence inspired by its distinctive Queen Anne and shingle-style surroundings. More recently, the homeowners tapped the team for a new home of similar character, this time a quaint reprieve on a nearby piece of rocky shoreline, which boasts 180-degree views of Lake Huron, according to Mike Pattullo, AIA, president at Shoreline Architecture and Design.
"Stylistically it's very similar," Pattullo said. "Mackinac Island has a strong sort of Queen Anne, Victorian, and shingle-style [character], and [those] are predominant historical styles on the island. We borrowed from those styles on both of their homes, so we stayed in the same genre."
Shoreline Architecture & Design is an architecture and interior design firm, which also provides site planning, construction management, and representative services. For the re-adaptation of the Mackinac Island residence, the firm was joined by Petoskey-based construction firm, Points North Construction, and the Wolverine, Michigan-based interior designer River West Design from Wolverine.
The original home positioned a master suite and four guest suites with individual vanities within its open floorplan, but its tucking between land lots and a historic, preserved corridor introduced some constraints, according to Pattullo. Intending to downsize, the homeowners acquired a piece of waterfront property two lots away and sold the original house, but included its architectural inspiration and material palette in the new build, which will finish in September 2019. 
On the exterior, Alaskan pine and cedar compose the shingles and trim, while two decks—off the master suite and dining area—feature cedar and ipe, a dense, naturally graying wood that is nearly impenetrable. Besides cedar shingles, tucked, pitched roof forms on the front of the home evoke the shingle style, as does a generous tower facing the lake—and creating symmetry—on the back.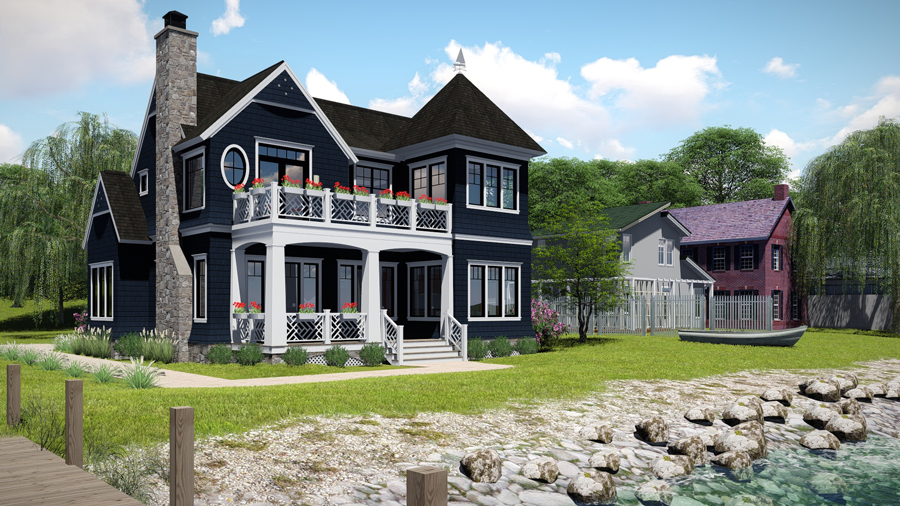 Indoors, rustic pine flooring and poplar trim, millwork, and paneling surround the open floorplan and its accompanying three bedroom suites and three bathrooms. Each room takes full advantage of its position on Lake Huron, Pattullo said, with most providing 180-degree views from the west—where the Mackinac Bridge connects Michigan's peninsulas—to the lake's east end, and down toward the Straits of Mackinac.
"We were able to capture those views from all directions," Pattullo said. "You're so close to the water that when you're in the rooms you don't even see the shoreline at all, you just see the water."
Normally fresh builds on the island require a material palette that is easily accessible, according to Pattullo, since motor vehicle licenses are rare. The Shoreline team's approach to designing the 2,800-square-foot home on the harbor also required some creative logistics. This particular home was designed in six modules—three on the ground floor and three on the second—which were built in Iron Mountain, Michigan. The modules were then delivered by barge and lifted onto the home's foundation by a crane on the harbor. 
Though the island's constraints on motors required creativity on the part of the design and build team, Pattullo noted that they also do something special for the craft of architecture in the particular area. There are no garages to potentially weigh architectural symmetry, and for this home only a small storage shed was added to the blueprint. 
"It's traditional cottage architecture and you can do things as a result that can make it look so cute and quaint, and you use all four sides, because you don't have one side taken up by a garage," Pattullo said. "The proportions remain perfect."
Text: R. Collins | GLBD writer
Photography: Shoreline Architecture & Design, Inc.